Day 171 - 174 (April 6, 2013 to April 9, 2013)
Buenos Aires, Argentina
Day's Ride: no bike....
After getting rid of the bike and taking my chances on the black market, all of the serious work was out of the way and it was time to see a bit of Buenos Aires. I was eager to see the city; however, there was a sense of loss, almost disappointment after sending the bike home. I was also tired, really tired. Not physically tired, just travel tired. I was ready to go home. Still, I knew I needed to take the opportunity to see this amazing city before I left. With that in mind, I decided to take a bike (bicycle) tour and get the added bonus of a little workout as well. I convinced Dylan to come along as well.
For about a 100 pesos we got some ricketty old beach cruisers and a four hour tour of BA.
The first stop was the Argentine version of the White House. It's actually pink, so I think it should be called the Pink House.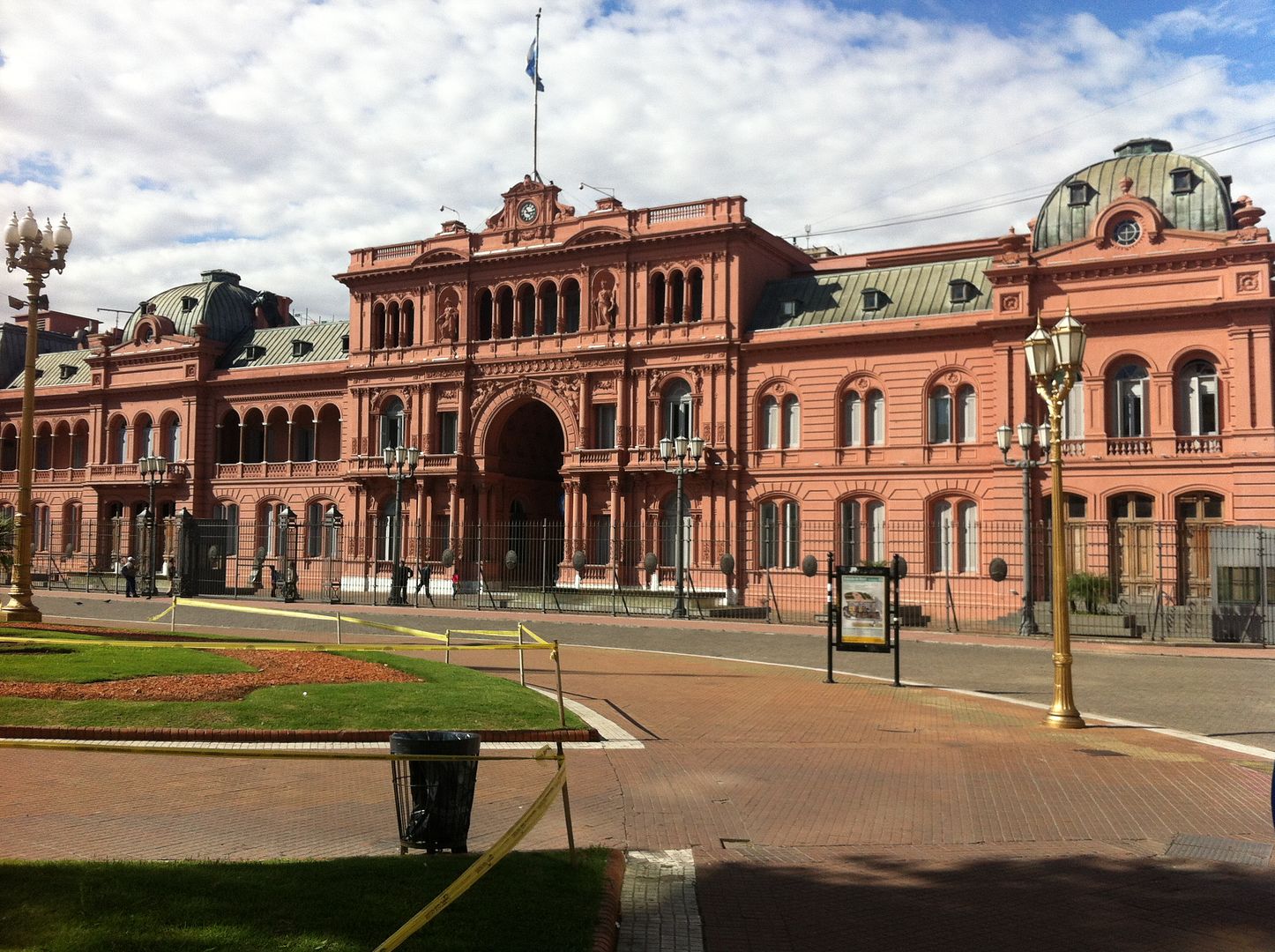 According to our tour guide, when the original building was built, it was painted with a mixture of lime and buffalo blood, hence the pink color.
Since this is a country with a fairly recent memory of military rule, oppression, and turbulent politics, there were tons of political banners and posters up in the square directly in front of the Pink House.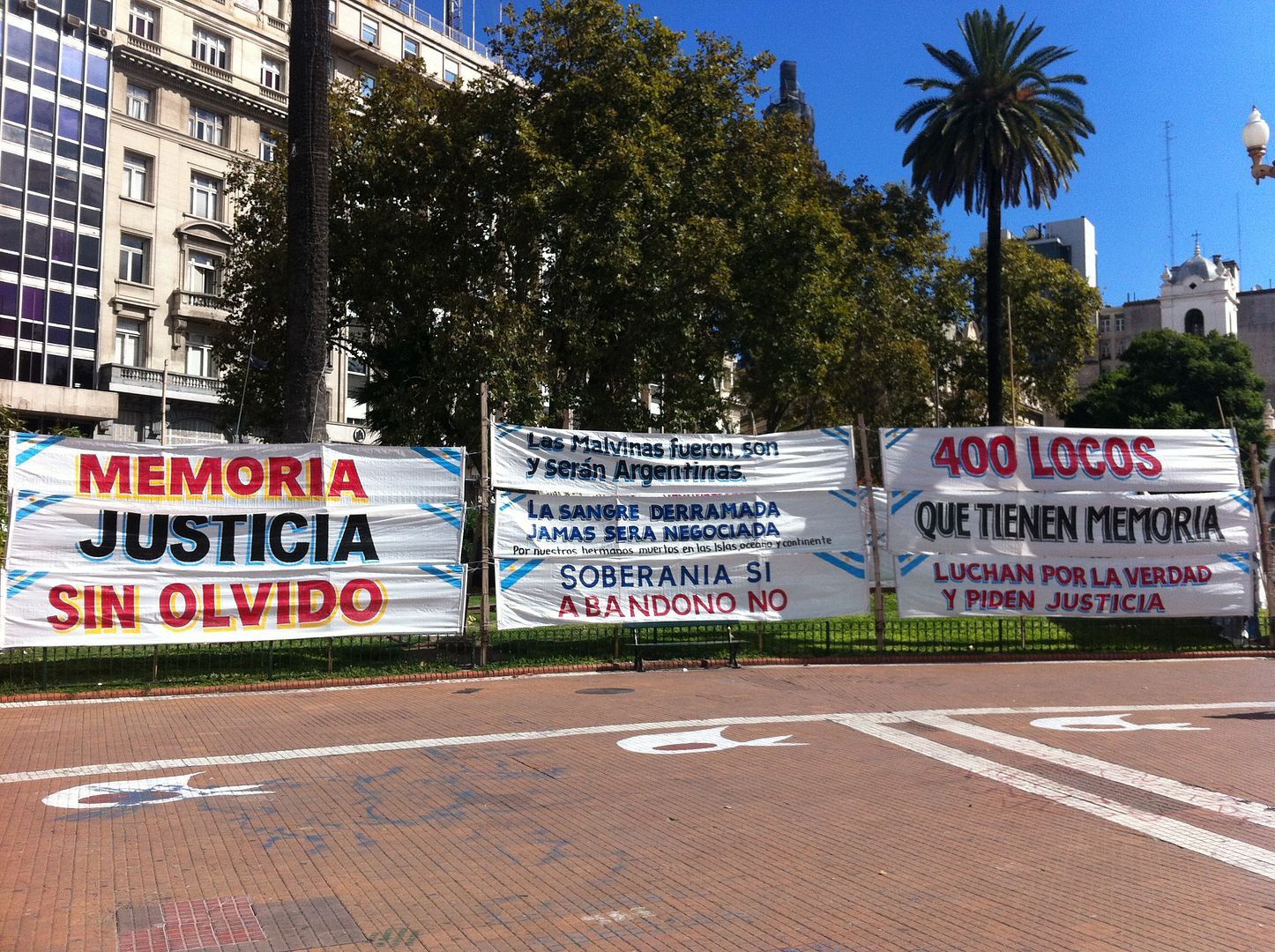 The statue in the main square: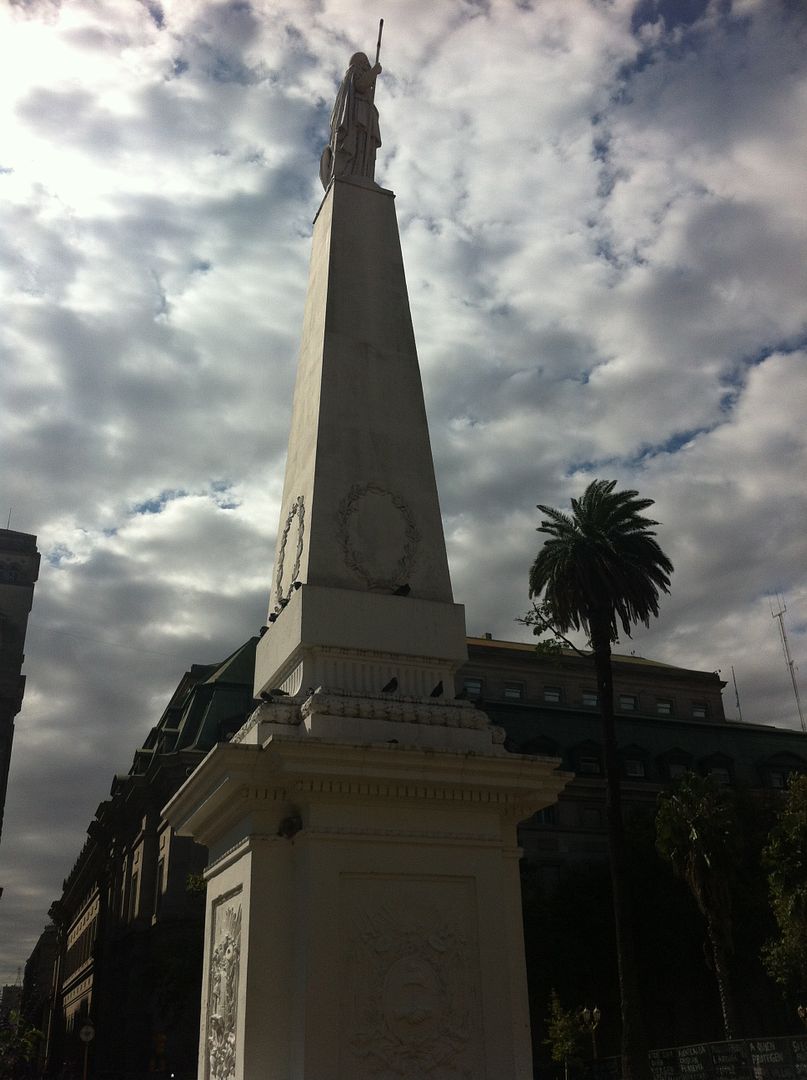 A look back in the opposite direction from the pink house:
If you look down at the brick pavement you'll notice some odd white shapes painted on the ground. Those are supposed to represent women wearing headscarves. During the days of the military dictatorship, the mothers of people who had been "disappeared" by the government would come to this square wearing head scarves and try and exchange information in hopes on learning what had happened to their sons and daughters. It's such a haunting reminder of how different things were.
We continued down to Puerto Madero. In the early 1900's this was one of the main ports in BA. However, by the 1920's it was too small to fit modern ships. The port gradually fell into disrepair until the early 90's when the city and local developers began turning it into a neighborhood. Now, it's the richest part of BA.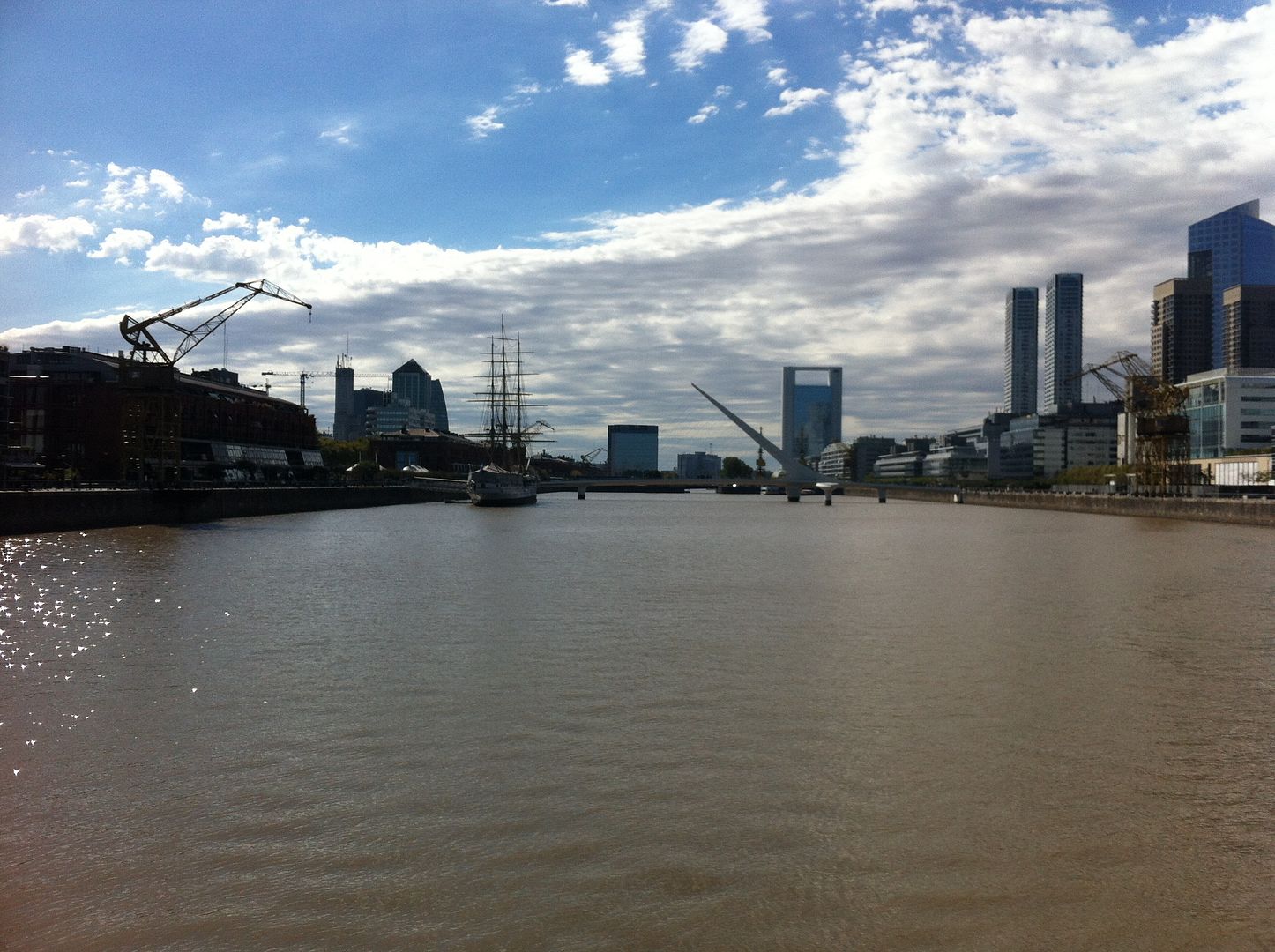 The tour continued and we ran into a rival tour; they were riding bamboo bikes. I had heard about wooden bikes but had never seen one until now.
The tour continued down to an area called Boca. Boca is a brightly colored neighborhood near the water that is said to be the birthplace of Argentine Tango. The neighborhood was full of tourists and free Tango shows.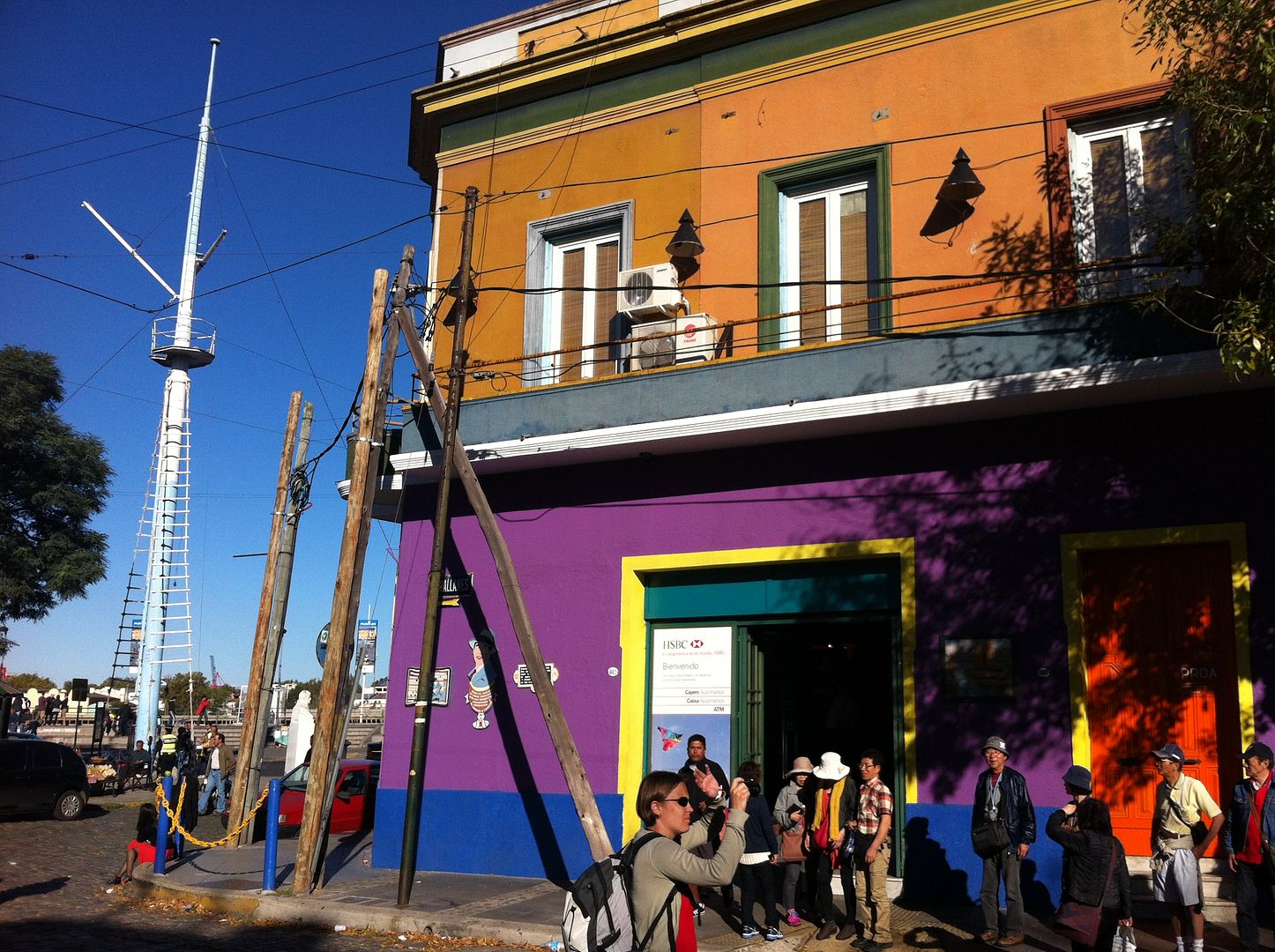 While we were in Boca, Dylan and I actually ran into Bear, the rider that I had met on the ferry to Tierra del Fuego. Once again, it's amazing how small South America can feel sometimes when you are on a bike.
The final stop on the tour was to a famous soccer stadium in Boca, home of the famous "Boca Juniors". Apparently, around the turn of the century names with English words were in vogue; the result were team names like "Boca Juniors", "Racing Club", and the "Old Boys".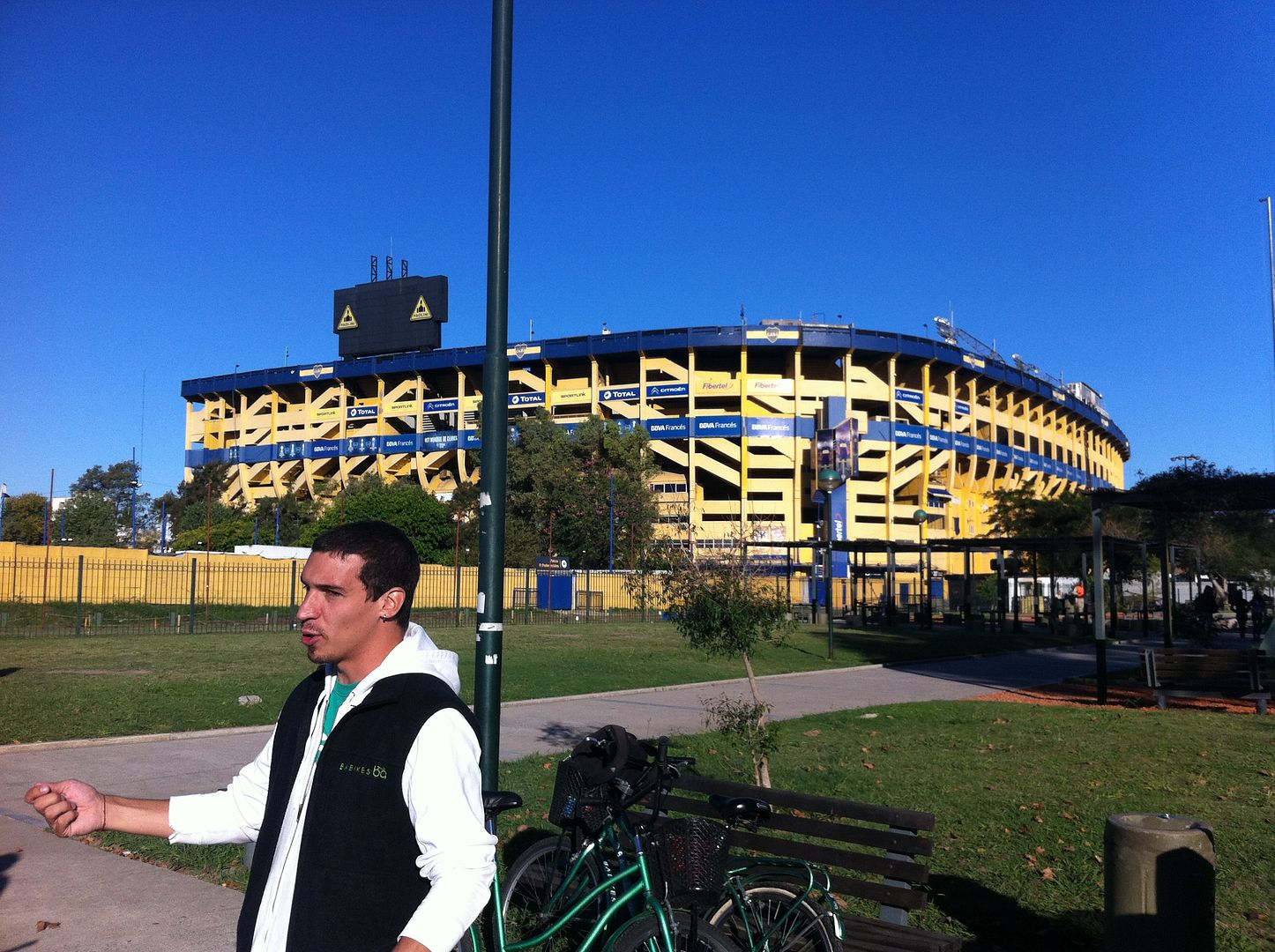 That about finished up the tour; we took our bikes back to the rental place and hoofed it back to the Hostel.
The next day I ended up going Tango dancing with a girl that I had met back in Santiago over a month ago. I know next to nothing about Tango; I had actually taken a ballroom dancing class back in College but didn't remember a thing about it. Luckily, when we showed up to the dance hall, everyone was dancing Swing instead of Tango. I actually can Swing dance quite well; my date for the evening had never tried it before. Like some bad kung fu flick, the student had become the teacher. :
We ended up dancing for a couple of hours; the dancing eventually changed to Tango and I was struggling to remember just the basic steps.
The Argentinos in Buenos Aires are some serious night owls. Like most Argentinos, they don't eat dinner until after 10 and they don't usually go to bed until after midnight. The younger crowd in BA take it to a whole new level. Most of the clubs in town don't really get hopping until 2:00 AM and usually close up somewhere around 7:00 AM to 8:00 AM! After finishing dancing, we didn't get dinner until around 2:30 AM. After we finished eating around 3:30 AM, the people that I was with asked what we were going to do next! I was barely awake at this point and the beers that I had just drank weren't helping; I eventually found my way to a bus and headed back to the Hostel. I didn't end up getting to sleep until 4:30 AM.
The next day was my last day in Buenos Aires. I had over calculated my need for Pesos and was about 800 to rich. knowing that I wouldn't be able to change these back to Dollars in the states, I asked Dylan if he wanted to buy some pesos at a really good rate. Luckily he had an old hundred dollar bill that he wanted to get rid of, so things worked out great. This left me with 180 pesos to make it to the airport and buy dinner....
(to be continued......)