Leaving Puebla we were able to see the famous volcano Popocatetl, finally free from cloud cover after our three days in Puebla. It was breathtaking to see an 18,000 mountain, nearly free from its cloudy shroud, back dropping the city that we were leaving. We stopped after we got out of town and took a few pictures, which did not do justice to the mountain.
We rode hard all that day for Oaxaca and only stopped for gas, food, and a few photo opportunities to include some donkeys that were grazing beside the road. We made it to a small town 60 miles outside of Oaxaca and stopped for the evening.
The next day we rode a back highway through the mountains towards Oaxaca. It was beautiful and reminded me of Eastern Oregon and the Blue Mountains. Desert scrub was replaced by tall stately pines and sandy arroyos gave way to deep majestic canyons. The air was cold and clear and the road was full of beautiful turns; all in all a great way to start the day.
Arriving in Oaxaca we stopped at an Autozone on the outskirts of town to pick up some chain oil and engine de-greaser. While I was de-greasing my engine (all over the parking lot) I noticed that my oil cooler was loose. Upon further investigation, I found that the lugs that attached it to the frame had cracked! I slapped some zip ties on it to hold it in place, then we rode into town to find a Hotel.
After deciding on a beautiful little hotel with a courtyard, I proceeded to do a little shade-tree mechanic work to shore up my broken oil cooler. JB weld is an amazing substance, and after a few hours I had the lugs epoxied and reinforced.
The next day we made the call to stay in Oaxaca another night so that we could see the sights, find some more parts for our bikes, and let the JB weld on my oil cooler set up. I walked from our hotel down to the Zocalo and saw the Cathedral and an old convent that had been turned into a museum.
Late in the day, I went out to see the ruins of Monte Alban, a large pre-Colombian archaeological site, and home to the Zapotecs.
Monte Alban was quite impressive, especially being situated on top of large mountain, but I was still more impressed by Teotihuacan.
The next two days found us riding hard for the border of Guatemala. We dropped down into the desert again as we neared the coast and noticed a huge uptick in temperature. Riding with full gear on soon became unbearable.
At the end of our first day in route to the border, we stopped in a little town and stayed in the cheapest hotel yet for our time in Mexico: 150 pesos, or about $11. It was clean, if somewhat cramped. However, their was no air conditioning and the fan sounded like it was about to break free and fall on your face. However, it was clean and there was internet and we were able to park the bikes in the courtyard again. It's always fun to ride your motorcycle right through a hotel office......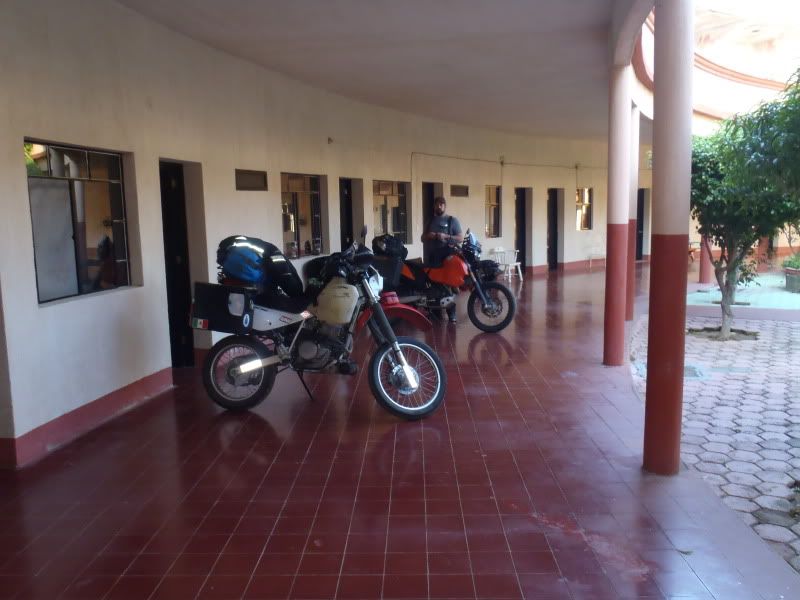 Today we woke up relatively early and made a big push for the border town of Tapachula. We were down at 250 feet above sea level for pretty much the entire day and I shed my riding gear for more comfortable attire: t-shirt and jeans with my big US cavalry belt buckle....which I kept hidden under my shirt. Why do Canadians get to go flashing their patriotic paraphernalia everywhere?
In any event, we saw how they mow the grass near the highway in Mexico:
We were stopped by soldiers at a checkpoint and I got asked for the third time to open my panniers.....I guess that's what I get for using 40mm grenade ammo cans for panniers....the soldiers can always spot them a mile off. I guess they think I'm smuggling about 40 pounds of high explosives around on my dirt bike.
And we saw a nice Mexican family out for a Sunday ride.
It always makes me feel better about my heavily overladen bike when I see things like this.
Our final day of border riding brought us to the town of Tapachula, a scant 20 miles from the border. On our way in we began to see cloud covered volcanos and lush tropical forests. Outside of Tapachula we found a "Banjercito" (a sort of vehicle importation officer) and received our $400 refund for not selling our bikes in Mexico. We had had to pay $400 in La Paz as an insurance against us trying to illegally import and sell our motorcycles in Mexico.
And finally, we found another relatively cheap hotel and crashed. We planned on getting up early the next day and making a leisurely stroll across the border into Guatemala. Little did we know the terrors that awaited us!