I like this place.

Despite the really annoying Americans/euros/touristas that are all over, San Pedro is a cool little town.

There's a little section of the town that caters to the foreigners; it has a bunch of bars/restaurants and hotels/hostels run by expats.

We've started to refer to it as Gringoville.

This nice thing about Gringoville is that after a month of nothing but Tacos and weak Mexican Beer, I can finally get a decent Hamburger and an IPA with 7% ABV.

Not that I dislike tacos, but it's nice to have a change once in a while.
The streets are of various sizes, the pavement is all cobblestones and blocks.

The entire town is like a giant maze.

After being here for almost a week, I still don't know my way around very well.
Not to long ago, the only way to get to San Pedro was by boat. There are tons of "Launchas" (small motor boats) criss crossing the lake between all of the towns. The docks are downtown and a Launcha ride is fairly cheap.
The lake is an everpresent backdrop to all of the vistas; it's beautiful!

Here is the view from my Hotel balcony: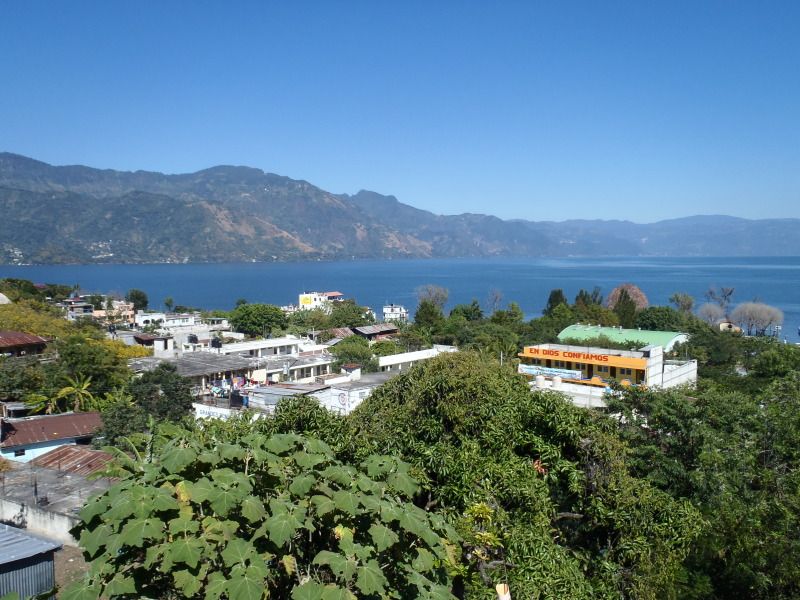 The majority of the older men and all of the women wear semi traditional dress.

Some of the younger men and boys wear American style clothing.

It's kind of odd to walk down the street and see a bunch of women in long floral print dresses and loose blouses carrying baskets on their heads along narrow, winding cobblestone streets.

It's a bit like stepping back in time.
I've attended two Spanish Schools here.

The one that I'm currently enrolled in is called San Pedro Spanish School.

It's one of the largest Spanish schools in town (there's actually a ton of Spanish Schools here) and seemed to have the best staff, grounds, and prices.
My Spanish teacher Julio and I.
My Spanish School.
My teacher doesn't speak very good English; however, I speak enough Spanish that I understand 99% of what he says.

The school costs about $100 a week.

It's worth it.

I wish I could stay here longer and work on my Spanish until I was fluent.

Unfortunately, the road calls and I'll probably be leaving tomorrow.