When we arrived in Tequilla, it was after dark, the first few hotels we went to didn't have secure parking, and we were all a little tired and ready to just stop. So we found a place that was rather upscale, (600 Pesos) with a secure parking and decided to just bite the bullet and do it.
The next morning, two of the remaining riders were up and off before me and Ed Zachtamundo were even coherent. "See you in Patzcuaro!" Was the last thing we heard as their KLR's clunked away…haha! But honestly, we rode a little faster than them, so they figured a two hour lead on us would be sufficient for a link up later that evening. More on that later.
Ed Zachtamundo and I took our time loading the bikes, then ambled down to the central plaza to break our fast. Being in Tequilla, I decided to have the Tequilla Crepes, which were fantastic, and only cost 35 pesos.
While we were eating, I was stairing at the church and had a brilliant idea: we should get the local priest to bless our bikes! I hailed the waiter and asked him if he knew where the padre was and if he thought he might be willing to give a "benadacion" to us and our "motos". He said yes, and immediately went and contacted the padre for us! Awesome! A short time later, the padre came up, talked to us for a minute, then went across the street, grabbed his holy water and book of blessings, and came back and blessed us and the bikes. It was really cool!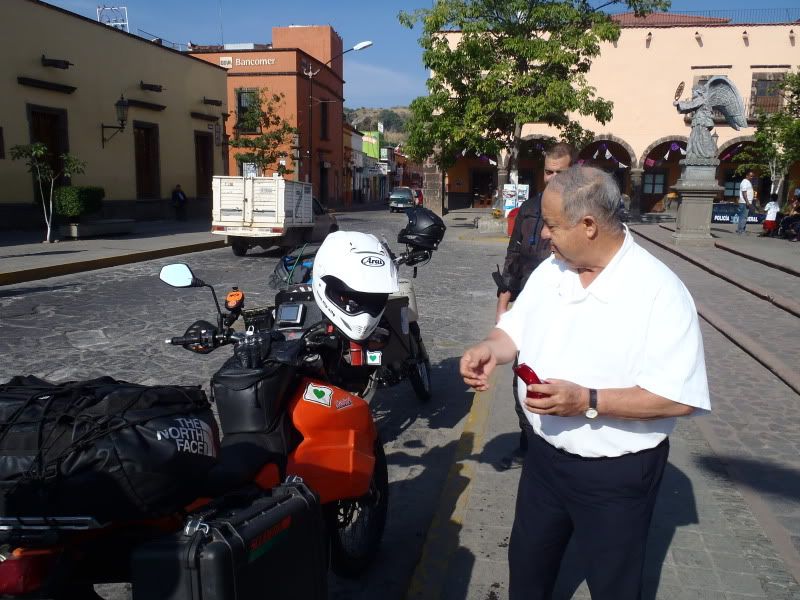 We left Tequilla a little late and road like demons trying to get to Patzcuaro. As I've said before, on a motorcycle, you can pretty much do whatever you want down here, so we were passing on the right, white lining, lane sharing, jumping "topes", and otherwise riding like hooligans. And most of this was right in front of the cops too. Go figure.
Stopped for gas in a small town on the edge of the State of Jalisco and did one of my regular oil checks. So far over the past 1,700 miles, I've added about 300 ml of oil to my bike. I've been running it pretty hard, so I guess that's about normal for a big 650cc thumper.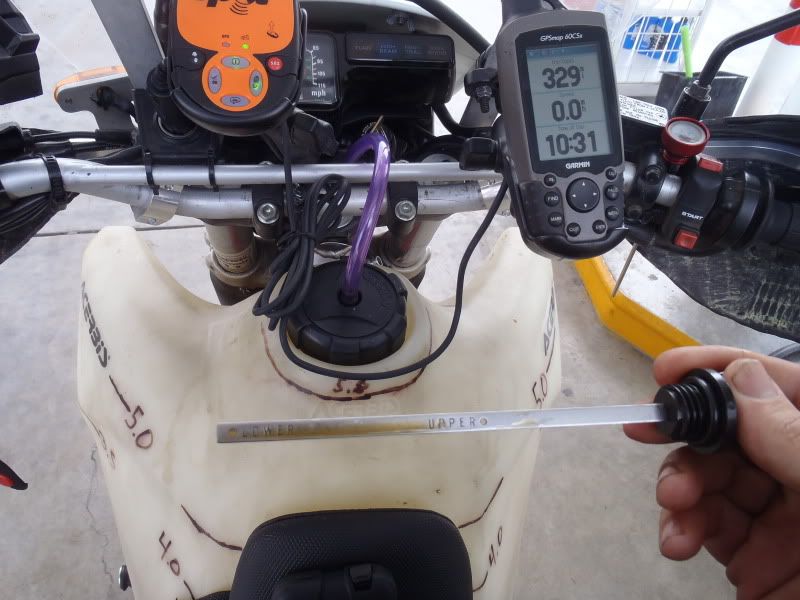 A cop near the Pemex were we filled up told us that Michoacan, (where we were going) was "muy peligroso" and that there was lots of "narco trafficantes" up there. Which was funny, because when we got into Michoacan a few hours later, another cop told us that Jalisco (where we had just come from) was really dangerous but that Michoacan was safe.
As we neared Patzcuaro, we began to gain a significant amount of elevation. It started getting really cold, a big change from being down in 90 degree weather near Puerto Vallarta the day before.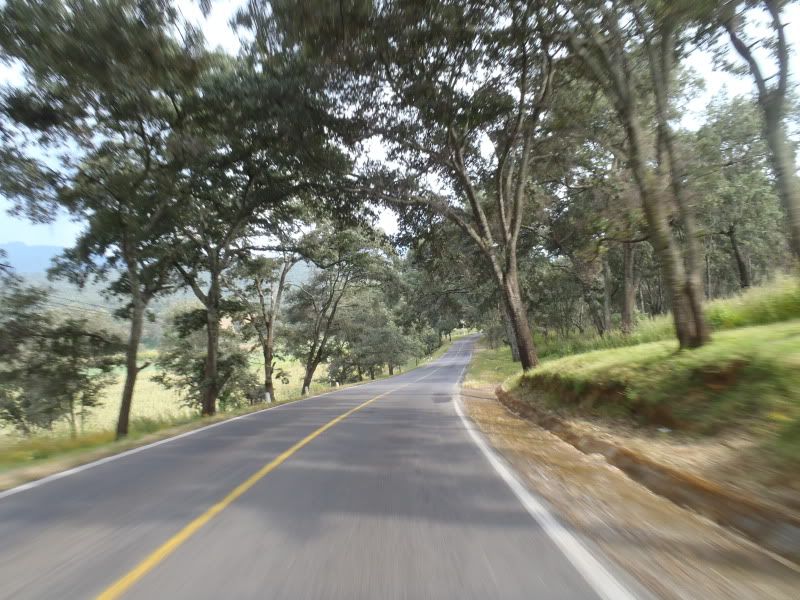 We eventually caught up to a bunch of Mexican's on Goldwings who were also riding like hooligans and we followed them into Patzcuaro.
Arrived in Patcuaro to find that all of the Hotels were full due to the Dia De Los Muertes Celebration going on that evening. Eventually we found an RV park were they let us camp for 90 pesos. So glad I didn't ditch the tent and sleeping bag yet! We got some pasta and beer at the local "super" and made our dinner. We wanted to go see the big Procession for Dia De Los Muertes, but we were afraid to leave our stuff unguarded and ended up just crashing. Never heard back from the other two riders on KLR's that were supposed to meet up with us either.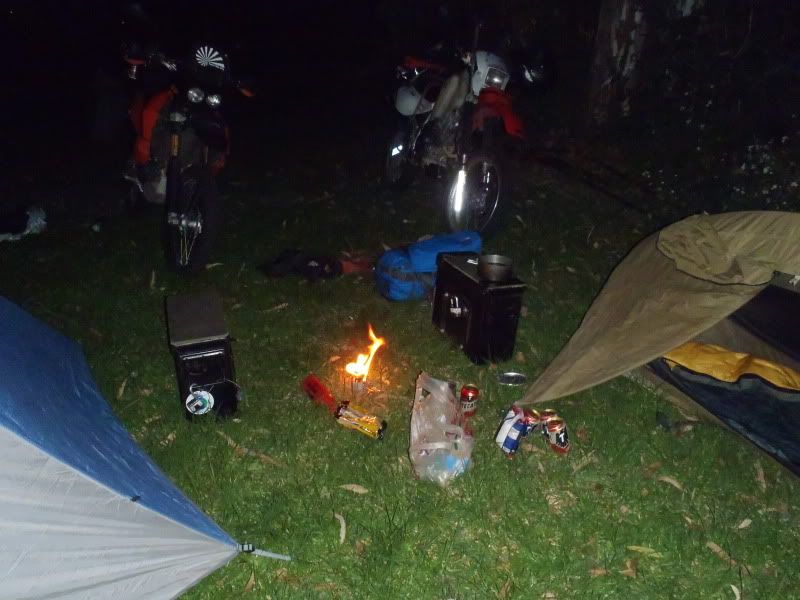 Woke up this morning and didn't really feel much like riding the bikes too hard. Had breakfast in Patzcuaro, then headed for Morelia to look for oil and bike parts. Got to Morelia and saw a bunch of cops on Harleys. Pulled over and started talking with them about their bikes. They were really cool and gave us directions to the nearest Motorcycle store. Here's Ed Zachtamundo with "el jefe".
On a side note, one of the cops told me that you can buy a used Mexican Police Harley for about $800 american. Nice! Here's what the cops were riding: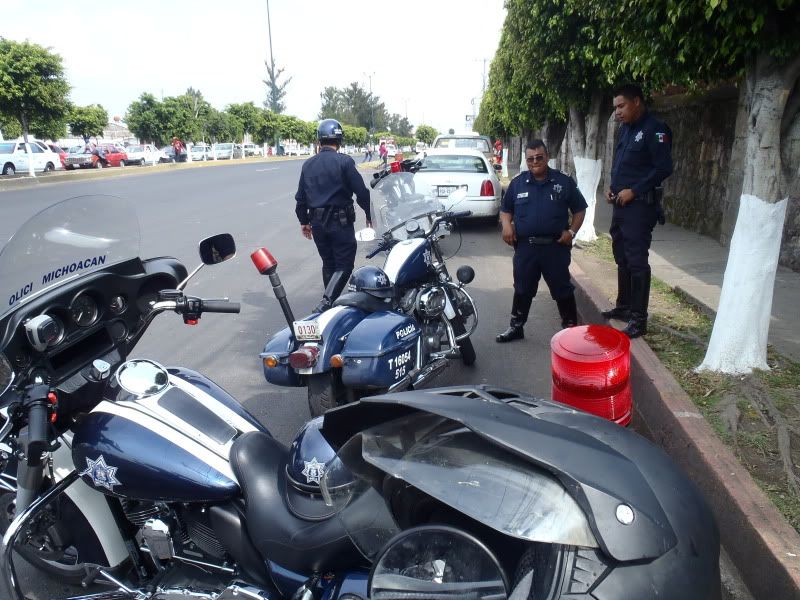 Stopped at a Starbucks to use the wifi and get a reminder of what real coffee tastes like. Interestingly enough, an Americano in a Mexican Starbucks costs half as much as one in an American Starbucks. Checked our email and found that the two KLR riders that had told us they would meet us in Patzcuaro hadn't even made it halfway before they had to stop for the night. Guess we passed them in flight somewhere. Oh well.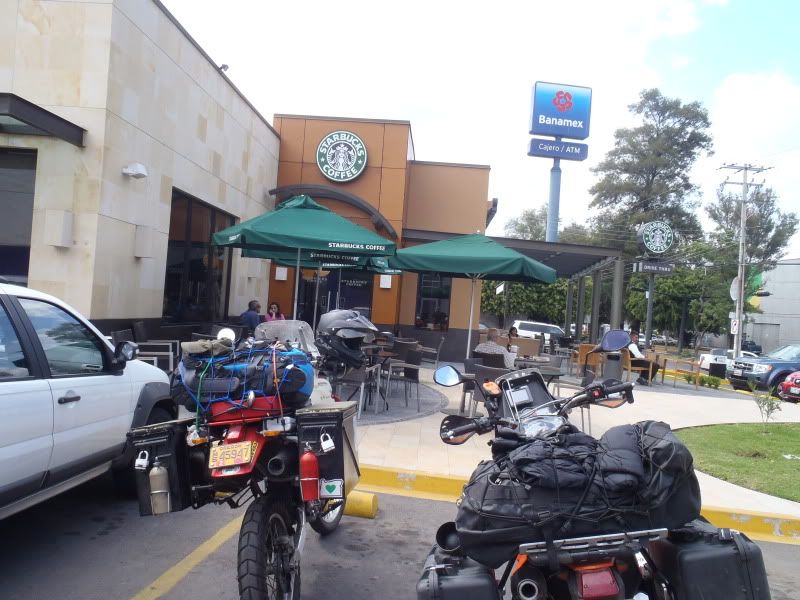 Decided to take it easy and only do about 20 miles more today. Ended up in a small town called Zinapecuaro. Stopped at the first hotel we came to and got a room. There were two armed Federali's guarding the gate as we pulled in, and about four of five armored Federali trucks in the parking lot. Guess we found our were the Federali's stay in this town.
The rooms only cost 250 pesos! Hot showers, secure parking, wifi, and a contingent of heavily armed Federali's guarding the gates! We really lucked out tonight. We're alway asking for "estaciamento seguro" (secure parking), but it doesn't get much more secure than two dudes with M4's standing in front of your hotel compound.
Oh yeah, and whatever they call the "grilled corn on the cob slathered in mayo, cheese, chilli powder, and lime juice", it's amazing!
__________________