Day 157 (March 22, 2013)
Puerto Piramides, Argentina to Las Grutas, Argentina
Day's Ride: 300 Miles
View Larger Map
As I was leaving the campground this morning, I stopped by the office to pay. The guy on duty just looked at me, smiled, and told me not to worry about it. Awesome!

I went by the gas station, fueled up, and then got on the ripio and started riding for the end of the peninsula. The road was incredibly nice, well graded, gravel. I even had a nice tailwind on the way out which made things nice and quiet, and I was able to listen to some NPR podcasts in my headphones.




After about 45 miles of ripio, I reached the end of the peninsula and saw this:




I love the way you say penguin in Spanish: peen-guee-no If you say it with a mexican accent, it just sounds hilarious.

I parked the bike, took two steps, and spotted this little guy peeking his head over the birm:




I just about called it a day right there. List of things to do on SA trip: 23.) See penguins. Check.

I walked up to edge of the overlook and found a whole colony of the little guys hanging out catching some rays.




In reality, there weren't that many, but I hear it's late in the season. Plus, this is one of the small nesting grounds. Puerto Tumbo is supposed to be the real big one down here, but it was too far south for me. A couple of these guys were close enough for me to touch, but I played by the rules and left the "pinguinos" alone.




There's a part of me that wonders what penguins taste like......it would have been so easy to scoop one of these little guys up and stick him on a parilla.
Oh well, next time.

After seeing the penguins, I went down the coast a little farther to see if I could find any elephant seals. Unfortunately, I think most of them have left for the season. I did see a few females, but they were really far away.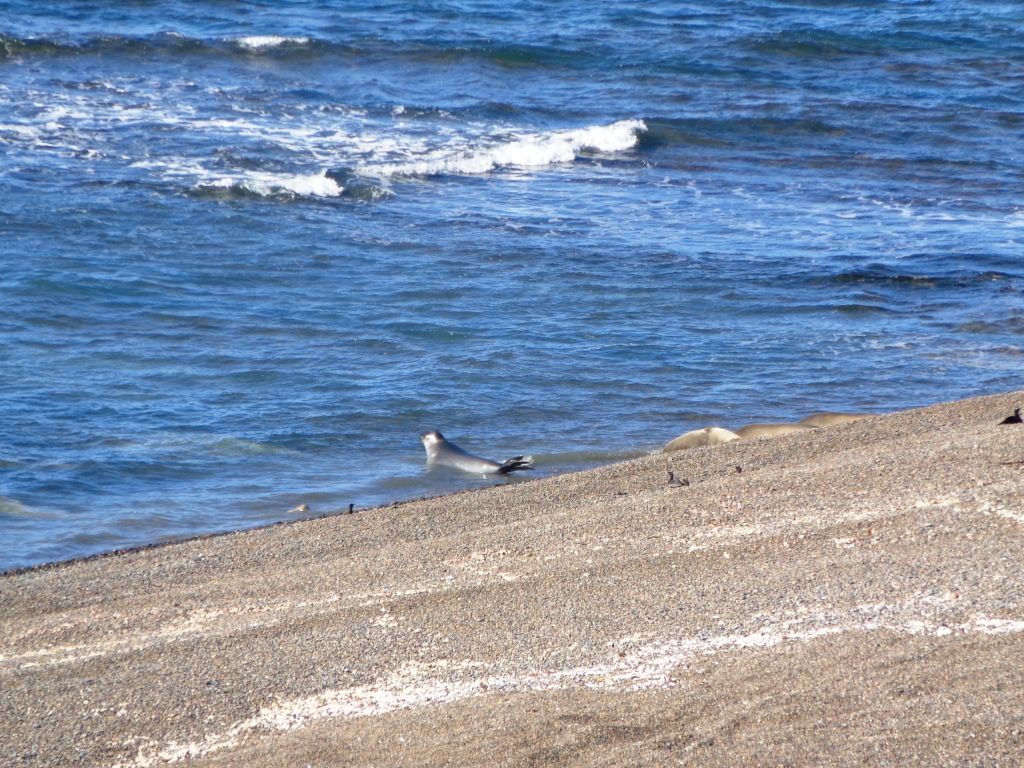 As I was walking back to my bike, I ran across a few rheas. At least I think that's what they are. I've been seeing these things since Bolivia and at first I thought that someone had turned some emus loose.




In any event, whatever these large flightless birds were, they were pretty tame and I was able to get close enough for some good pictures.

With "Mision Pinguino" complete, I hit the road and made it back to Puerto Piramides to top off my fuel one last time before heading back to the main highway. My luggage rack didn't even break. I think that that may have been the last ripio for the trip. Yeah!

The road north was flat, straight, and uneventful. Luckily, the weather has warmed up considerably since I came north and I was able to enjoy the ride without shivering to death.




Right before I hit the 300 mile mark, I came to a small town on the coast called Las Grutas. I decided that this would be a good place to stop and rolled into town. Apparently this is a big beach vacation spot in the summer. However, with the summer season over, the place is a ghost town. I stopped at three different campgrounds before I finally found one that was open.

The campground that I'm staying at is some sort of retreat for Police officers. However, for 30 Pesos, the public can also camp here. It's pretty nice; they have hot showers, wifi, and electrical outlets at all of the camp sites. Plus I'm the only person here. The caretaker even invited me over to his house for some asado. I provided the beer and we had a little family style dinner while we watched the Argentinian versions of "The Biggest Loser", Lifetime, and MTV. All very entertaining.

After dinner I checked my email and found out that my identity had been stolen and that someone in Kansas City, MO had decided to spend about $300 of my money at Target and Chic-Fil-A.

So now my debit card is on lockdown. I've only got about 100 pesos left. Uh oh. Now I've got some problems.....