Day 156 (March 21, 2013)
Dolavon, Argentina to Puerto Piramides, Argentina
Day's Ride: 110 Miles
View Larger Map
Woke up rather late this morning and took my time packing up. I had a few things to take care of in Trelew before heading out to Peninsula Valdes to try and find me some Pinguinos.
I made it to Trelew in about 20 minutes and commenced my hunt for oil. I stopped at a couple of larger "Lubricentros" looking for some Rimula R4; unfortunately, I could only find it in the 5 liter jugs and they wanted about $60 for those jugs so I said "no thanks" kept on hunting. So much for Rimula being cheaper than true moto oil. I did find some Shell Helix 10W-40 that was JASO rated; unfortunately, the store I was in only had one liter.
Eventually I buckled down and went to one of the motoshops in town. They sold me three liters of Castrol semi-synthetic for about $40 in American dollars. I got a deal by paying with greenbacks; if I had paid in pesos it would have cost around $55. It's still not cheap, but at this point I was paying for convenience as they agreed to let me use there shop to do my oil change.
I wheeled the bike in and got down to business. I had to change the filter this time so it took a little longer; however, it was still a relatively quick job. The guys in the shop were cool and we had a good time talking while I worked. They were fascinated by my bike and my trip and they had tons of questions. When I finished up, I had them sign my tank and took a few pictures of them with the bike on their cell phones.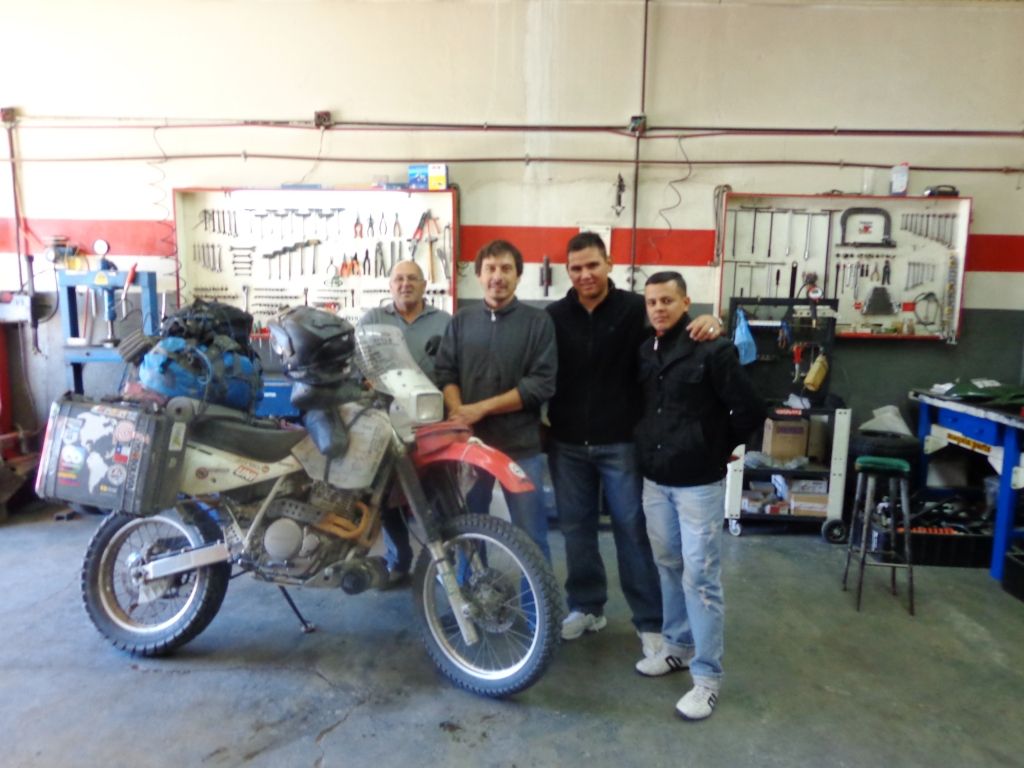 After finishing up at the shop, I went to the local bank and pulled out some more pesos then headed over to the gas station to fill up and check my emails.
I'm currently in the process of trying to arrange shipping for my bike back to the states and I'm beginning to think that it would have been better just to sell the damn thing in Punta Arenas. The irony that I keep running into is that airfreight seems to be cheaper or at least the same price as ocean freight. Purpledrake explained a little bit of the logic behind this to me but I still find it fascinating. The one huge thing with ocean freight is all of the little hidden fees; things like port taxes, brokerage fees, port maintenance fees, etc. I'm beginning to think that I may just go with air freight out of Burns Aires.
After leaving Trawler around 1:00 PM, I rode north for the Valdez Peninsula. The peninsula is a huge wildlife reserve complete with elephant seals, whales, and penguins. Since this is probably my last chance to see some pinguinos, I decided that I should probably ride the few extra miles to make it happen. I know Allvincullumyork is counting on some pictures of the pinguinos and I can't let him down.
I got into the little town of Puerto Piramides around 4:00 PM and decided that it would be better to travel the final 140 kilometers of ripio out to the penguins in the morning. I found the municipal campground and set up my tent.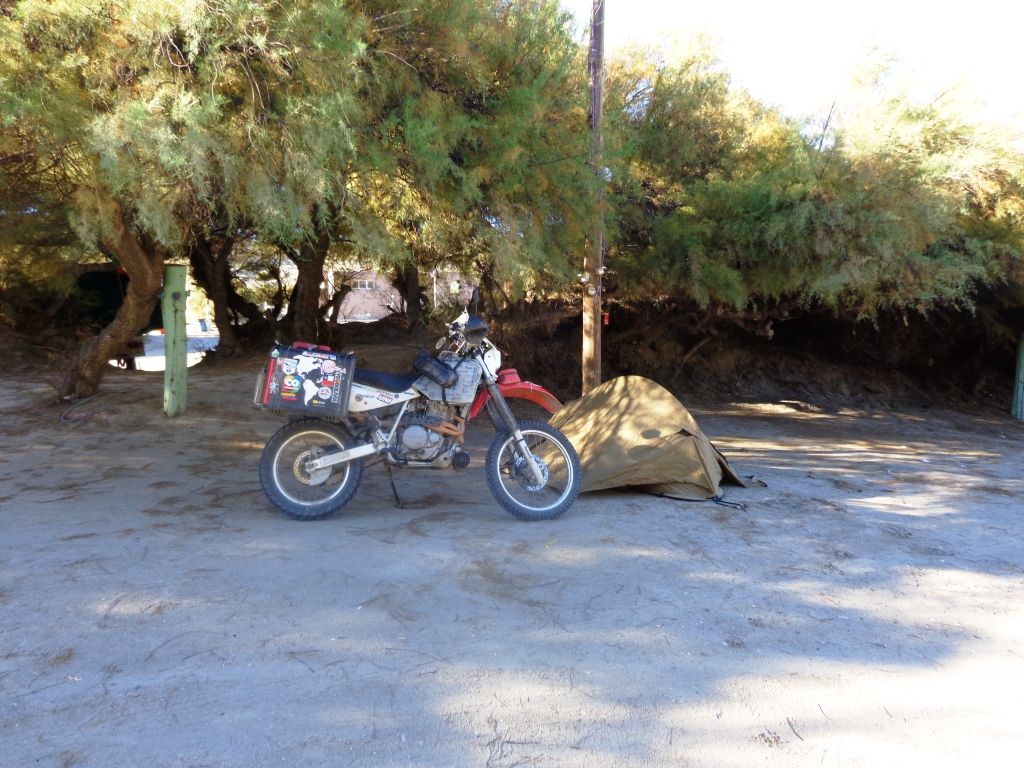 This is the most expensive municipal campground I've been to in Argentina and Chile. It cost 60 pesos ($12)! I suppose that it's due to the fact that camping isn't technically allowed in the reserve and this is the only spot where you can set up your tent.
Tomorrow I'm going to burn out to see the pinguinos and then head back to the main road and keep making tracks for Buenos Aires. I've noticed a few small cracks in my luggage rack again. I'm hoping that they survive the ripio tomorrow. My rear tire is also just about shot. I'm hoping that it makes it the final 800 miles or so into Buenos. At this point I don't know if I can afford another rear tire.