Day 162 (March 27, 2013)
Buenos Aires, Argentina to Rosario, Uruguay
Day's Ride: 273 Miles

Once again, google maps isn't quite tracking on the most current border crossings, so, you'll have to imagine a connection across the border. I've included two maps to show the majority of the route:
View Larger Map
View Larger Map
I was actually quite happy to leave Buenos Aires. It seems like a very cool city and I'm sure that I'm going to enjoy it immensely when I return; however, I'm not much of a city guy, and the crowds and people and general chaos tend to stress me out. What's more, it's generally impossible to find a good place to put your bike and you either end up paying a lot for a parking garage or stress out about it being stolen from whatever hidey-hole that you stashed it in.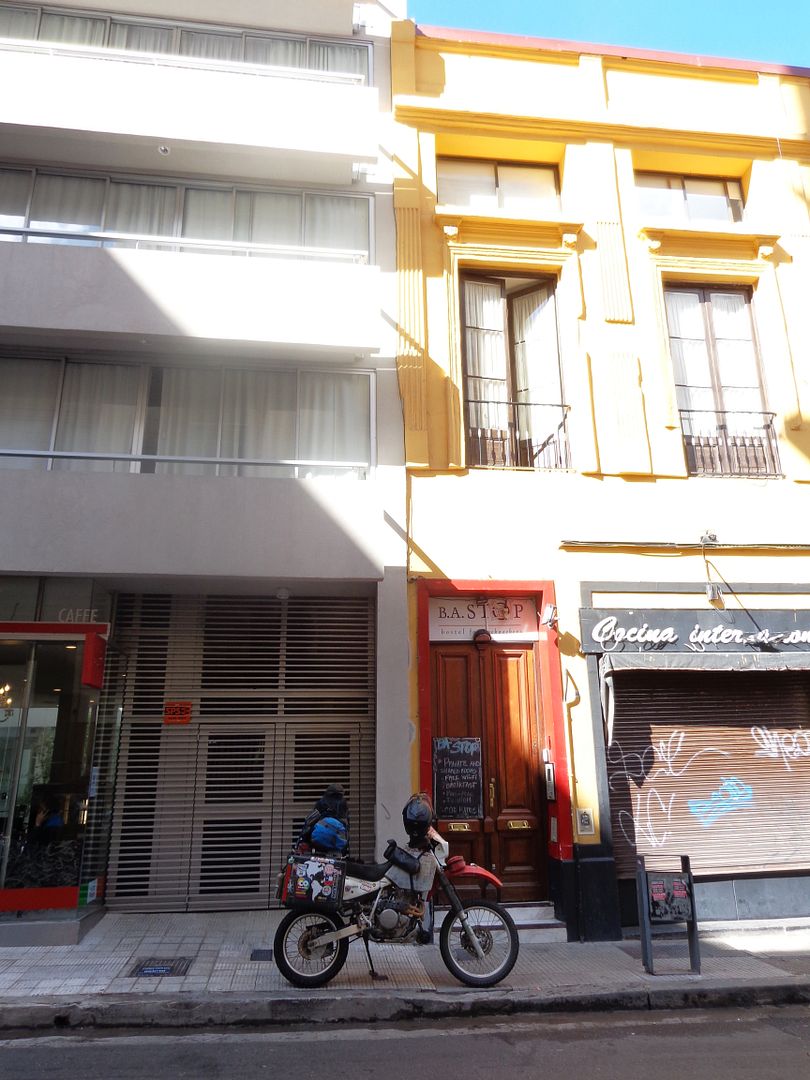 The most common way to reach Uruguay from BA is to take a ferry straight to Montevideo or Colonia. However, I decided that I would try one of the land borders a little further north. The ride to the closest crossing over the Rio Plata was all flat, fast autopista.

I found yet another name for a speed bump: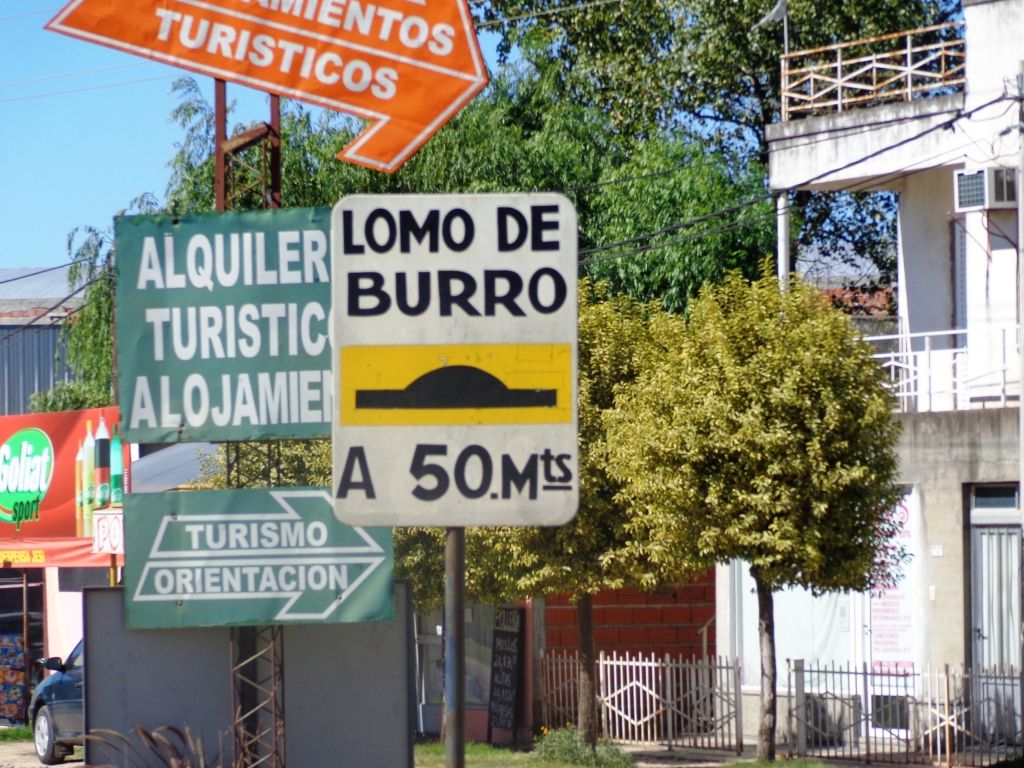 Lomo de burro. Awesome.

A little before the border, I ran into the back of a huge line of cars. I had heard stories of this border being closed by protesters in past, and I was a little worried that I was about to encounter a similar situation.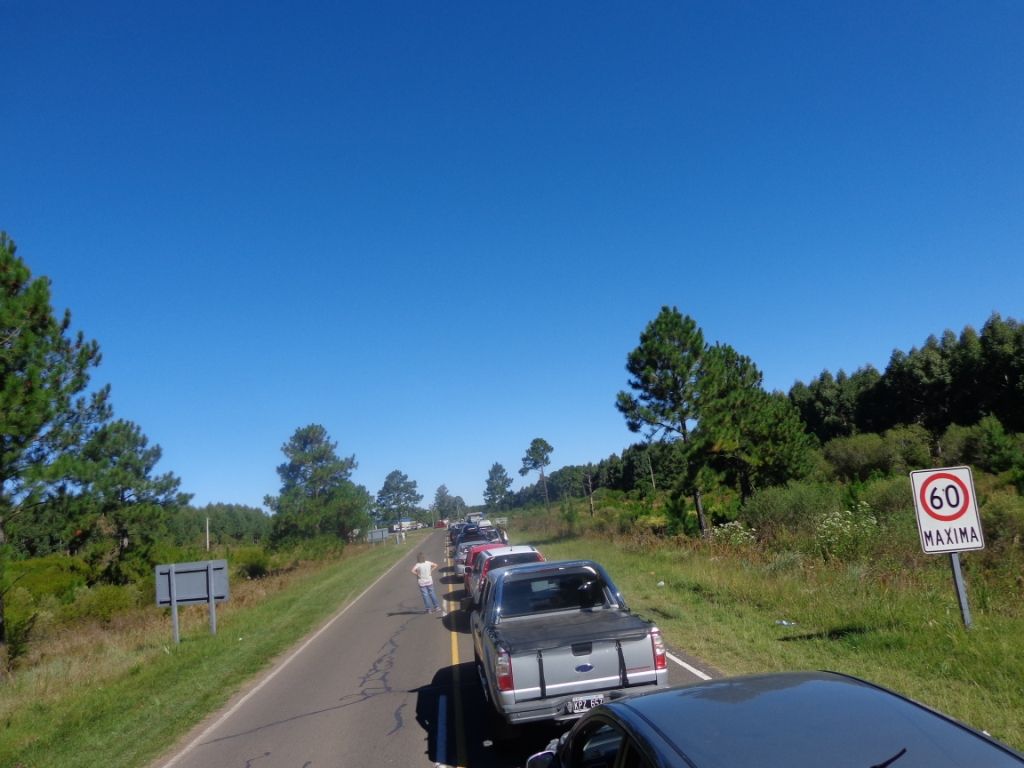 Being on a motorcycle (normal traffic rules don't apply
), I decided to ride up to the front of the line and see what was going on. I found a few cops on bikes about half way up and asked them what was going on. I couldn't really understand them, so I just kept going forward. They didn't try and stop me, so I figured everything was okay.

As I neared the front, I ran into two bikers with Uruguayan plates. I pulled over and started talking to them. Their names were Damian and Germain and they were just returning from a 10 day trip to Chile. We hit it off right away and were soon talking like old friends.




I was asking Damian about campsites near the coast when he invited me to stay at his house in a small town called Rosario that was on the route I was planning on taking! So cool! I love it when stuff like this happens.

The aduana and immigration offices for both countries were both on the Uruguayan side and eventually we were allowed to cross the river and get our paperwork taken care of.




As soon as I had "officially" entered the country, I added Urugay to the list on my wind screen.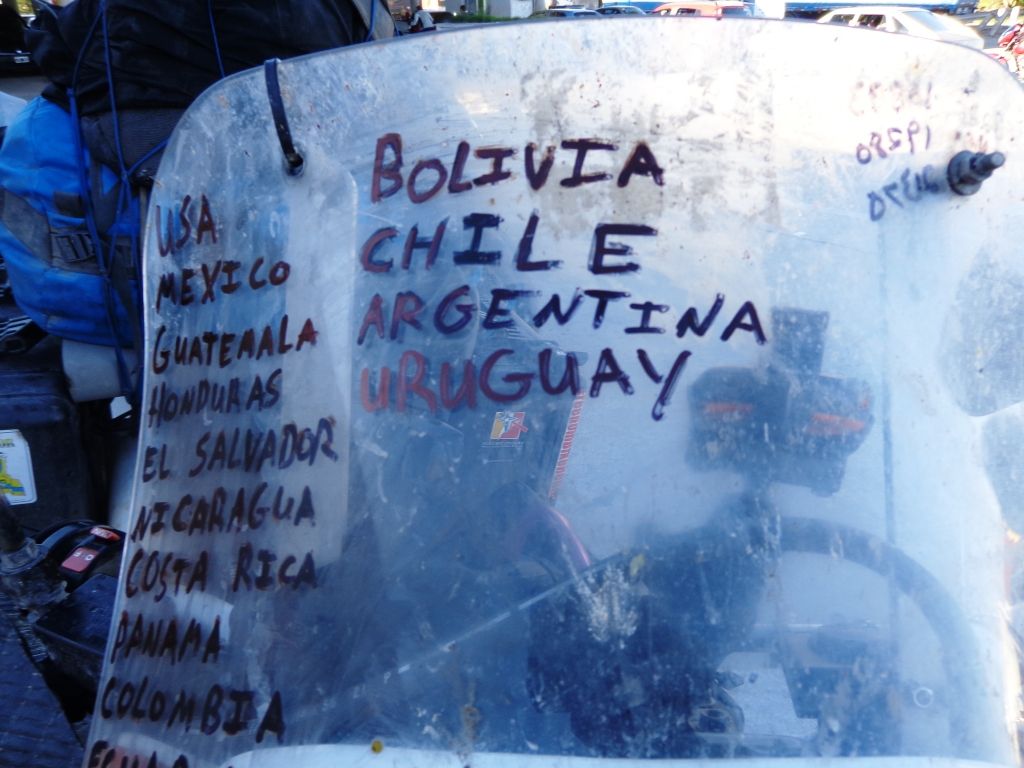 That makes 15 countries on this trip if you count the States.

We left the aduana and I fell in behind the Uruguayos on their sport bikes.




Luckily, they rode quite slow and I was able to keep up with them just fine.

We made it into Rosario just after night fall and pulled up in front of Damian's house. Germain said his goodbyes and went in search of a hotel. Damian and I unloaded our bikes then rode them about five blocks away to his garage. After we had locked everything up in the garage, I assumed that we were just going to walk back; however, Damian pulled out a little 1986 50cc Yamaha scooter and we rode double back to his house. It was quite a sight; two big dudes in full riding gear riding this tiny little bike that's bottoming out and barely able to make it up hills.
Luckily, there isn't a stigma against guys riding pillion in South America.

We made it back to Damian's place, changed out of our gear and walked to a nearby roadside food cart and got some milanesa and some beer. I tried to pay, but Damian refused and told me that he was going to get it. What a guy!

We went back to his place and ate. After we were done he showed me his lawn mowers (he called them "yard machines") in the back yard:




I'll admit, the little conejos (rabbits) do a good job of keeping the grass down. If I ever get a yard someday, I'll have to buy a couple of rabbits. Then, when winter comes along and the grass stops growing, I can just eat the rabbits....