Day 74
Medellin, Colombia to Santa Rosa, Colombia
Day's Ride: 137 Miles
Well, I finally managed to leave Medellin. It was hard, but I forced myself to pack up and get out. Before I left I had to have Al sign the tank: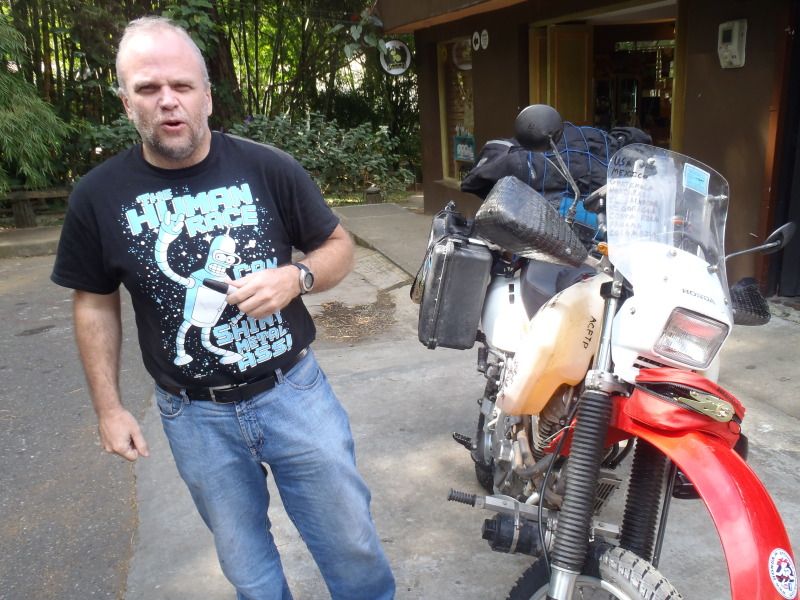 And then I had to get a picture with him and Zach, his manager, and James, one of the Motolobia guys, in front of the Shamrock.
Al, if you're reading this, thanks for the great stay! The Shamrock rules! By the way, you need to start a wall of fame with pictures from all of the overlanders that stop at your bar.
As I was leaving, Byron and Isabel rolled up and took over my room. It was good to see them again. I have a feeling I'll be meeting them again at least one more time.
Getting on the road south again felt good. It was hot out, but my new pressure suit thingamig was working great. After passing quite a bit of stalled traffic coming out of the city, I began to reflect that the double yellow line running down the middle of most roads does not mean "don't pass" but is actually a tiny passing lane for motos.
The ride out of Medellin heading south towards Cali is fantastic. Their is a fairly large climb and then an even larger drop down into a long river valley. Part of the road follows a ridge line down into the lowlands.
Stopped for lunch at a roadside restaurant after I finally got to the floor of the valley and ordered "Choripapas", which I figured would be sausage and potatoes, but ended up being french fries and potatoes. Close enough.
After lunch I was blasting south when I saw a couple of riders stopped by the road on a VSTROM 650. I pulled over and said hi and asked for directions. They were taking a break from their riding gear as it was incredibly hot and humid. Once again I was thankful that I had purchased the pressure suit.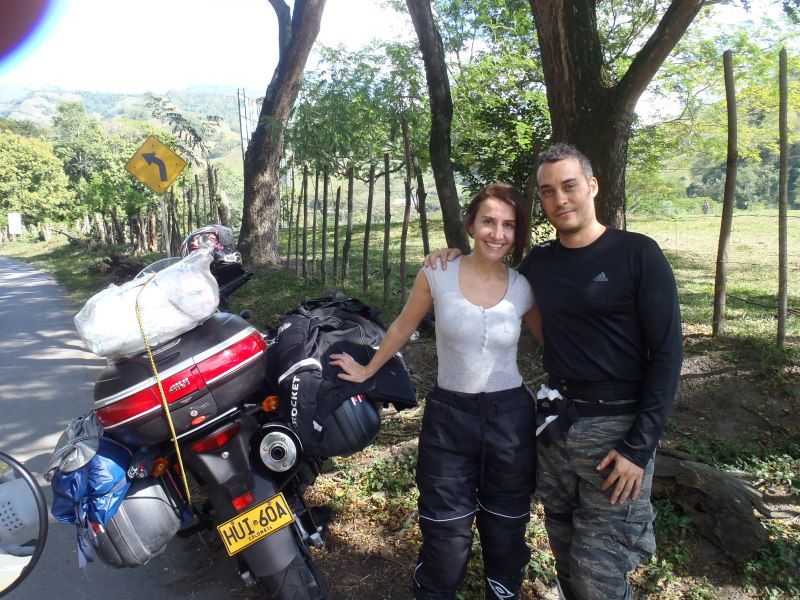 After leaving the VSTROM riders, I was coming around a corner when I ran right into a Colombian Speed Trap! Ay Carumba! The cops immediately jumped out into the road and motioned me to pull over. As soon as I had my helmet off, one of the cops came up and started asking for my papers and telling me that I had just been caught violating the speed limit. Blast!
I tried the stupid gringo trick and acted like I had no idea what he was saying; however, he was extremely persistent, so I eventually gave him my fake driver's license, and copies of my passport, importation papers, and insurance. He took everything over to his jefe and they started writing me up. I waltzed over and took a look at their operation. They had a perfect location, just at the bottom of a long sweeping curve where the speed limit dropped from 80 KPH to 50 KPH in the span of a few meters. You can see the curve in the background as one of the coppers scrutinizes my xeroxes: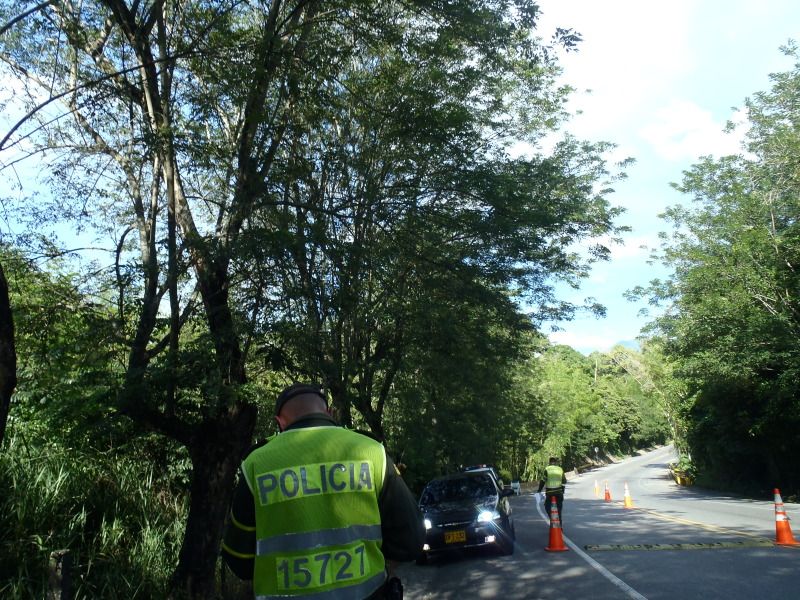 I was a little pissed, but there wasn't much that I could do. It's not like I've actually been paying attention to speed limits. I don't usually ride much over 60 MPH anyways so it seemed like there was no need. This was also the first time I had seen Colombians using a speed gun. It was pretty legit though. They showed me the laser and replayed the video of me coming around the corner with my speed (88 KPH) pasted across the image.
Well, they got me fair and square. I waited for the discussion of money to begin; however, the jefe took my documents and started writing me a ticket. Well I'll be. I don't have to bribe anyone.
I was still playing stupid so I couldn't really ask him where to pay. Next time I'm just going to try giving them the sad Gringo look. About the same time they gave me my ticket and told me to go away, another motorcyclists on a R1200GS got pulled over. I asked the rider if he spoke English. He did. He then told me he recognized me from yesterday; apparently he had been eating lunch in the restaurant that I stopped at with Juan David, Daniel, and Rafa. Small world. I asked him what I should do.
"Don't pay it. Just get the hell out of Colombia. They aren't advanced enough to have it in the system by the time you cross into Ecuador."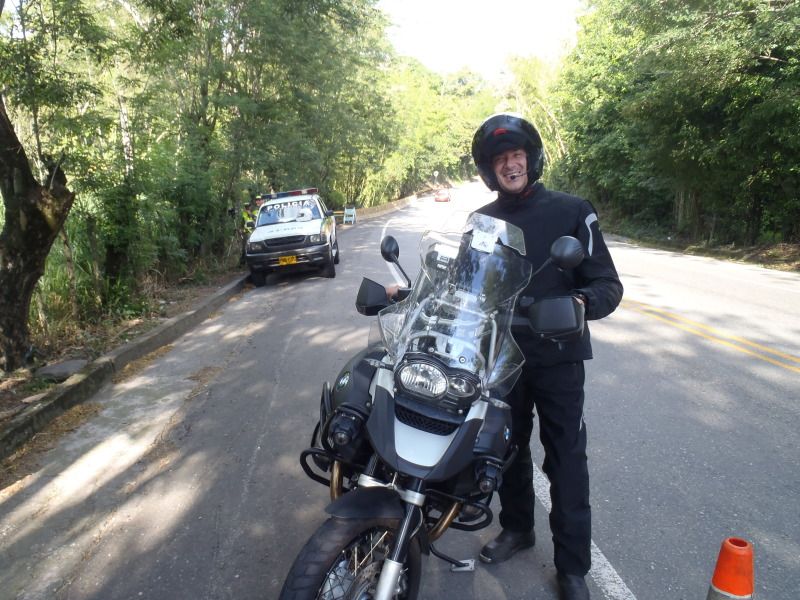 Okay then. I'm not sure if that's the best advice, but I don't really know what else to do. I guess I'll try and figure it out tomorrow.
I hopped back on and continued riding until I reached Santa Rosa. I continued out of town until I reached the Hot Springs, or "Termales" as they are called. Al told me about this place and said it was a must see. There is a huge waterfall at the back of the complex, probably somewhere in the neighborhood of 300 feet.
My pictures don't do it justice.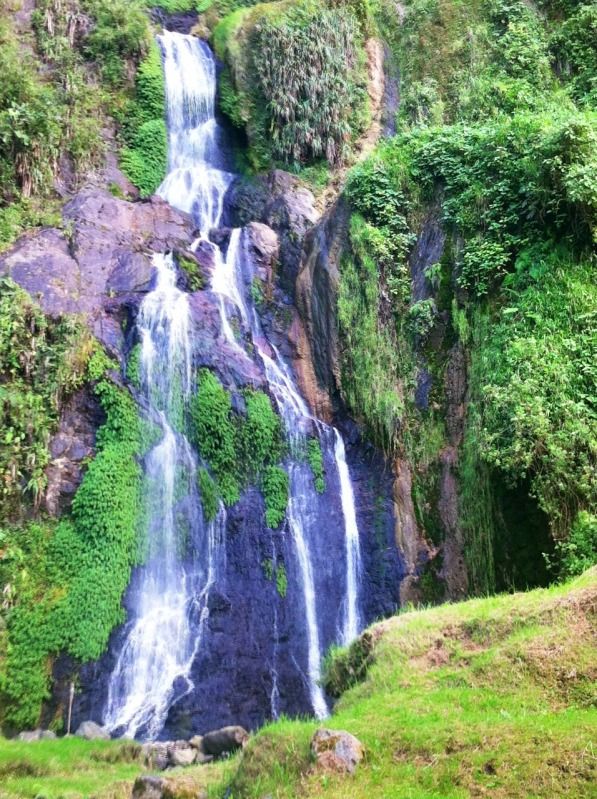 Getting into the nice Hot Springs costs 40,000 pesos (about $20). I probably wouldn't have paid that much, but a good soak sounded like a good idea and the restaurant had wifi. Since my Cabana down the road does not have internet, I decided I might as well take a dip and post on the old ride report. So here you go!
That's all for today. If there are any Colombianos reading this that want to give me advice on that ticket, I'd appreciate it. I've got to go, the lady in the lobby of the hotel that I'm pirating this wifi from is starting to give me dirty looks.....