We crossed into El Salvador two days ago and were on our way to see an acquaintance at his bar. As we were passing through an intersection, Justin was hit by truck. We got him to a hospital and paid off the cops to keep him from getting in trouble.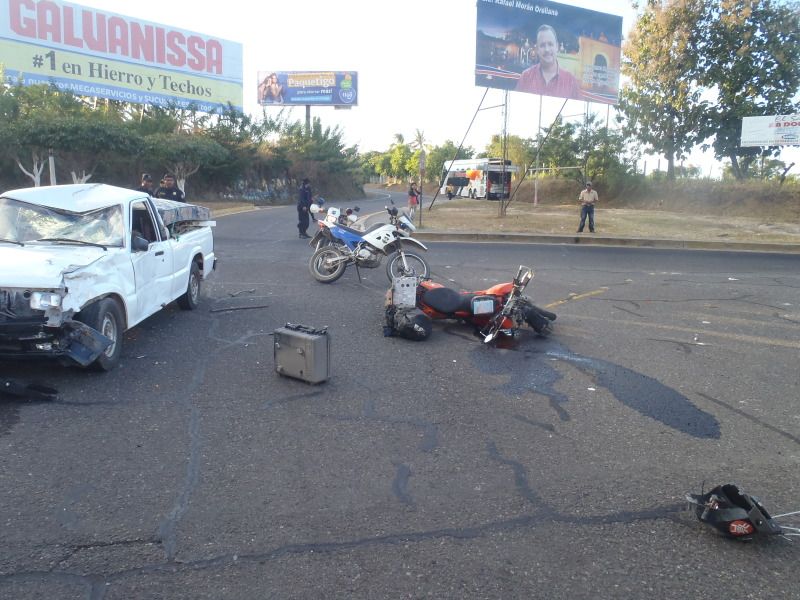 After arriving on scene, the cops did a perfuntory investigation and determined that Justin was at fault. They had taken his passport, motorcycle, and other douments and were going to keep a cop with him at the hospital until he recovered in order to ensure that he didn´t leave the country. It was all kind of shady and I know they probably just wanted money; but at the time we were more concerned with being able to get him out of El Salvador as fast as possible. So, we got a lawyer, settled with the other driver, had a form drawn up and notarized that released Justin from fault, then got all of his documents back from the Cops.
He had a serious compound fracture in his right leg; it was broken in several places and the bone was protruding from the skin. An ortopeadic surgeon from San Salvador came to the hospital and performed surgery last night to put him back together. They had to reatach multiple bone fragements and used a substantial number of screws and plates to fix his leg. All told, the surgery took about four and a half hours.
Ás of this morning he´s still in a lot of pain and probably more than a little scared. He has been able to eat a little food and the doctors are hopefull that he will be able to make a full recovery. They estimate that it will probably take over a year for him to fully heal.
I'm currently staying at the Hospital with him. We are in the town of Ahuachapan at the private hospital. It's called "centro medico de ahuachapan". GPS coordinates as follows:
N 13* 55' 21.4"
W 089* 50' 38.0"
Justin does not have medevac insurance (i.e. Medjet Assist); luckily, he does have Health Insurance in the states.
Unfortunately, and we had to settle with the driver of the truck for $2,000. It was all a little shady; however, at the time we were more concerned with getting his documents and being able to get him out of the country post haste. We also had to pay $200 for the lawyer, and a $30 bribe to get his bike out of the impound lot.
Additionally, Justin may have to pay out of pocket for the surgery and hospital stay which will cost around $3,200 as well as getting a flight back to the United States, shipping or storing his bike, and whatever other costs he may incur as he recovers.
Like many of us who embark on these kinds of adventures, Justin quit his job in order to complete this trip. I have set up a donation button through his paypal account. If anyone is willing to help out a rider who has been hit with some seriously hard times, I know that he, his family and myself would appreciate it!
You can click on the button labled: "Justin´s Recovery Fund" to send money to his papal account.
Thanks to everyone in advance for their prayers and support!
Bryce