Day 71 and 72
Medellin, Colombia
Day's Ride: 0 Miles
Well, it's official. Medellin has me. It feels like those lines from the second Hangover flick. There's nothing you can do, Bangkok has him. Except it's Medellin. Every time I get ready to leave something comes up and I end up staying here just one more day.
This was my second Christmas in a row spent far away from home with a stomach bug. Last year it was in the giant sandbox. All in all, Christmas was pretty low key. I slept in till about 10:00 AM then walked down to the coffee shop (which was probably the only business open in Medellin) and got a traditional deep fried Colombian breakfast: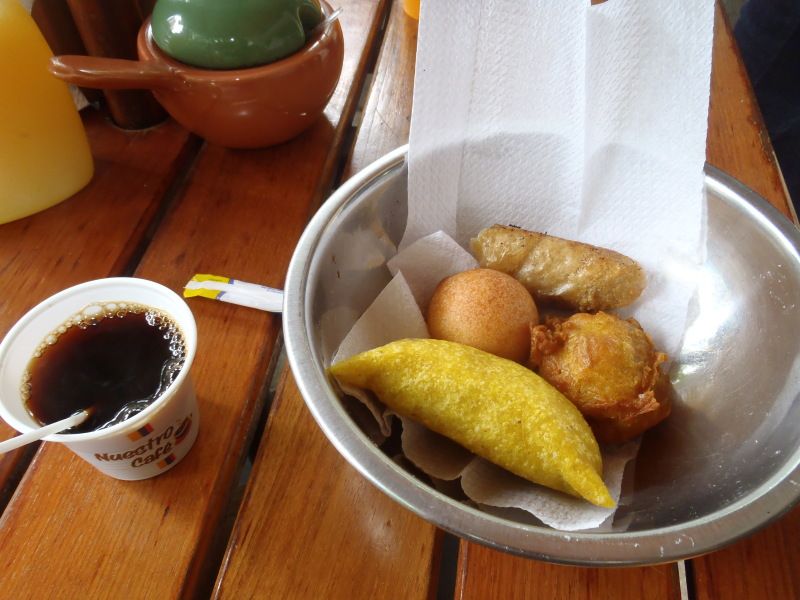 I can literally feel my arteries starting to clog when I eat this stuff; but it's so good I just can't stop! While I was eating I met a couple of fellow overlanders who had driven their Toyota Fourrunner down here from Austin, Texas.
They've been on the road for 11 months! They ended up getting married in Guatemala. What a honeymoon! They have a pretty sweet setup in the Toyota. They usually just park in front of a Hostel, pirate the wifi, pay for a shower, and sleep in the back of their rig. For the life of me I can't remember their names; they're probably going to be angry with me when they read this as I gave them the address for the ride report.....
After I left the Texans, I found this hilarious sign above a nearby drive way:
I suppose these kinds of signs are necessary when you live next to a bunch of Hostels and bars.
I spent the rest of the day lazing around and napping. Bubbletron, Dilan, the two Texans, and I all went out later that evening for a traditional Christmas meal of Colombian Tex-Mex. It tasted nothing like tex-mex. I wanted a refund but was too tired to care. Fortunately I got to see this awesome Vespa hack which totally made up for the mediocre meal: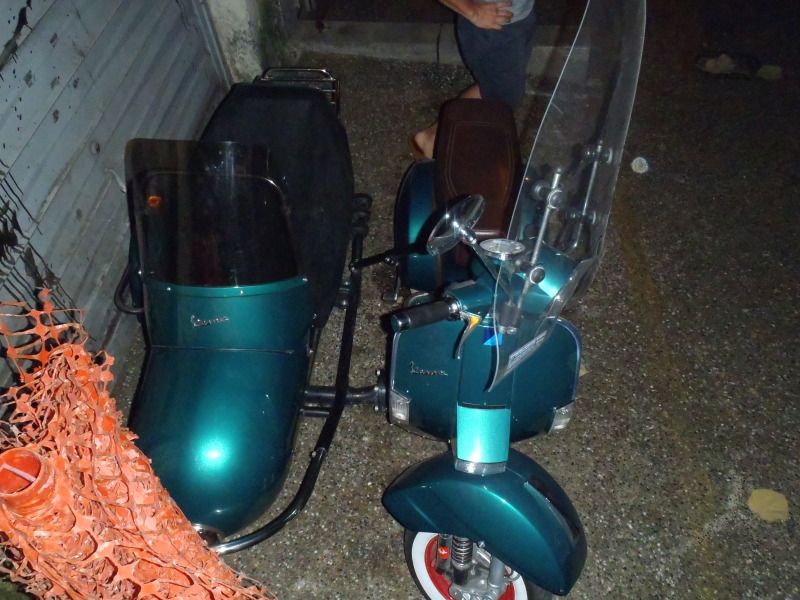 This morning I was actually somewhat productive. Yesterday I had become acquainted with James, a New Hampshire native who lives in Colombia six months out of the year and works for Motolombia. He took bubbletron, Dilan, and myself downtown to moto centro: an entire street of wall to wall moto shops: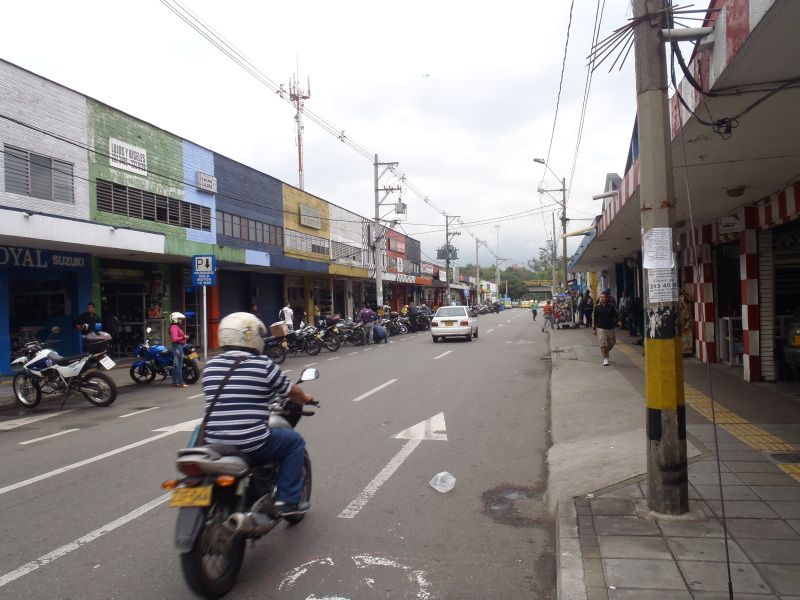 Bubbletron, Dilan, and James all went off looking for parts while I stepped into a custom sticker shop to see about getting a Colombian flag sticker for my panniers. I told the kid behind the counter what I wanted and he got right to work making a custom Colombian flag sticker for me, out of reflective material. As he was working, I perused his merch and found the sticker that everyone who visits Medellin should have:
Pablito! I'm really regretting not buying this sticker now. As the kid was finishing up the Colombian flag, I had the bright idea to get a larger North/South America silhouette sticker for my panniers. I already have a small one that I picked up at the HU meeting that I put on my left pannier. I trace my route on it in red sharpie and use it as an aid to explain to people what I'm doing, where I'm coming from, and where I'm going. Unfortunately, it's a little small for my taste and I wanted something a little larger, a little more in-your-face, a little more, well.....more American!
The kid told me that it couldn't be done. So I hoped on his computer, fired up Goggle Images, downloaded a North/South America school map, and showed him what I wanted. After that the lights kicked on and he went to work with Adobe. A few minutes later I had a 30 x 20 cm white silhouette sticker.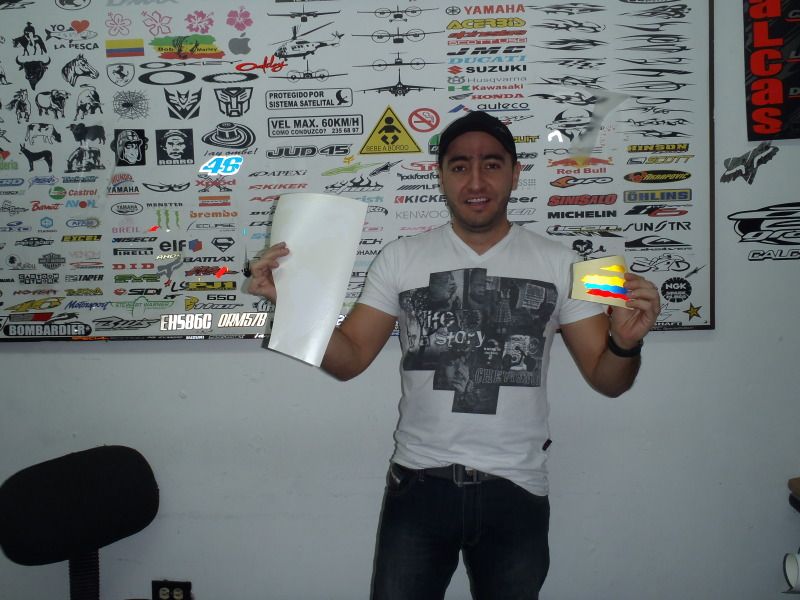 Here's a better shot of what it looks like on my pannier: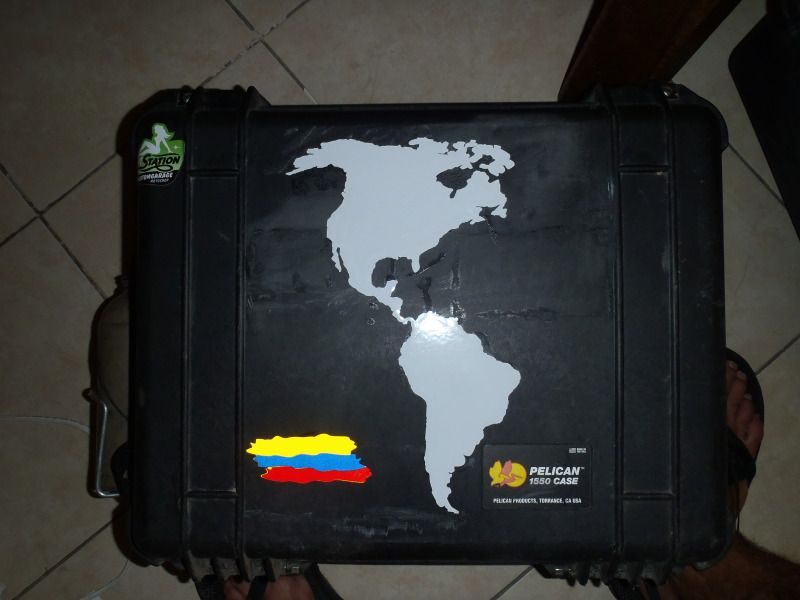 It turned out really well. So well that Dylan and bubbletron decided to buy one as well. After sticker time, James and I went hunting for some other parts for one of the Motolombia BMW's. I saw this machine shop with computer controlled plasma cutting: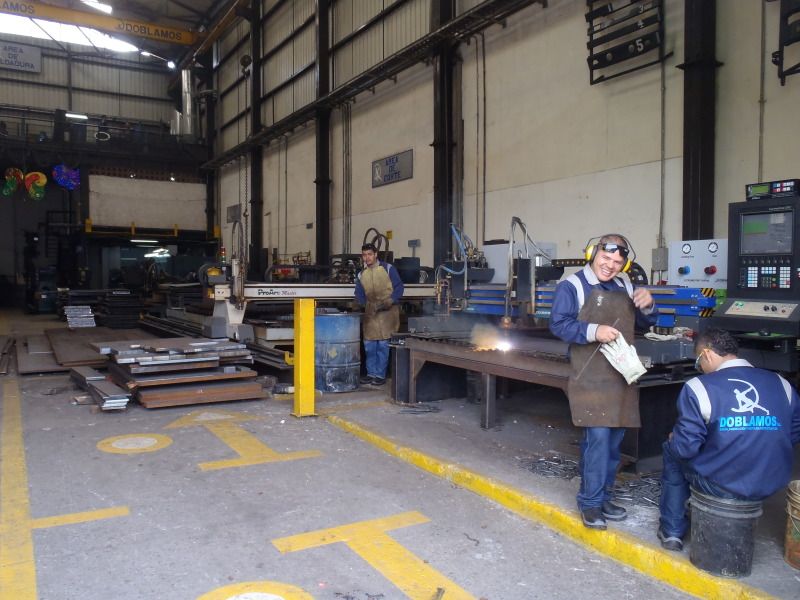 I'm really impressed by Medellin. I feel like you can get anything here. It's got tons of bike shops, legit mechanics, and some real top notch welders! If anyone that is reading this blog is planning a trip down south or currently engaged in one, Medellin is the place to go to get parts, service, and help.
Just after passing the machine shop, I found another Unicorn:
I love this place! This is actually the third XRL out of four that I've seen in Medellin now. Surprisingly, I hadn't seen any until I reached here.
This afternoon I went for a little workout in the local free outdoor gym just down the block (another reason to love Medellin). As I was walking back into the Shamrock, Blanca, the cleaning lady told me that some random guy Juan David had stopped by and was looking for me. I was a little confused as I didn't know any Juan Davids. All of a sudden some guy behind me starts yelling, "Hey Ulyses, is that you?".
I turned around and was a little dumbfounded to find a Colombian guy approaching me and telling me that he had been reading my post on ADV rider and knew Federico at Moto Shop who had told him that I was staying at the Shamrock. His name was Juan David and he rode an XR650R and was a member of a group of Honda XR riders who met every Thursday in Medellin. He invited me to come to the meeting and ride with them tomorrow night.
I had been planning on leaving tomorrow, but after hearing that, I knew that I had to stay just one more night! Medellin has me. I talked with Juan David for a minute before he had to split and was about to head up to my room for a shower and some water when I was stopped yet again by a Dutch guy named Mike who had overheard my conversation and a little about my trip and wanted to buy me a drink. Here's mike:
I couldn't turn down a free drink. A whiskey on the rocks is the perfect recovery drink after a nice hard workout.
Just as I was finishing up talking to Mike, another guy rolls into the bar, takes a look at me, and asks me if I'm Ulyses from advrider.
And that's how I met the other Mike:
Mike is from the states but has been living down here with his dad for a few months. He was a contractor in Afghanistan for the last few years. He had been reading my ride report as well apparently. Awesome guy! It was a little trippy being tracked down by two total strangers; I'm going to have to be careful that I don't start attracting paparazzi.
This evening Dylan, bubbletron, James, and I got some groceries and cooked up a nice traditional Italian meal for Boxing Day. It's good to be around fellow riders again.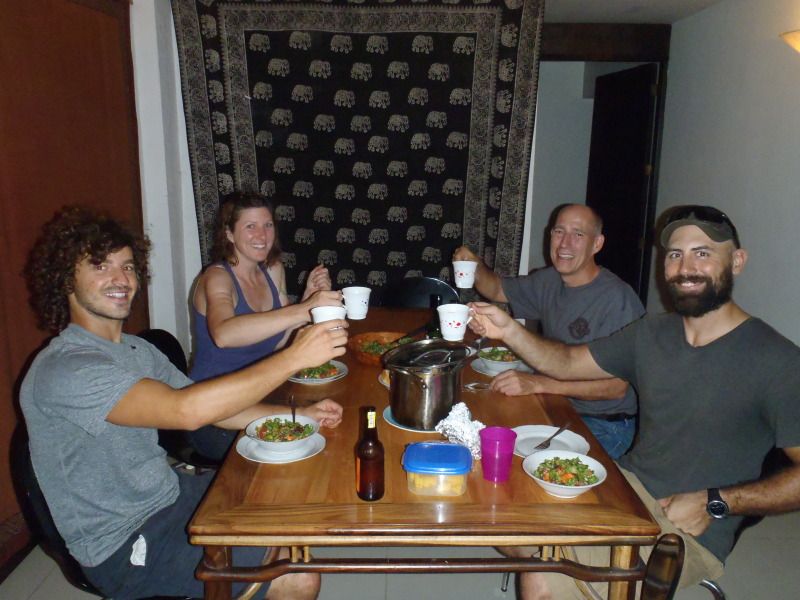 That's all for today. I thought I was going to leave tomorrow and give you all something better to read about than my new life in Medellin. However, I can't turn down a ride with the "Honda XR Antioquia" MC. I may also try and get on one of the Pablo Escobar tours tomorrow. Salud!