Day 68
Medellin, Colombia
Day's Ride: 34 Miles
Another day in Medellin. I'm beginning to understand why crashmaster got stuck here.
Woke up early to get to the shop and do some more work on the bike, but ended up going to breakfast with Al and his awesome German Shepherd, Missy. We discussed the finer points of the Colombian Civil War, American Politics, and Gun Control. Apparently the FARC are in peace talks with the Colombian government right now; I guess they're getting tired of living in the jungle. But seriously, the Colombian Government has been putting the hurt on the leftist guerrillas for the past ten years and they know that their days are numbered, hence their willingness to call for a cease fire and attend peace talks. Ironically, the Colombian Government agreed to the peace talks, but not the cease fire. So they're still out in the jungle hunting guerrillas. This is all according to Al, so don't quote me on that.
After breakfast, Al fired up his Norton 850 Commando and we rode over to Frederico's Shop so I could adjust my chain with weight on the bike and attach my bottle cages to the Pelican cases.
Frederico is awesome! He gave me total run of his shop and let me use his tools. I drilled some holes in the Pelican Cases that Justin sold me, and attached my bottle cages.
Gas goes in the red one, oil in the brown.
Next up I had Frederico's guys wash my bike. Frederico's shop has it's own little detailing station and they do a hell of a job; all for $6!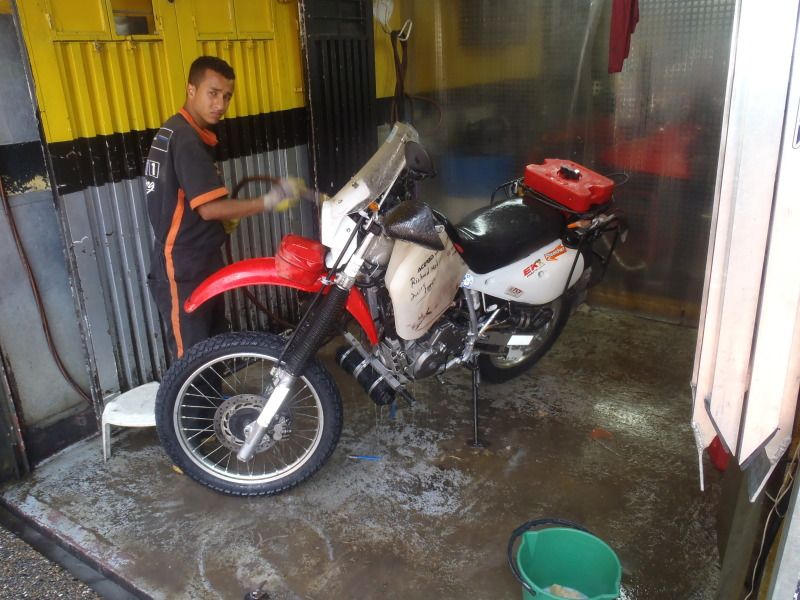 The old XRL hasn't been this clean since.....well, since me and my brother bought it!
I also needed some more tools, a new ratchet strap, and a feeler gage. I told Frederico and he told me that he would send his runner out to get them for me and I could go take a ride and then pick them up when I got back. It just keeps getting better and better.
I headed back to the Shamrock and asked Al if he wanted to go for a quick ride. Unfortunately, he had just gotten back from rallying his Norton through the hills above Medellin. However, he insisted that I take the Norton out for a spin. So I obliged!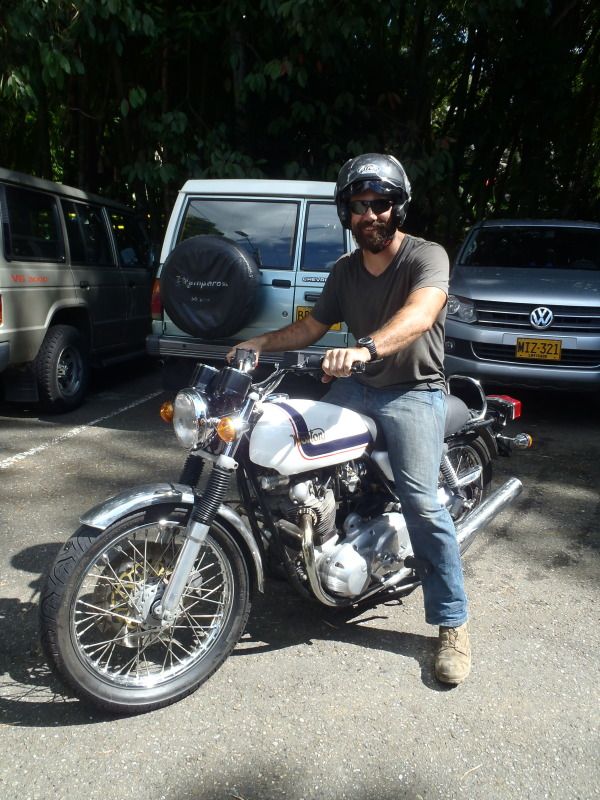 Al's a pretty brave dude to let a total stranger go ride his Norton around the city, especially considering that are probably only about three of these things in all of Colombia. Don't tell him, but I did a couple of wheelies....just kidding Al.
After bringing the Norton back to Al (in once piece of course), I put on my new armor and took the XRL out for a spin.
I feel like a lost storm-trooper wearing that white pressure suit. There's a great road running out of Medellin that climbs a few thousand feet up into the hills on the outskirts of town. Great curves, solid pavement, and an amazing view of the city!
I eventually topped out at an amazing overlook for the city: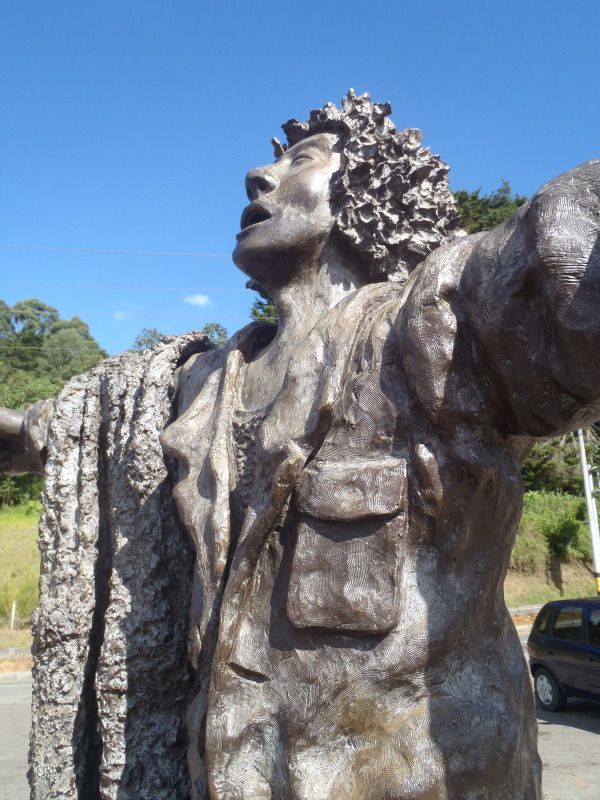 After riding back down, I got hopelessly lost in the city. Medellin is a pretty big city. I eventually asked a couple of kids on 125cc Pulsars for directions. They pointed it out for me, then started trying to impress me by pulling some pretty big wheelies in traffic.
I was pretty well impressed.
I finally made it back to the Shamrock where it was time for pictures with the staff. Zach, the manager, is from South Carolina. He's a stand up dude and will definitely take care of you if you stay here.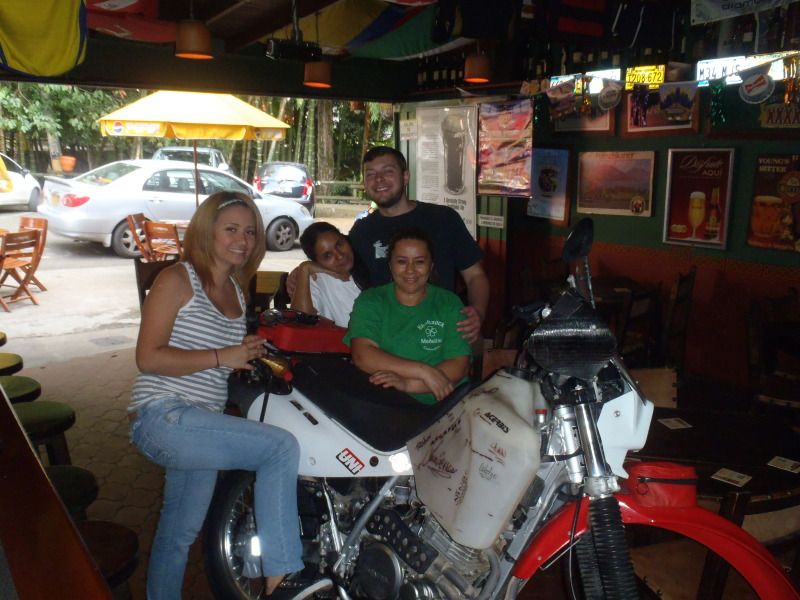 Last order of business for the day was a little air filter maintenance. Spud Rider pointed me in the right direction with the no-toil filter oil and cleaner. It comes our real fast without having to use a solvent or gas. This is the before picture:
And then I forgot to take an "after" picture.
After I had cleaned it up and rinsed out the soap, I walked over to the local KFC and spent about ten minutes getting to know the hand dryer:
If you are every in a hurry to dry something out and can't find a hair dryer, just go find an American fast food chain and step into the W.C.!