Day 76 (December 30, 2012)
Cali, Colombia to Pasto, Colombia
Day's Ride: 253 Miles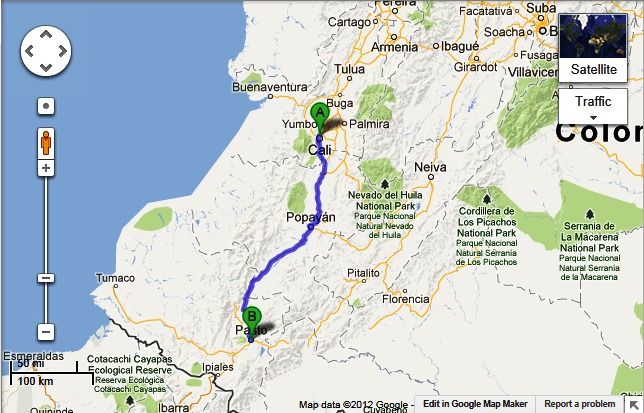 Before leaving Casa Blanca this morning I had to get a shot for the wall of fame: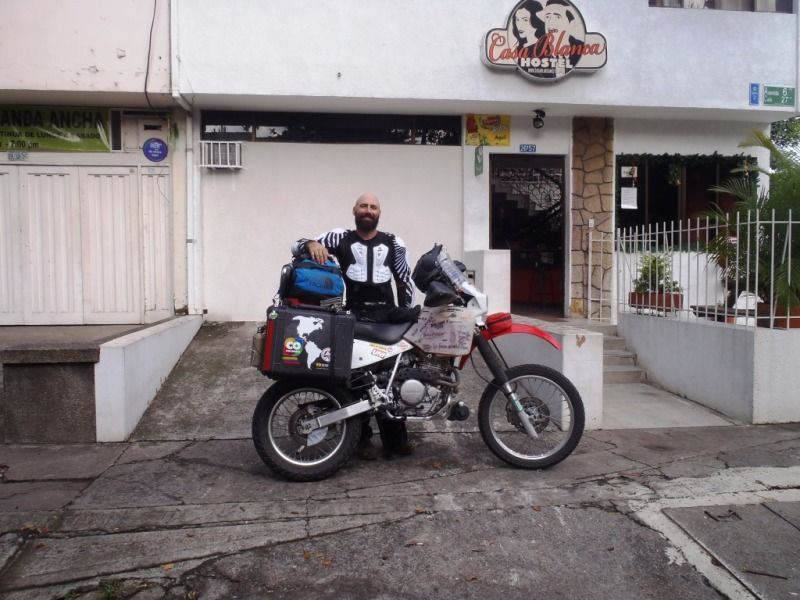 And then it was off to breakfast where I had an interesting character serenade me and try and sell me sun glasses.
Breakfast was quite good; beans and rice with an egg on top and a cup of coffee. Simple, filling, and tasty. Can't ask for more.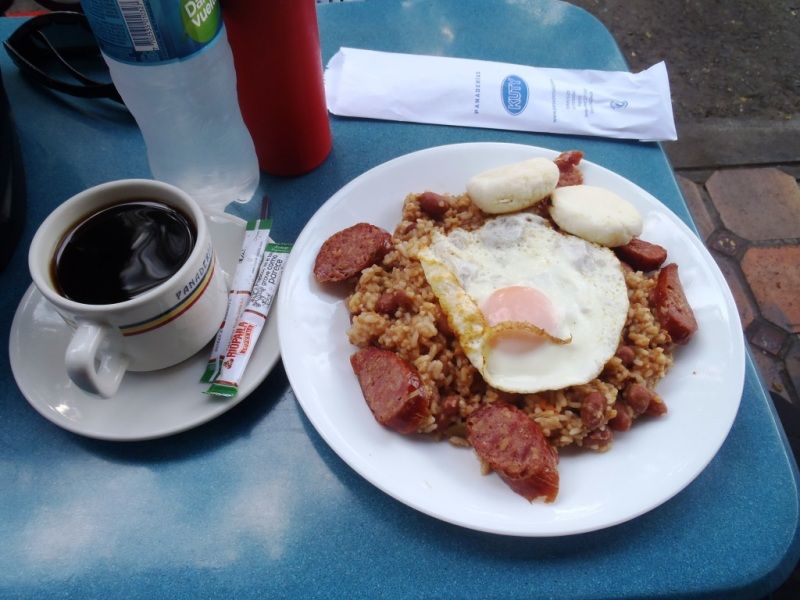 The road out of Cali was nice, smooth two lane highway that passed through countless sugarcane fields.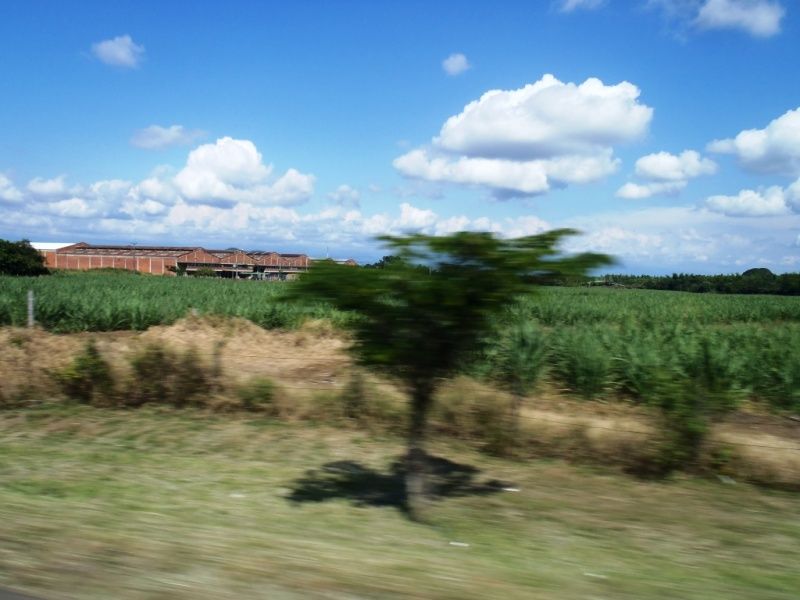 The army was out in force today; I must have passed at least 10 checkpoints, including this one: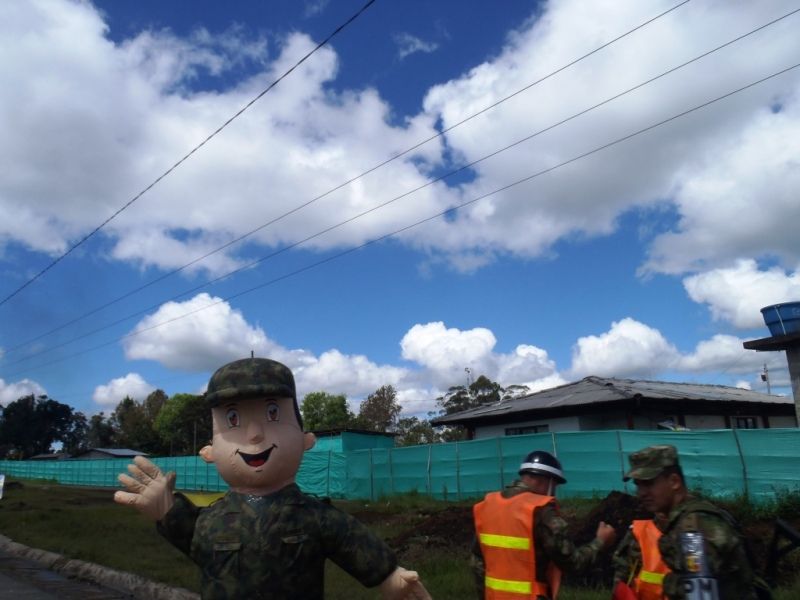 They're always so cheerful.....
There was lots of pretty scenery today. I had to stop and go off road to get a picture of the bike in all of these trees.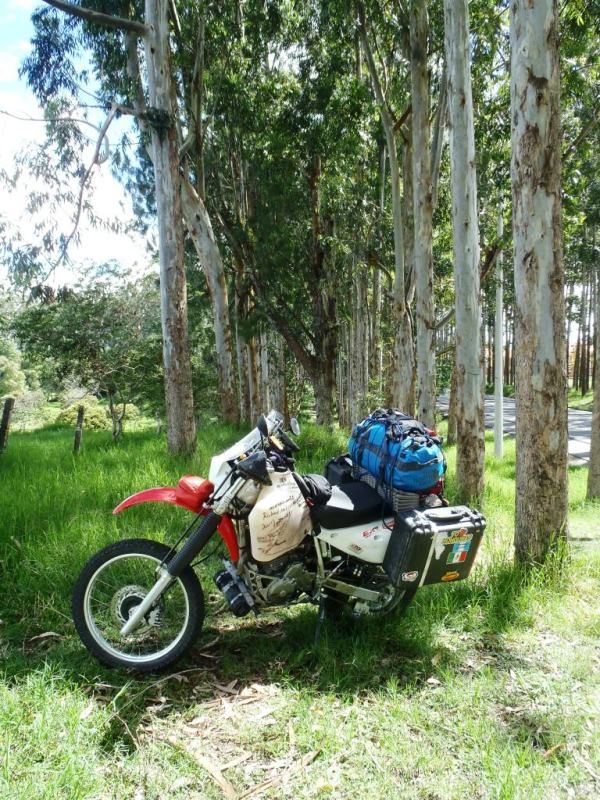 Around 11:00 AM I rolled into Popayan. It was incredibly beautiful and I wished that I would have stayed here instead of Cali. The central part of town is all white washed well preserved colonial buildings. The town was founded in 1537 and became the residence of many wealthy Spaniards who moved up from the sugarcane fields near Cali.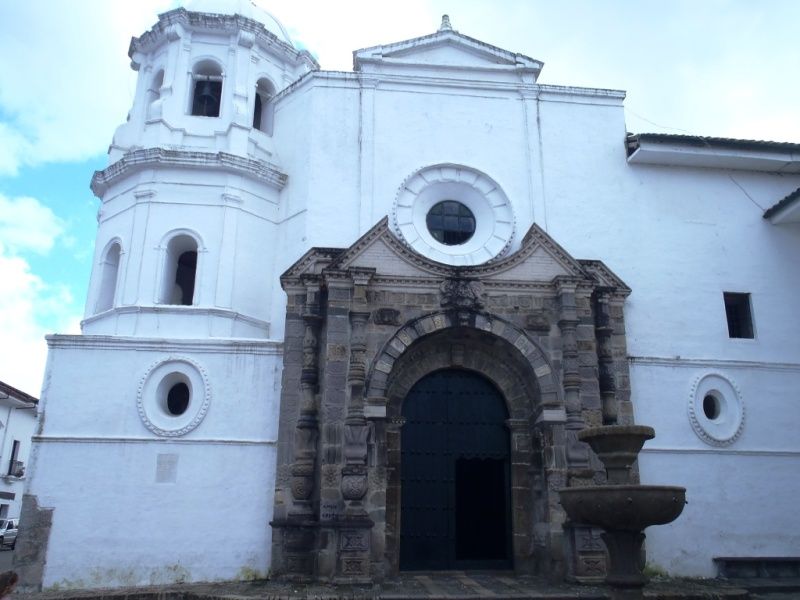 I rode to the central plaza and then found a restaurant for lunch.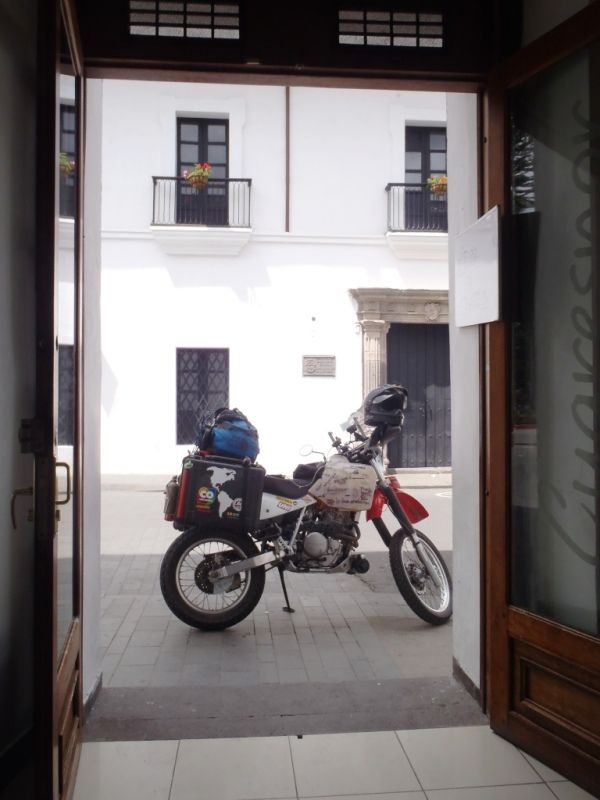 Popayan looked incredible and the climate was far more mild than Cali. If I were doing this over again, I would have skipped Cali and come straight here. Or maybe I would have stopped and picked up a Motolombia sticker and then headed straight here...
Just outside of Popayan I started coming across groups of people standing along side the road asking for money; each group of people had a large human efigies close at hand. Daniel and Juan David from Medellin had told me that people collect money then use it to buy fireworks and gunpowder which they stuff into these effigies. Then they blow them up. Now that sounds like my kind of charity! I had some coins I needed to get ride of, so I pulled over.
This family was super stoked that I stopped by; the dad was having his wife and kids pose with me while he snapped pictures. It took me a minute, but I was finally able to convince them to stand near their dummy so that I could get a shot of them too. And even then he was snapping pictures of me. I'm starting to get too popular down here.
Just after I made my donation to the explosives fund, the road started turning to crap and the scenery started to improve drastically.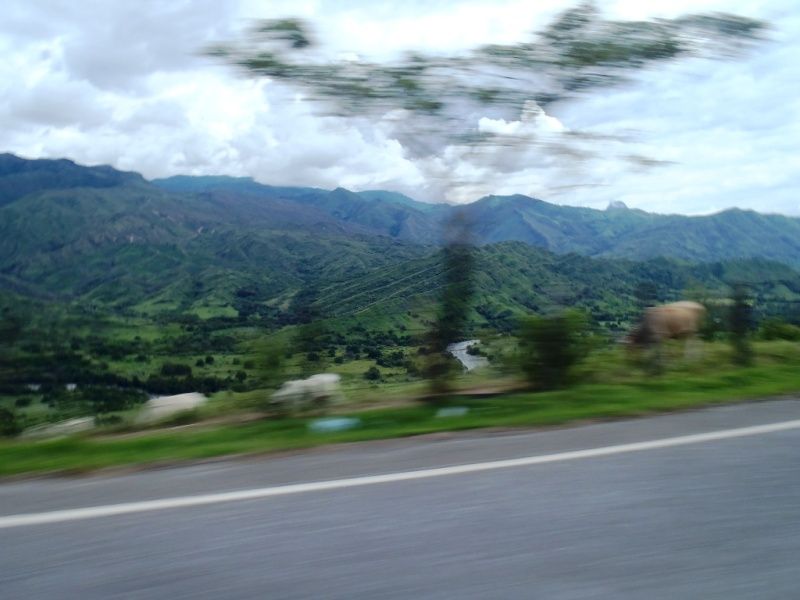 Seeing all of this beautiful terrain really took it out of me and I was forced to stop for a redbull and some bags of water.
The bagged water is significantly cheaper than bottled and is a great way to fill up your camelbak.
After the pitstop I got back on the road and was blown away by how amazing the scenery was getting. I think there was some sort of inverse relationship occurring between road quality and scenery. As the view started getting more pretty, the road started getting really ugly.
I came around a corner and saw a cloud bank pouring over a ridge line right in front of me. It was breathtaking.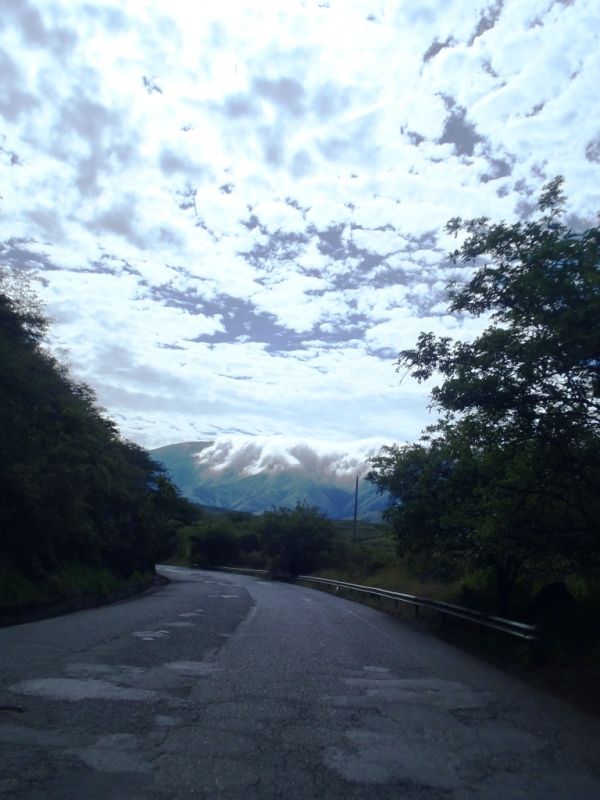 I pulled a little further off the road and actually got off my bike to take a picture (gasp!) of these clouds coming down the mountain.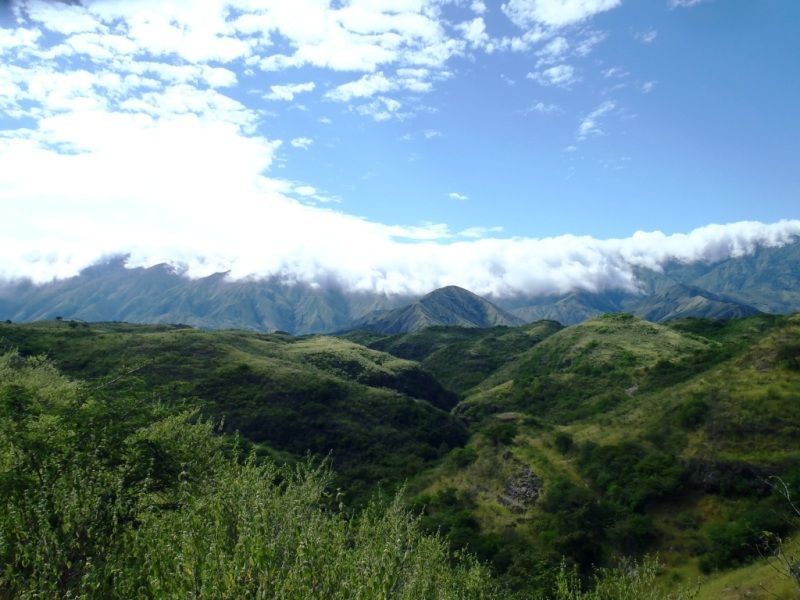 It was almost like they were snowcapped. I wish I was a better photographer. These pictures don't do it justice.

The road started climbing and soon I was overlooking some terrific valleys: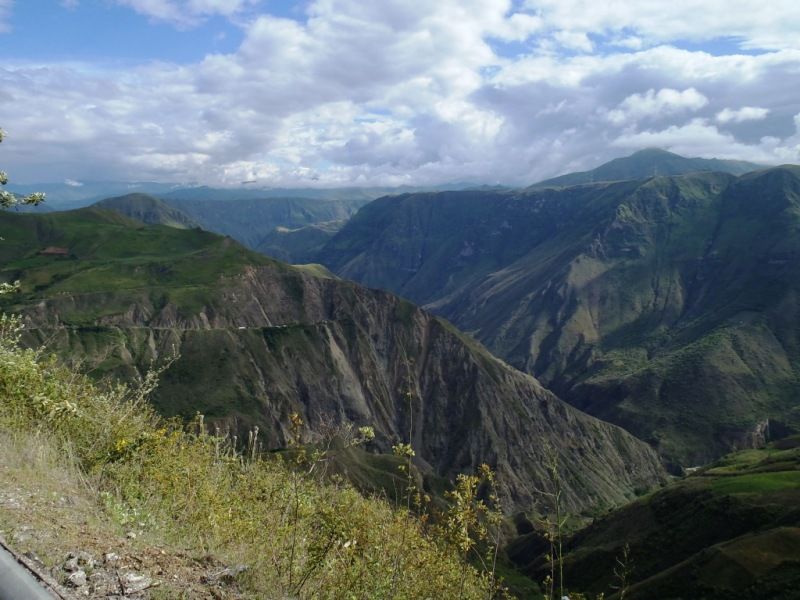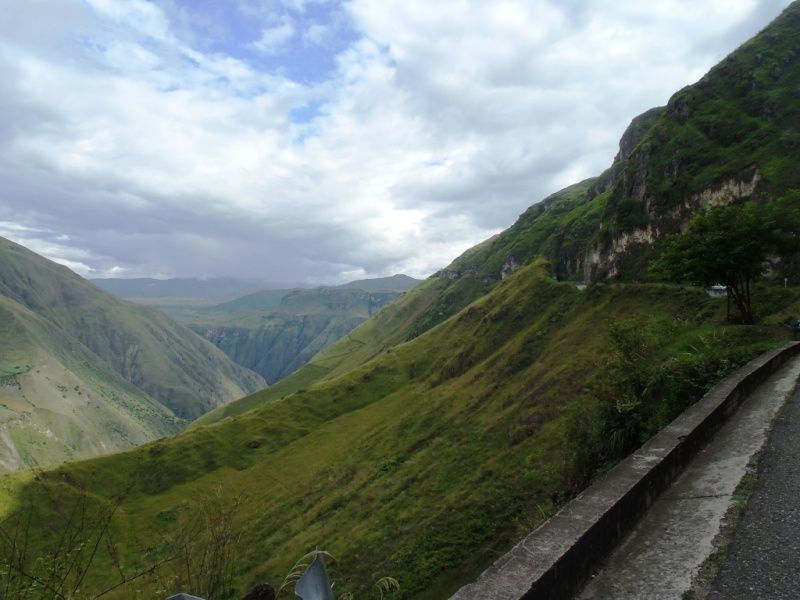 Man, what great riding! The road was absolute garbage, but the views totally redeemed it!
I arrived in Pasto and got a room at the Koala Inn. 28,000 Pesos for a private room with bathroom. Wifi, hot water, and free pancake breakfast. Great deal. Unfortunately, the only secure parking is a block away.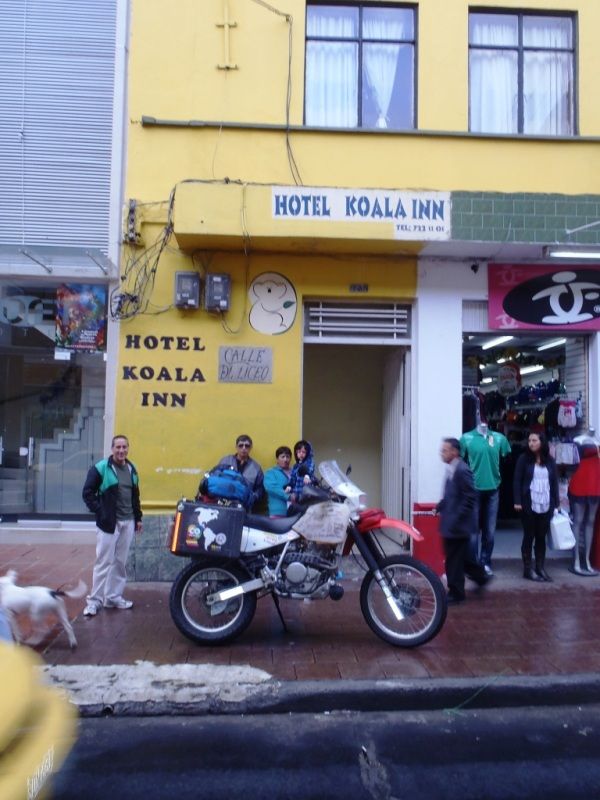 After checking in and dropping off my bags, I headed out into town to fill up my gas tank so that I wouldn't have to do it in the morning. Much to my chagrin, I found that most of the gas stations in town were out of gas and the few that were open had lines of cars stretching for blocks waiting to fill up.
Looking at the picture below, the line of cars on the left are all waiting to fill up at the gas station up the street. The gas station is just below the bright neon sign above the red bus in the middle of the road.
I was a little frustrated, but I settled down to wait my turn. Then I saw a bunch of bikes zip up to the front of the line so I went up to see what was going on.
Apparently motorcycles have cutting privileges in gas shortages too! It pays to ride in Colombia!
Tomorrow I'm heading for Ecuador. The border is only 60 miles away and I'm interested to see if they bring up my traffic ticket or not. I'm trying to make it to the town of Cayambe and an old Monastery turned hotel on the equator for a New Years Eve party with a bunch of advriders.