Day 75
Santa Rosa, Colombia to Cali, Colombia
Day's Ride: 149 Miles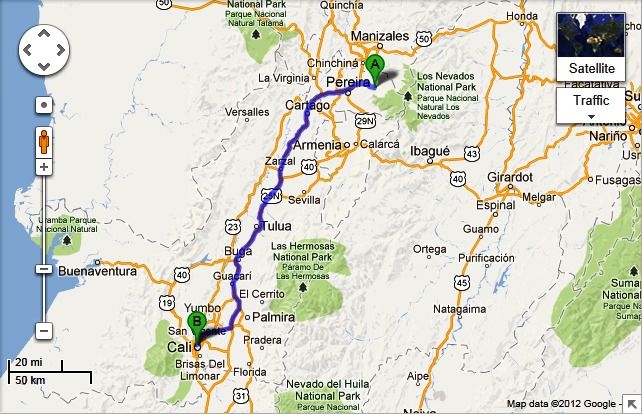 After a refreshing night's sleep, I awoke and walked over to the nearby restaurant and had breakfast: juevos revueltos, un poco de pan, una arepa, y cafe negro.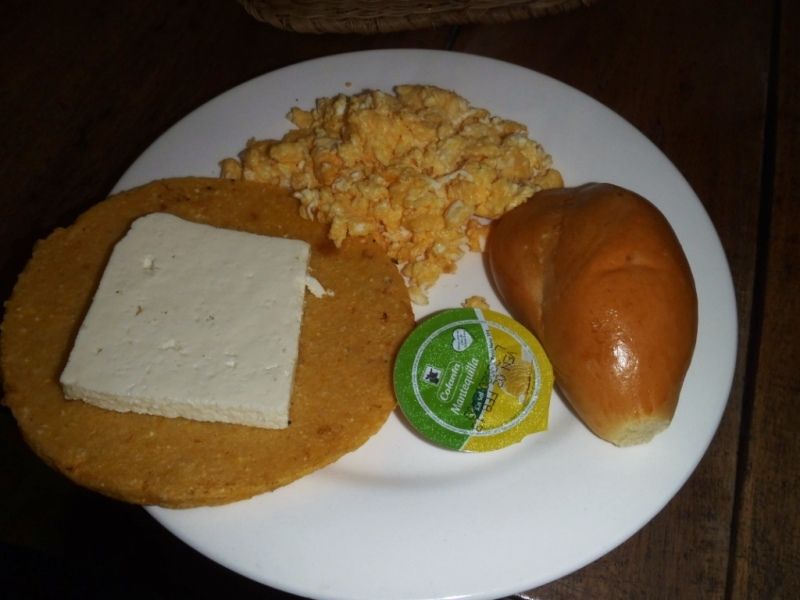 Got on the road around 8:30 PM and started riding. I'll admit I was only using one eye to watch the road; the other was scanning for the fuzz. Luckily today was all double and even triple lane highway, solid pavement, no potholes, and only a minimal amount of untethered livestock on the shoulders.
The road was so amazing, so smooth, and so damn boring that I started falling asleep. Eventually I pulled over for a pitstop.
After re-energizing with copious amounts of sugar and caffeine I was good to go. Everytime I've passed soldiers on the road down here, they always give me a thumbs up. I'm not quite sure what that means; at first I thought they really liked my bike, but then I saw them do it cars as well, so who knows?
As I was spacing along down the highway, I passed some soldiers who gave me the old thumbs up, so I pulled over to see what the deal was. We ended up chatting a little bit and I convinced them to take some pictures with me.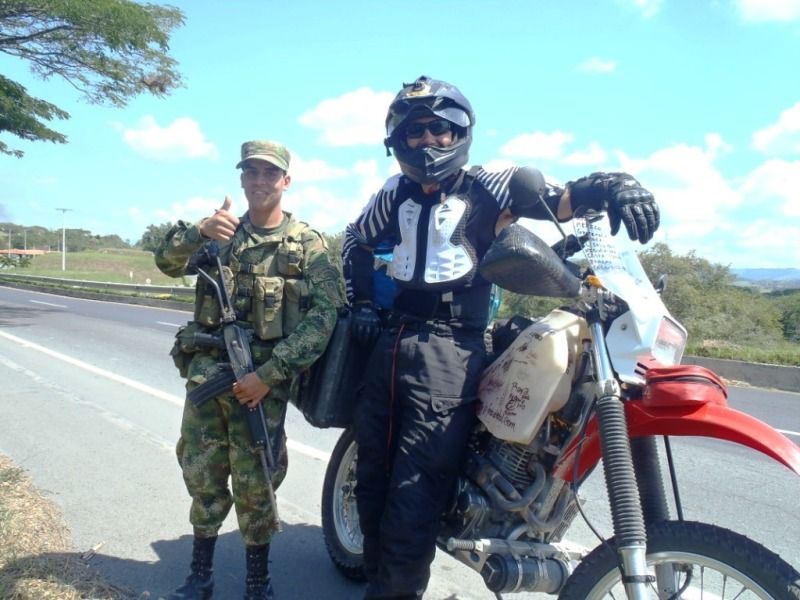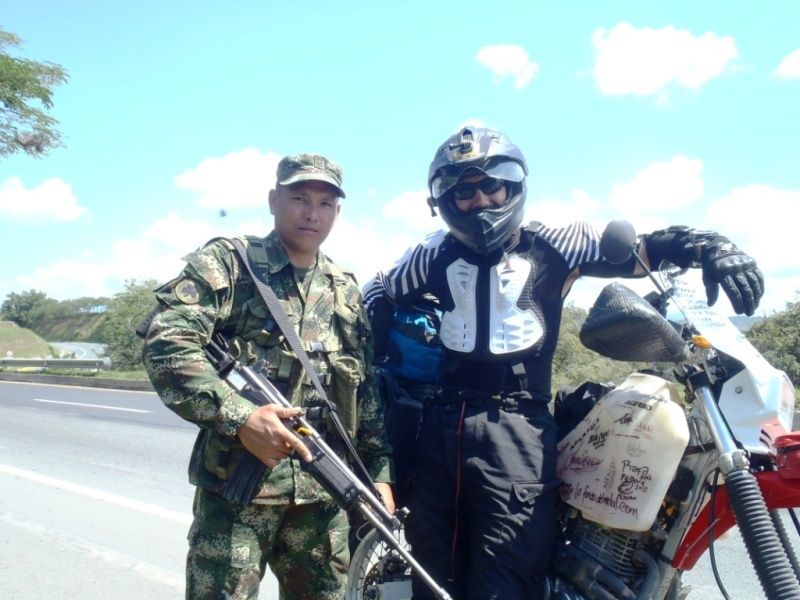 ....and I totally forgot to ask them what the deal was with the thumbs up. Maybe tomorrow.
The road kept on being amazing and incredibly boring. Before I realized it I was in Cali. I still haven't loaded any maps on my GPS, so I spent a few minutes playing hot and cold on the streets with the little waypoint marker for the Hostel. Eventually I found it.....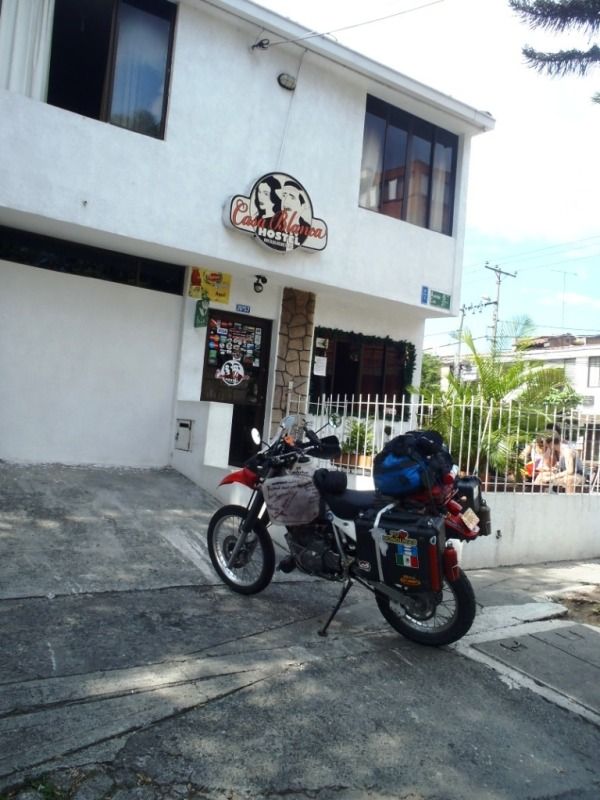 Casa Blanca Hostel. It's run by Mike, the guy that owns Motolombia. Motolombia rents bikes (KLR's, BMW's, etc.) and operates tours. Mike has been running the business since he stopped in Colombia five years ago at the end of a South America ride. He's married a Colombiana and is living the dream. He told me that they've had over 2,000 overlanders stop by the Hostel in the past five years. They've got a wall of fame above the staircase with pictures of some of the people that have stopped by.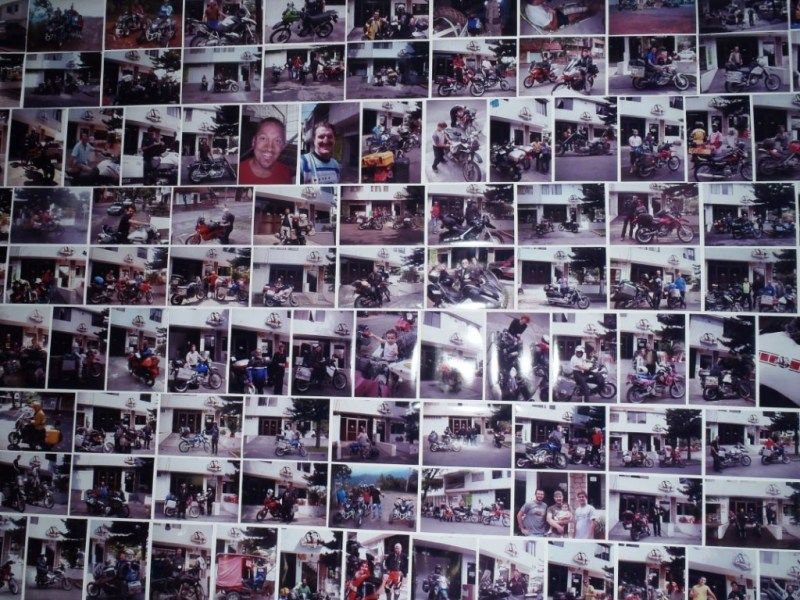 I also met Adam, an Australian who bought a bike down south and was riding North until he got into a little accident in Colombia. He doesn't really remember what happened and he's not quite sure where his bike is, but he's staying at Casa Blanca recuperating until he can get things figured out. He has two broken arms and some crushed digits; just had surgery two days ago and seems to be in good spirirts...
After checking in at the Hostel I walked over to the parking lot where I had stashed my bike and convinced them to let me change my oil in the gravel.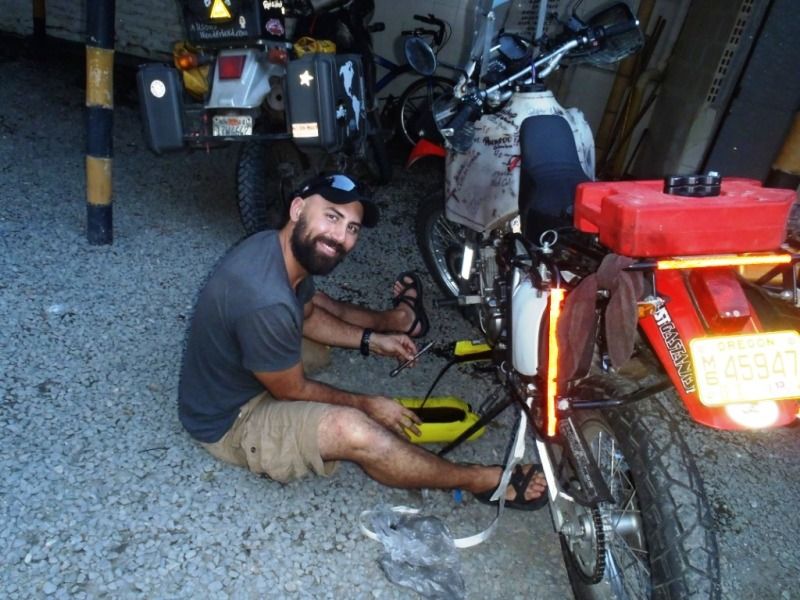 I found some JASO rated Mobil 10W-40 Synthetic this time...
The old XRL is still drinking a little oil everyday. I added about 800ml in the last 2,000 mile stretch. I've started telling people that when I pull over at the gas station it's to fill up the oil and check the gas.
Tomorrow I'm going to blast for the border. I've been told that there is a big New Year's gathering of advriders at an old monastery turned hotel just across the border in Ecuador.