December 9:
I got on the road this morning around 6:00 AM gunning for a 400 mile day. I managed to cover about 60 miles before I stopped for breakfast. It was looking good. Unfortunately, I was super depressed about having to blast through Costa Rica. I have a friend in San Jose who I didn't get to visit, and another friend who had commissioned me to go hunt down some dude who had obsconded with $100k of his money. I could tell from the road that Costa Rica had a little more money than the other places I had already visited.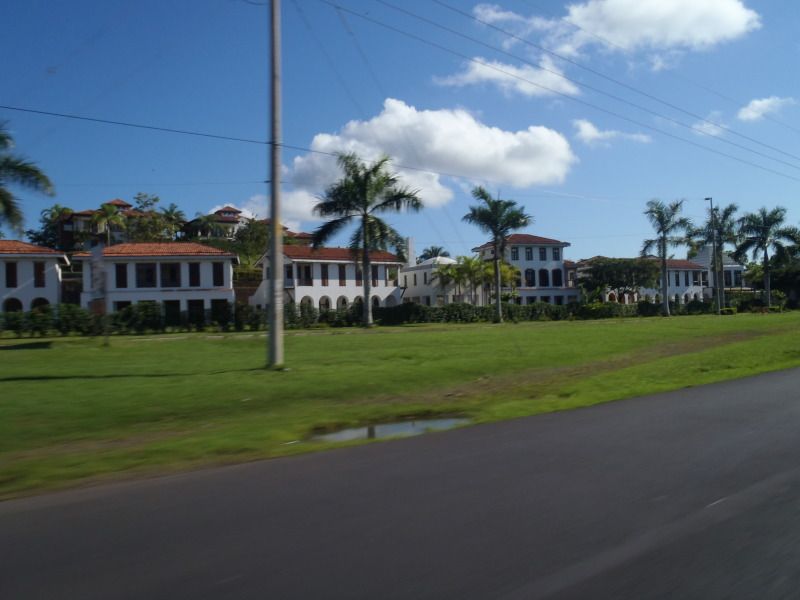 I kept passing great beaches and finally I had to stop and just get one picture.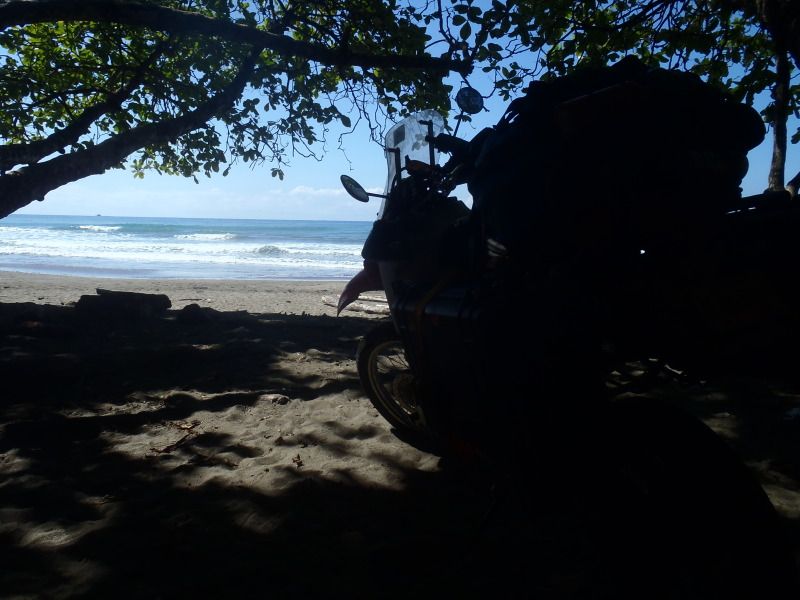 I had a little trouble getting the bike out of the sand afterwards with my significantly worn down Distanzias, but it was worth it.
Beautiful roads for most of the way through Costa Rica; it got a little rough when the coast highway linked up with the Pan American, but all in all, some of the best roads for me so far.
I got to the border and breezed through the Costa Rican side. I was expecting a similar crossing into Panama; unfortunately, when I pulled up to Imigration, I was met with this: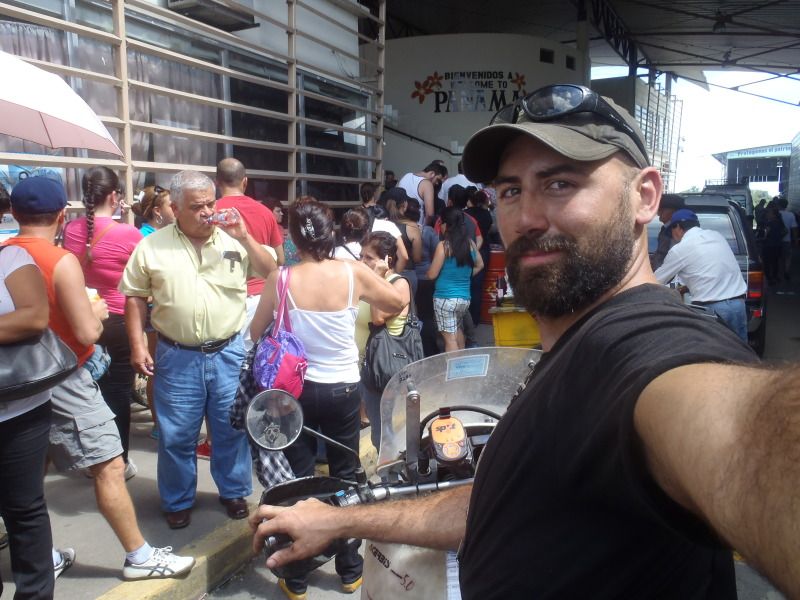 Eight million people crossing the border in front of me to get cheap christmas gifts in Panama! Some of the officials told me it would take nearly four hours to cross! Aye aye aye!
Luckily there were some fellow gringos in line who offered to watch my bike and save a spot for me while I took care of the Aduana (customs) process for the bike.
Still, it took nearly three hours of waiting in line to get my imigration stamp! Second worst border yet, behind the Mexico-Guatemala crossing. I met a family from Quebec who outfitted a short bus, then took it to Alaska, then all the way down to Costa Rica! They were trying to go all the to Ushuaia, however, the Darien crossing would have cost them $3,000, so they decided to just to head back to Canada. Check out their bus: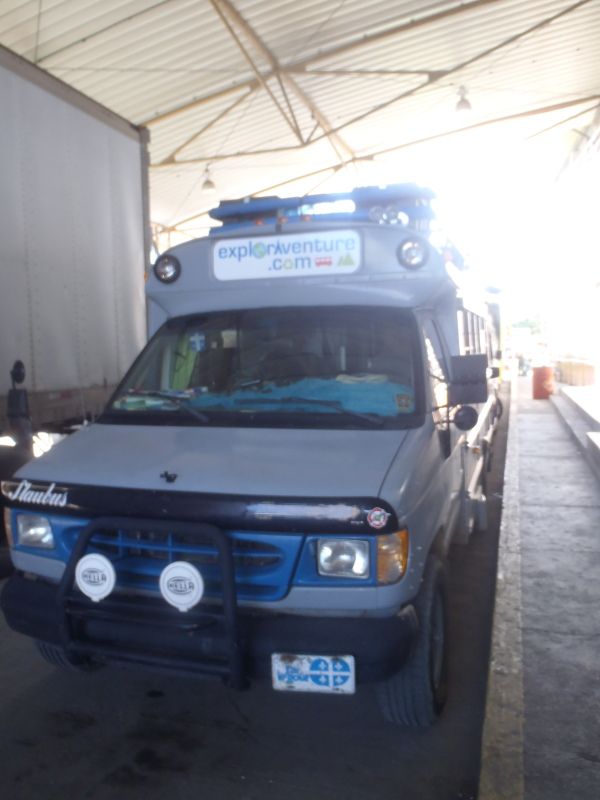 Now that's the way to travel! I considered hiring them to be my sag wagon. This is Simon, the dad: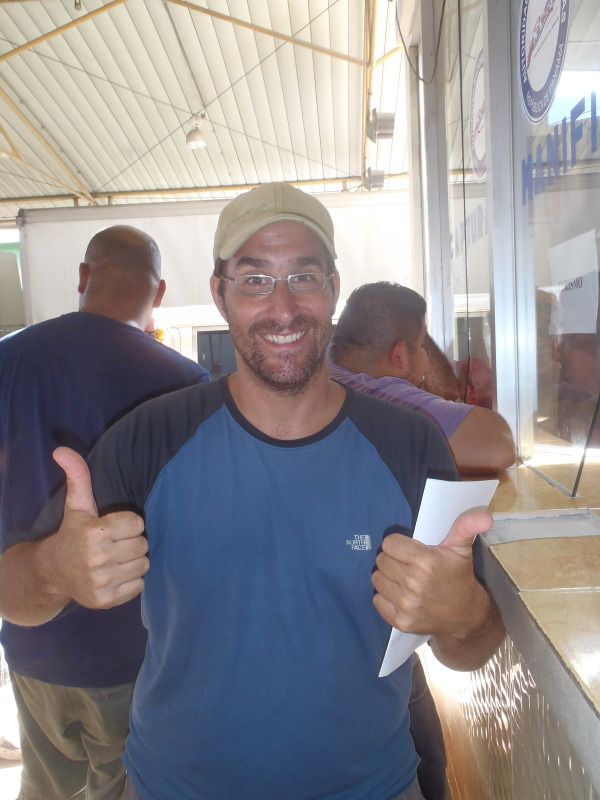 He and I had a great time trying to figure out the whole vehicle import process. This guy is a stud. He's taking his wife, two kids, and both grandmothers on this massive voyage through Indian Country. Imagine having him as your dad.
After I finally got all of the paperwork finished, I had to manuever my bike out of this mess: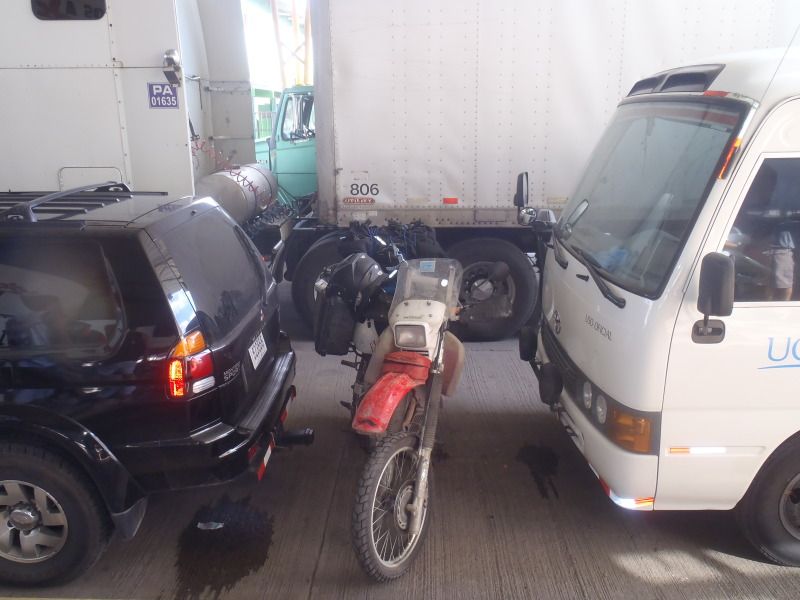 Simon, his family, and his little bus were still stuck behind a semi when I left. Even after finishing all of the paperwork and waiting in line for imigration, he was still getting screwed by Panama!
After that prolonged nightmere, I got into Panama. So far, Panama seems even better than Costa Rica for road quatlity. Plus, I saw the golden arches, which is always a sign of an advanced civilization:
I realized that my 400 mile day wasn't going to happen, so I pushed a ways into the country and started looking for a Hotel. I found a place called Paradise Inn near Las Lajas. It's a little pricy ($30) compared with what I'm used too; however, I've got my own Cabana with A/C and hot water and a decent swimming pool.
I'm spent. I've been travelling hard every day and dealing with some really crappy borders. I'm also still exhausted from dealing with the wreck and still recovering from being sick. I covered around 286 miles today and did a three hour border crossing. I only have to make it to Panama City tomorrow, so I think I may sleep in. As I'm typing this I'm being kept company by an intersting character:
I may try and kidnap him and take him with me as my mascot tomorrow!