Day 85 (January 8, 2012)
Tambo Grande, Peru to Huanchaco, Peru
Day's Ride: 310 Miles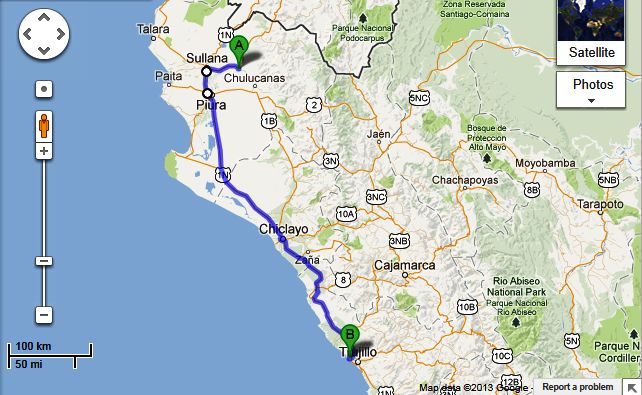 Nothing. But. Desert.
It was actually refreshing to get back into the barren waste. I've spent so much time in the last five years in deserts that it felt like coming home. In fact, the moonscape quality of the terrain, combined with the constant smell of burning trash, and the scouring wind blown sand had me thinking that I was back in.......Twentynine Palms, CA! You thought I was going to say Afghanistan, didn't you?
Today was all straight, flat, and fast. I was wishing for my Harley or some other 1000+ cc, dual cylinder machine that could cruise at 100 MPH down the straight, wind blown stretches of pavement. Unfortunately, I was stuck with XR, which really hits its groove when you are cruising at 65 MPH.
Leaving Tambo Grande, I filled up with the Peruvian version of Supreme: Gasohol 95.
That's right, they don't church it up down here; they call it what it is: Gasohol. Back in the states, they just stamp a tiny, incomprehensible little sticker on the pump that says: 10% Ethanol, and hope that you don't notice. But here, they're proud of their ethanol! All of the gas is loaded down with Ethanol. Consequently, even with 95 octane, I was only getting 35 miles to the gallon. I even saw a few stations that were selling 97 octane! That stuff must be straight moonshine mixed with a little bit of gas for the flavor. Sheesh!
The other ironic thing about their top grade fuel is the color.
It's blue! I know that you probably can't tell from this picture, but they add a blue die to it! I've been riding around all day with a blue gas tank! How embarrassing.
As I said before, nothing but flat, fast desert today.....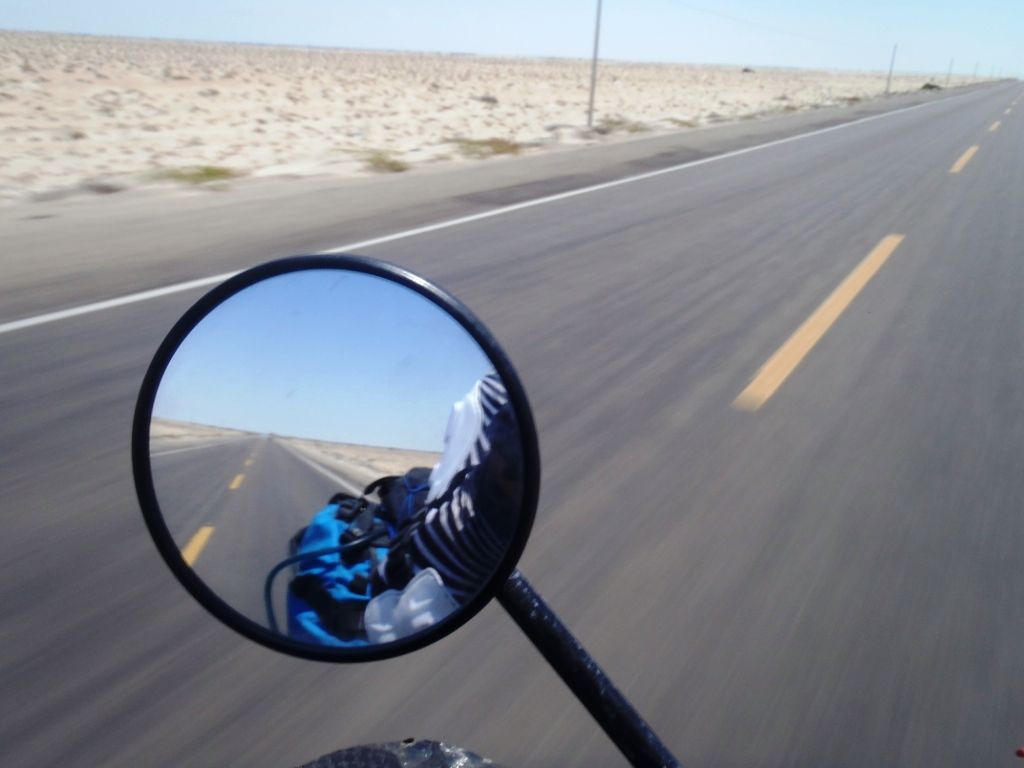 Mixed in with the occasional hundred acres of roadside trash.....
It's a real shame. This country could be so beautiful if they would just make the effort to bury there garbage. Or maybe just dump it a little farther out into the desert.
I also managed to try "Inca Kola" for the first time today.
Unless you really love bubblegum flavored soda, I would steer clear of this stuff.
Around noon we made a little pit stop at an abandoned building along side the road.
As I was stretching my legs on the backside of the building, I found a little road....
I figured that it might be worth following for a little ways, just to break up the monotony and add a little adv to the adv ride. Little did I know that it would lead us to the Sahara!
The road was eventually washed over by some massive dunes! I considered stopping and turning around, but then said: "To hell with it!", and buried the throttle, and turned off the road. I was just able to keep the pig afloat in the sand. Skirting the dunes, I made tracks along their periphery until I was hopelessly stranded about a kilometer from the road. I figured that this would be a good place for some pictures.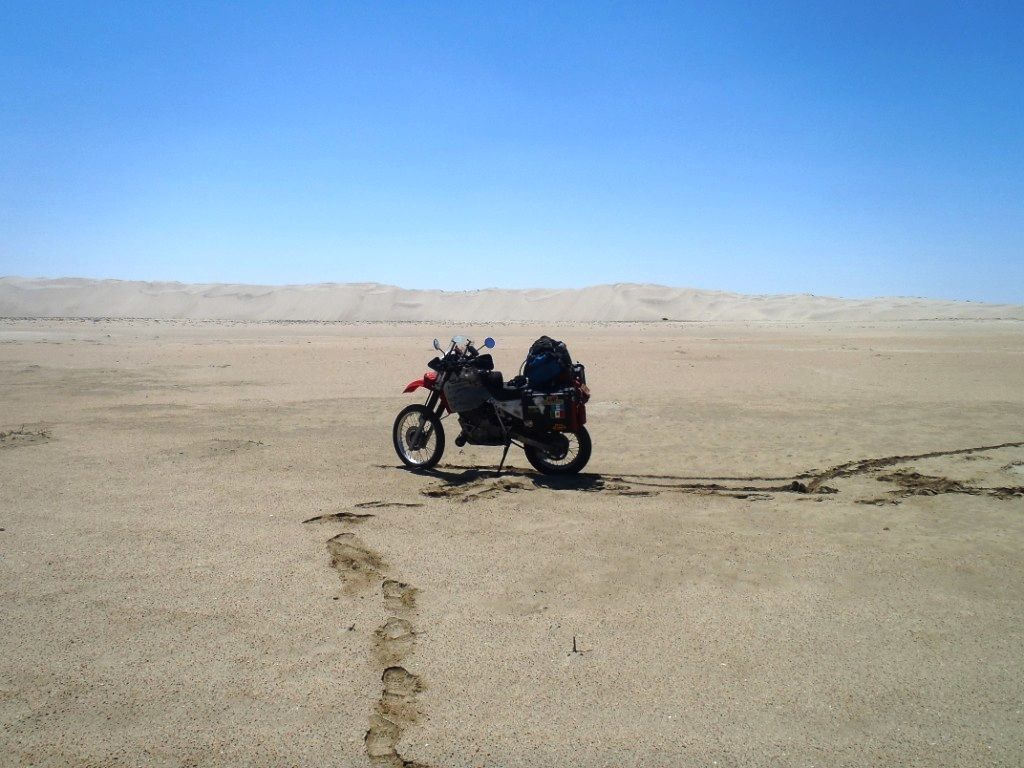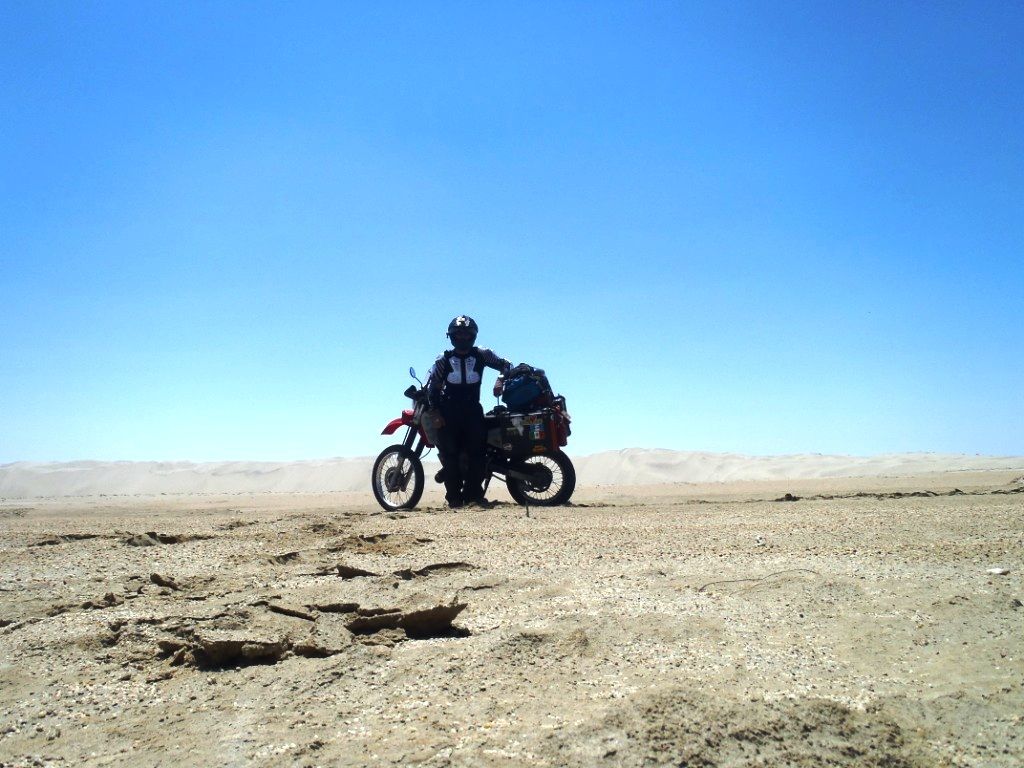 The XRL would probably be perfect for this type of terrain.....if it wasn't loaded down with 100 lbs of extra gear and clad with Perrelli Scorpions. What I would have done for a set of knobbies and zero baggage!
After picture time, I managed to float the pig out of the loose stuff and onto some slightly more crusty sand. Still, everywhere I pointed the nose seemed to be at least six inches deep. Getting much beyond second gear was impossible with all of the extra weight and inappropriate tires; still I managed to have a good time horsing around through the desert. Coming back towards the road, bubbletron managed to grab a few photos of me having fun.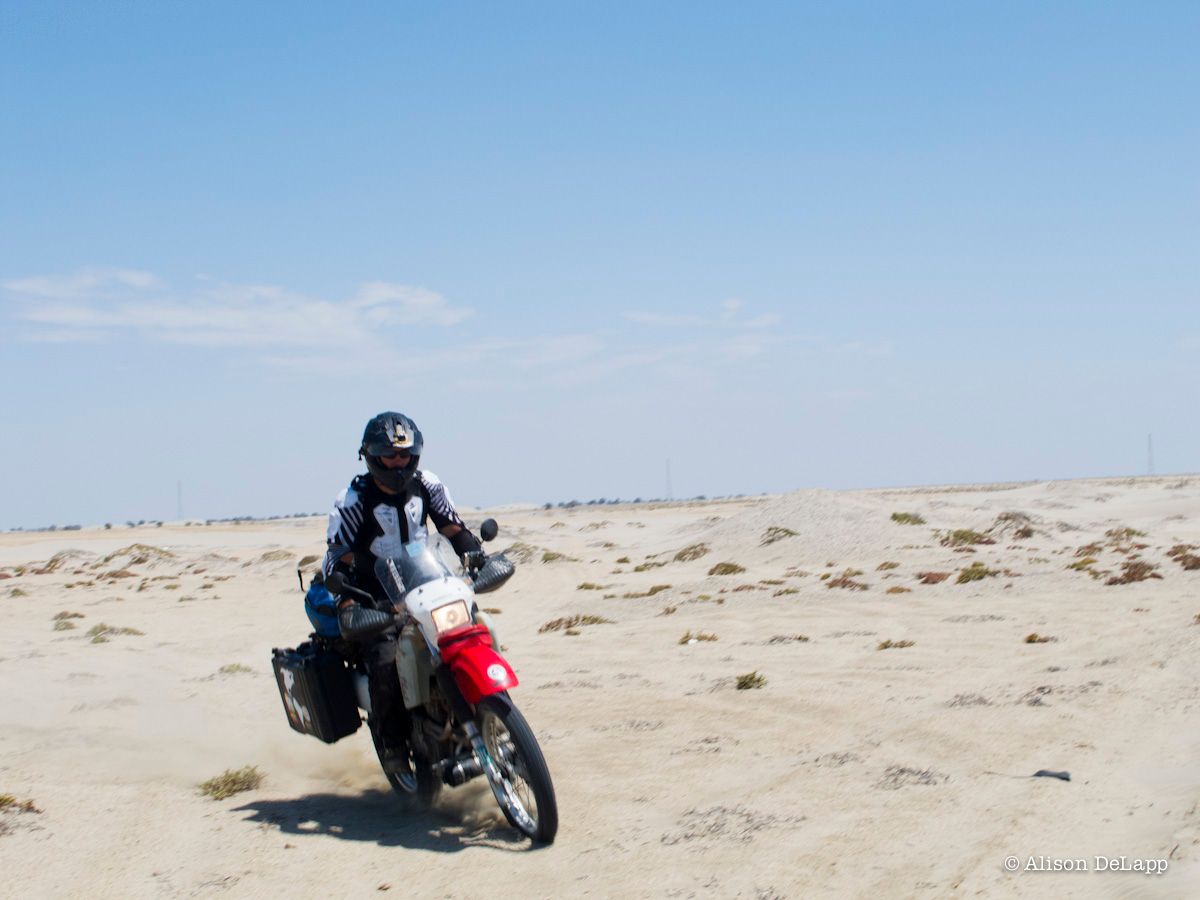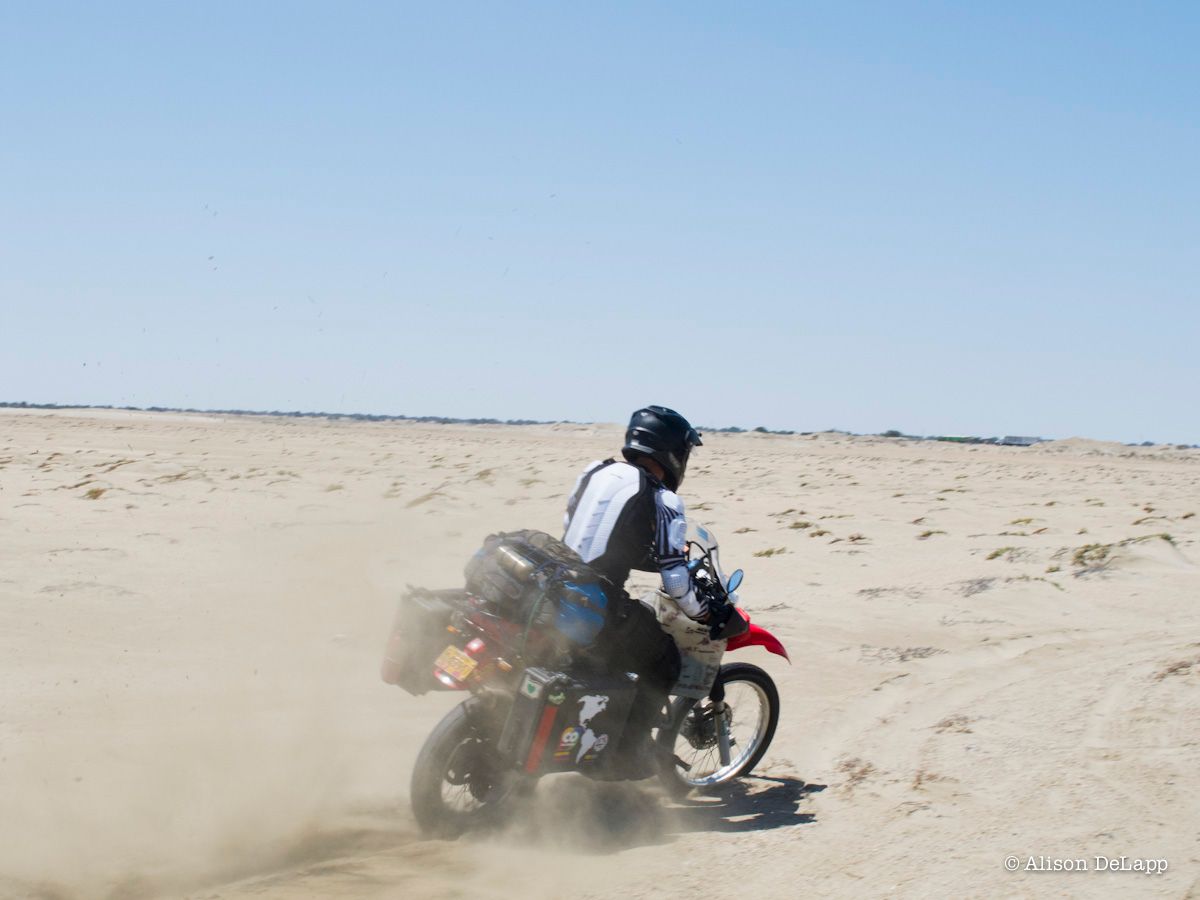 Even with all of the extra weight, the XRL was still handling like a champ. I had to really muscle it to get it to bite in the turns, but it eventually came around after I threw my weight into it...
....and stuck my foot out for a little extra counter balance.
After spending about a half an hour burning out my engine, we got back on the road.
Eventually we made it to the outskirts of Trujilo and took the cut off towards the ocean and the town of Huanchaco.
Found the Nay Lamp Hostal thanks to lonely planet. For 10 Soles they will let you camp in their back yard.
And it's only a block from the beach.
I think that tomorrow may require a little beach riding on the way out of town....