Day 88 (January 11, 2013)
Huaraz, Peru to Lima, Peru
Day's Ride: 283 Miles
Nothing like having your day start out with views like these:
Leaving Huaraz and heading south along the Cordillera Blanca is an excellent ride! Unfortunately, you do get up to 13,500 feet and things can start getting a little cold. However, right after you top out, the decent back into the desert begins.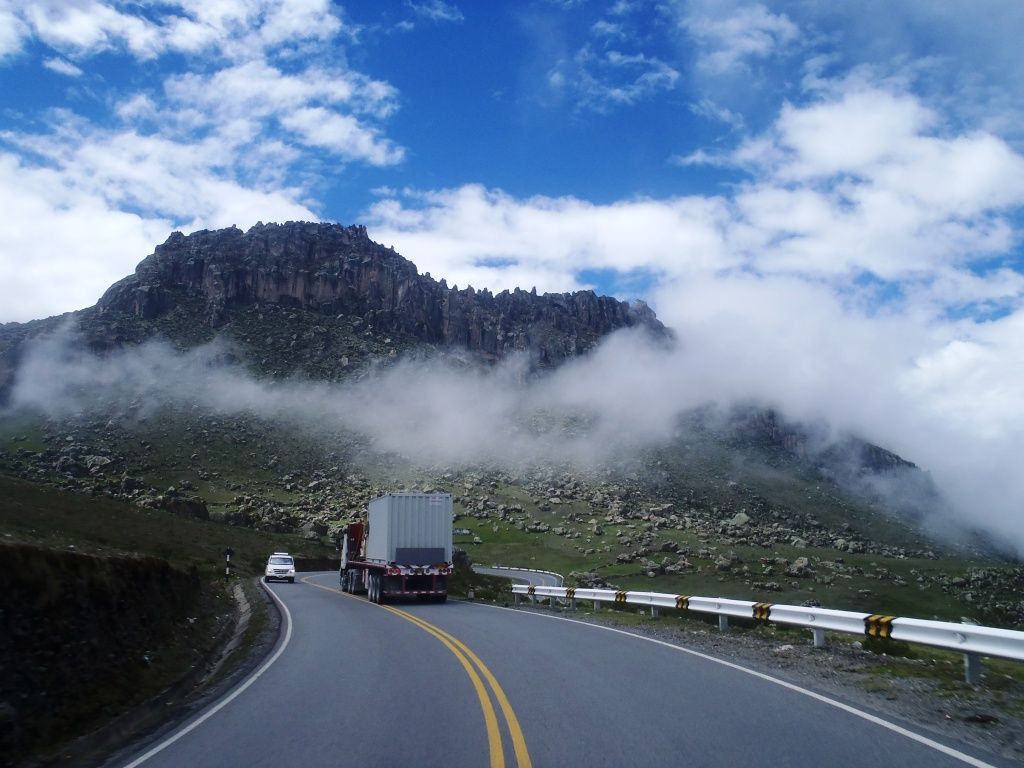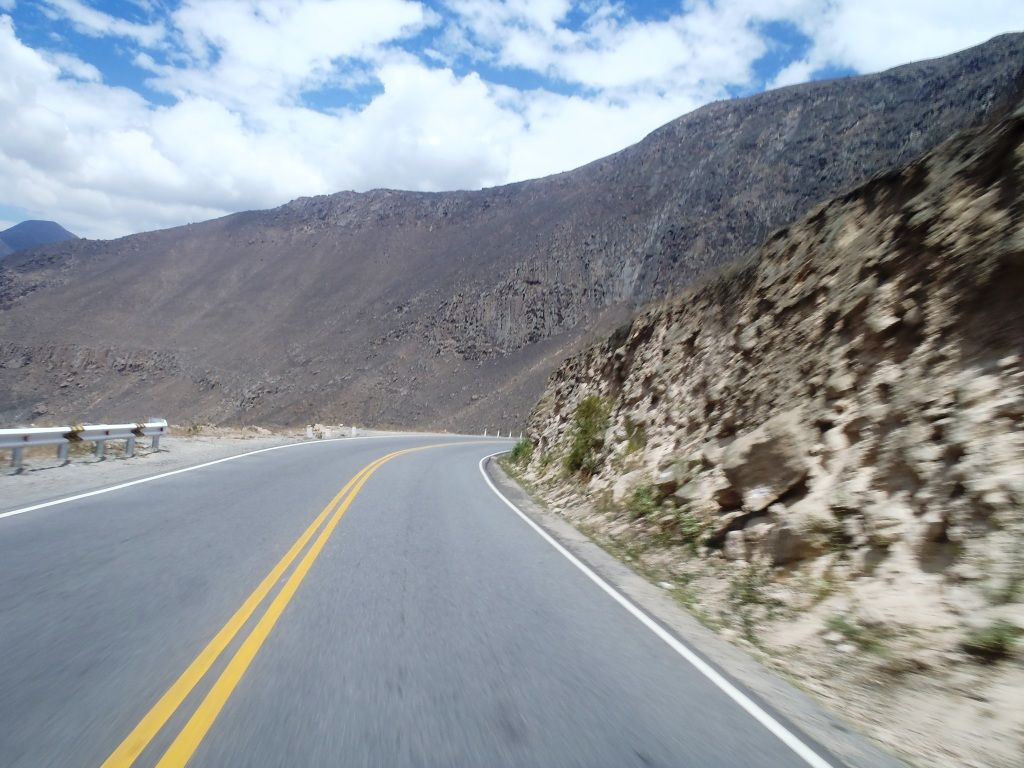 The decent was phenomenal as well; however, an ever expanding chain which threatened to disintegrate at any moment kept me from enjoying the hairpin turns, switch backs, and incredible views.
Eventually things leveled out and I was back in the desert.
We finally made it back to the Panamerican Highway where I pulled over to remove some layers. As I was rolling into the gravel, I noticed that my front end felt mushy. I looked down at my front wheel and realized that I had a flat. I cursed my luck and jumped off the bike to start swapping out the tube. As I did so, I looked down at my luggage rack and realized that it was starting to crack, again! Double deuce!
Up until this point, I've had just about every other kind of misfortune hunt me down; but so far flats have kept their distance. But apparently, I'm in a bad streak of luck right now.
Oh well. Adapt, improvise, and overcome. I busted out my tools and got to work. I was immediately glad that I had build that enduro stand yesterday; it worked like a charm:
I got the wheel off....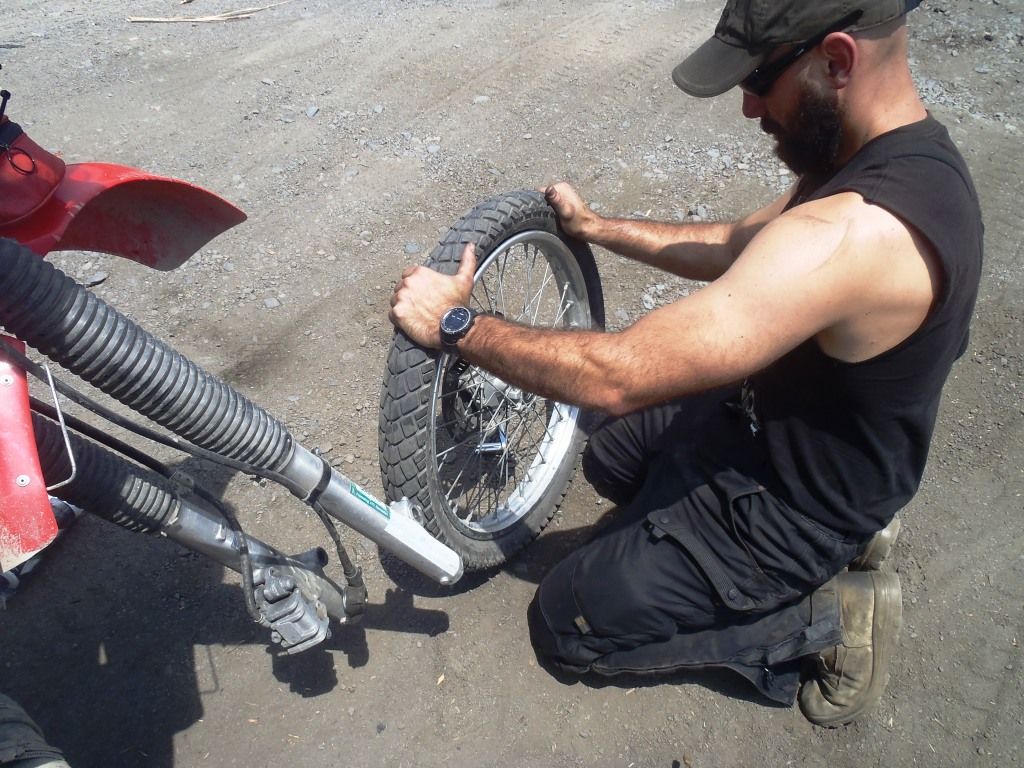 ....and the tire off....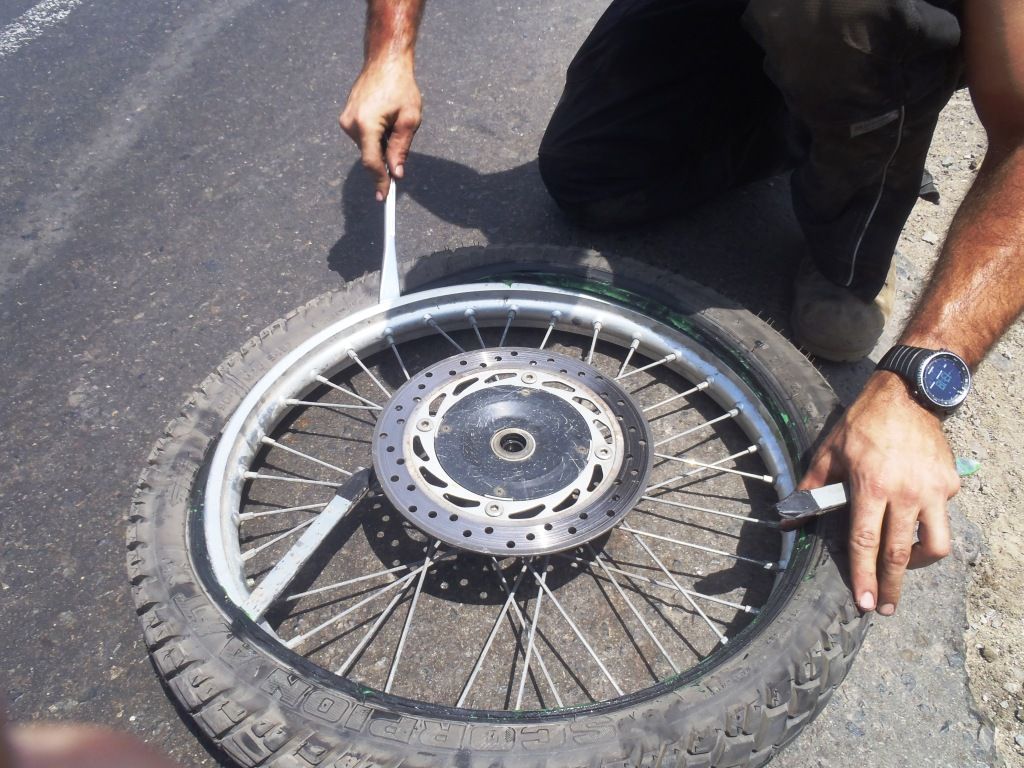 ...and then realized what a horrible idea Slime is. Looks like I'm never using that stuff again. I ended up spending an extra 10 minutes just cleaning the goo off of the tire and the rim.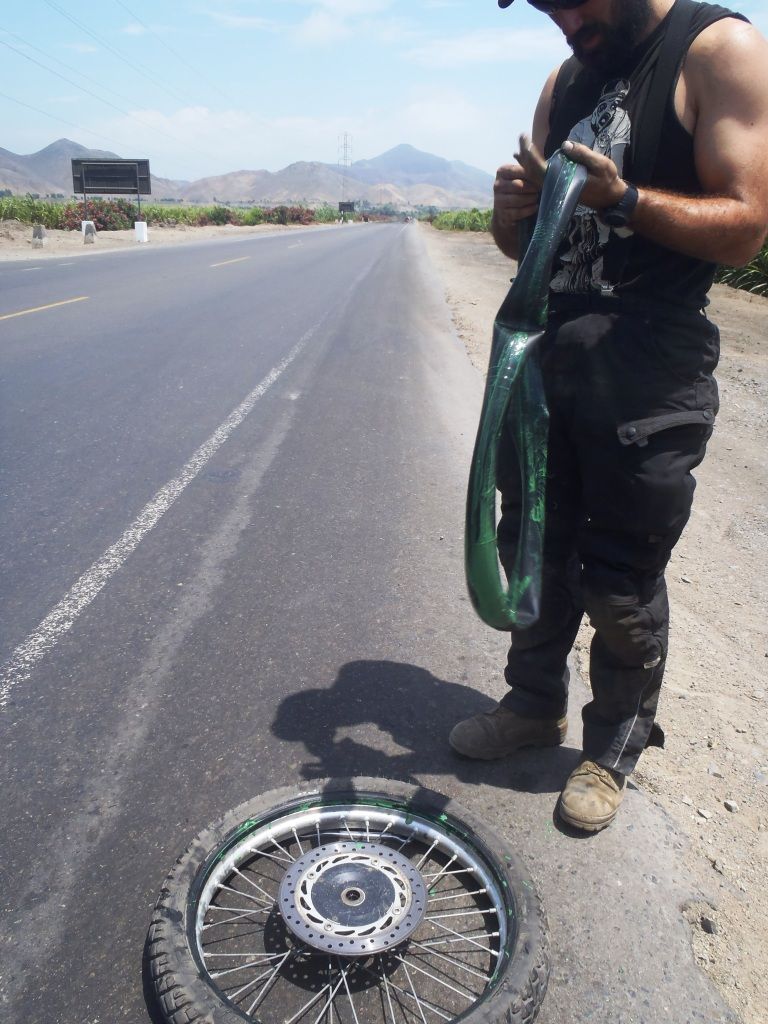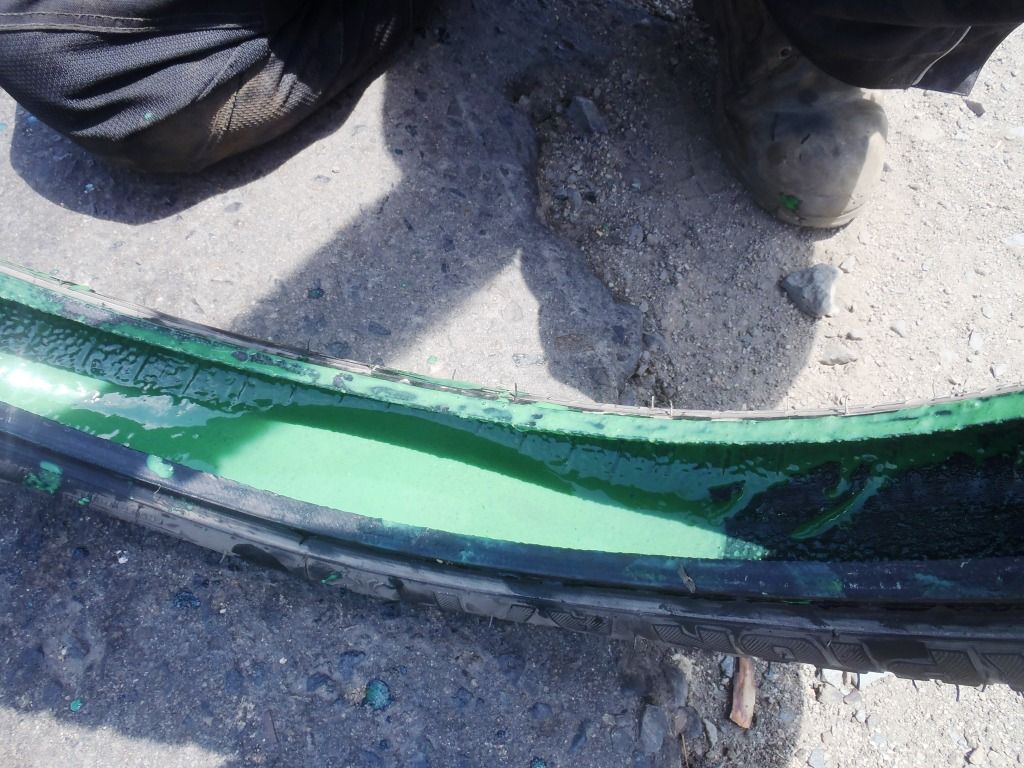 As I was de-Slime-ing my wheels, a large four door Jeep wrangler with Georgia plates comes screaming off the road and pulls in in front of us. A fellow overlander hopped out and offered his help and some cold Gatorade. I gladly accepted both.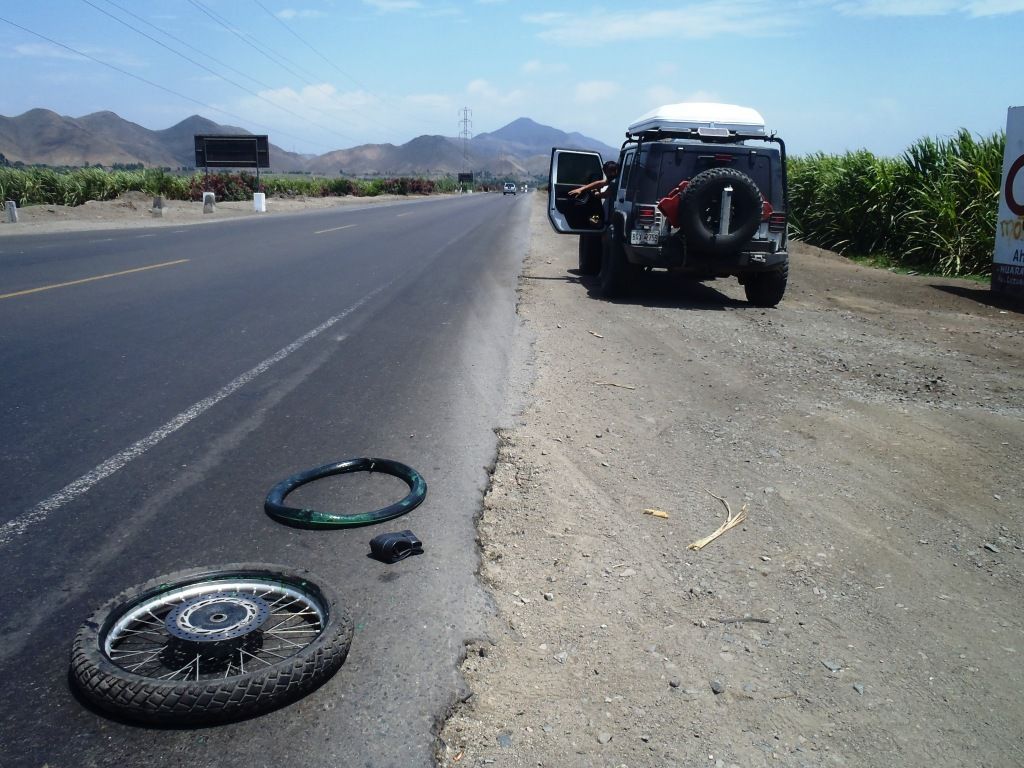 Unfortunately, I can't remember his name and I forgot to have him sign my tank! He was a hell of a guy. He even busted out his ARB air compressor and we had the new tube aired up in a few seconds. Sure beats my little 12 volt compressor.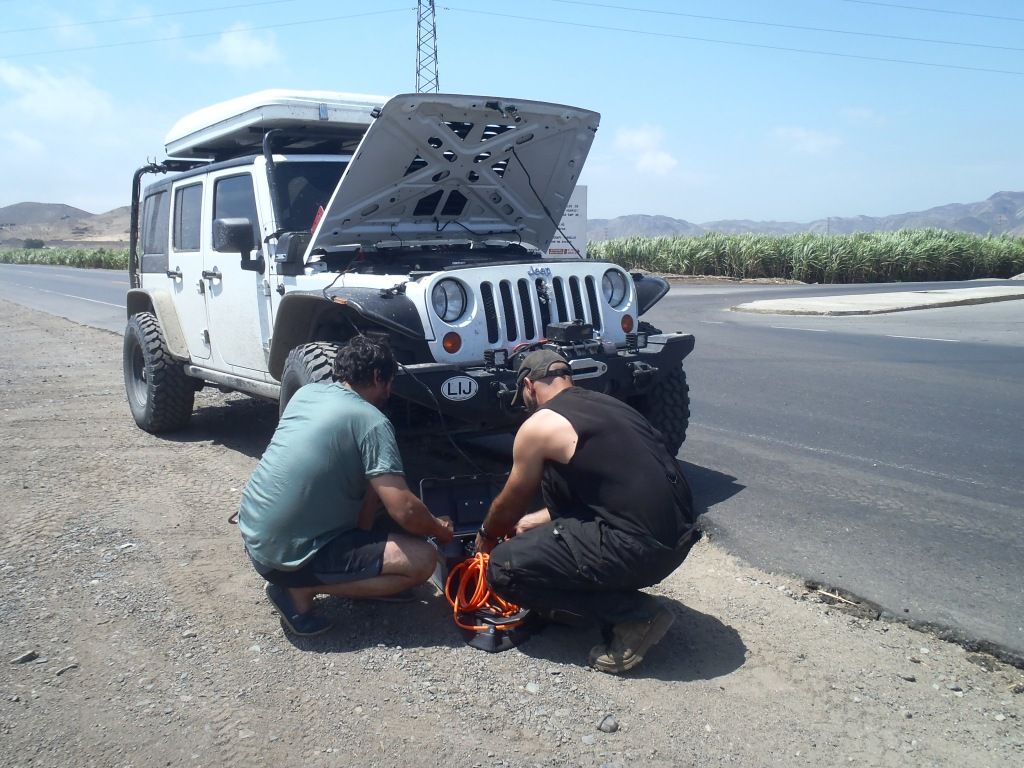 With everything aired up, I slapped the wheel back on and everything was as good as new. All told, it only took about 30 minutes to get everything swapped out and fixed; and that includes the 10 minutes spent cleaning off all of the Slime.
I got a picture with my mysterious benefactor, put my gear back on, and hit the road.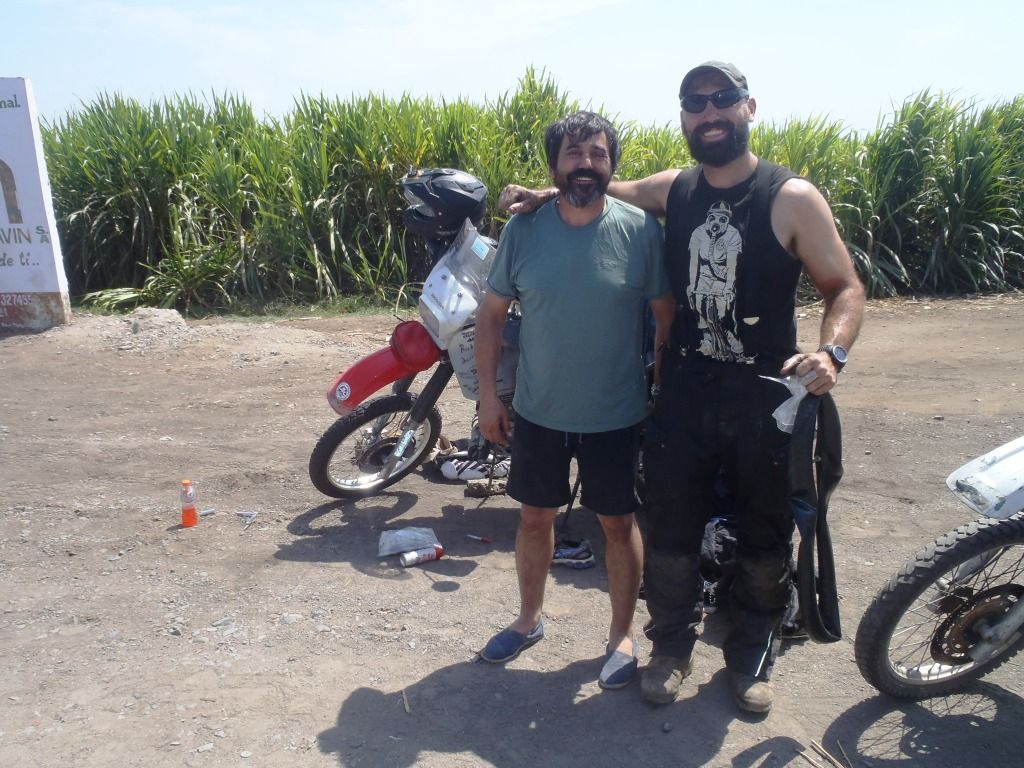 The last 100 miles into Lima were more of the same: hazy, wind swept desert. We saw some fairly impressive shanty towns: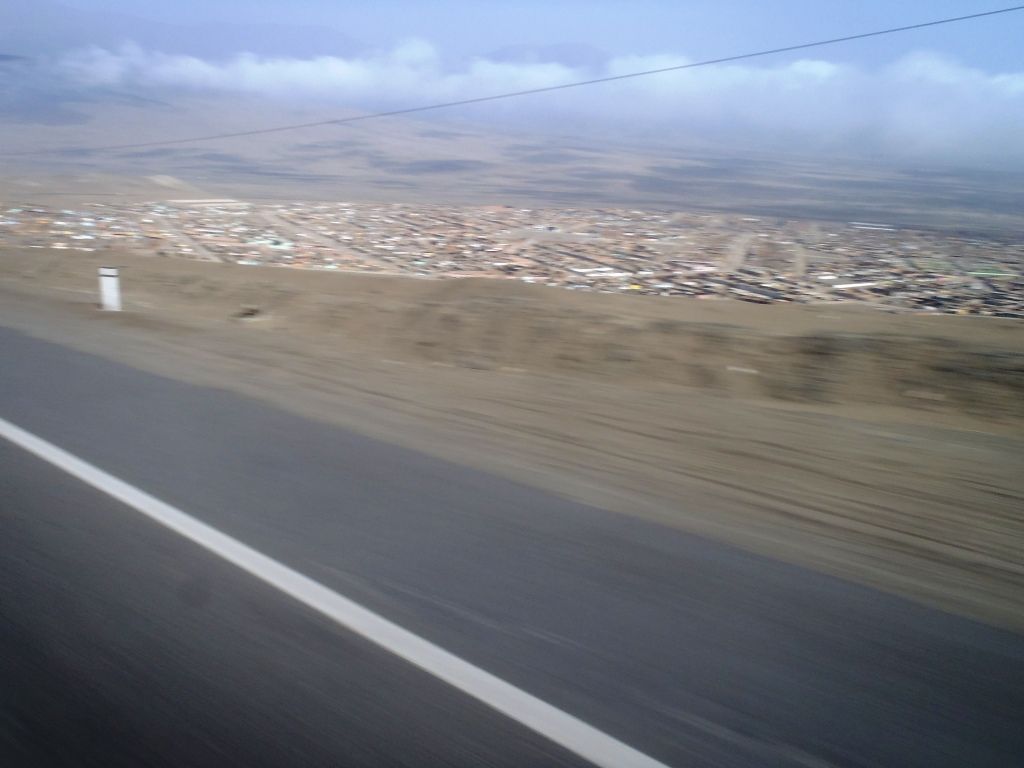 We finally arrived in Lima around 5:00 PM and ran straight into a wall of traffic. I found out later that Lima has over 7,000,000 people! Definitely the kind of place that I would normally avoid.
As we were riding through town, an angry couple of Peruvians pulled up next to me and started shouting at me angrily. I pulled over to see what was the matter; apparently I had struck one of their side mirrors with my panniers and cracked the plastic while cutting through traffic. Bubbletron confirmed this for me as I hadn't noticed, so I apologized and gave them about $20. Man, Peru is killing my wallet!
We finally got to the Barranco district of Lima and found that the Hostel that we had been trying to get to was full. We hunted around and finally found a place with some "Dakar" graffiti and figured that was good enough.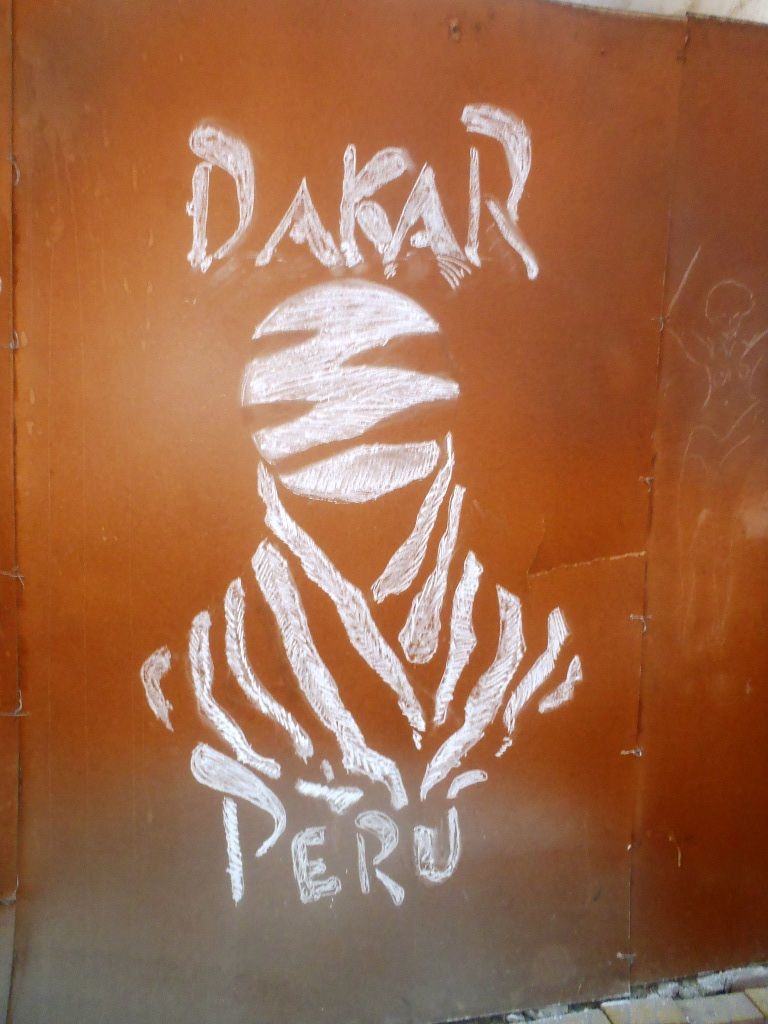 As I was unpacking my bags, I started thinking about the past three days: hit by a car, nasty stomach bug, flat tire, broken luggage rack (fourth time), and bribing Peruvians over broken mirrors. I started laughing at the absurdity of it all, then broke into that Ray LaMontagne song:
"Trouble...
Trouble, trouble, trouble, trouble
Trouble been doggin' my soul since the day I was born..."
Pretty soon, I'm going to need a vacation from my vacation.