Day 92 (January 15, 2013)
Lima, Peru to Nazca, Peru
Day's Ride: 279 Miles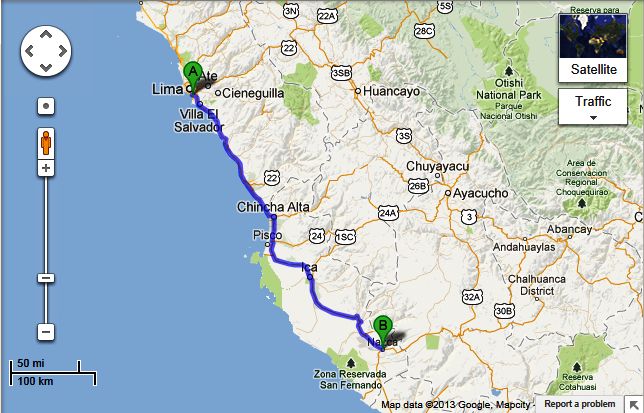 Starbucks, what a wonderful place. I took advantage of my last morning in Lima to hit up the old SBUX, drink some real coffee and post up yesterdays' report. I also upgraded my Med Jet Assist account up to the "Expatriate" level so that I have 180 days of medevac coverage. The old one was only good for 90 days. After seeing Justin get smashed and meeting that Australian (Adam) in Cali with two broken arms and no earthly idea of how he got that way, I figured it would be the prudent thing to do.
I swung by the moto shop on my way out of town to get a picture with the managers. Ricardo (on the right), the head manager, is also the sport bike racing champion of Peru. These guys are really cool and they went out of their way to help me out, especially with that chain guard that they cannibalized off of an XRL that they were selling.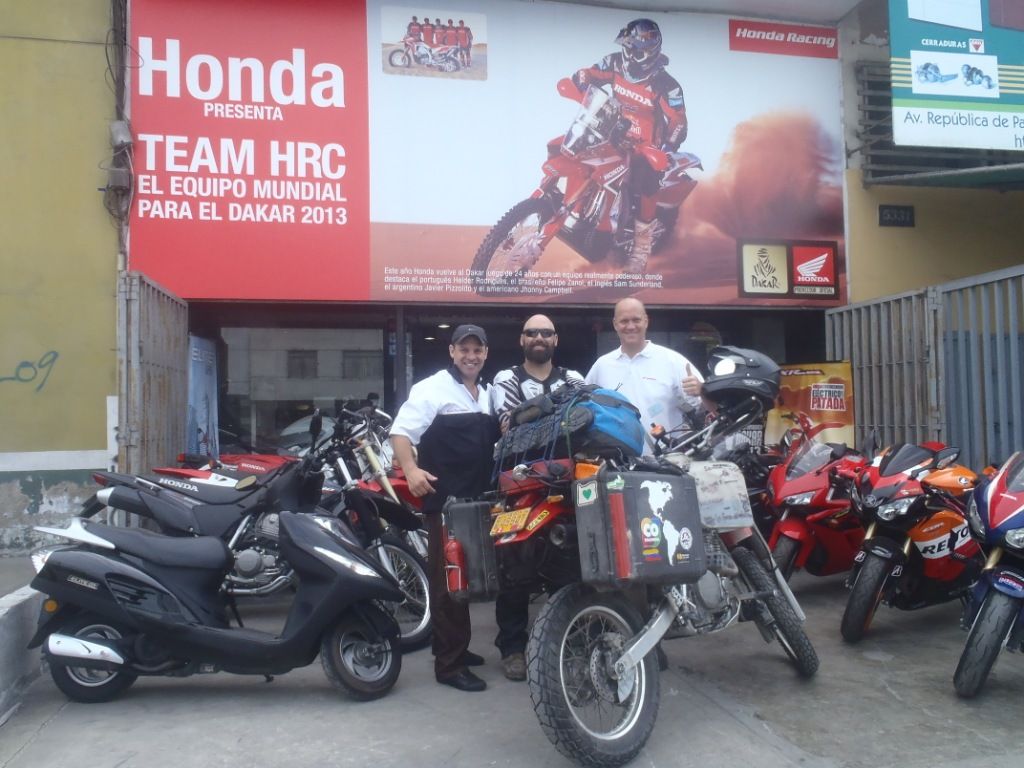 As I walked into the shop, I recognized a KLR in the back that was being worked on. Ricardo told me that a Canadian who claimed to know me had dropped it off to have the tires installed and was currently over in the mercado getting coffee.
I rode my bike over to the mercado and look who I found:
Kedgi (on the right, aka Dwight) of "Lobsters to Llamas" fame, whom I had met at new years eve in Cayumbe. He had met up with a couple of Colombian riders that morning and was planning on staying in Lima for a few days.
Saying goodbye to Kedgi and his new Colombian friend, I hit the road. Getting out of Lima was surprisingly easy and before I knew it I was back on the coast.
After a while I stopped at a grocery store to check my oil, grab some batteries, and check my new chain. As I was checking things over, this guy comes walking out of the store:
I was so motivate by his shirt that I gave him an "Errrrr!". He had no idea what that meant. I'm sure that many of you don't either.....
Like Ecuador, Peru has nice roads. Like Colombia, moto's don't have to pay tolls. I suppose this makes it the best of both worlds.
It took me a while to figure this out, but after some angry hand gestures from the Peruvian toll booth workers, I eventually learned that moto's just skip around the right hand side of all toll booths. Interesting.
I stopped for lunch at a roadside stand today and had chicken tamales: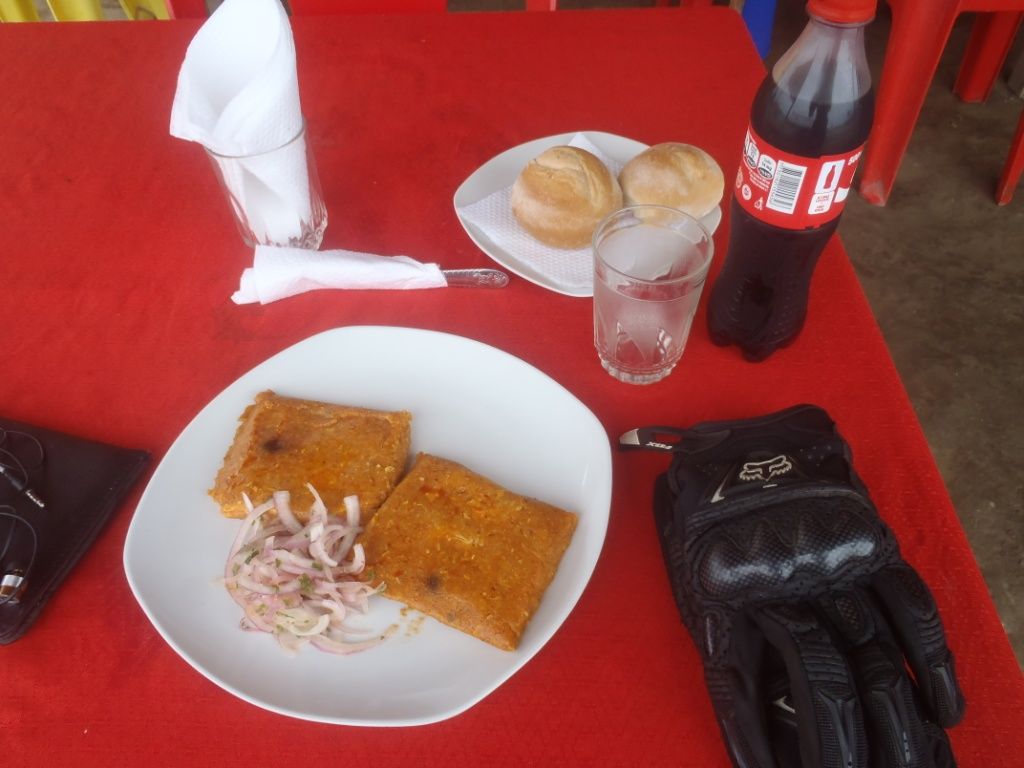 A little different than the Mexican version; these come wrapped in Banana leaves and are a little sweeter. They were delicious and at 5 Soles they were quite cheap as well.
Continuing on along the Panamerican highway, the scenery remained very desolate.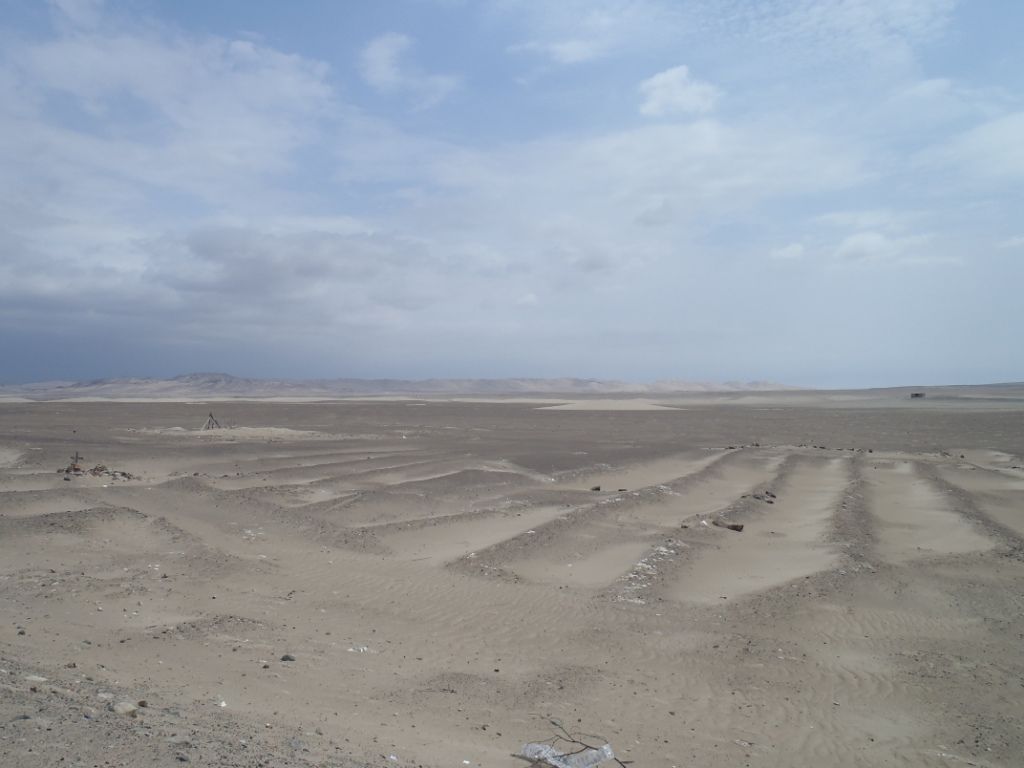 There is a certain beauty and almost a sense of cleanliness to the desert that I enjoy. At times, being in Peru has made me miss living in the Mojave. The coast of Peru has been one of the most desolate and sand swept deserts that I've had the pleasure of traveling through and I think I'll probably miss it. Still, I have the Atacama and the Salar de Uny to look forward too...
Towards the end of the day, I arrived on the outskirts of Nazca.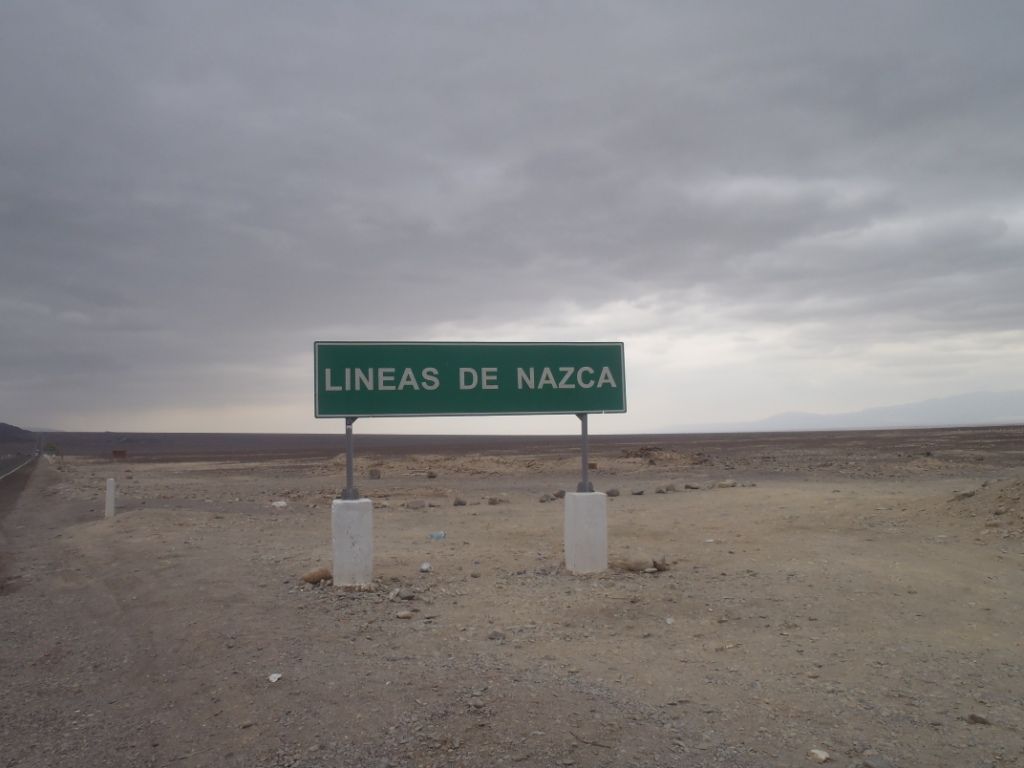 No one is quite sure who constructed the Nazca lines and they weren't even found until 1939 when someone was flying over the area to research ancient irrigation methods. There are various theories about their purpose: UFO landing sights, giant running tracks, walkways, etc, but I'll spare you the details. Look it up on Wikipedia.
Apparently, the only way to truly appreciate the Nazca Lines is to take a plane and fly over them. I didn't really have the time or the money to do that; however, some of the overlanders in Lima had told me about a little watch tower right off the Panamerican Highway that you can see a few of the lines from for 2 Soles.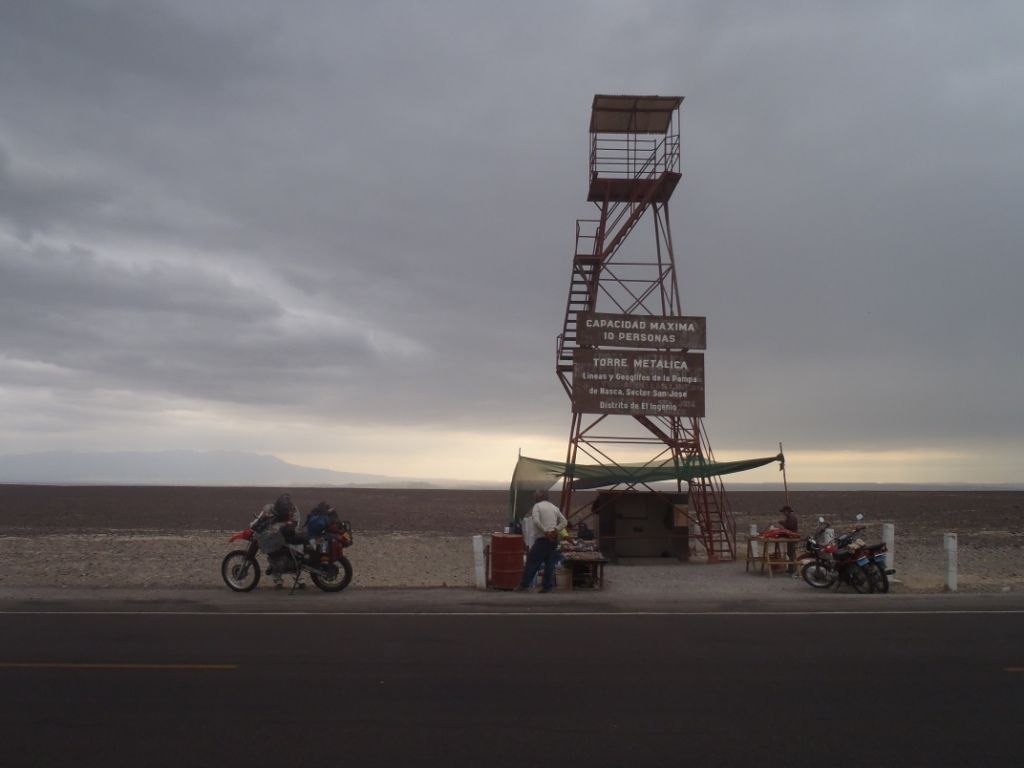 I paid my 2 quid and popped up the tower for a quick peak. This is the Frog (or maybe it's a Hand?):
And this is the Tree: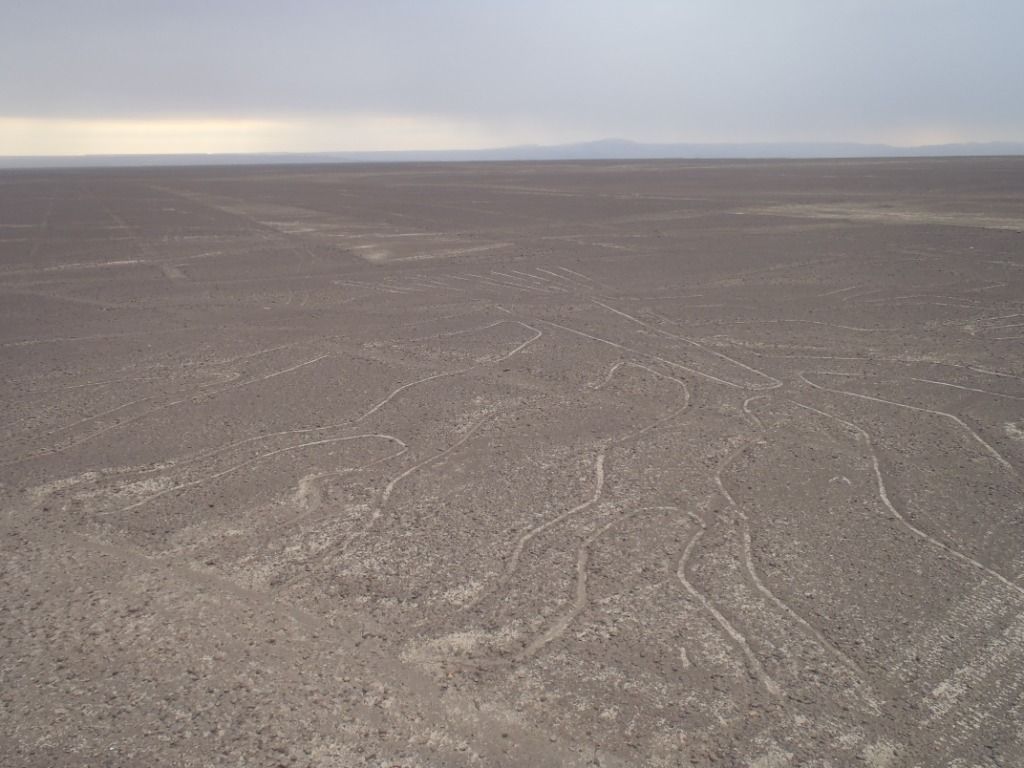 There was supposed to be a third set of lines (a Lizard) visible from the tower, but I couldn't quite make it out. As I was at the tower, numerous small bush planes were buzzing about, ferrying tourists over the massive desert scape of enigmatic figures. Apparently there are a couple hundred different depictions as well as numerous different geometric shapes and lines. It's supposed to be really cool from the air. Maybe next time...
Coming back down I chatted with the vendors at the bottom and bought a Peru sticker from one of the ladies. A young tour guide was also hanging out down there, so I asked him if he would take my picture.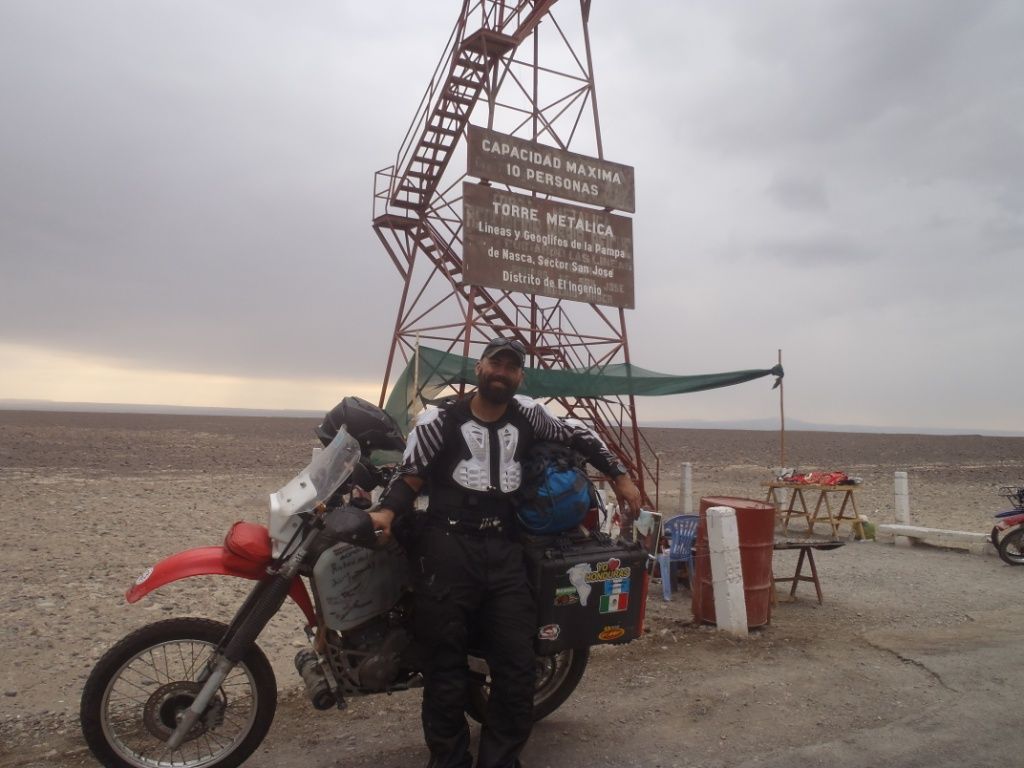 After the leaving the lines I rode the remaining 15 miles into the town of Nazca and found a Hostel, The Nazca Inn.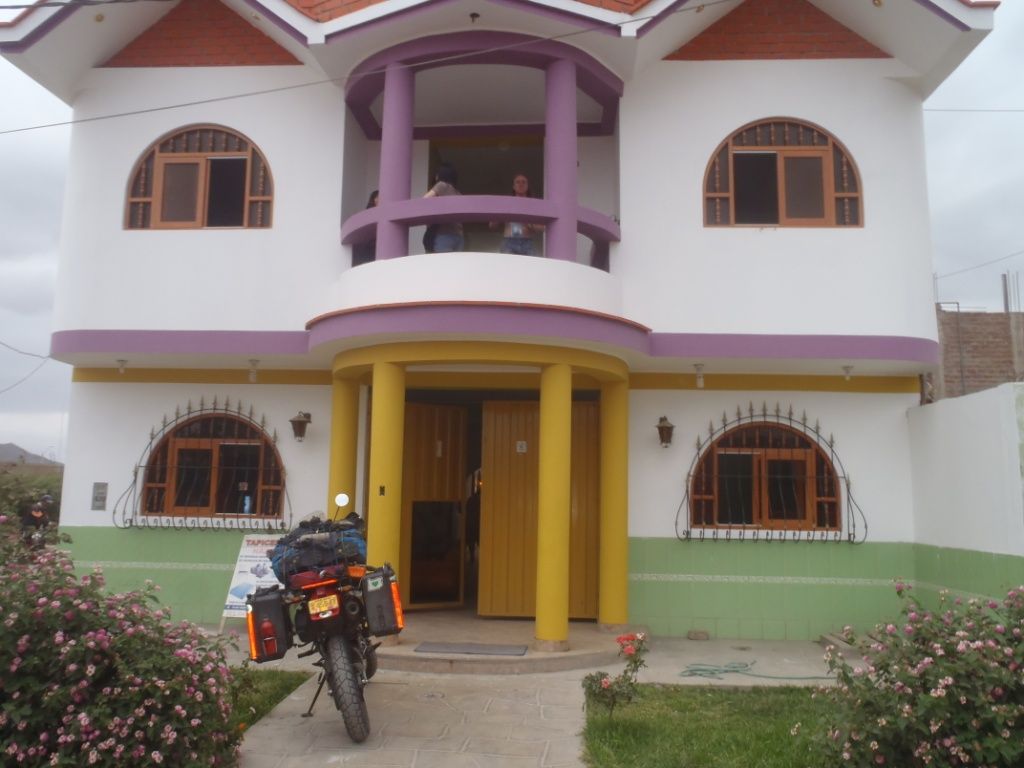 After some negotiation, a bed in one of the dorms is 25 Soles ($10). They let me park my bike in the lobby, and they have laundry, hot watter, and fast wifi.