Day 80 (January 3, 2013)
Quito, Ecuador
Day's Hike: Approx 5 Miles with 1,950 feet of elevation gain.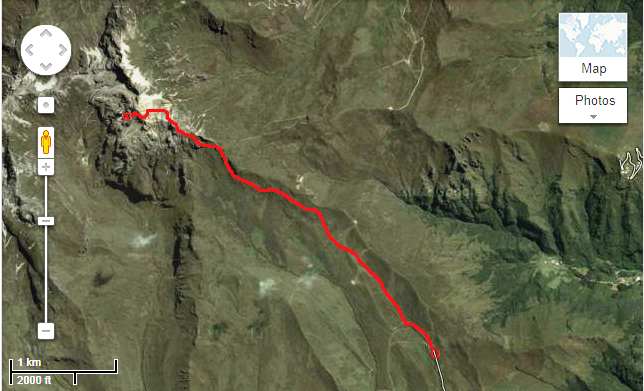 Sometimes you just know you shouldn't do something, but you do it anyways. I believe the saying is "Old enough to know better, young enough not to care". Dylan, one of the riders who's here in Quito with me, recommended that we take the aerial tram out of town and then do a hike/climb up a nearby volcano.
I love hiking, climbing, camping, skiing, mountaineering, and all things outdoors. However, I figured that this trip would be a little more focused on riding and making miles, so I left most of that gear at home. But when Dylan suggested that we go for a little day hike, I figured why not?
I didn't have a proper back pack, but the little Honda shoulder bag that the Antioquia XR club had given me in Medellin seemed like it would be enough. I also didn't have any proper hiking pants, shoes, or gloves; however, I figured I could just roll in my running shorts and running shoes and stick my hands in my pockets to keep them warm.
We got to the tram at around 9 AM and hoped on board.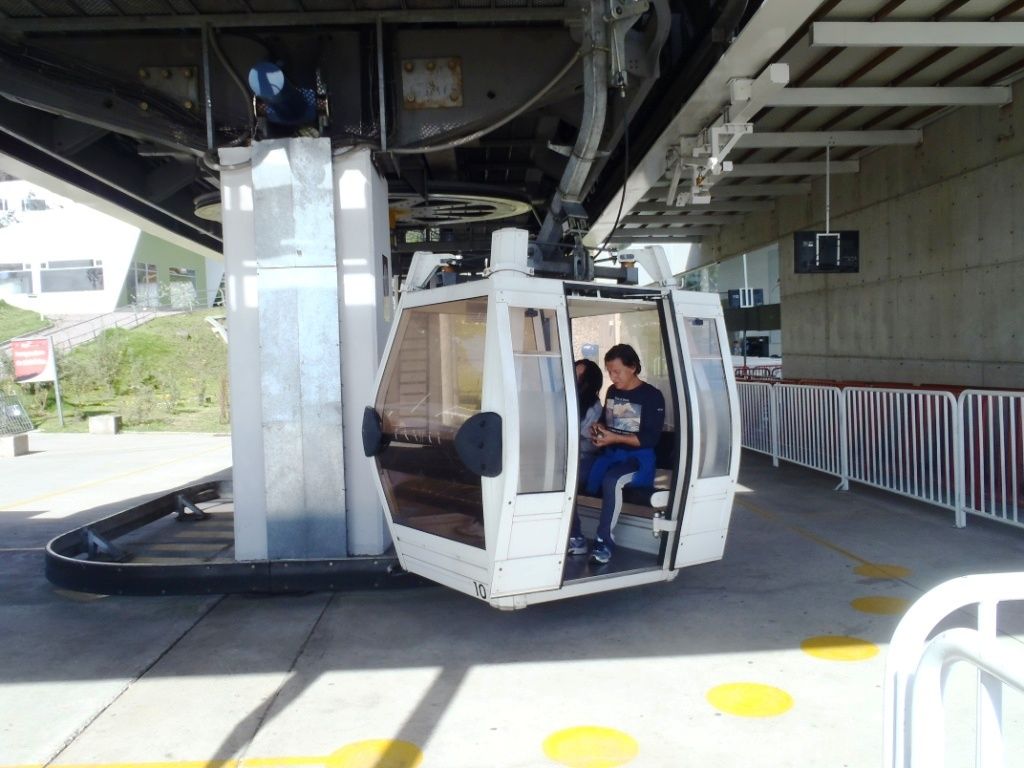 As we were riding up, I figured I should at least research what I was getting myself into. I busted out the Lonely Planet South America guide that I had downloaded on my iPhone and checked it out. Apparently the peak was 15,402 feet tall and required a bit of "scrambling".
Well, definitelyly wasn't prepared for that. I looked up at the mountains and realized that I couldn't see them because they were socked in by some dark grey, fast moving clouds. I've climbed a few mountains and I've seen some people get pretty jacked up by not bringing the right clothing and not making good choices (i.e. hiking a 15,400 foot tall volcano in a cotton t-shirt and running shoes in bad weather). There was a little voice in the back of my head telling me that this was not a good idea.....
....whatever. Lets go bag a Volcano!
The tram tops out at about 13,448 feet and the views of Quito were incredible.
I had forgotten to bring any water or food, but figured that I could buy some at the little shop at the top of the tram. Unfortunately, that shop was closed. Screw it. Let's hike! I was making all sorts of great choices.
We started off down the path at a good pace. The wind was whipping clouds over the peak and the summit was totally socked in. You can see the base of the peak on the left in the picture below.
We soon reached a sign informing us that the trail was 4km one way. Well, now I knew how far we were going...
The trail continued along a low grass covered ridge line. It was interesting to be above 14,000 feet and not be in a totally alpine environment.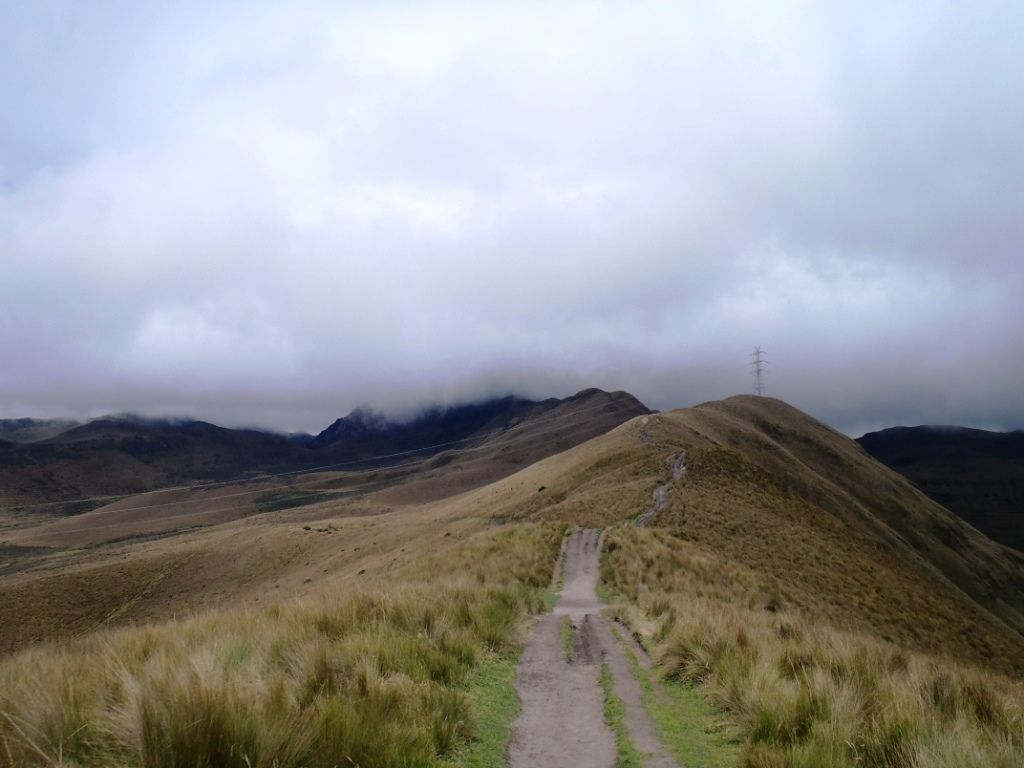 Despite the brisk wind and cool temperatures, I was sweating up a storm in my cotton t-shirt. I put on my shell and kept trucking. Here's a good shot of Dylan coming up the trail:
As we were walking, I had noticed a large group of people in front of us. Being an extremely competitive person, I typically take a situation like this as a challenge to my manhood and climbing ability; it was immediatelyedietly clear that I had to pass them. So I picked up the pace.....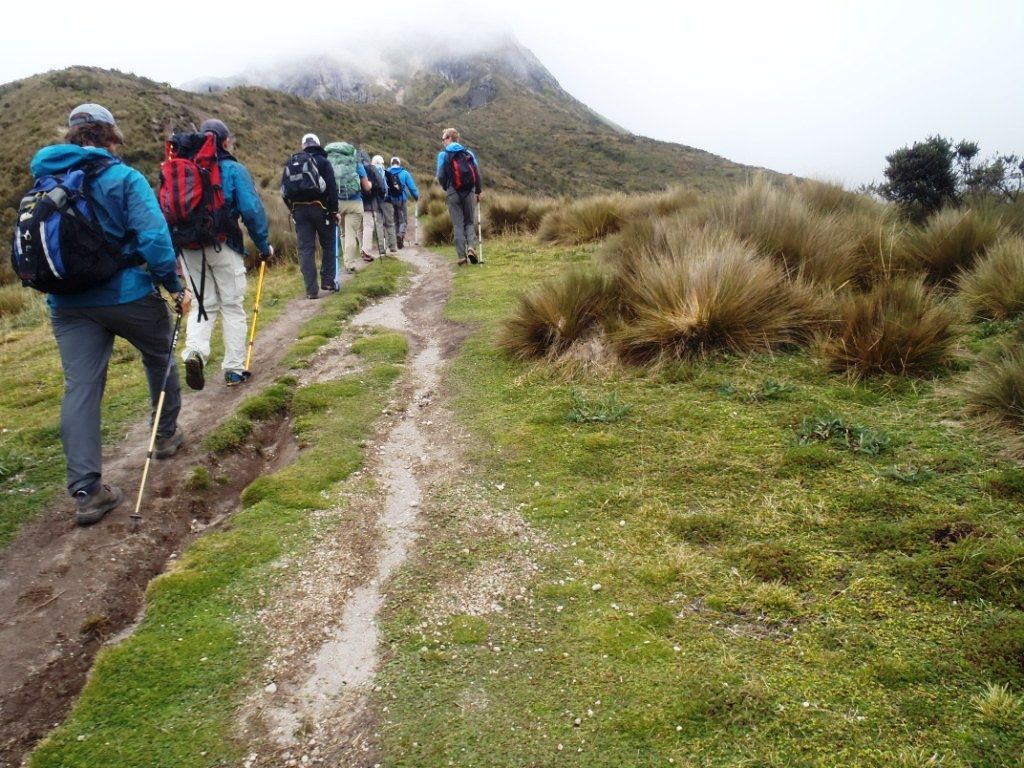 ....and jogged by them while holding my breath, all in an effort to look hard. I nearly passed out after I got by them and started breathing again, but it was worth it. And then I saw three more people in front of me, and was obligated to do it again.
As I approached the rocky portion of the climb, the wind picked up even more and the clouds started getting a little more dense. In the picture below, the summit is way behind the promontory of rock.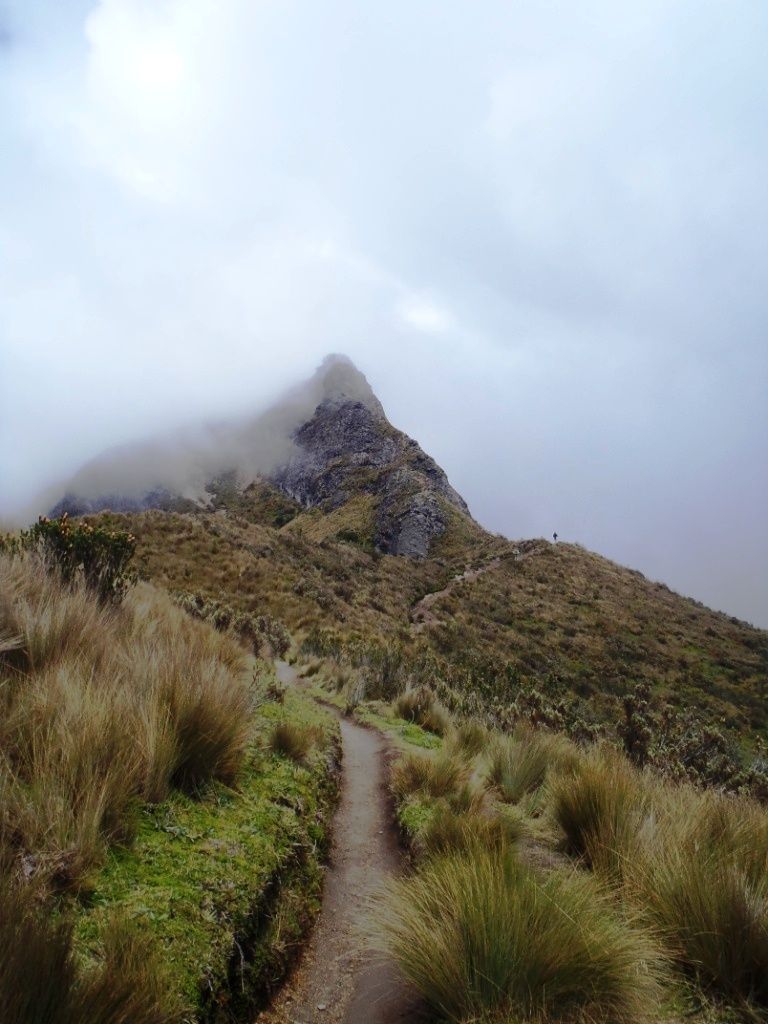 After entering the clouds, the trail terminated in some sandy washes and it became an ankle deep slog straight up the north east face.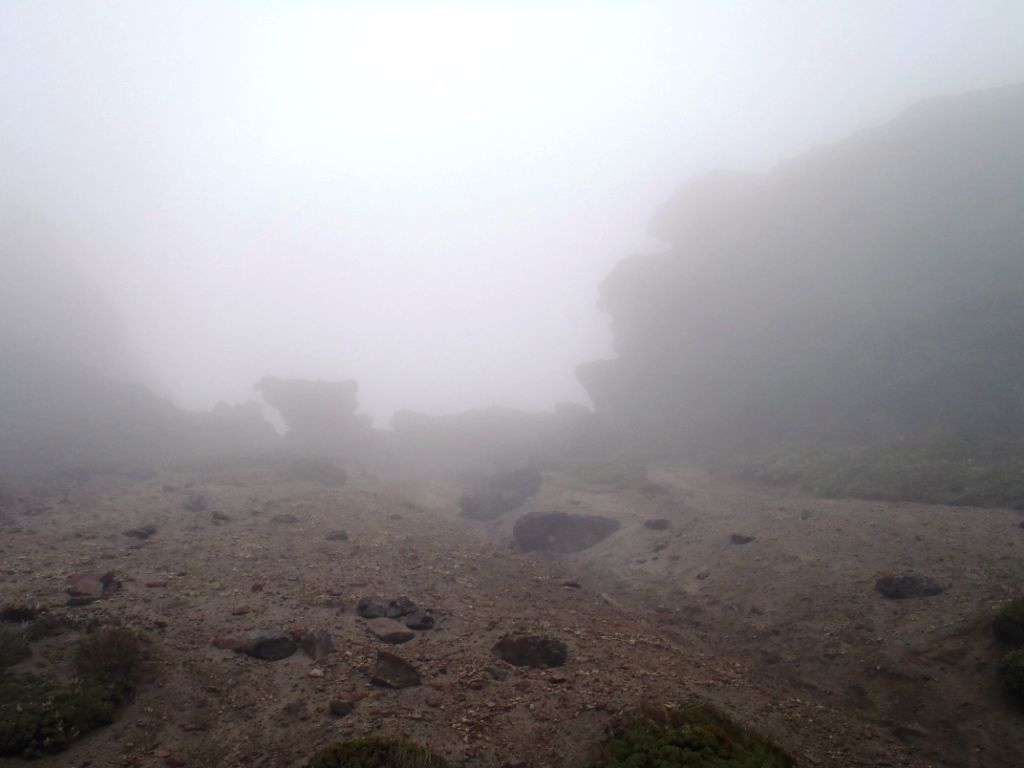 Eventually the sand gave way to scree and solid rock and it became a little bit of a scramble. The last few hundred feet of vertical turned into a low level class 3 climb. Before we knew it, we topped out on the summit.
By this time I was getting really cold. That cotton t-shirt was totally soaked with sweat and I was freezing. I tried to take off my jacket to put on a base layer and realized that my hands and arms were almost totally numb. My dexterity was almost totally gone.
I fianlly managed to get my jacket off and remove the t-shirt. Fortunately, I had brought a decent base layer, so I slapped that on and then put on my shells and felt a little better. I had Dylan snap the mandatory summit shot for me.
And then it was time to get the hell out of there before hypothermia started setting in! We got some strange looks from the people that we had passed earlier as we came bounding down the rocks.
We eventually reached the sandy washes and commenced with the plunge stepping. Essentially, plunge stepping is kind of like taking huge bounding steps (almost jumps) down hill and letting the sand (or snow, or scree) absorb the impact. It's kind of like a controlled fall. Besides screeing and skiing and glisading, plunge stepping is one of the faster ways to get off a mountain.
Eventually we got back to the trail and I started running to try and warm up. I always to try to run portions of the decent if practical, but now it was a necessity.
Eventually we came out of the clouds and I started warming up. Quito was stunning down in the valley with the sun and shadows from the clouds clashing together.
We made it back to the tram about three hours after we had started. I collapsed into a chair in the lobby and ordered some food while we waited for a ride down; It was time for the recovery drink: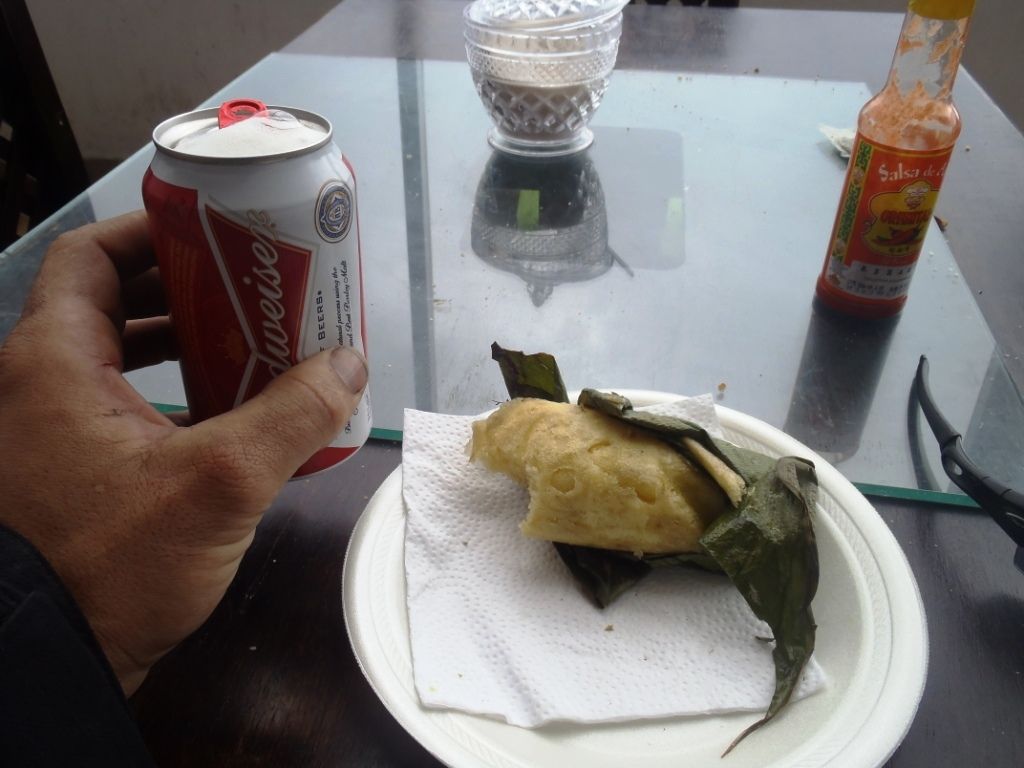 On that way out I saw a rather humours sign:
That really doesn't inspire confidence in the tram. Sometimes Latin humor is a little off.....
Spent the rest of the day napping and putting the rack back on the bike. And that's all for today.