Day 93 (January 16, 2013)
Nazca, Peru to Arequipa, Peru
Day's Ride: 356 Miles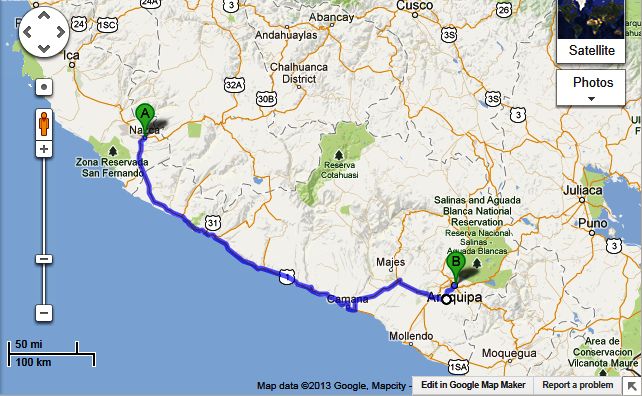 Last night I threw my laundry in the machine at the Hostel and sat down to read a book. A few moments later I was angrily confronted by the proprietor's wife who told me that the laundry was not free and that even if I paid her to do it she didn't have space on the close line to dry my things. She then told me that she had shut off the laundry machine and drained the water. So now I had a bunch of soapy wet clothes.
I was not a very happy camper but I forced myself to be calm and after giving her a few "tranquilo's", I told her that I was sorry and that if she didn't want people using her washing machine that was sitting in the middle of the common room that she should put a sign over it or something. I eventually convinced her to turn the washer back on, despite her protests that she couldn't dry my things out. I told her that I would come up with a solution:
This morning as I was getting ready to leave she came up to me and told me that I had to pay for the laundry service.
In my mind I was thinking, "Laundry "service"? Excuse me, I'm trying to remember what part of the process that you actually performed. Ohh, that's right, nothing!" But, I shoved my anger down and asked her how much she wanted. 10 Soles ($4.50). I almost laughed in her face. I asked her if she thought that was a little bit expensive, considering that I had done all of the labor. Nope. Eventually I just paid her and left. Hostels can be so frustrating sometimes.
I found some street carts for breakfast and just pulled up next to them and ordered while sitting on my bike. It was quite nice, almost like the Peruvian version of Sonic's.
The lady and her two sons had a bunch of freshly made sandwich's available. I had a cheese sandwich, an egg sandwich, and a beef sandwich for 3 Soles. Combined with a cup of lukewarm, overly-sugared, instant coffee for another Sole, and my breakfast cost less than half of what my Laundry did.
I sat on my bike and enjoyed my breakfast in the warm morning sun. The sandwiches were superb, the coffee strangely good, and the service excellent. My feet never touched the pavement the entire time. Everyone on the street was staring at me, the strange bald, bearded gringo on the huge motorcycle I got one of the boys to take a picture of me washing down my coffee.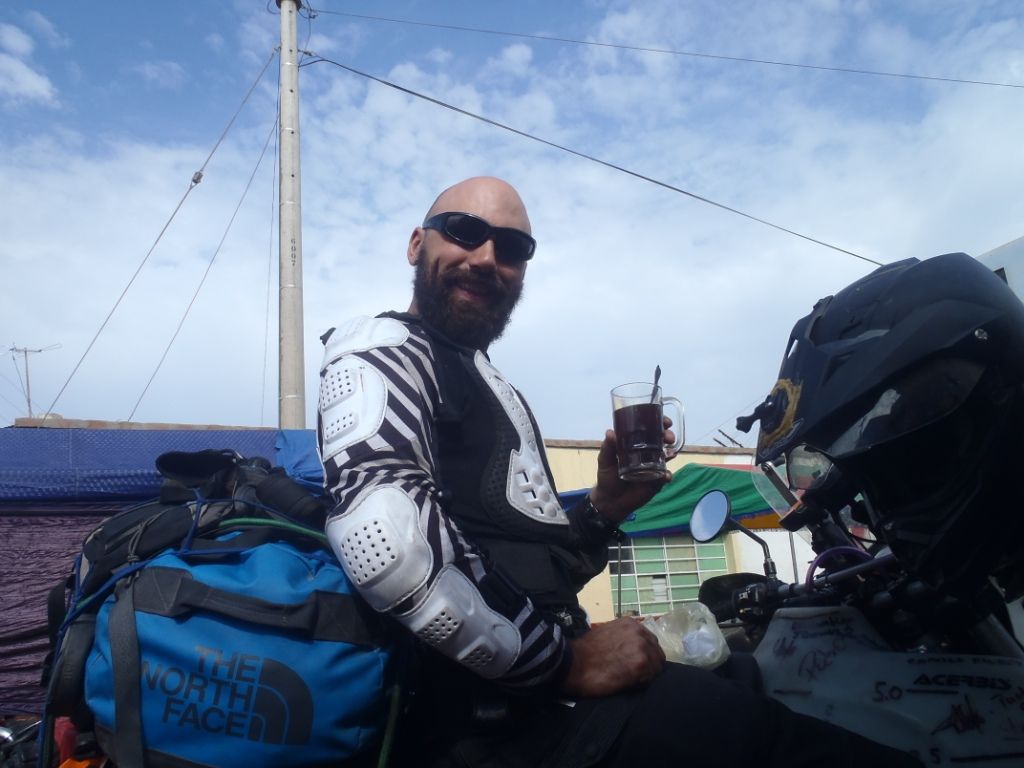 After breakfast I blasted out of town and found a good spot to pull over and adjust my chain and front axle. After tightening the chain slightly, I went to adjust my front axle.....and seriously ruined my day.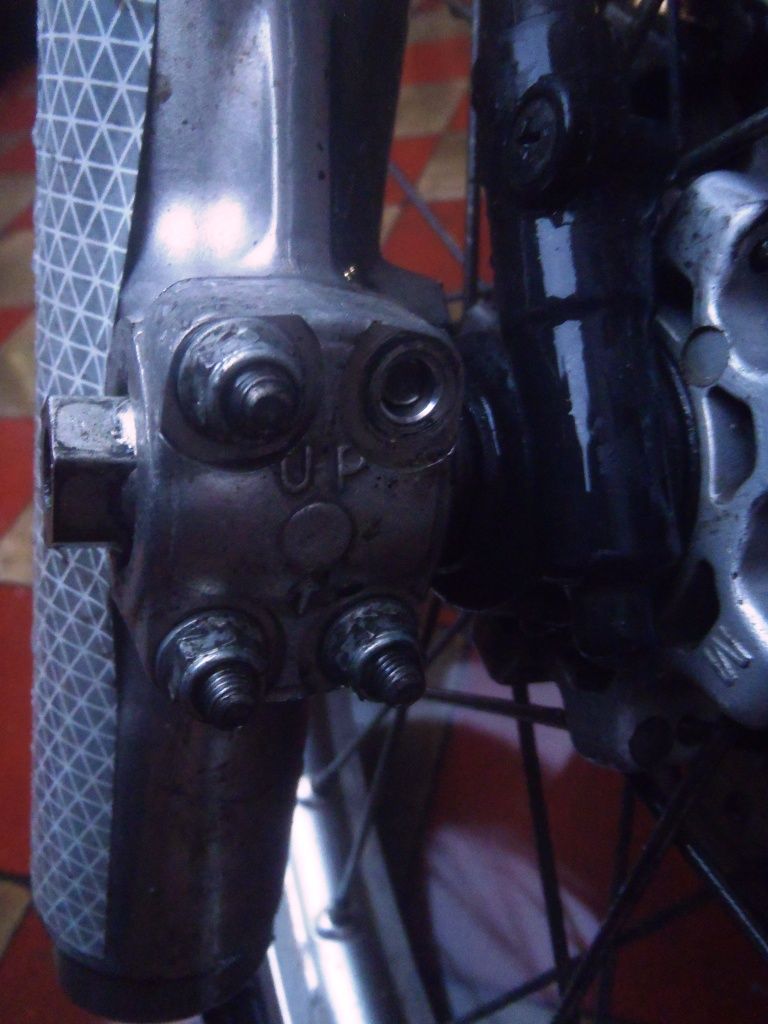 Using my idiot strength, I managed to torque off one of the bolts on the right fork that holds the front axle in place. I was instantly cursing up a storm and having a minor panic attack, not quite sure what I was going to do next. I eventually calmed down and tried to think rationally about my next move. There wasn't anywhere nearby that could fix my problem, so I tightened the remaining bolts, reinforced everything with a few zip ties, and decided to re-route to Arequipa instead of Cuzco. I knew that there was a shop in Arequipa that rented XR650L's and that they would probably have a mechanic that could help me out.
Arequipa was a long ways away. It was going to be a long day. I knew I was going to have to ride hard and stop seldom if I wanted to make it there by nightfall.
So, instead of climbing up into the mountains for a nice leisurely stroll to Cuzco, I resumed my cannonball run down the Panamerican Highway along the Peruvian Coast.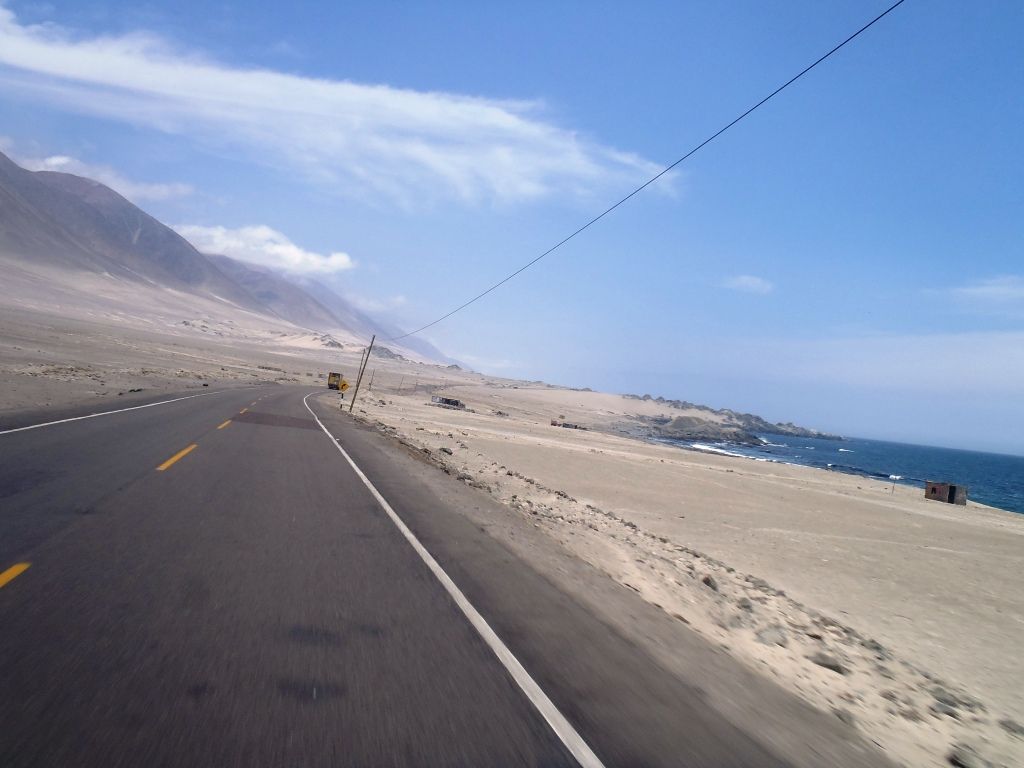 The scenery remained quite barren and bleak. I spent a lot of the day simply tracing the shore line. Not wanting to put any added stress on the remaining bolts that were holding my axle in place, I passed up several nice opportunities to ride on the beach. The temperature remained relatively mild, mostly due to the nice breeze coming off the ocean.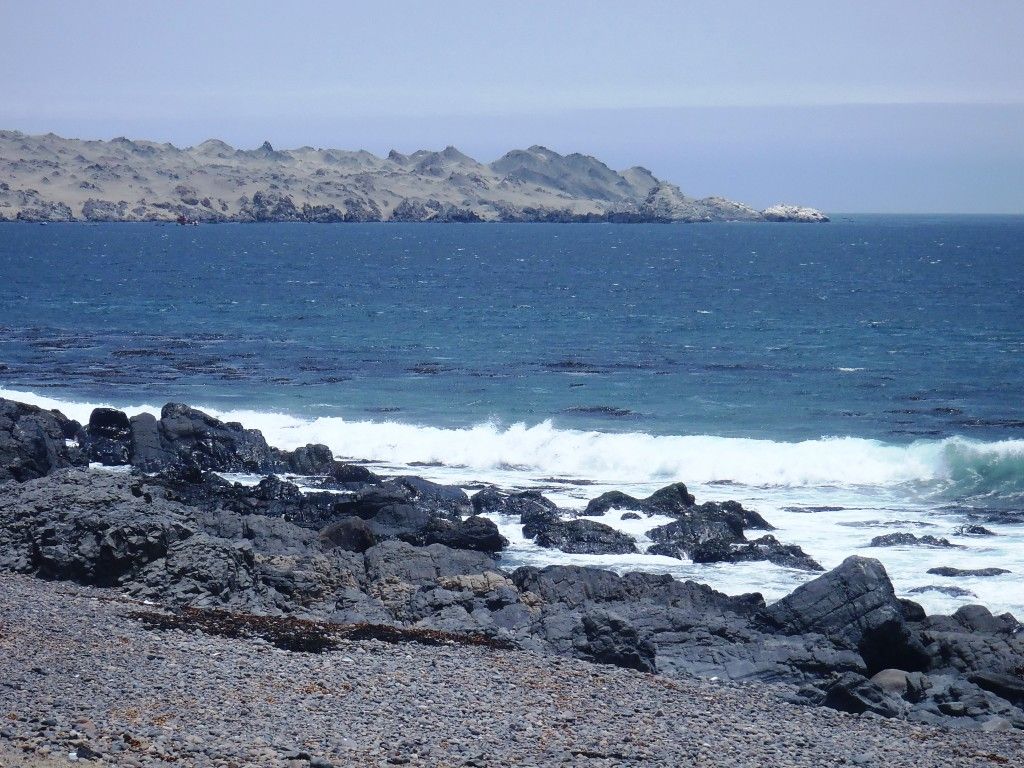 I made several 100 mile legs without getting off the bike; quite a challenge on an XR. Due to a nasty head wind and the crappy Peruvian fuel, I burned through nearly $40 worth of gas. Eventually boredom set in and I started messing around with the camera.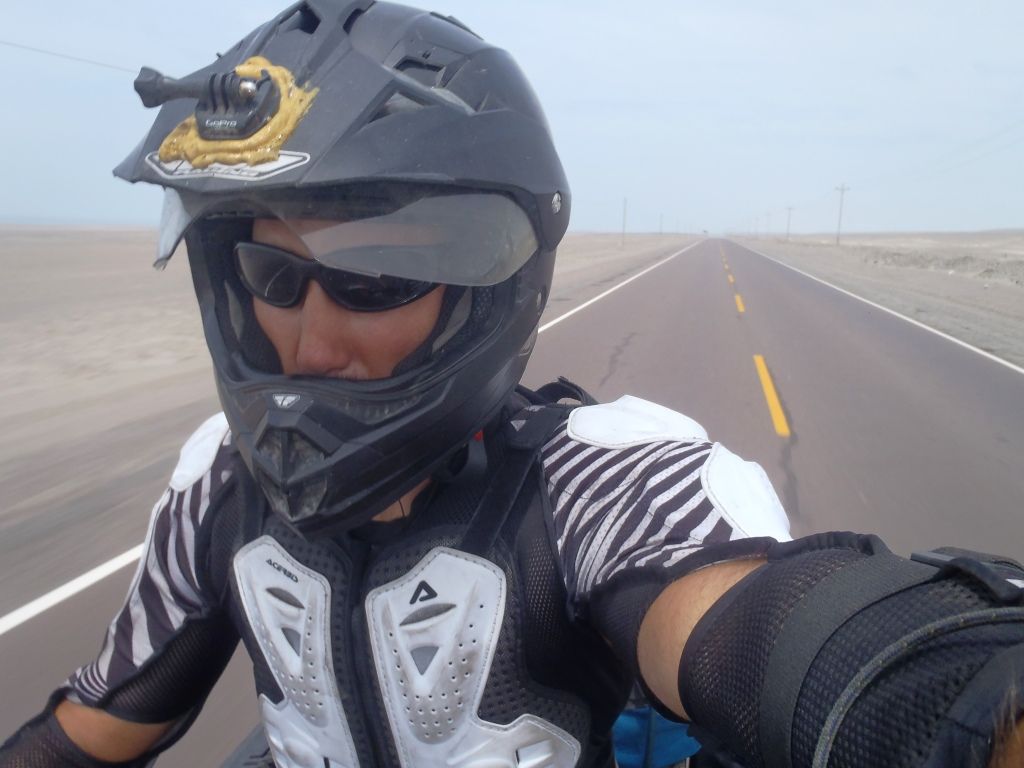 I passed quite a few small fishing fleets and eventually I had to stop and take a quick picture of this one at anchor.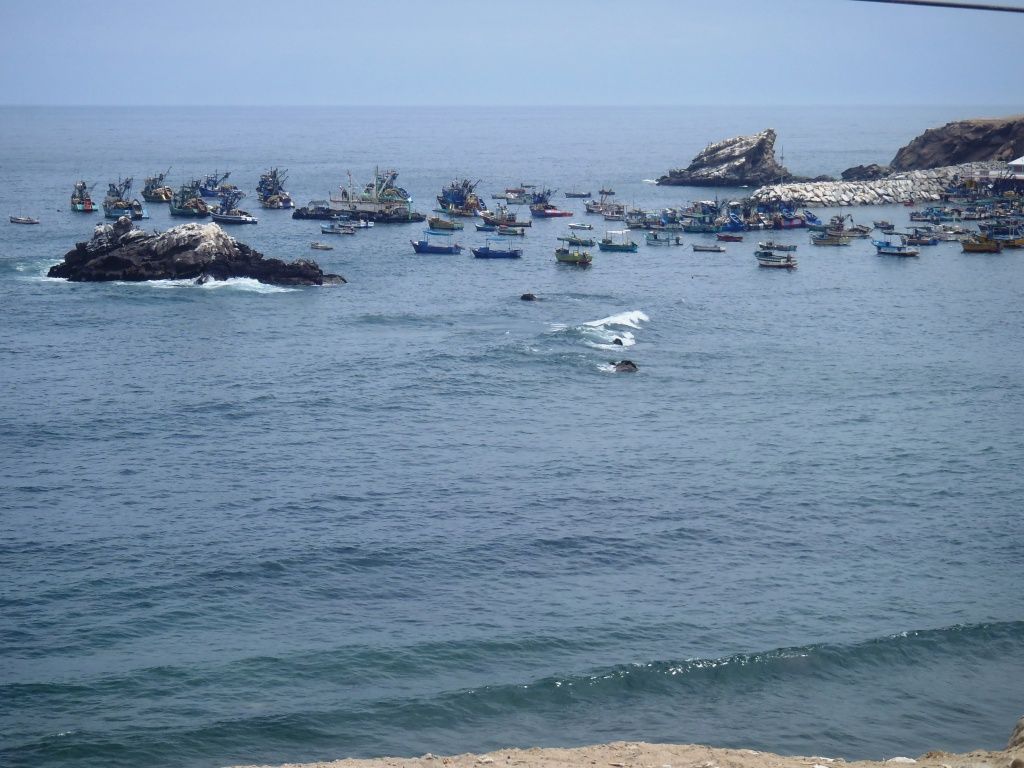 The majority of the terrain was barren desert. However, at intervals the road would cross a beautiful river valley. I love the contrast of a river valley cutting through a desolate expanse of a desert; it's always so fascinating to see so much green after only seeing shades of brown all day.
Eventually the road left the coast and began climbing inland. Things started to cool off and I had to pull over to get out my jacket.
As I climbed higher, I started seeing what I thought was snow on the hillsides in front of me.
However, as I approached I realized that it was just sand.
After over 350 miles of hard riding, I finally reached Arequipa in a light drizzle. I rode to the center of the historic district and found a hostel for 30 Soles. The name of the Hostel is "Hostal Sumay Wasy". The room is nice, the wifi works (sometimes), they have parking for one or two bikes in the entry way, and they have showers with lukewarm water. That's about all you can ask for.
Today was the longest riding day I've had so far. Luckily, in Peru the roads have been phenomenal and relatively free of traffic. Even so, I don't really enjoy doing over 300 miles on the XR. If it were a big bore, multi-cylinder cruising machine that could sustain speeds over 75 MPH for long durations, it wouldn't be so bad. But puttering down desert straightaways at 62 MPH on that narrow dirt bike seat all day can really cramp you up.
Tomorrow I have to go try and figure out how to fix my front fork. I'm hoping that the solution is relatively simple. If anyone is reading this and has a copy of the Honda Service manual with an exploded view of the front fork, I would appreciate a copy of the picture!
Cheers!