Day 101 (January 24, 2013)
Pucara, Peru to La Paz, Bolivia
Day's Ride: 248 Miles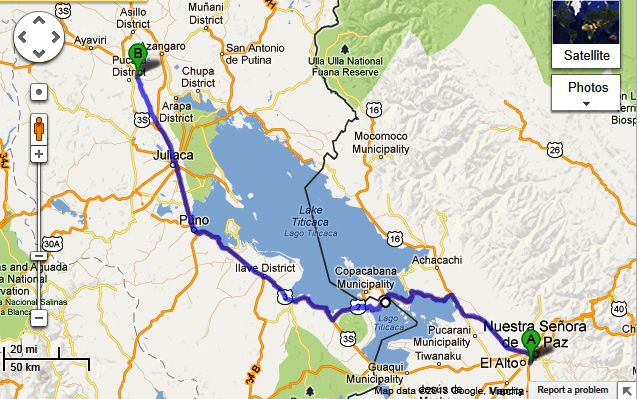 Waking up early after nearly 10 hours of sleep, I climbed the nearby hill to get a better view of our campsite.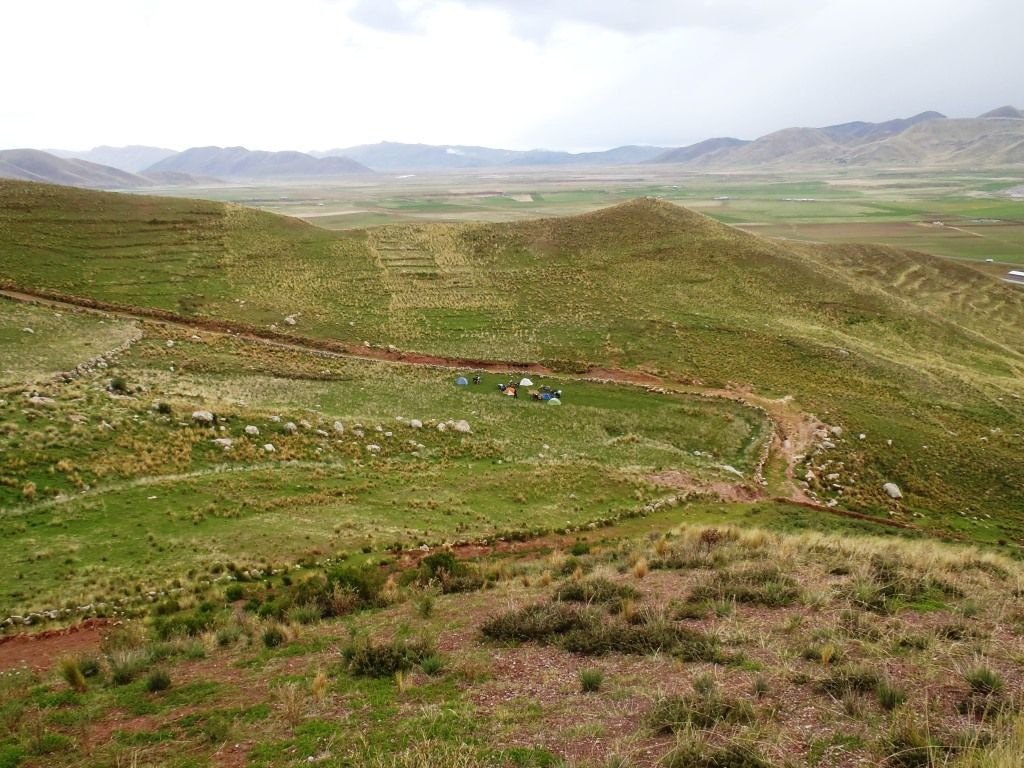 We really lucked out when we found that campsite. I walked back down to the tents just as everyone else was starting to get up.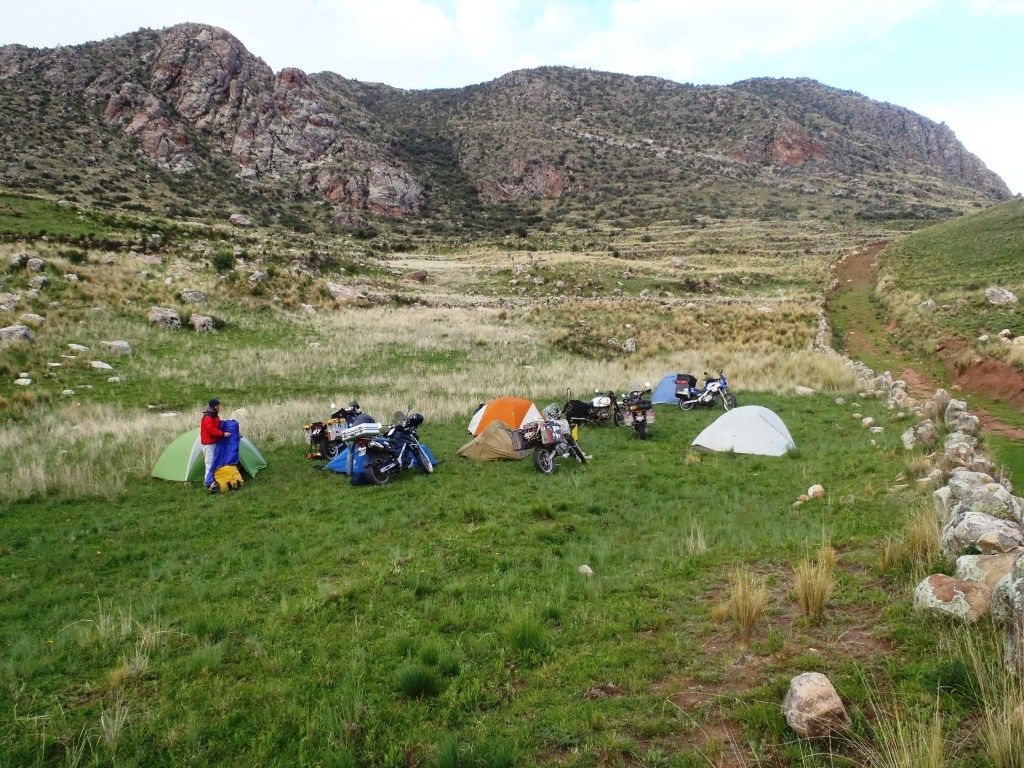 We fired up the stoves again and started boiling water for instant coffee and porridge.
Bowls were on short supply, so we improvised.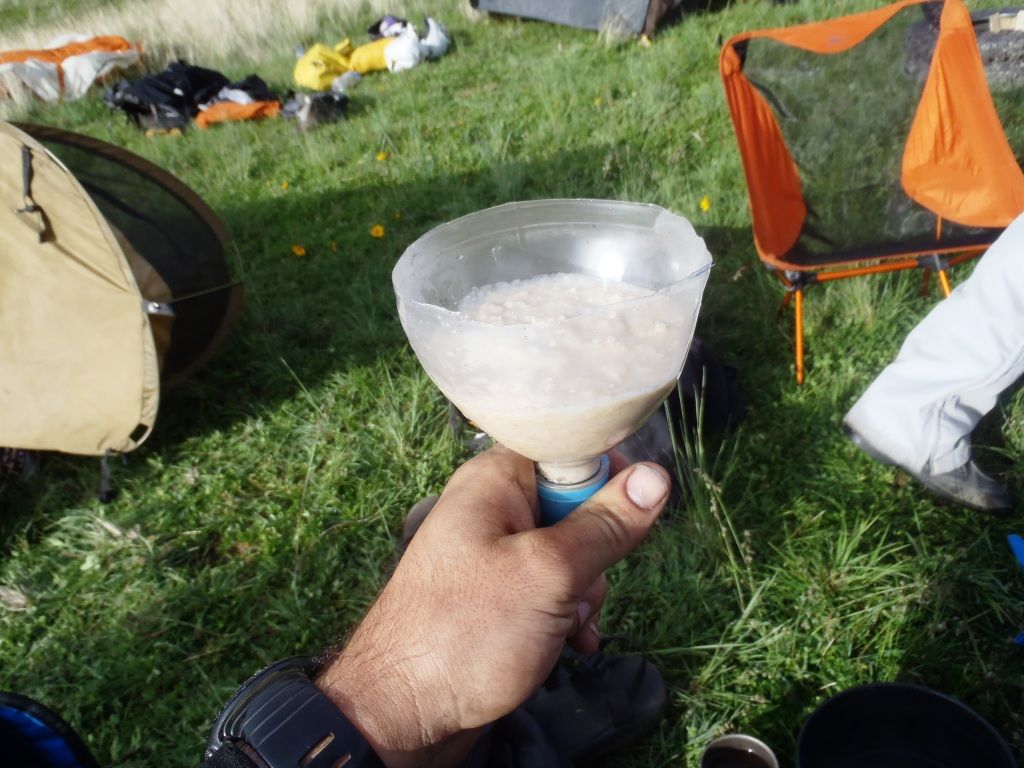 After striking camp, we got back on the road and made it to the next gas station. Leaving the gas station, Corey, Mike, and I were all flagged down by a bunch of cops in a Hilux Surf. I smelled trouble, and sure enough, they demanded to see our insurance.
Normally this wouldn't be an issue; however, I had not bought insurance at the Peruvian border. Assuming that the Peruvian insurance wouldn't be worth the paper it was printed on, I had just showed my American insurance to the border officials and kept on riding. Corey was in the same boat. Mike, however, had purchased the Peruvian insurance and the cops let him go with no issues.
Corey and I were now left with the unenviable prospect of trying to convince the police that our insurance cards from Canada and the USA were valid in Peru. Instead of playing the dumb gringo this time, I tried to explain everything very clearly in Spanish. As the discussion wore on, it became obvious that we were about to reach an impasse with the cops. They weren't satisfied with our story about having "international coverage" through our insurance and I knew that they couldn't sell us insurance on the spot. After a while, one of them started asking me how much my camera cost and I started to smell a bribe coming on.
In a last ditch effort to get away without paying, I decided to change the subject and play the friendly gringo. I asked one of the cops if he liked the Berreta 92 that he was carrying. He said that it was a good pistol and I told him that I had the same one at home in the States. This spawned a discussion on the merits of various pistols and before long the cops demeanors had changed. Before long one of them asked if I had served in the Army. I sensed an opportunity to appeal to the "Brothers in Arms" theme and told them about my time in the Marines and in Afghanistan.
After we went down that path, everything got better. Before long they were smiling and joking and after a few minutes they let us leave. I asked them if I could take their picture with the bikes, but they politely refused, saying that they needed to protect their identifies. Still, I managed to sneak a photo in while they weren't looking.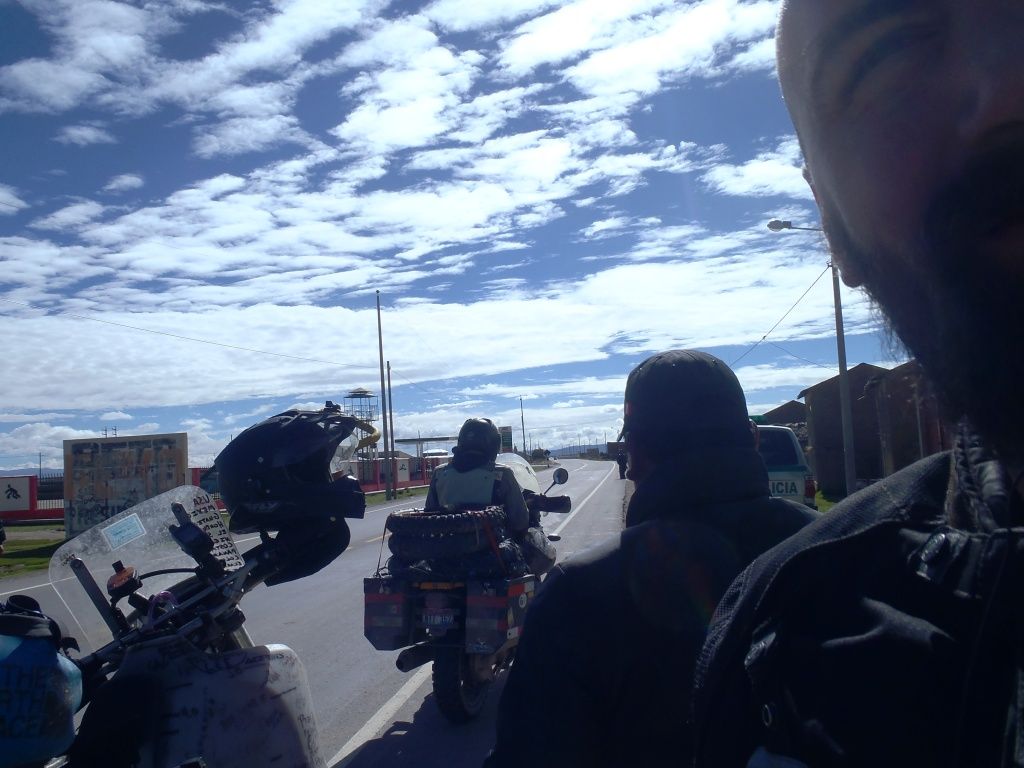 Back on the road, we headed south for Lake Titicaca and the Peru-Bolivia border. The first views of Lake Titicaca came soon:
As I rode along the lake shore, I noticed several teams of locals weaving ropes along side the rode. I went to take a picture and the local lady pulled her hat down to cover her face. Apparently they aren't too fond of pictures.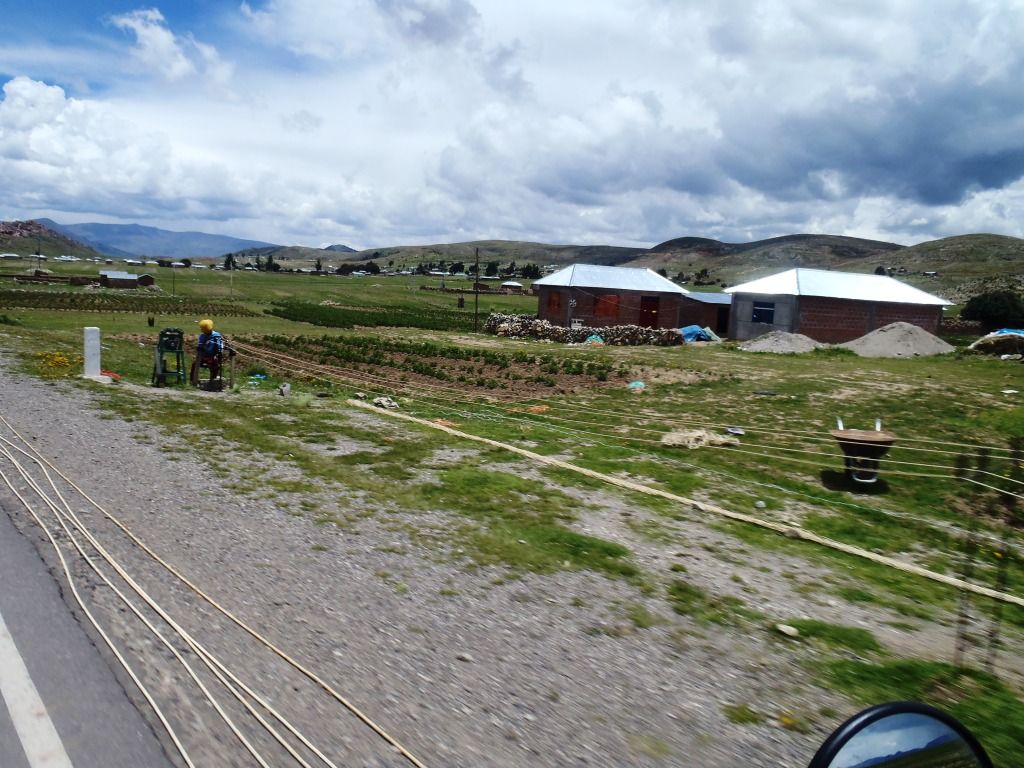 Eventually Mike and I reached a little turnoff overlooking the lake and stopped to get a few pictures.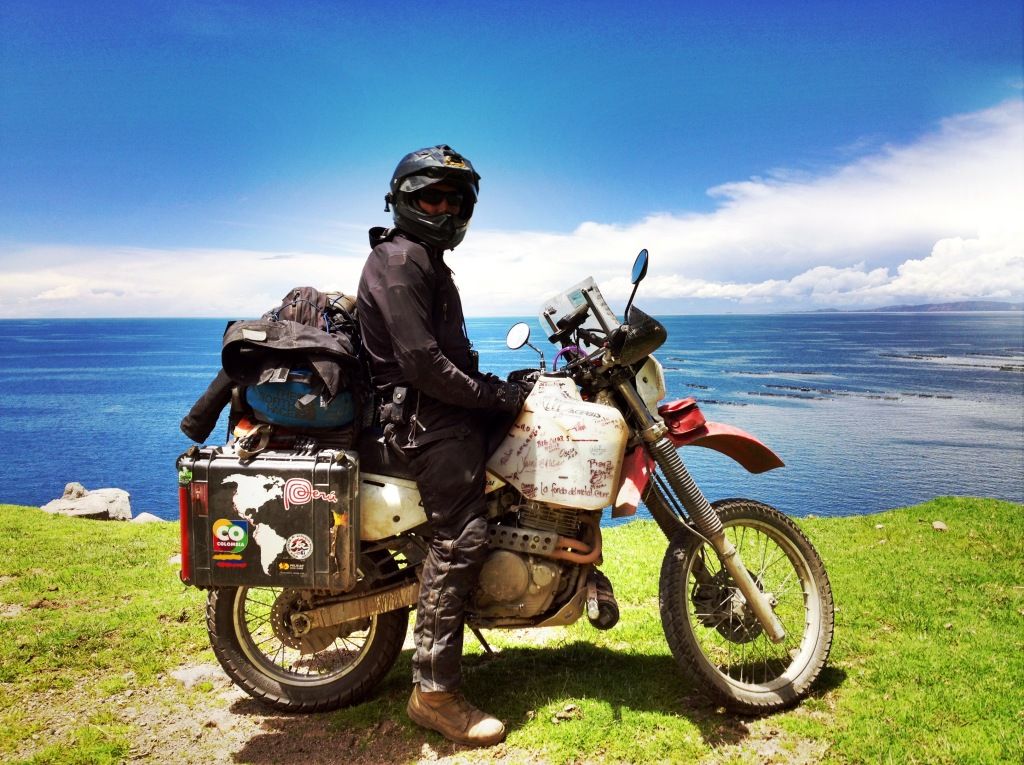 After the Canadians caught up, we continued pushing for the border. We elected to take the border crossing at Yunguyo which involves crossing the border onto a peninsula in the lake, then taking a ferry to the mainland side of Bolivia. There is another border crossing that skirts the lake, but we figured it would be a little more fun to ride a boat.
The border crossing proved to be muy tranquilo. Once again I was surprised at the contrast between Central American borders and South American Borders. We were in and out of the Peruvian offices in about 10 minutes.
Crossing over to the Bolivian side, I saw an interesting sign for the pay toilets: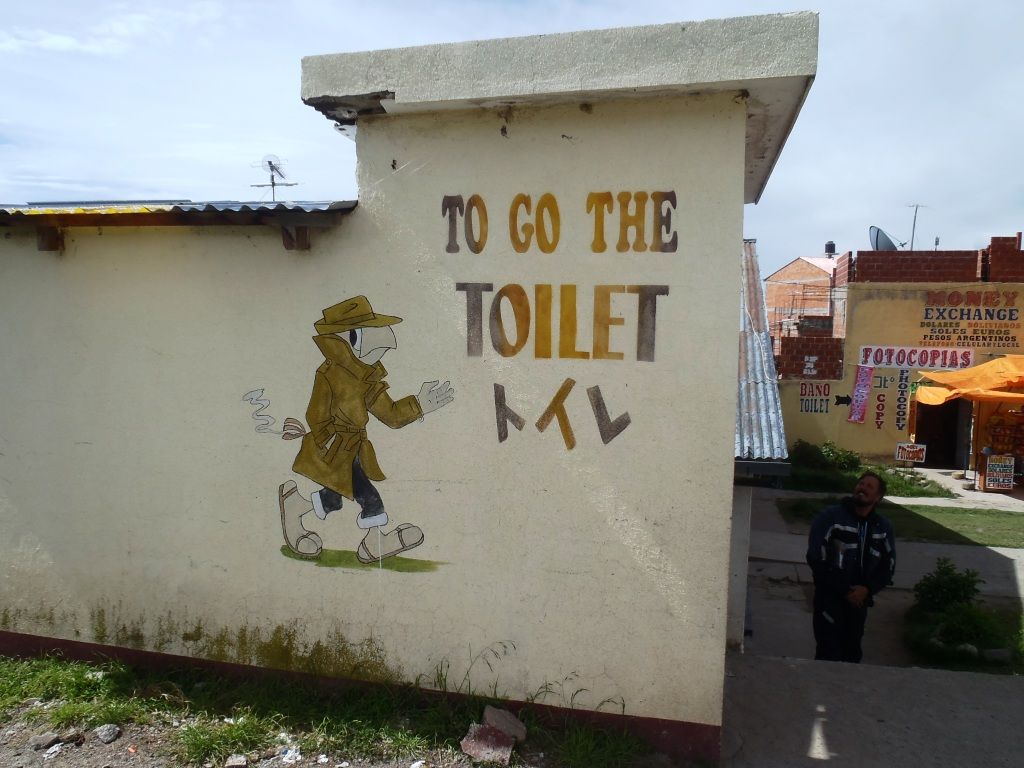 Just in case you can't make it out, there is a bird wearing a trench coat with a slight vapor trail coming out of his behind. Where do they come up with this stuff?
Getting into Boliva required slightly longer than getting out of Peru, thanks in part to the $135 tourist visa that Americans are required to purchase before entering. Apparently there is some bad blood between Bolivia and the States, especially after they declined to continue participating in the Coca eradication program that the US was pushing. Furthermore, we apparently charge Bolivians a substantial fee to get into the States, so I guess we had it coming. Still, it's a pain in the ass, especially when I watched the Canadians waltzing into the country without paying a dime.
The final process for getting into Bolivia required us to obtain signatures from the Cops. Before handing us our papers back, the police officer launched into a big, rambling, incoherent speech. It soon became apparent that he was asking for a "donation" so that he could re-paint his office. Obviously a thinly veiled attempt at bribery, I couldn't help but chuckle. We eventually told him that we were poor gringos and could not afford to give out any donations. We half considered waling across the street and buying him a can of paint at the hardware store, just for laughs.
Leaving the border, we rode the final 40 kilometers to the ferry crossing.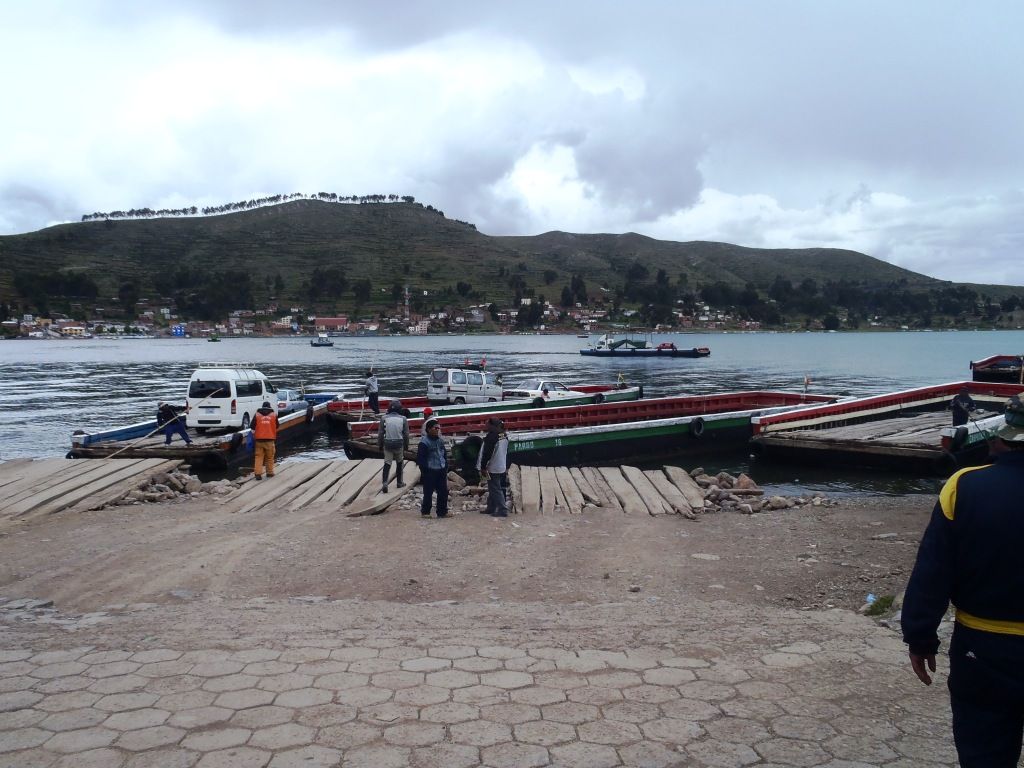 The ferries consisted of large wooden rafts powered by tiny outboard motors. It was quite amazing just how many vehicles they could cram on these things. We saw one take on a full size steam roller. Incredible.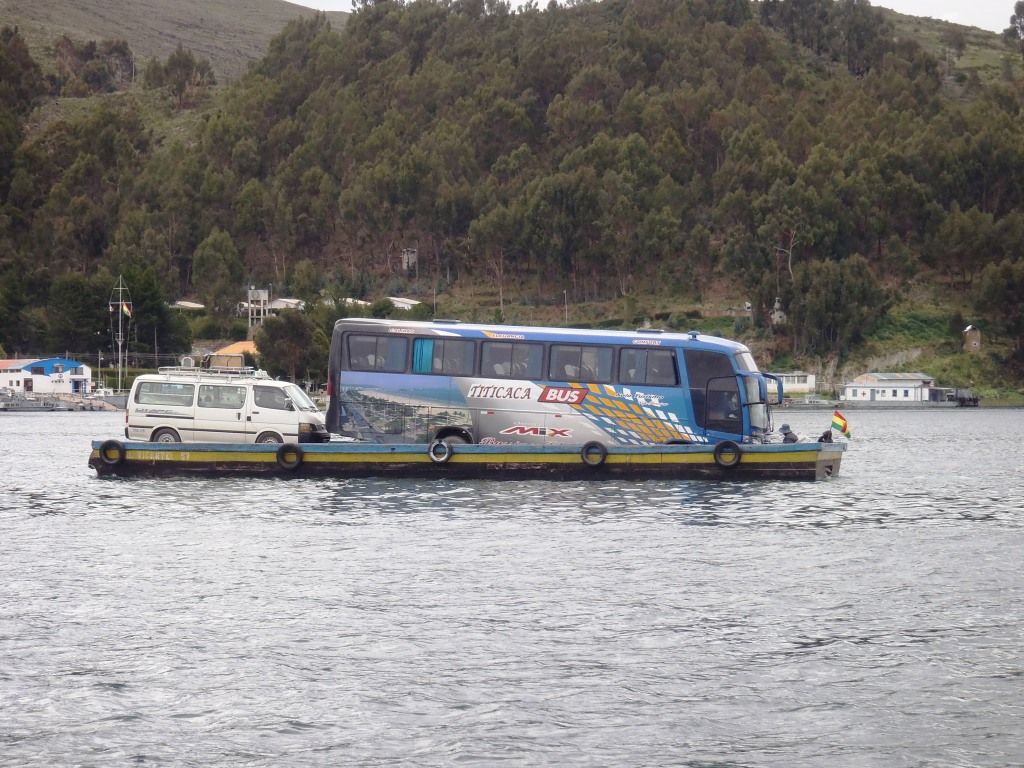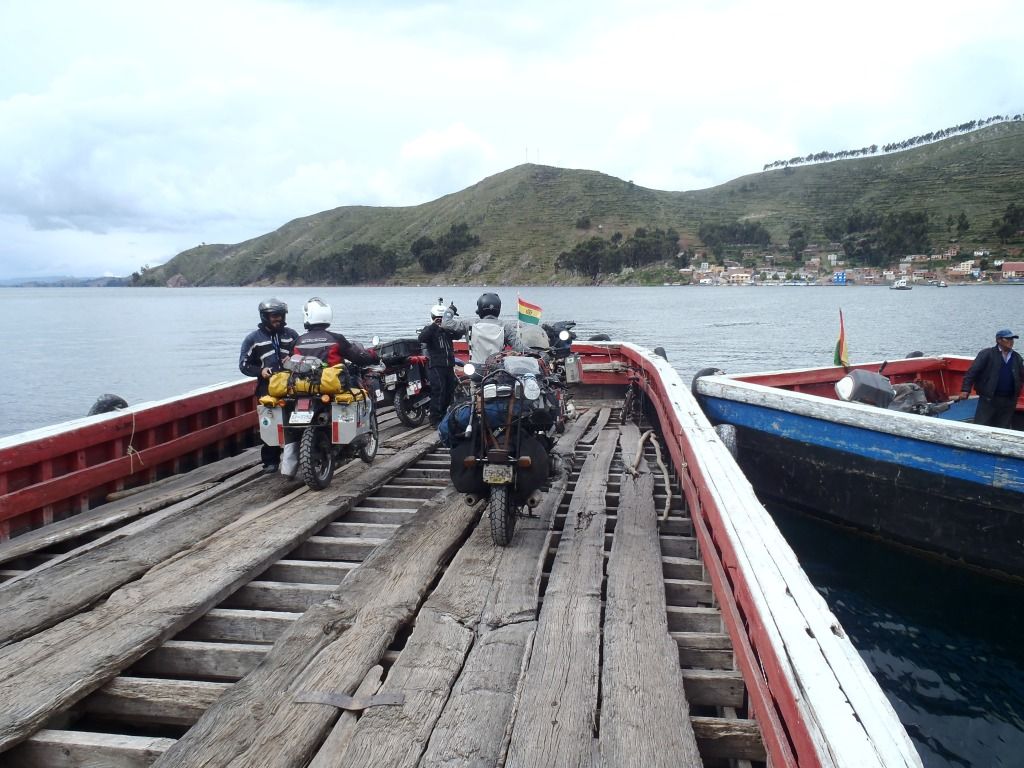 All in all, the ferry ride cost 15 Bolivianos apiece. It was worth it though, at least to just have an interesting story.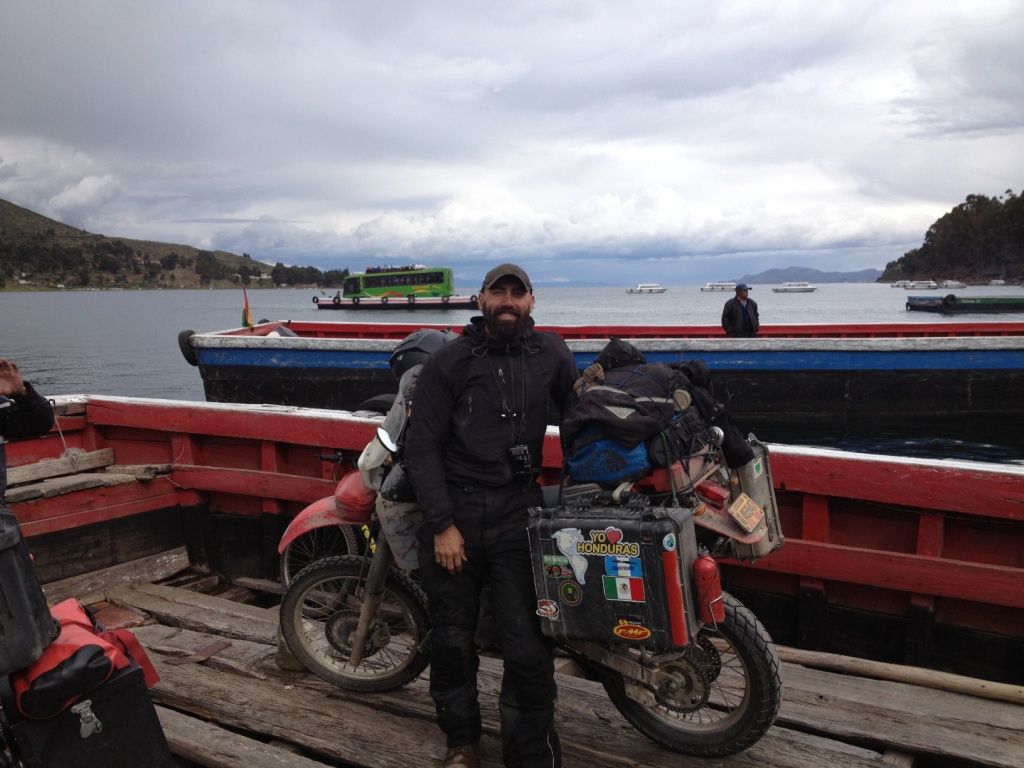 Turning the bike around on the raft in order to disembark proved challenging. Especially Mike's massive BMW.
After disembarking, Mike and I said goodbye to the Canadians who were planning on camping that night and made tracks for La Paz.
Riding the sun down into the scrambled outlying barrios of La Paz proved to be an interesting experience. The choking diesel fumes and swirling dust, the cinder block structures, the bumper to bumper minibus traffic, the native women in their bowler hats and brightly colored skirts, the occasional electric blue flash of an arc welder, and the reek of burning trash and decomposing dead animals all combined into a beautiful cacophony typical of Latin Americana.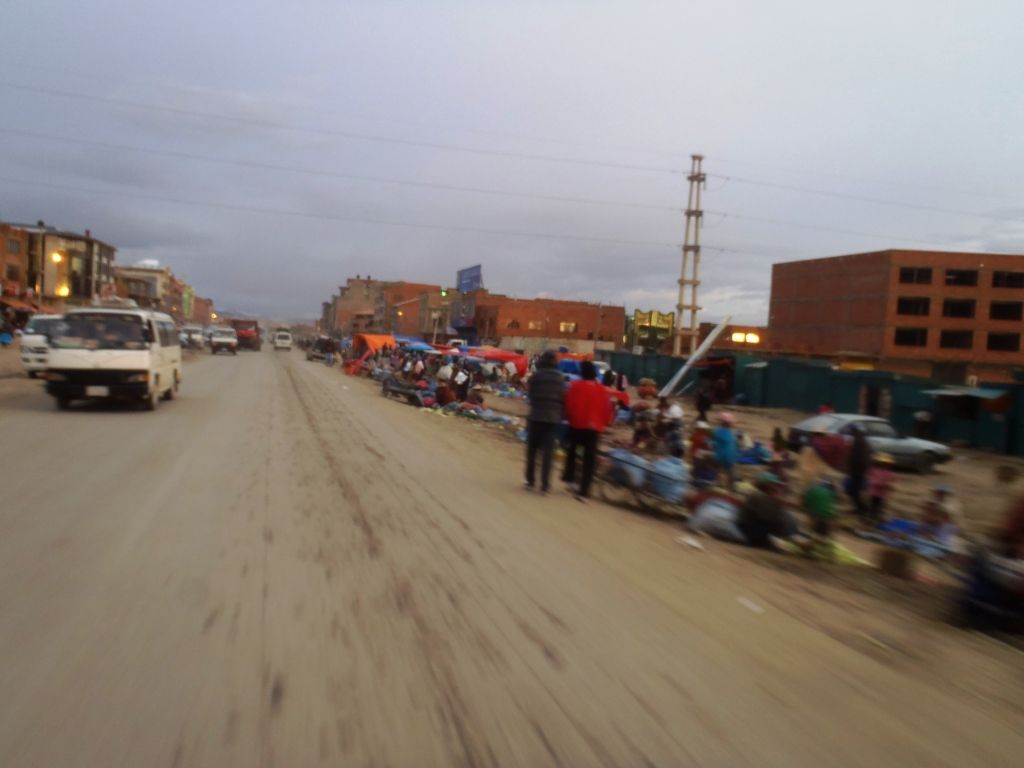 Pausing just above the main city at a mirador (viewpoint), we snapped a few pictures of the city in the growing twilight.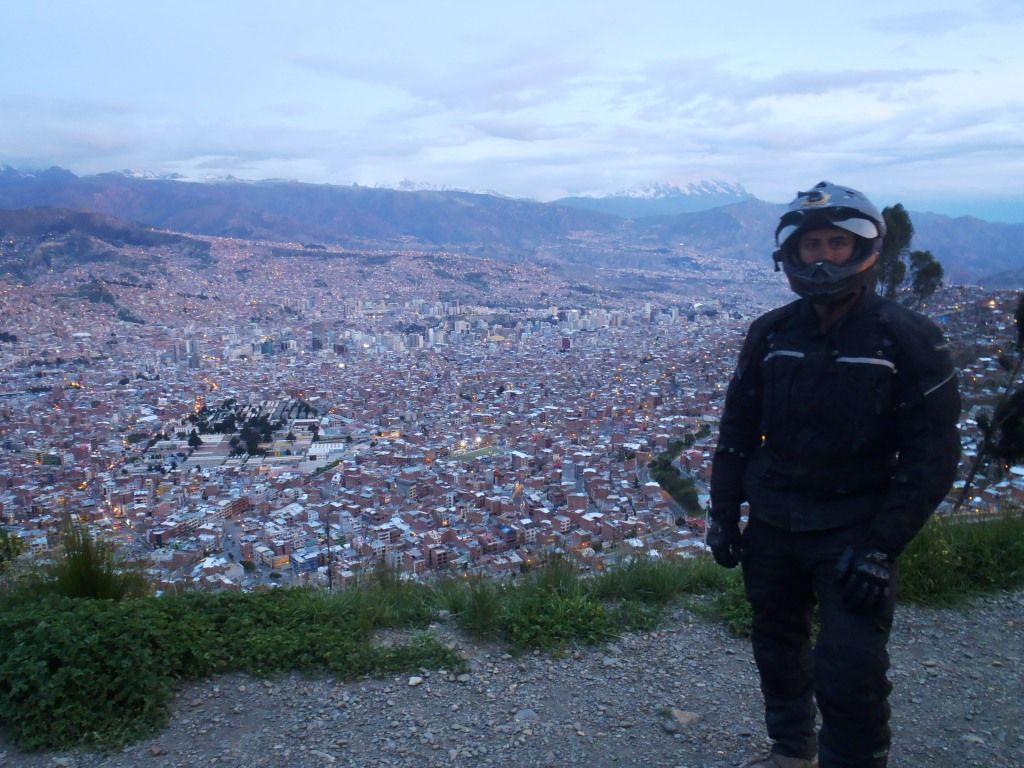 We made it to Hostal Maya Inn just after dark, only to find that they were full! However, they were able to store our bikes in their garage and take a reservation for the following night. After a few minutes of searching, we found a nearby hotel and crashed.