Day 81 (January 4, 2013)
Quito, Ecuador to Banos, Ecuador
Day's Ride: 210 water-logged Miles
I guess they call it the Rain forest for a reason.
Before I left Medellin, Al recommended that instead of going directly south from Quito, I should head east, cross over the mountains, and then travel south, skirting the Amazon before heading back west to the termales (hot springs) at Banos.
I got a late start this morning; partly due to having post-marathon legs from yesterday's little escapade and partly due to having to rewire my rear blinkers. Escaping Quito wasn't nearly as bad as I thought it would be. I only got lost once!
After getting out of Quito and crossing through some of the suburbs, the road started to climb......
.....and climb, and climb! Before long I started noticing those ominous gray clouds from yesterday. Then, I was inside those ominous gray clouds and it was raining. I figured that this storm would just be localized to the pass and that I should keep pushing and get over it as fast as possible rather than stopping to put on my rain gear.
Unfortunately, it was a long way to the top. I finally topped out somewhere around 13,500 feet and realized that I was starting to get that numb feeling in my arms again. I stood up on the pegs to stretch my legs and realized that my pants were slightly frozen. Snap!
I pulled over and put on my rain gear. The rain continued throughout the decent. I finally dropped out of the clouds and started to warm up, but continued to get soaked. Luckily, the rain was pumping up the streams and there were tons of beautiful water falls cascading hundreds of feet down the sheer sides of the valley that I was riding through. It was almost enough to make me forget how miserable and wet I was. But not quite.
As I descended closer to the Amazon side, I kept expecting to break out of the weather. Unfortunately, it just started getting cloudy and rainy again. I finally got down into the rain forest, but couldn't see more than 20 feet in front of me due to the fog. The visibility would open back up again just enough to make me optimistic, then close down again in the blink of an eye. And the rain continued.
All of the streams and rivers were swollen with water; they looked like giant torrents of chocolate milk.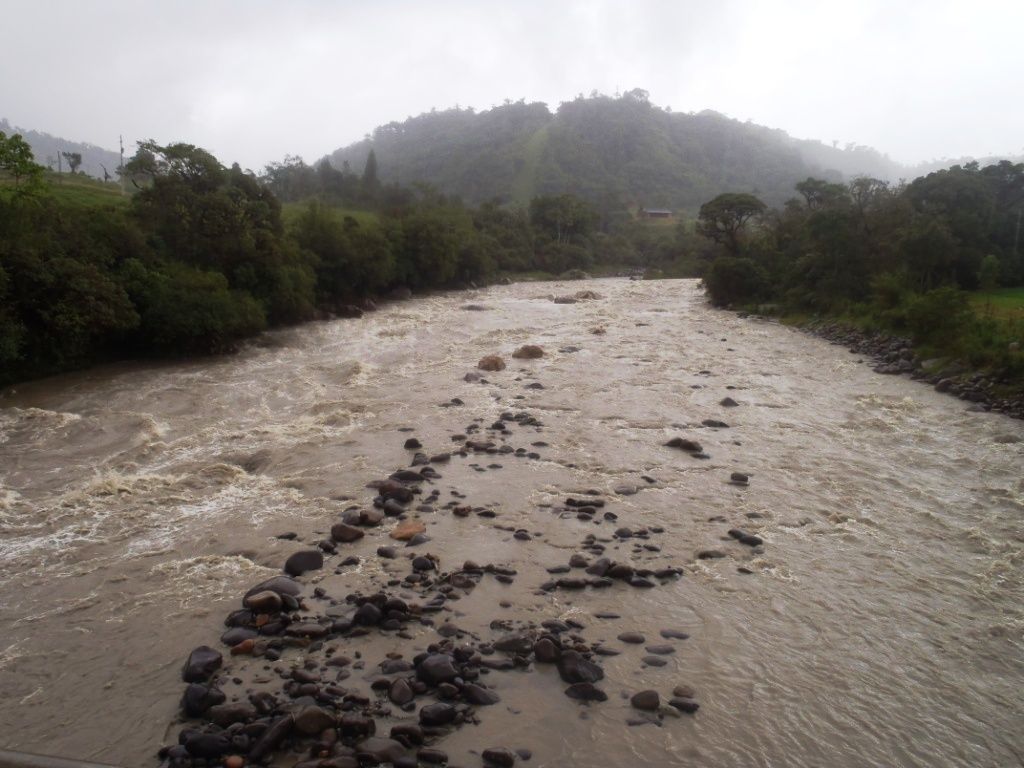 When I had started this morning in Quito, I had planned on getting all the way to Banos before nightfall. However, as the water-logged miles wore on, I began amending my plans and looking for a likely place to hole up for the rest of the day and dry out.
Suddenly, the rain stopped and I emerged from the fog.
The rain forest stretched away into the distance as banks of clouds and mist swirled along the base of the Andes. It was breathtaking.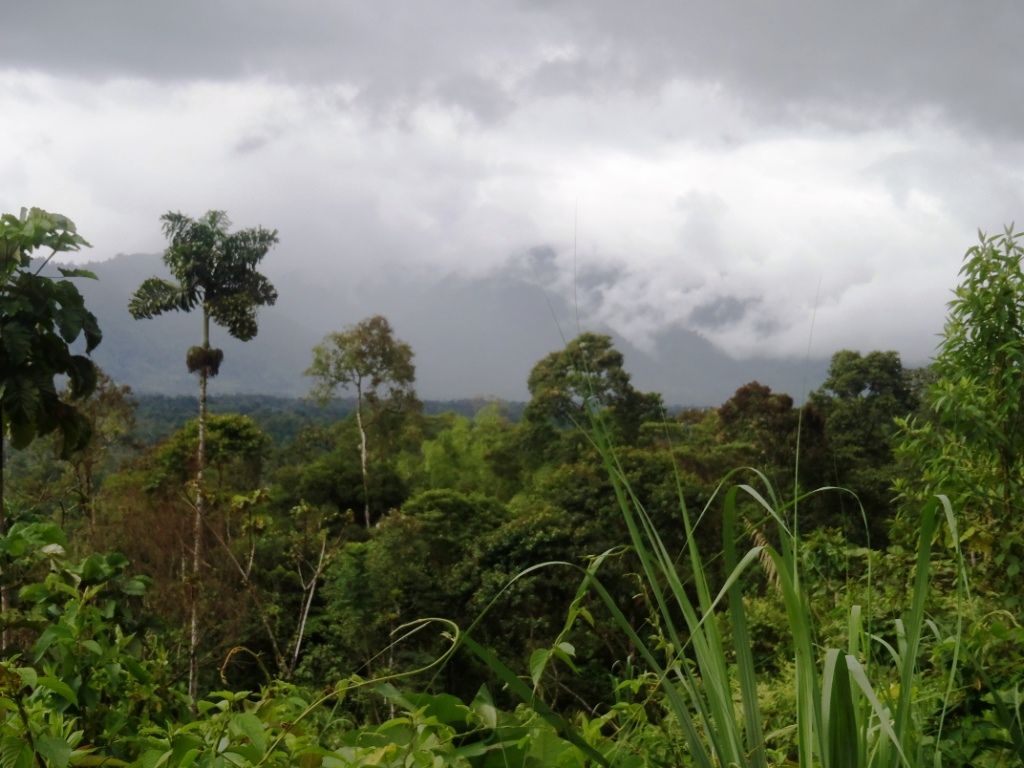 I kept riding and eventually arrived in the town of Tena. I figured that I would stop there and find a hotel to dry out at. Before looking for a hotel, I stopped at a tienda to grab lunch: a Red Bull and a Snickers Bar.
I sat on the curb like a drowned mariner, emptying the water out of my boots and wringing the moisture from my beard. As I sat there moping and shivering, my iPod suddenly started playing Dragon Force's "Through the Fire and Flames". Suddenly my resolve was renewed. I chugged the Red Bull and jumped back on the bike. I couldn't let the rain forest win. Screw it, I'm going to Banos!
I cranked the music and started riding again, albeit a little faster and more dangerously. After a while the Red Bull made it through my system and I had to stop for a piss break. As I was about to climb back on the bike, I noticed these leaf cutter ants:
I felt like I was in a nature documentary. I kept riding and finally made it to Puyo and the turn off to head back up into the mountains. The river flowing by the road was bloated and swollen with muddy run off from the rain; I stopped on an old abandoned turn off to snap some pictures.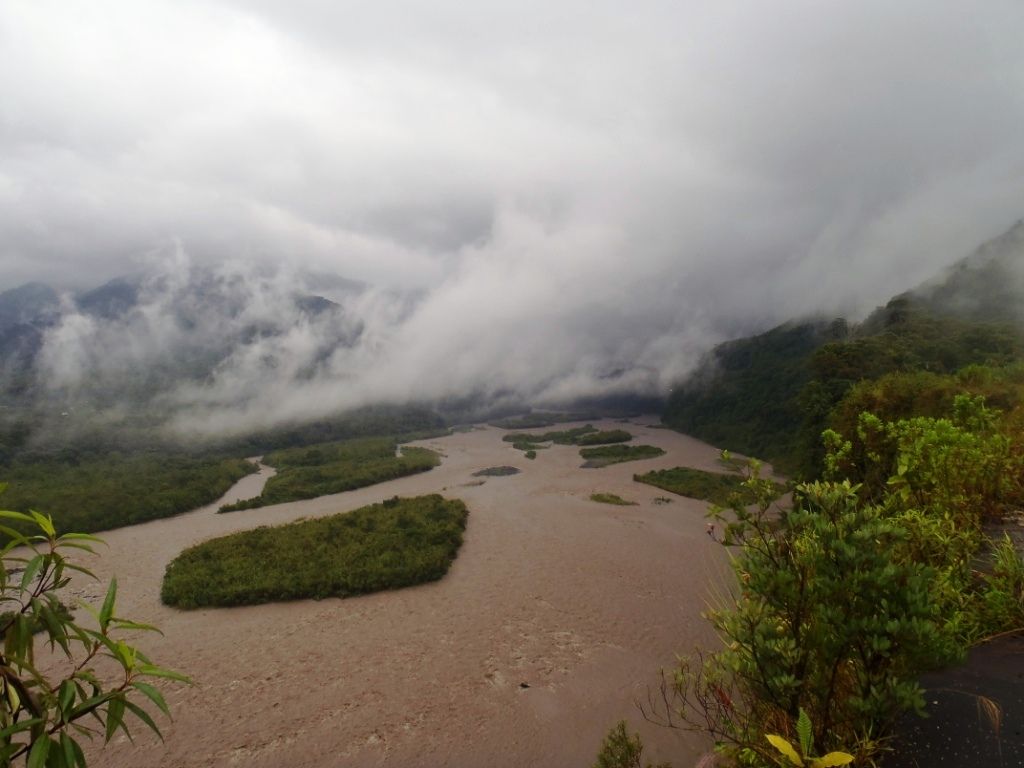 As I rode back up into the mountains, the rain started picking up again. The condensation inside my helmet kept fogging up my visor and I had to ride with it a quarter open; the rain drops hitting my face at 60 MPH felt like tiny rocks smacking into my face.
A few miles outside of Banos I stopped to take a picture of some massive zip lines (they call them "Canopy" in Spanish for some reason) when I suddenly noticed that the zip lines were going over a series of massive waterfalls.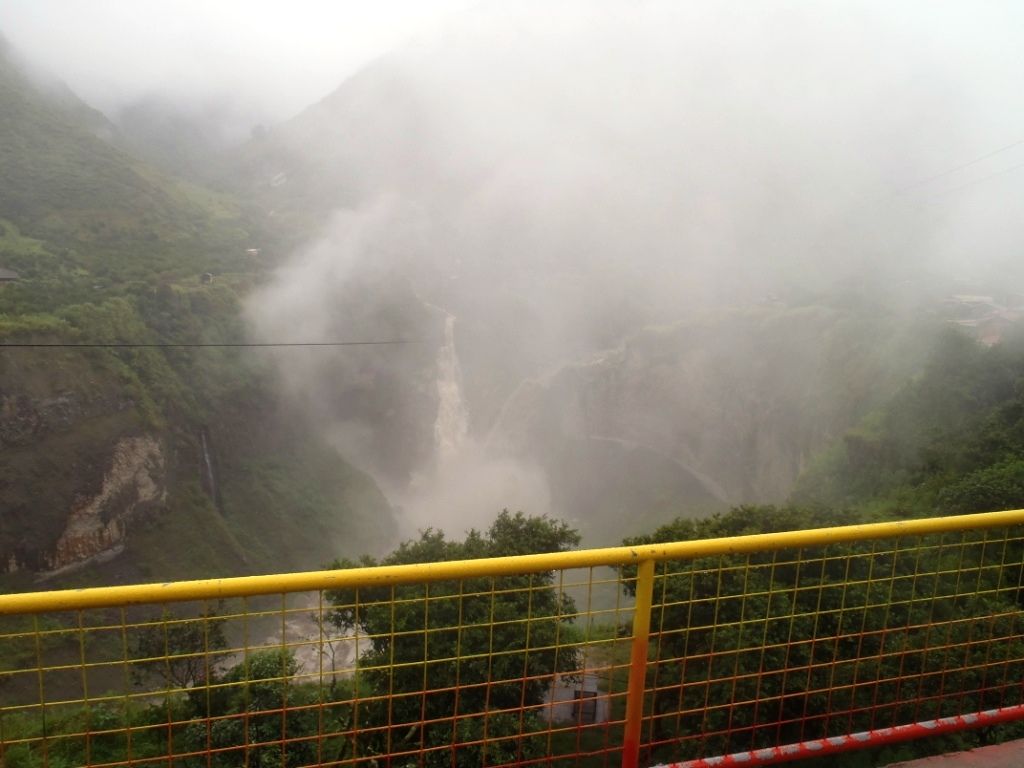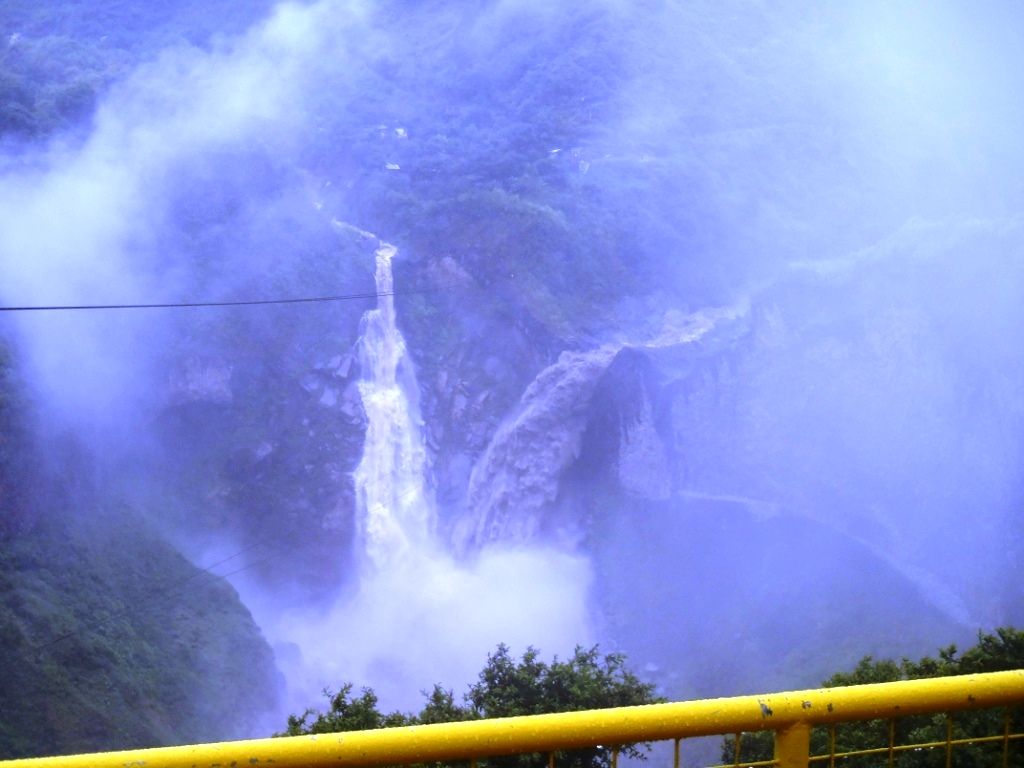 The water was churning up so much mist and spray that I could hardly make out the bigger of the two falls.
I made into Banos around 4:00 PM and found a Hostel near one of the Hot Springs. Hostal Casa Real; $15 for a private room with wifi, private bathroom, secure parking, hot water, and free breakfast.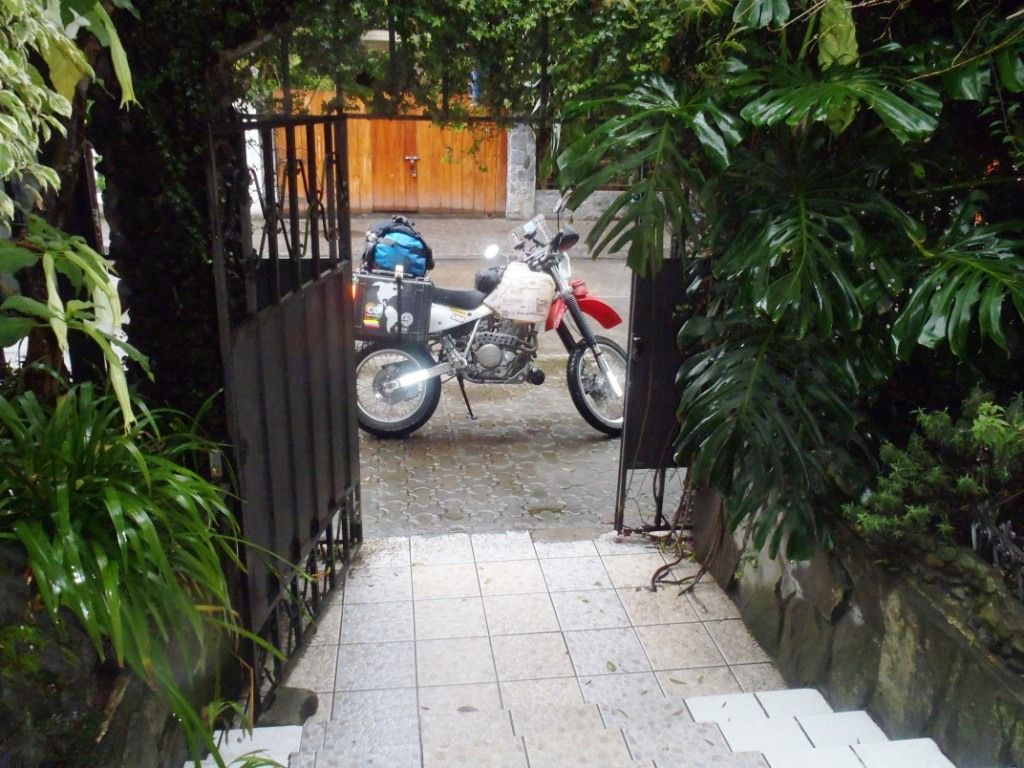 The first order of business was emptying out my so-called "goretex lined" boots...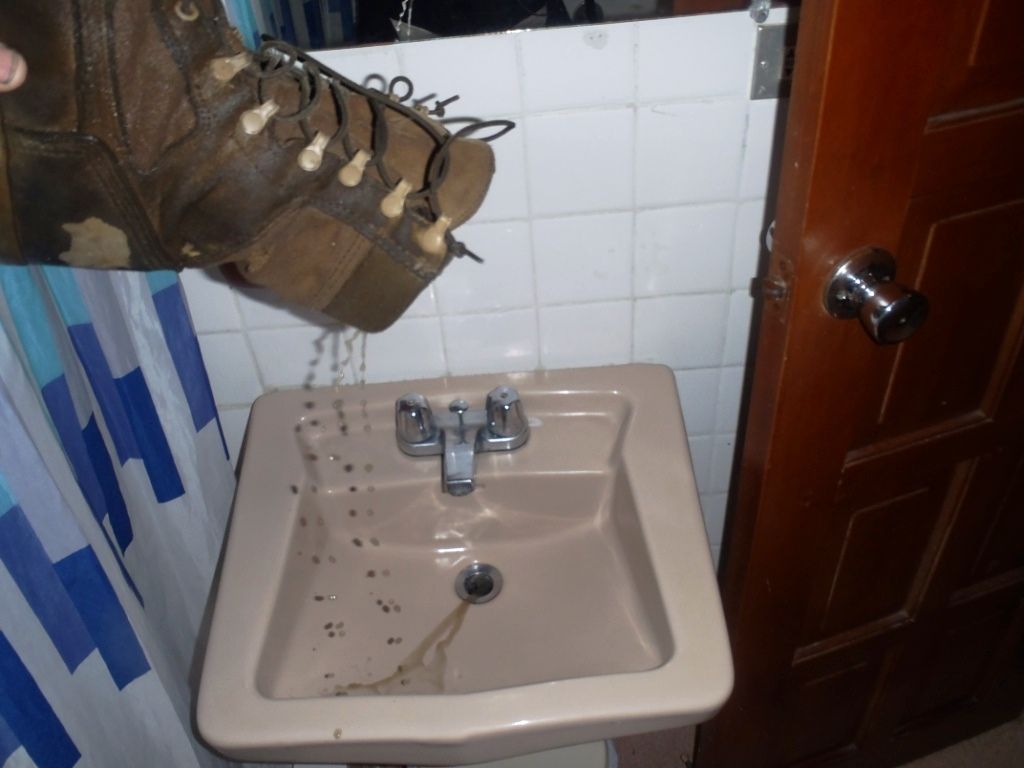 ...and wringing out my socks.....
After arranging my gear to dry out, I headed out in town to see the sights. The local waterfall:
An old school Laundromat: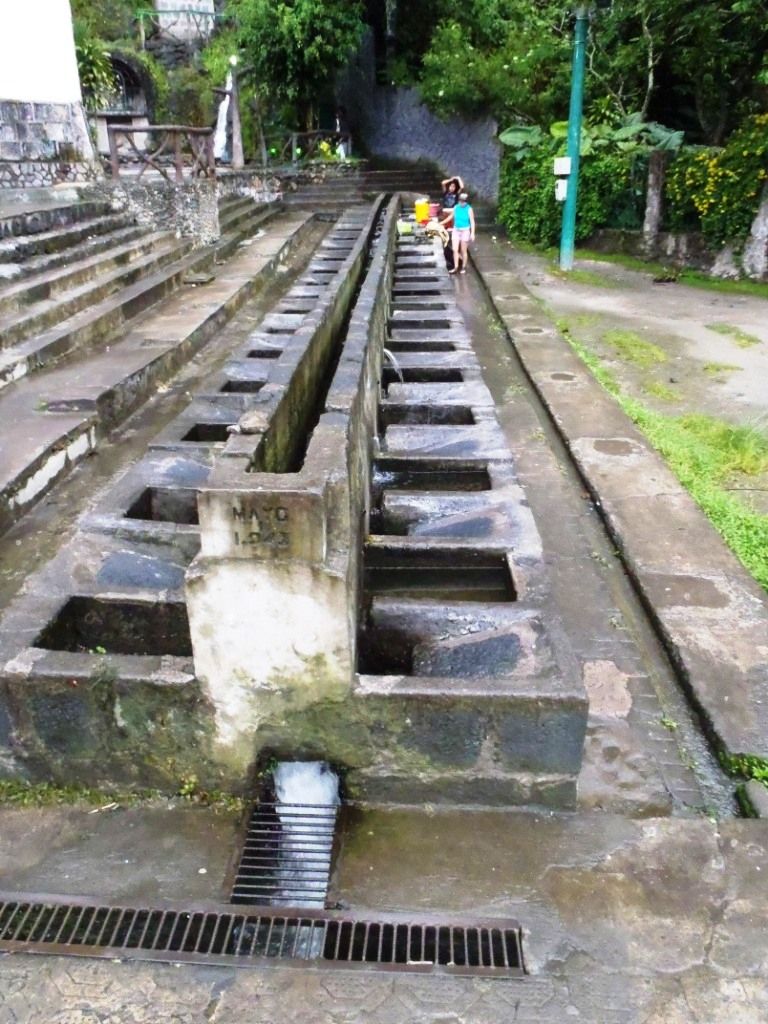 The local church (one of the more beautiful that I've seen):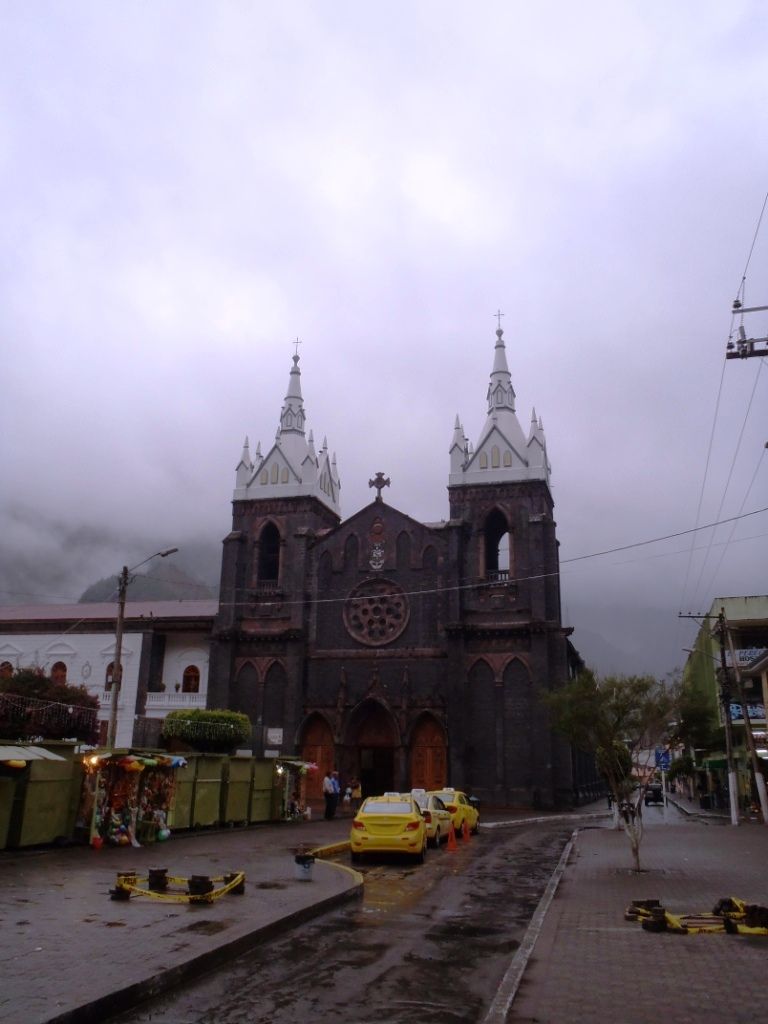 After sight seeing I got some of the town's famous taffy (melcocha) and retired to my room. Tomorrow morning I'm going to hit up the hot springs early to beat the crowds.