Day 124 (February 16, 2013)
Fitz Roy, Argentina to Rio Gallegos, Argentina
Day's Ride: 393 Miles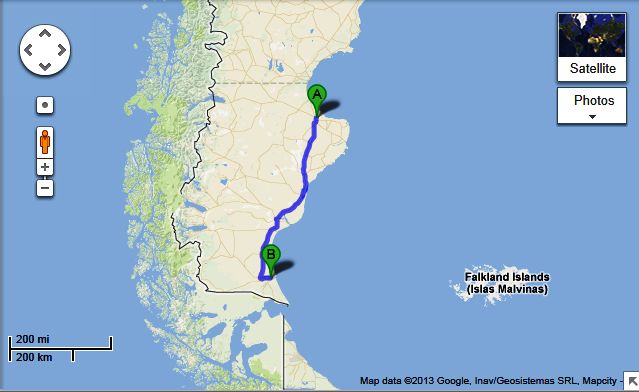 What can be said about a 400 mile ride on a thumper in horrible weather? Not much, other than it sucks. It really sucks.
The day actually started out okay. Leaving Fitz Roy the wind was fairly mild (not much above 15 mph) and the sun was out. I actually stopped to take a few pictures of some guanacos that were beside the road: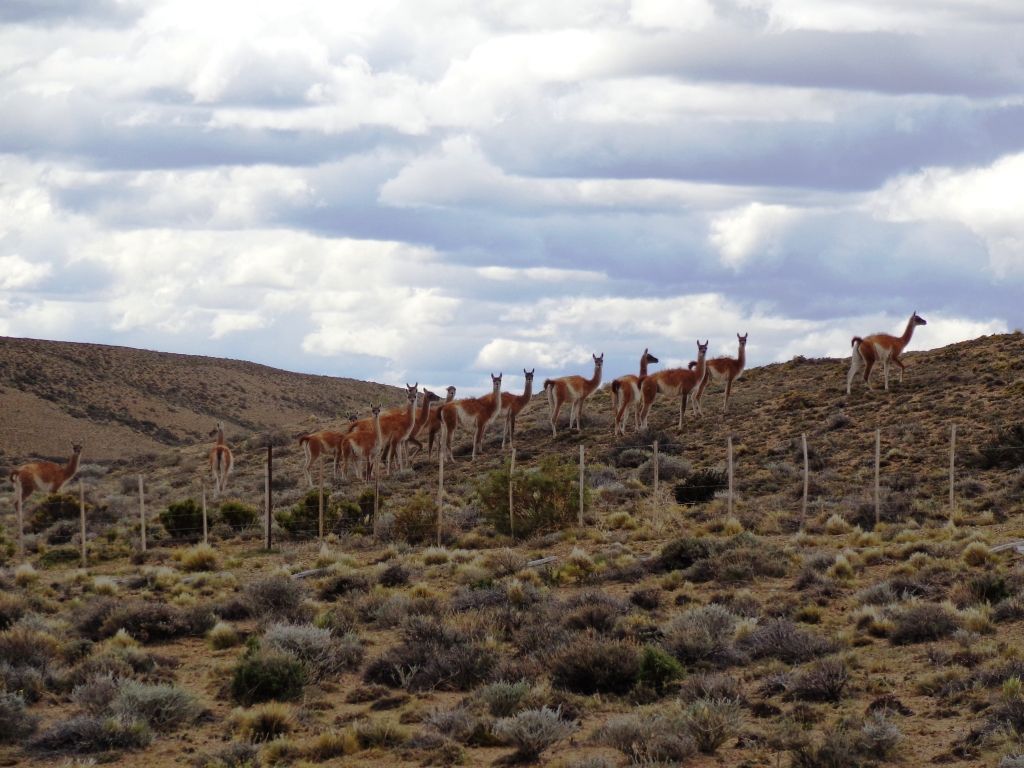 About 100 miles into the ride, my bike unexpectedly died. I coasted into the shoulder while undergoing a mild panic attack, convinced that my worst fear had come true: a dead bike only 500 miles from the finish!
I jumped off and was about to open up the battery box to check the CDI when I realized that I had just hit reserve on my fuel tank. Duh! I mentally kicked myself, then turned the petcocks to reserve and kept riding. This new tank bag is awesome, but it does block my view of the fuel level unless I lean out a little bit. Combine that with a strong head wind and high fuel consumption and I ran out of fuel much sooner than expected. Luckily, I was only six miles from a gas station when I ran low.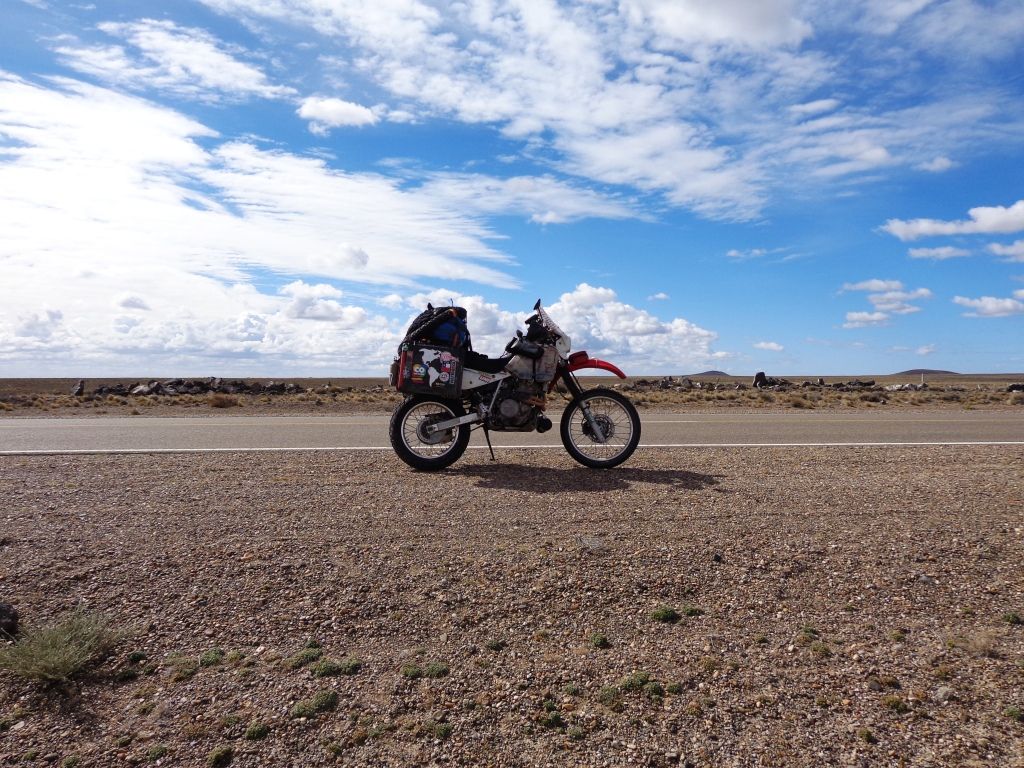 After I filled up, things started getting bad. I was soon reduced to a shivering mess, huddled behind my tiny windscreen with my electric vest at full blast. I would ride for about 70 miles, then stop at the nearest gas station and spend thirty minutes warming up, then keep riding. Pictures were out of the question. At one gas station I bought a kilo of Matte, a gourd, and a small thermos and just sat drinking Matte for about an hour and a half.
The last 20 miles into Rio Gallegos brought a welcome easterly turn and the crosswind that had nearly blown me over several times that day turned into an amazing tail wind. I also saw my first sign for Ushuaia. So close!
I breezed into Rio Gallegos and stopped at a gas station to check my email and see if I could link up with Manolito. It turned out that he was only a mile away. Cleanwatt was also in town and wanted to link up, but he had already left the wifi zone and wasn't responding to emails....
I zipped over to Manolitos house and he invited me inside where I collapsed exhausted at his kitchen table. I eventually worked up the strength to walk to the Pizza shop with him and we picked up a few pizzas and a few beers and went back to his house for dinner.
After dinner I was showing him something on my bike when I realized that my chain guard was totally shot and hanging off of the swing arm! Now I knew what that damn dragging feeling was from yesterday!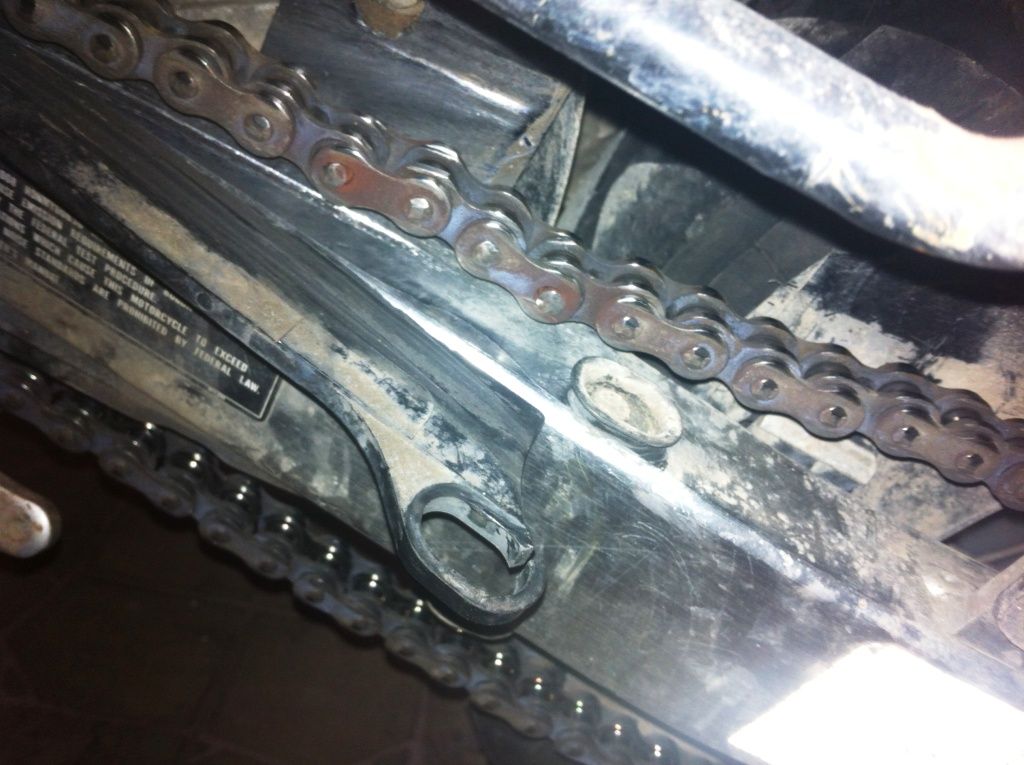 It was so busted that the chain had been eating into the swing arm all day; I had thought I had felt something different throughout the day, but I couldn't place it; I attributed it all to the typical vibrations put out by a big single cylinder bike. Turns out it was my chain carving some nice grooves in my bike.
I suppose that I've been keeping my chain too loose. After ruining the chain that I put on in Colombia, I've been making sure that this new one was a little looser. Still, I think it killed my chain guard in record time. How fast do these things normally wear out? I just bought this one back in Lima, it's only been about 5,000 to 6,000 miles.
This kind of put me in a pickle. I didn't really want to ride the bike anywhere with the chain doing metal to metal contact. Luckily, Manolito hooked me up and let keep the bike at his house. He even took me to a hotel in his car. I got to the hotel and took a long, hot shower then crashed. Chain guard problems could be worried about in the morning.