Day 116 (February 7, 2013)
Santiago, Chile
Day's Ride: 20 Miles
Today was spent running around Santiago with my head cut off trying to find motorcycle parts before I head into Patagonia and things become scarce.
The first order of business was a quick run to the Honda shop to have them check my front suspension. No issues there. Next stop was downtown at a place called iMoto, a huge parts warehouse where you literally take a number like at the DMV and wait your turn. After waiting for about 30 minutes I finally was called up and started talking to one of the helpers. I had a fun time explaining to him that I wanted a new rear sprocket, which is called a "catalina" down here. After lots of hunting through the warehouse and measuring sprockets with a micrometer, we eventually found one that would fit. Unfortunately, it's only a 42 tooth sprocket, unlike the 45 tooth one that is currently on there. It looks like I'll be going a little faster on the highways!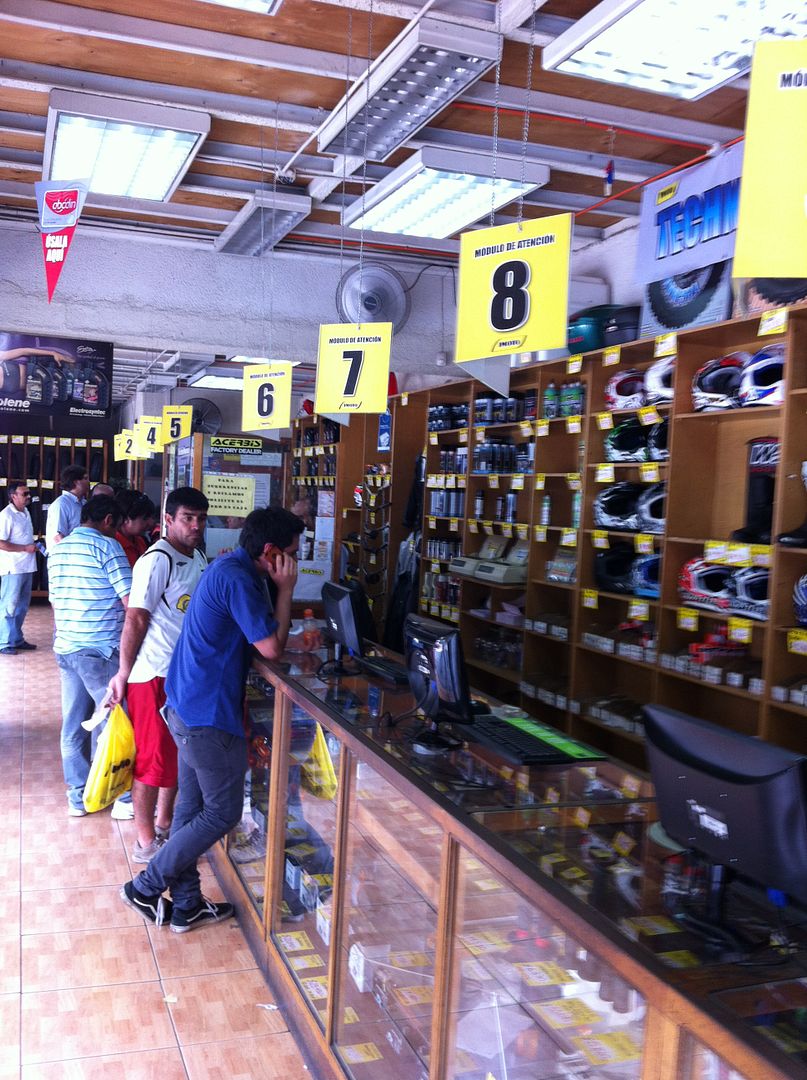 Next I stopped at a store called Moto Chile looking for tires. They didn't have tires, but the owner, Nader, saw that I was lacking a tank bag and immediately told me that he had a Giant Loop tank bag that would fit my bike. Normally I wouldn't be interested, but since I had lost my tank bag during the Lagunas adventure in Bolivia, I was slightly intrigued. After I told him that I was from Oregon (where Giant Loop is based) and that I had met Harold (one of the owner's of Giant Loop) in California, he was really keen on selling it to me. He pulled out a Giant Loop Buckin' Roll tank bag and slapped it on my tank and sure enough, it fit like a glove. I hemmed and hawed for a while as I don't really have the money to spend on something like that, but eventually he made me an offer that I couldn't refuse and I had to buy it.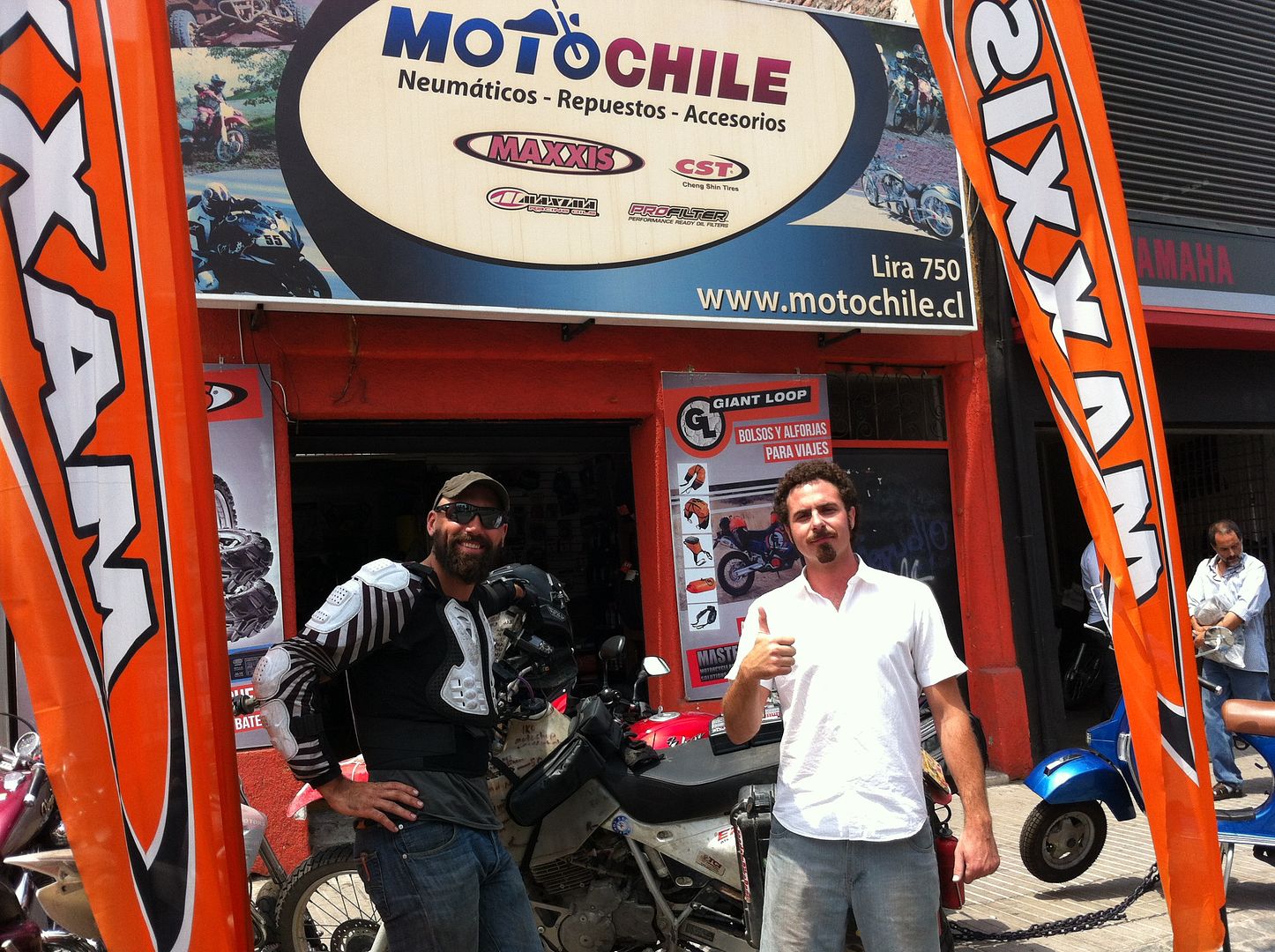 We got some pictures together, I bough some oil from him, and all in all, I felt pretty good about the deal, despite my pocket book being a little lighter.
I spent the rest of the day hunting around for various other things. I think I've still got about 1,000 miles left on my current tires, but I reckoned that Santiago is probably the last place to buy decent tires for the next 3,000 miles or so. So, I decided that I would buy a new set and then just cart them around on the back of my bike until it was time to change. I ended up looking at either getting another set of Pirelli Scorpions, a set of Metzler Sahara's, or a set of ridiculously expensive Hydanaus. After I found out the that the Hydanaus would run me around $450 dollars and that they didn't have the Pirellis in my size, the Metzler's became the default option. This will be the third different set of tires that I've tried so far. Up until this point I think the Avon Distaznia's have been the best, but I'll have to wait and see how these Metzler's hold up.
Back at the Hostel I ended up meeting some American guys from Oregon (go figure). I was supposed to be hunting down a charger for my camera, but instead sat around drinking beer with them for a while. After a bit, I told them that I had to leave and go find a cable to charge my camera. One of them told me that he had the exact same camera as me and then just offered to straight up give me the cable to charge my camera! What a guy!
Once again, I think that the best part of a trip like this is the people that you meet and the awesome things that can happen when you do. What are the chances of meeting up with a bunch of guys from my home state, who actually know where my little obscure hometown is, and have the exact camera cable that I'm looking for? Seriously, this kind of stuff is awesome!
In summary, here is a list of what I got today:
- Tires (Metzler Sahara's) = 140,000 Pesos
- Brake Pads (Front and Rear) and Rear Sprocket (42 tooth) = 80,000 Pesos
- Giant Loop Tank Bag = 33,000 Pesos
- Disk Lock/Alarm = 29,000 Pesos
- Oil (2 liters of Motul 10W-40 Synthetic) = 13,800 Pesos
- Oil Filter = 4,000 Pesos
- Bottle Cage = 3,000 Pesos
- Camera charger cable = Free
All told, I think that adds up to somewhere around $640. Yikes. Riding a motorcycle down here can be expensive. I should have just bought an XR250 Tornado in Mexico, bought used engine oil from farmers, and ran re-treads on my wheels. Taking a big bike (even a Honda) through the land of import fees = $$$$.
In closing, I'll leave you with an interesting sight that I saw today. One of my other money absorbing hobbies back in the States is Cycling. I saw this on the window of the bicycle shop where I bought the bottle cage today. I think you could substitute motorcycles for bicycles and it would be just as true.....