Day 122 (February 14, 2013)
Bariloche, Argentina to Gobernador Costa, Argentina
Day's Ride: 286 Miles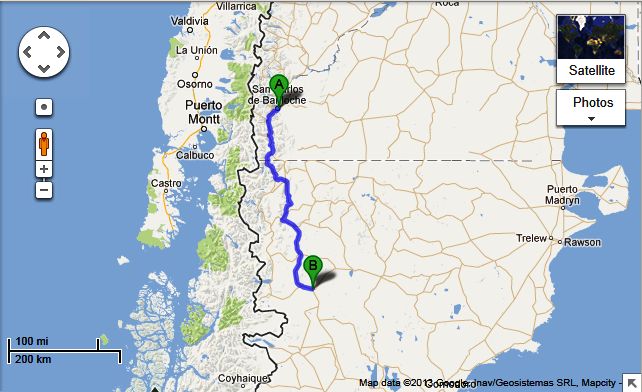 I actually have a lot more pictures than what are about to be posted; however, my new Japanese speaking camera refuses to cooperate with me and so I can only pull the photos from my iphone.
I got up at first light (around 7:00 AM) and went out to do a little valve check before I got started for the day.
This was the first time that I had done it unsupervised; however, it seemed pretty straight forward so I wasn't too worried. I'm hoping that this was the "T" that indicates TDC; if I'm wrong, I'm sure one of you will correct me: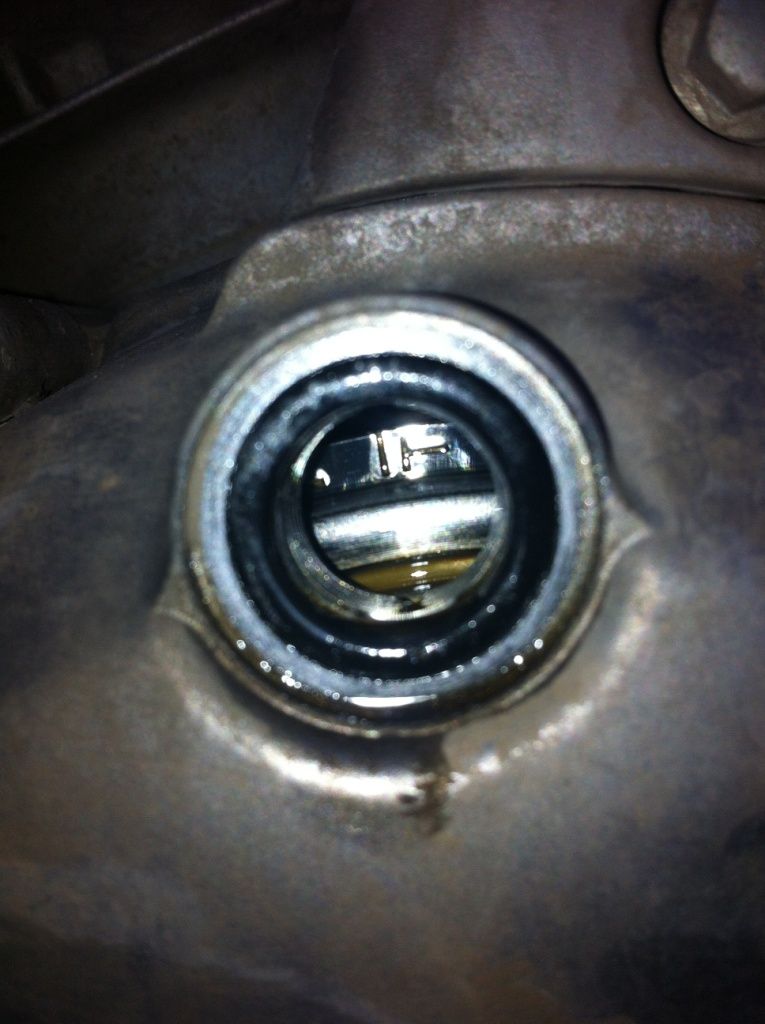 In any event, the left intake valve was a little tight, so I loosened it up. Everything else seemed good. I don't have a .12mm feeler gauge to check the exhaust valves, so I just combined the .07mm and .05mm gauges. Hope that's up to spec....
With the bike all tuned up, I jumped on and started riding south on the famous Ruta 40. I was immediately reminded that I was now officially in Patagonia; the scenery was gorgeous!
I stopped in El Bolson for lunch and was immediately aware of the high concentration of bare footed, poncho wearing hippies that were wondering about. Sorry diegoteck, I didn't stay to learn more about El Bolson; I've heard rumors, but Ruta 40 called!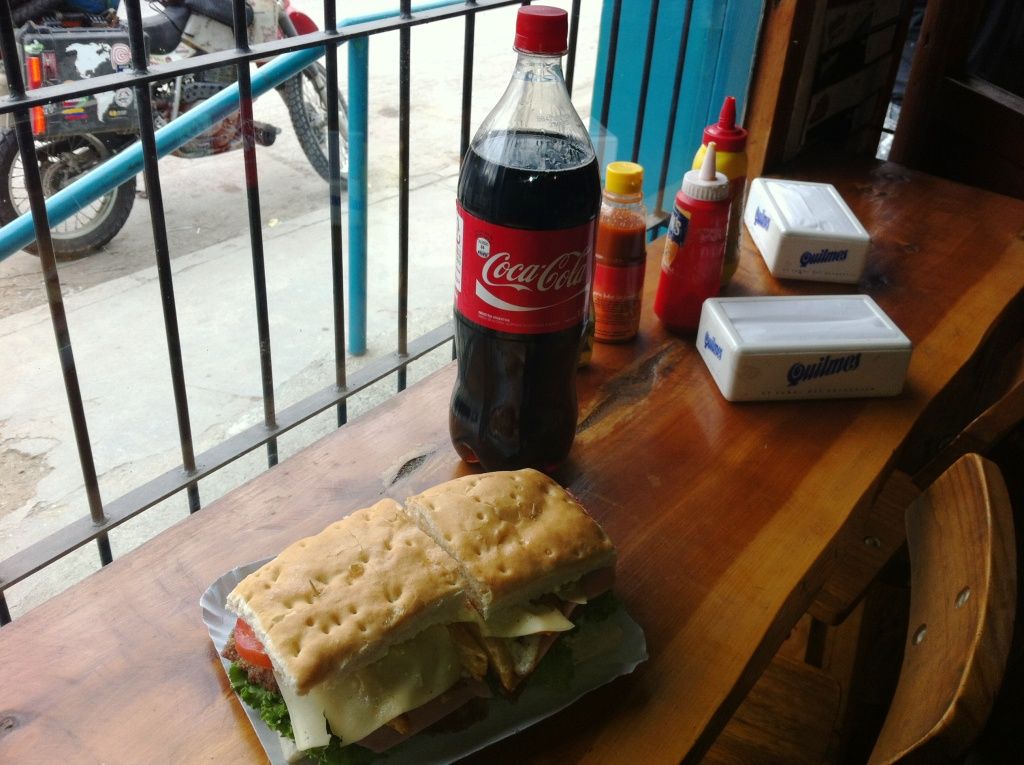 South of Bolson the terrain opened up, and I emerged onto the Argentinian Pampas.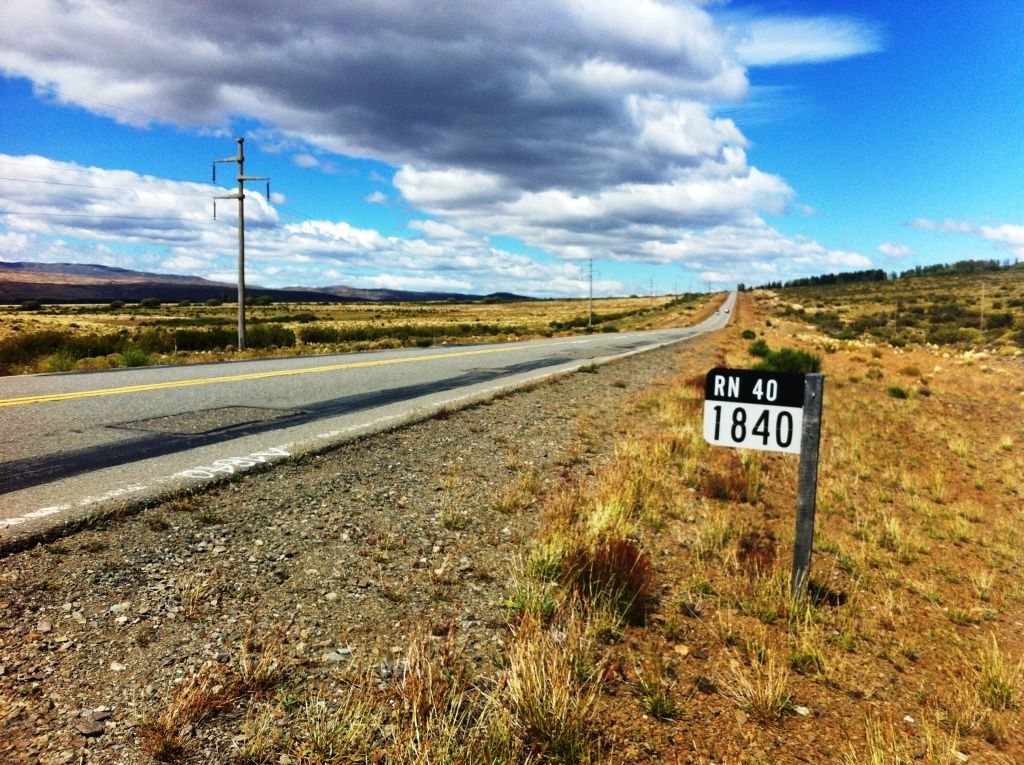 I had heard stories about the wind down here, but I didn't really grasp the magnitude of how intense it was until I saw a dead Armadillo literally get blown across the road. I took pictures of it with my new camera, but alas, I can't decipher the language enough to pull the photos.
I've been learning a lot about the Argentinos. First of all, they drink Matte like water. Actually, they drink it with the same frequency as they inhale oxygen. Actually, they might take in more Matte than they take in Oxygen. It's close. It seems like every Argentino I see is carrying around a thermos full of hot water and their little Matte gourd. Every service station I stop in has these massive hot water dispensers: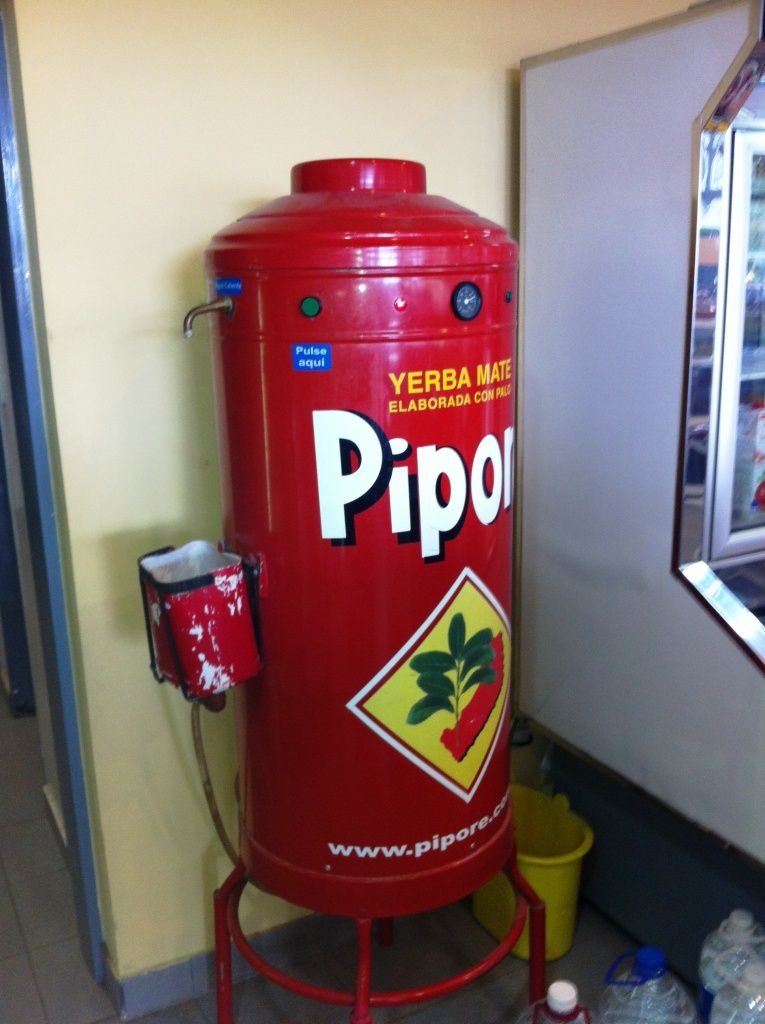 I thought I had seen some people in the states who drank a lot of Starbucks; they don't hold a candle to the Argentinos!
Second, they are still sore about the Malvinas (Falkland Islands). For those of you that don't habla, the sign below reads "The Malvinas (Falkland Islands) are Argentinian". I had heard stories that this was still a hot topic for the Argentinos, but after seeing about five of these signs throughout the day, I began to realize just how serious they must take it.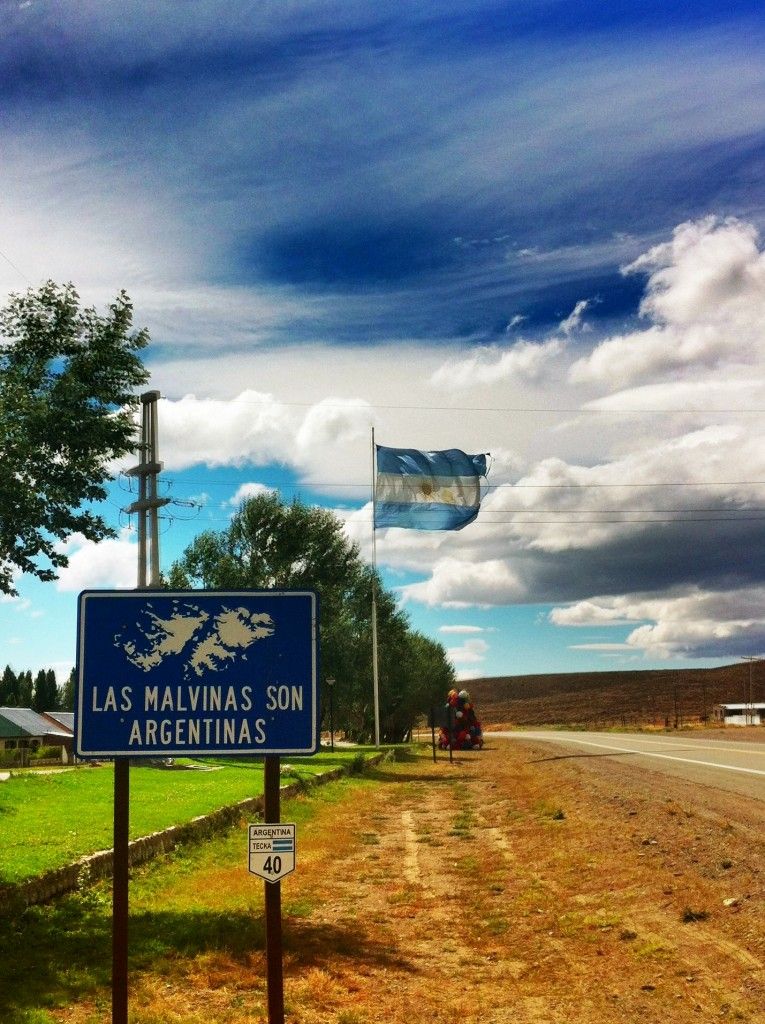 The above scene is just screaming with patriotism: a huge Argentinian flag, a Malvinas sign, and a little Ruta 40 sign.
After about 300 miles, I decided to call it a day. I stopped in a little town off of Ruta 40 and hunted for a hotel. The cheapest one I could find was about 200 Pesos (about $33). At the beginning of the trip, in Mexico, I would have jumped at a $30 hotel. However, after all of the places I've been on this trip, I've come to regard a $30 hotel as something akin to the Ritz or at least a nice Hilton. Really, I've turned into a total cheapskate. I hunted down the local tourist office and asked them if there was anything cheaper in town. They pointed me to the Municipal Camping site, which charges 10 Pesos per person (approx $2). Sold!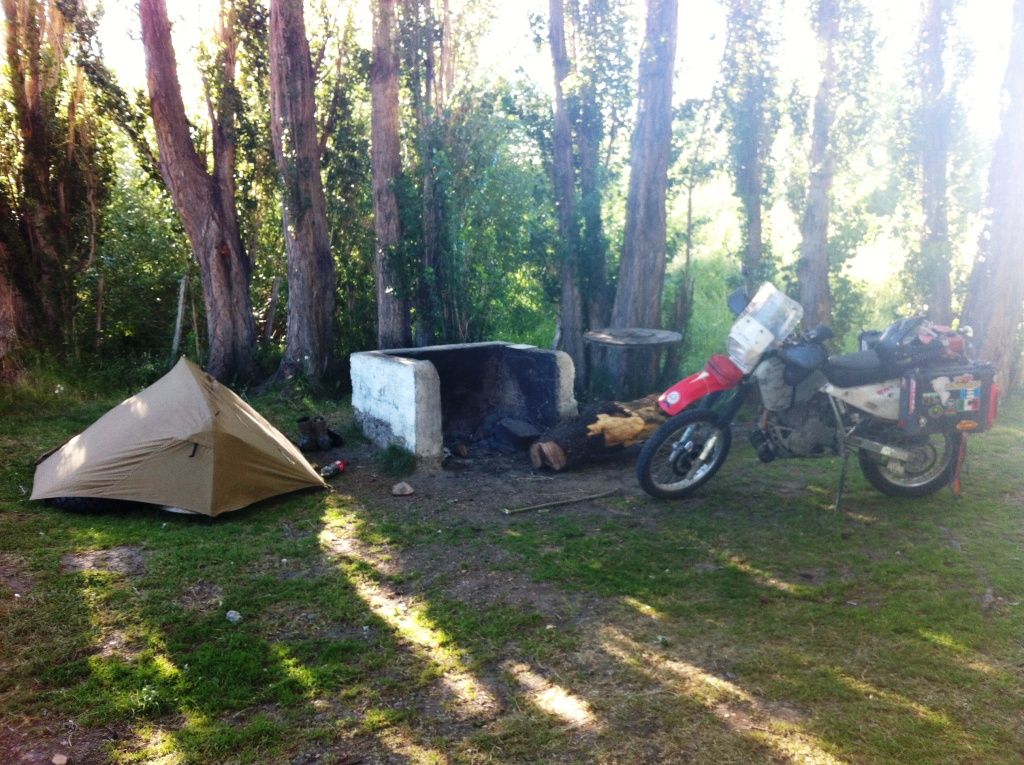 Since it was still relatively early according to Argentinian time, I went to hunt down some wifi. The gas station had it, but no one new the password and the owner was out of town. I was eventually pointed towards a restaurant. Unfortunately, they didn't open until 8:30PM, which is quite typical. Out of all of the countries I've been to so far, Argentina seems to have the most in common with Spain. They people are very European, they take the siesta seriously, they don't eat dinner until 10:00PM, they stay up till 2:00AM (even little kids), and they have a very pronounced accent.
I came back at 8:45 PM and they were just opening the doors for dinner. Incredible.
Tomorrow, I'm going to jaunt on down to the Atlantic. I've made the decision to blast down to Ushuaia on the pavement then take my time coming back. I think that by getting Ushuaia off of my chest, I'll be able to slow down and really enjoy the rest of the trip. I'll probably be in Ushuaia in about three or four days. Then, I can spend a couple of weeks tooling around in Patagonia: Ruta 40 (the crazy gravel part), Torres del Paine, Carretera Austral, Fitz Roy, Perrito Moreno, etc. I know that they bike will make it down there, but I'm so goal oriented that if I take my time getting down there, I'm just going to be thinking about Ushuaia the whole time and won't really enjoy Patagonia.
I'm seriously considering spending about four or five days hiking in Torres del Paine.