Day 119 (February 10, 2013)
Lake Vichuquen, Chile to Lota, Chile
Day's Ride: 246 Miles
Our stealth campsite ended up being perfect. Quiet, secluded, and with a great view, what more can you ask for?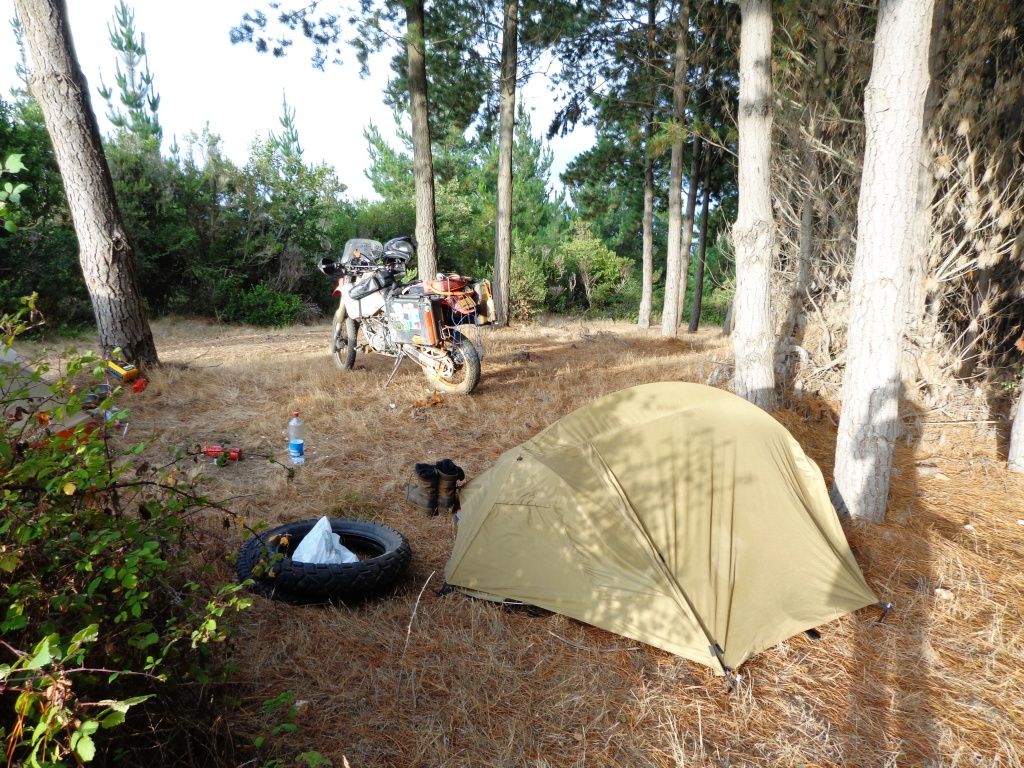 We took our time getting ready and I got out the good stuff for breakfast: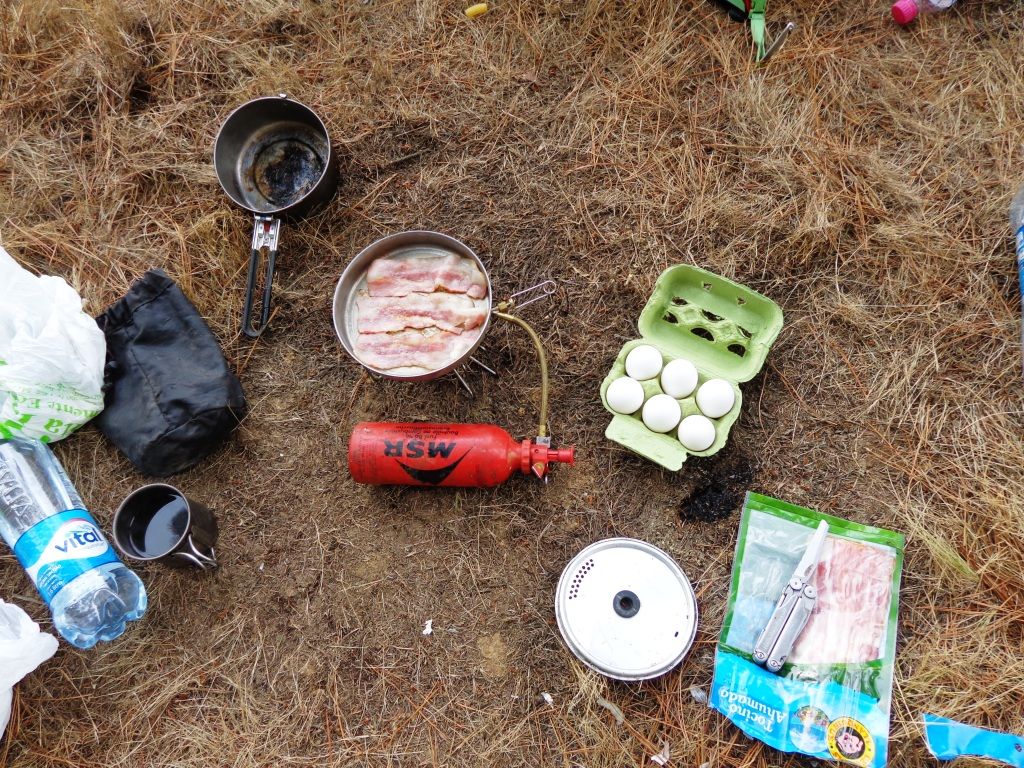 Back on the road I stopped to take a picture, put my foot down in a hole, and fell over. Luckily the bike was resting on a ledge and I was able to take a picture of Max as he rode by before crawling out from underneath.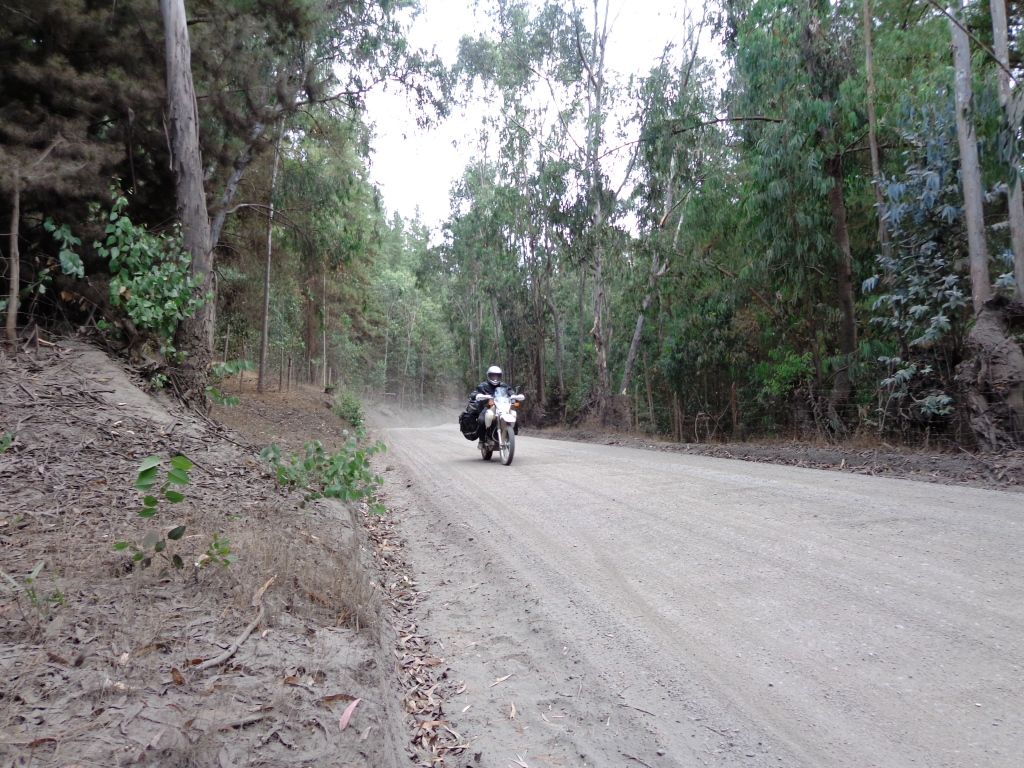 Due to the odd angle that the bike was resting at, I was having a hell of a time getting it upright again. A few minutes later, a few Chileanos in a truck stopped and gave me a hand getting the bike back upright. Once we got back to pavement, I found a gas station and stopped to change my oil and my front brake pads.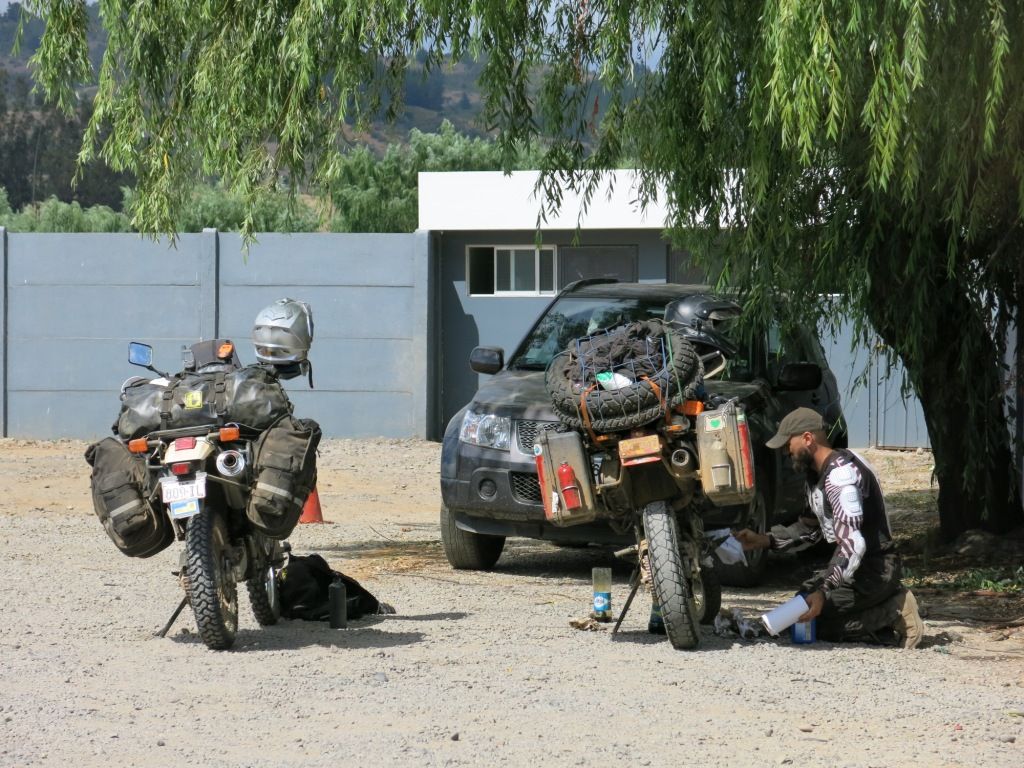 After about an hour of maintenance time, we hit the road again.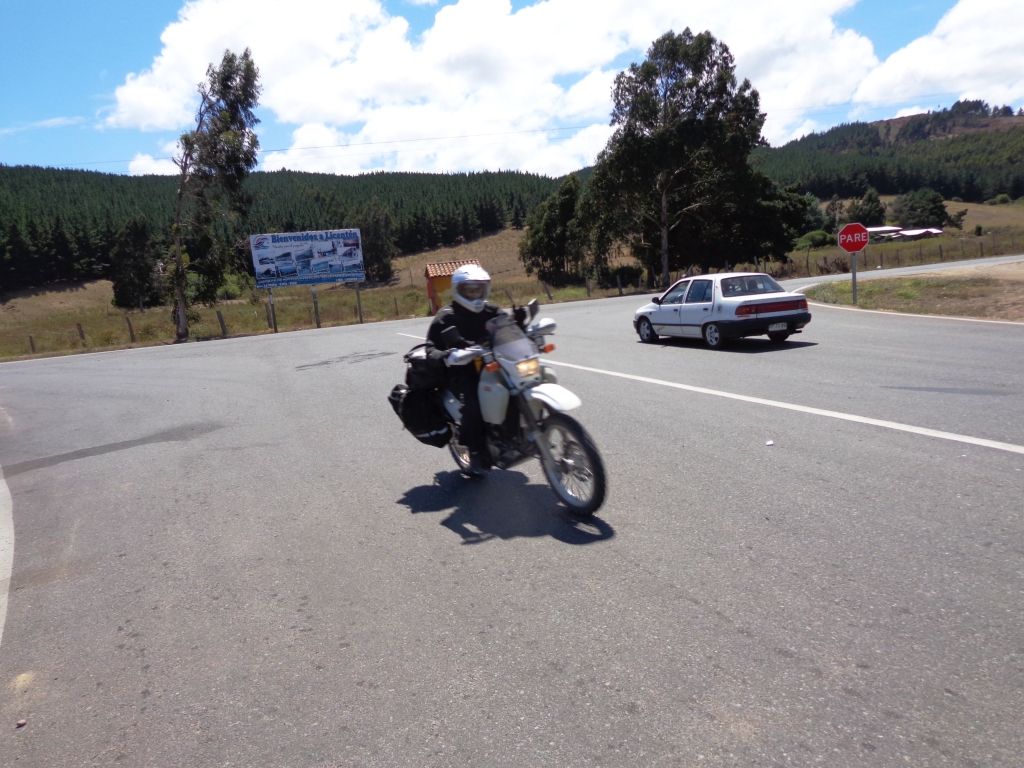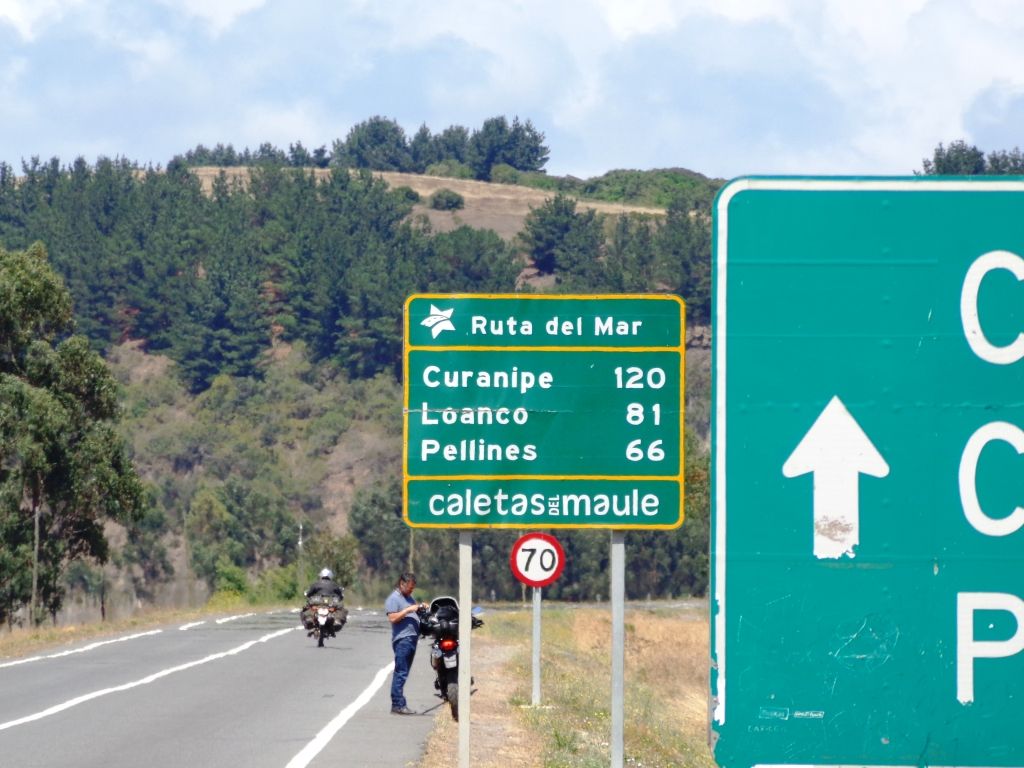 As we got further south, the terrain started to remind me more and more of the pacific northwest. I think this area is a large paper and wood chip producing region in Chile. Max, who is a forester back in Australia, kept commenting on all of the sawmills and pulp factories that we were seeing.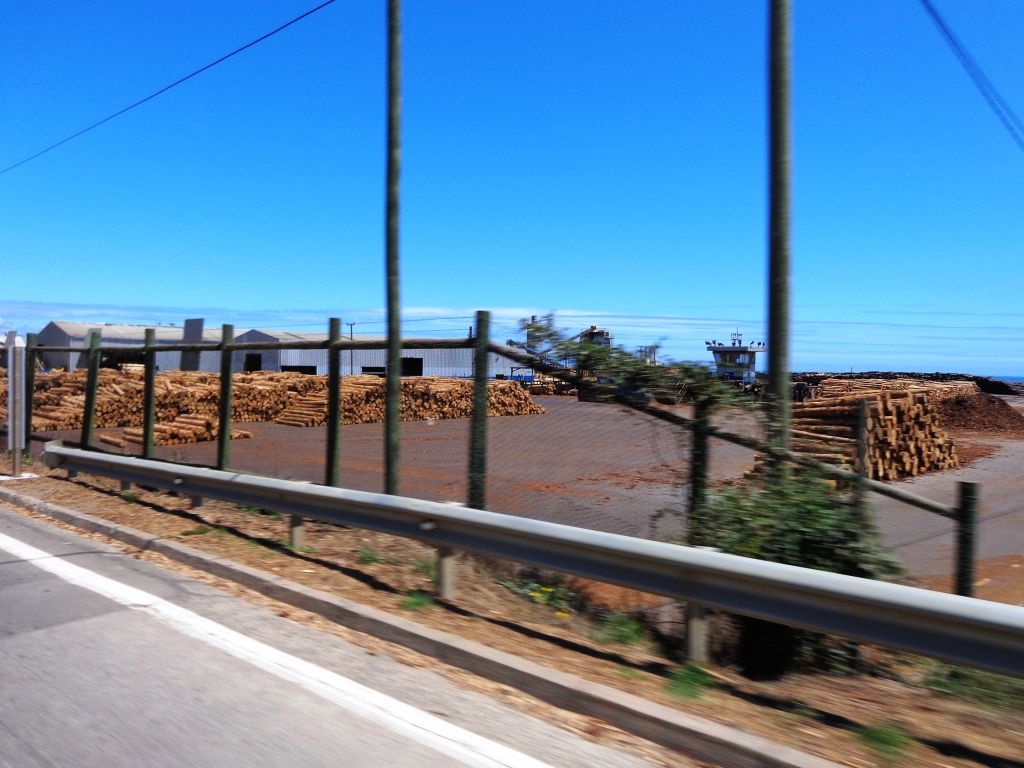 There was lots of construction on the small coastal roads that we were traversing and I kept seeing this sign which kindly reminded me that my inconvenience was a small price to pay for the benefit of the route: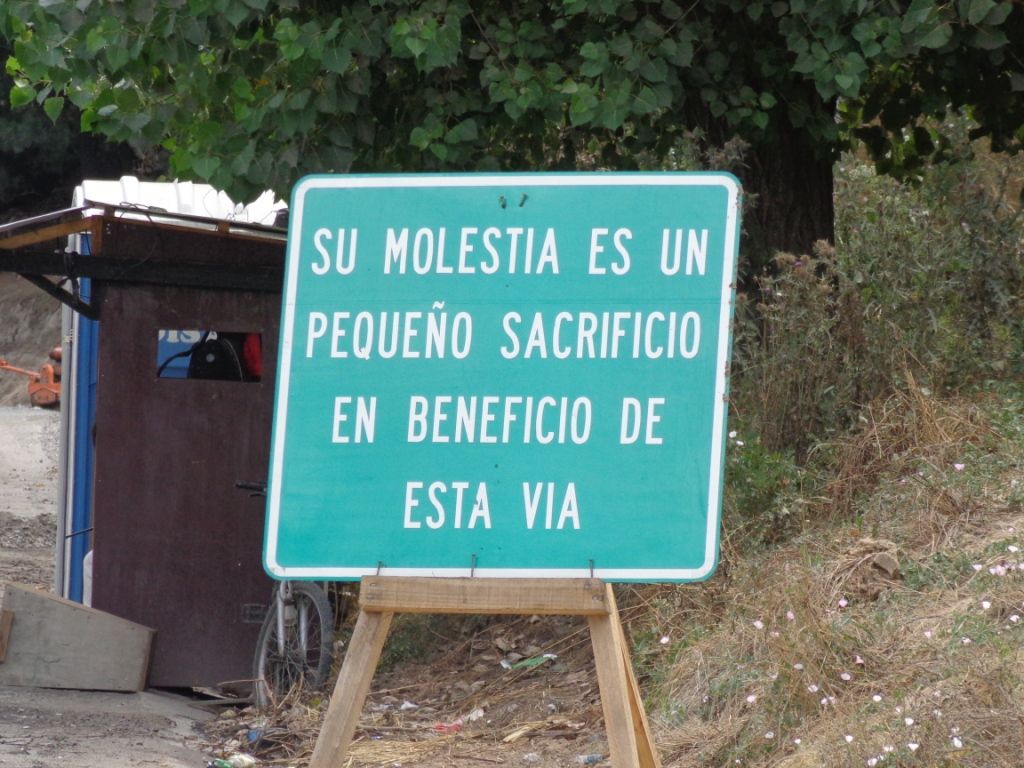 We eventually made it to Concepción where we hunted unsuccessfully for a hostal that was listed in the Lonely Planet South America Guide. Frustrated, we eventually gave up and drove south to the small coastal town of Lota and a municipal campground (-37.11664, -73.15027) that was listed on our GPS. It ended up only costing 500 Pesos (about $1.00) per person to camp there, so we stayed and took advantage of the bathrooms.
There weren't any tiendas nearby, so instead of cooking, we ate at one of the tourist restaurants on the nearby beach, thereby negating the money we had saved by camping. Still, we were treated to an incredible sunset.
After returning to our campsite, several of the Chilean families camping there stopped by to say hi and chat. One of them even brought us some home made bread. The Mayor's sister even dropped by to give us an official welcome to the small municipality of Lota. Man, all of the Chileans I have met so far have been amazing!