Day 126 (February 18, 2013)
Rio Gallegos, Argentina
Day's Ride: a few miles around town
As soon as they opened this morning I went to the local moto shop. I removed the damaged link and installed one of the master links that I had and found that the chain was now way to short. So, now I needed a new chain....
Unfortunately, the only thing that they had in 520 was this non o-ring number. Blast. Luckily, it wasn't too expensive. Only 300 pesos.
After we put that on, I asked if they would help me drill some holes so that I could re-install my old chain slider. Unfortunately, it was time for siesta....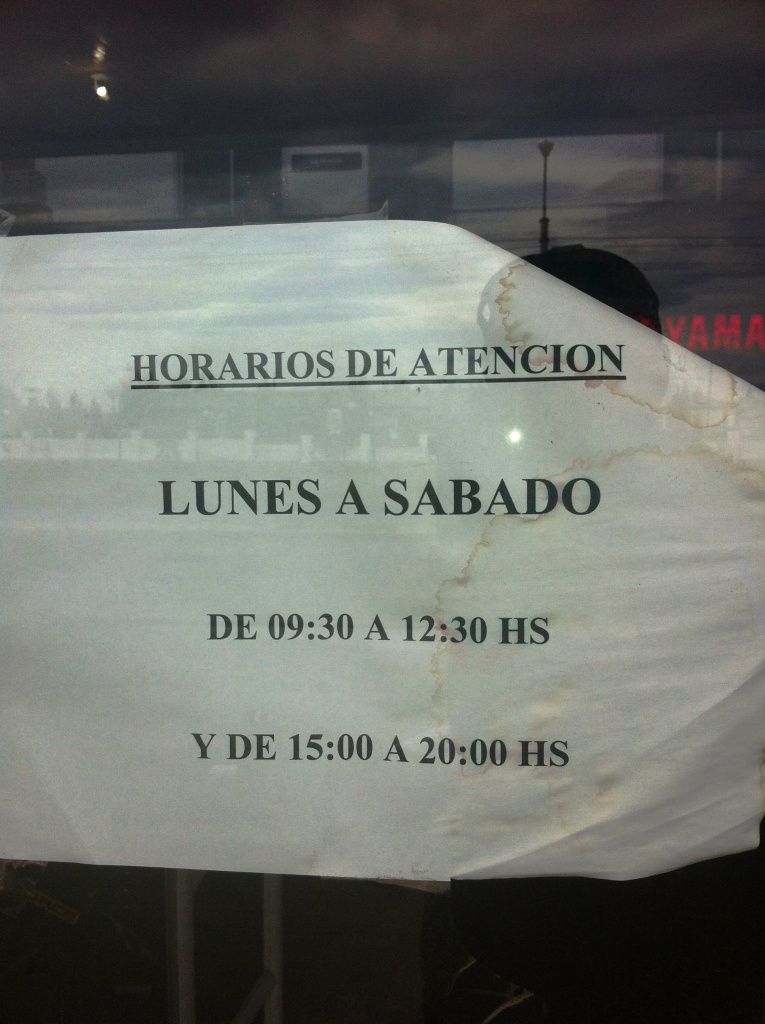 That meant that my chances of getting out of Rio Gallegos today were shot. Why does everybody in Argentina need to take a three hour lunch break? When you've got things to do and places to go, siesta time becomes very frustrating. These are the times that I wish I were back in the States.
I went back to the Hostel for a while then headed over to Manolito's house for steaks. Manolito showed me his indoor BBQ; very cool!
He's say's that everyone in Argentina has something like this at their house.
After lunch we sat around for a while and waited for the moto shop to re-open. At 3:00 PM we went back to the moto shop only to have them tell us that they wouldn't be able to work on my bike until tomorrow.
As we were standing around discussing what I should do next, Maritzio showed up on his Battle Scooter. I met Maritzio at my hostel yesterday. He's on a round the world trip on his 350cc, three wheeled scooter! Incredible. He's already rode the length of Africa on this thing.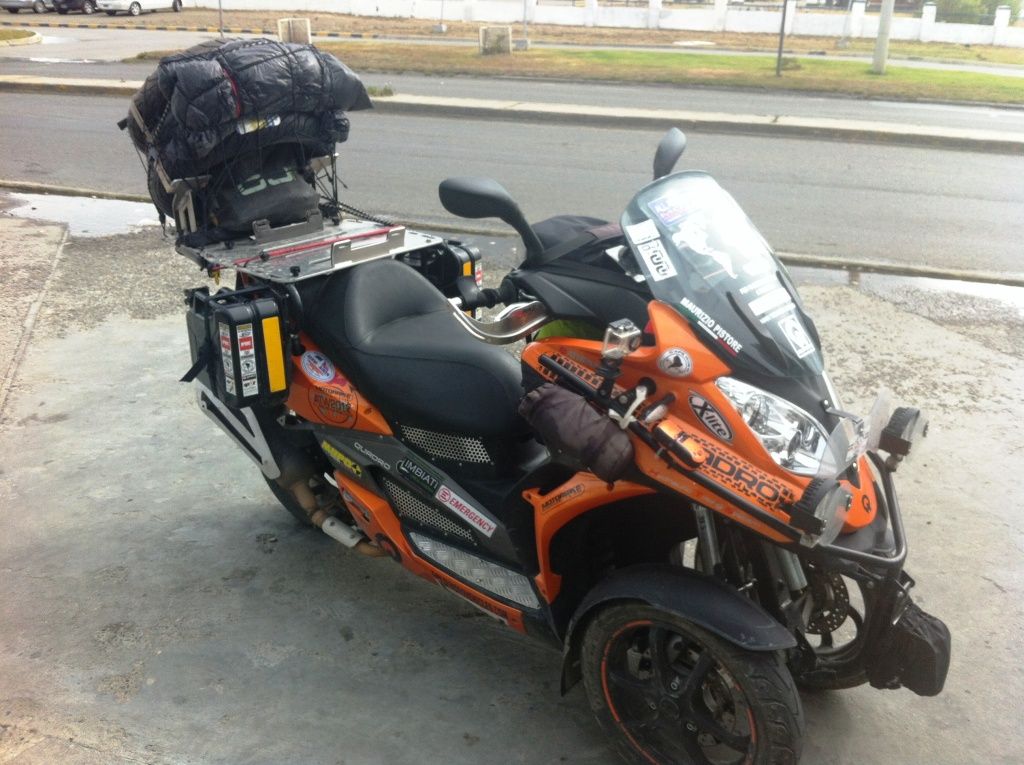 Manolito told me about a mechanic that might be able to help me drill and tap my swing arm and we decided to ride over to his shop and see if he could do it. When we got there we found that he was still closed. Luckily, we had just passed a different mechanic who appeared to be open, so we back-tracked and asked if they could help. After Manolito explained what I needed, they said that they could do it. It's so nice to have a translator.
After taking off part of the rack and moving the battery box, one of the mechanics drilled a hole in the swing arm.
Meanwhile, I took my leatherman and cut a new slot in the end of the old chain slider.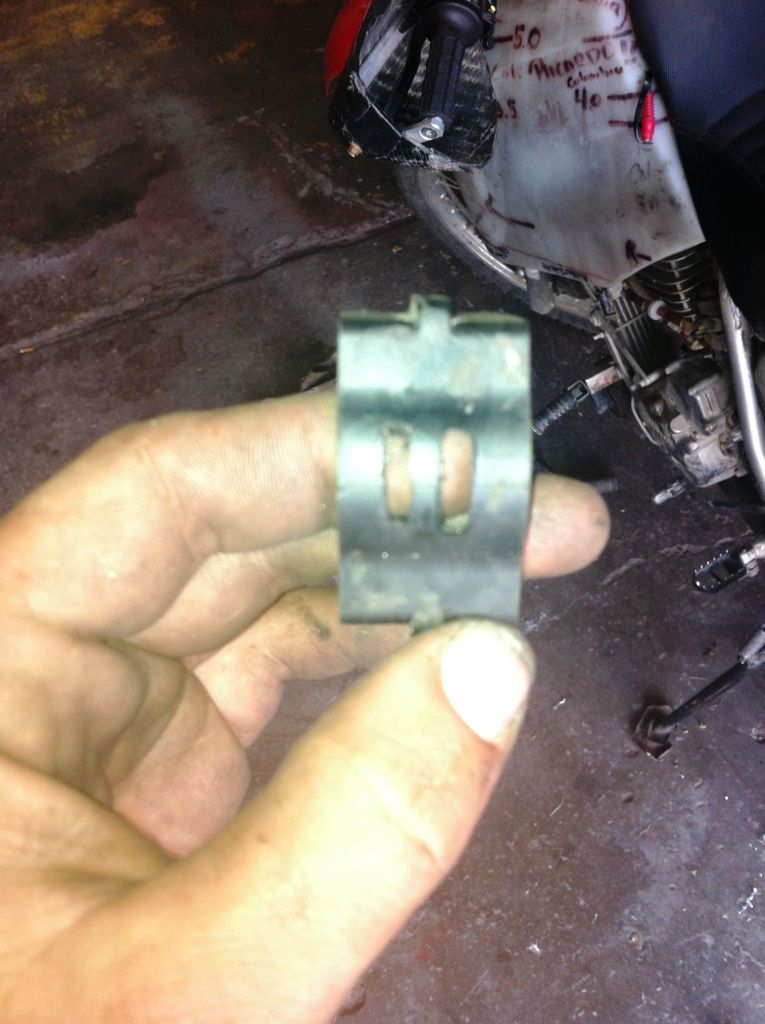 After we had drilled the new holes in the swing arm, we ran into a problem. The mechanic couldn't get enough downward pressure on the tap to thread the new holes. So, we solved the problem by just getting a really long bolt and sliding it all the way through the swing arm.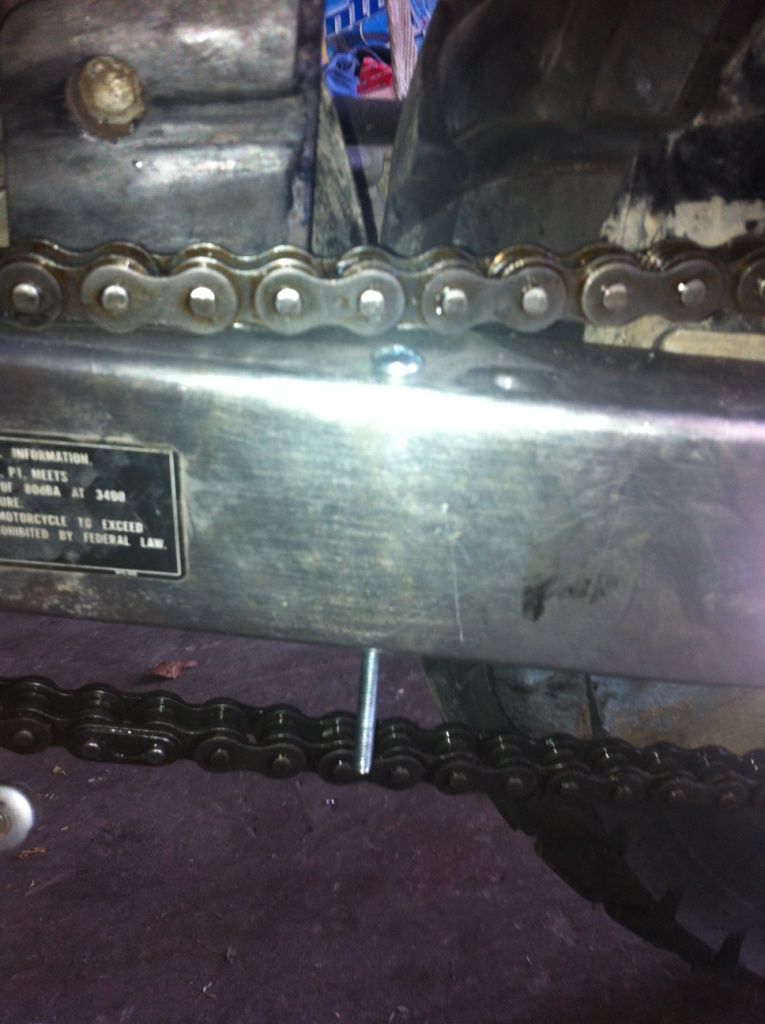 Because we didn't have a bolt of that length on hand, the owner of the shop drove Manolito over to the bolt shop to buy one. When they returned and the bolt that they had just purchased didn't work, the owner took Manolito back to the shop to buy another one!
While they were running for the second bolt, I did my best to reinforce the old chain slider with super glue and duck tape.
If you can't tell, this thing is barely holding together! Just a small piece of rubber. I think it will hold, but just to be safe, I loaded it down with super glue.
We finally put everything back together and I had the mechanics sign my tank. I tried to pay them, or at least buy them beer, but they refused! I love meeting awesome people like this. It really makes the trip.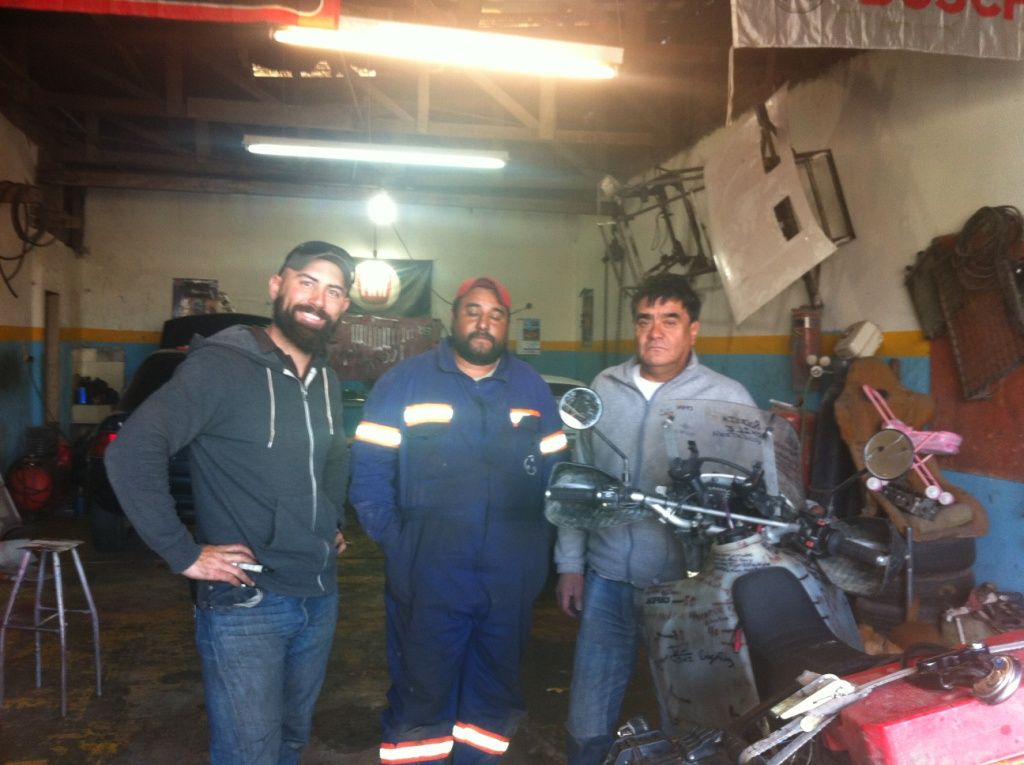 After we finished up we went back to Manolito's house and I had him sign my tank. Manolito is awesome! He has totally gone out of his way to help while I've been here. Once again, another highlight of the trip!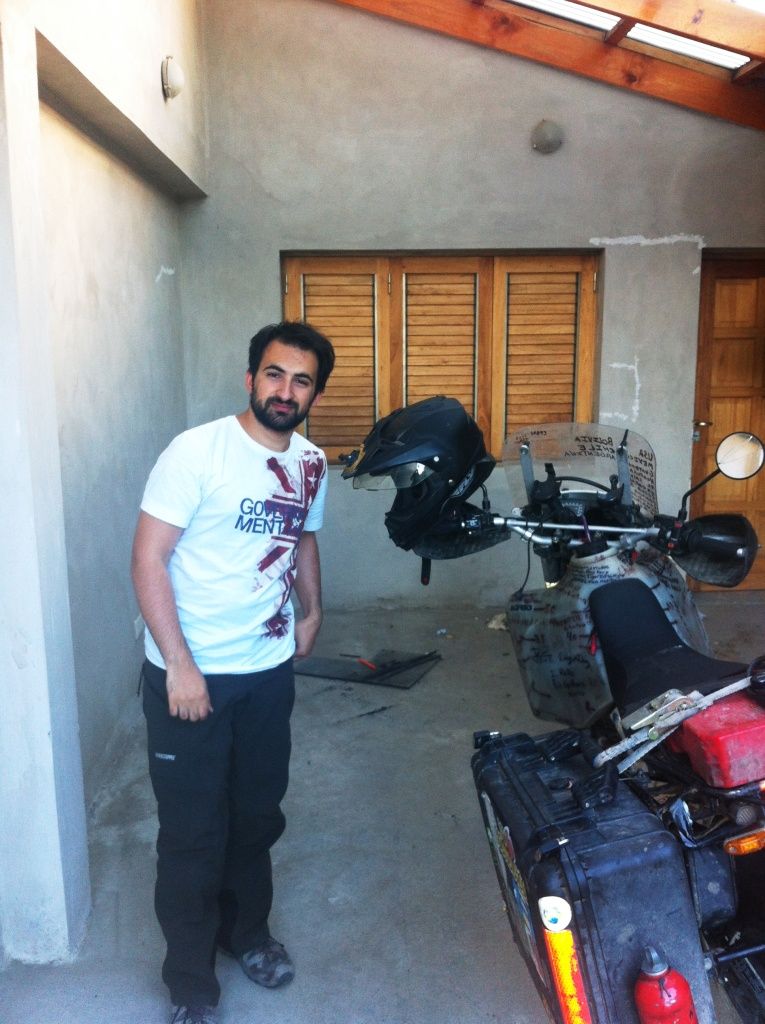 Tomorrow I'm going to try to make it all the way to Ushuaia. I'm still feeling some sort of drag when I pull in the clutch and coast. I don't know if it's the chain catching on the newly configured chain slider or something else. I may take my rear wheel off before I leave in the morning and check my rear wheel bearings. Beyond that and the chain, I have no idea what could be causing that feeling. Maybe it's all in my head. I have a tendency to imagine problems. I'm so tired of bike problems. I just want to make it to Ushuaia.