Day 107 (January 29, 2013)
Unuyi, Bolivia
Day's Ride: .5 Miles
When most people ride from Unuyi to Chile, they typically cross the Salar and then head due South along a series of high lakes or lagoons into the very south western corner of Bolivia before jumping across the border and coasting down the pavement into Chile. Unfortunately, since the Salar was flooded, we would have to skip that part of the route and head straight for the Lagoons. I wasn't exactly clear on the route and really needed to see a map to visualize where we were going. Furthermore, Mike and I needed a prep day to south things out, plan the route, organize logistics, and prepare our bikes. So we decided to do just that: have a prep day.
We divided the labor. Mike would take care of route planning and GPS computer wizardry, while I would run around town and take care of the logistics portion.
My first task was to find a tour operator who would be willing to cache gasoline for us somewhere along the route. According to our best estimates and, from what people had told us, the route we were looking at would be somewhere between 250-325 miles long. There would only be one for sure place to fill up with fuel along the route: a small town called San Cristobal approximately 50 miles outside of Unuyi. You can buy gas from some of the Land Cruisers that are toting tourists around; however, we didn't want to pay a premium on gas and figured it would be fairly easy to have someone just drop off a can of gas for us along the route.
There are tons of tour operators working out Unuyi. For a couple hundred Bolivianos, they take backpackers and tourists on three day excursions in Land Cruisers across the Salar and down through the Lagoons. I spent most of the morning walking around trying to find one who would do what we wanted. It actually proved to be fairly difficult. Eventually I narrowed it down to a few companies: Estrella del Sur, Cordillera, and Mistica. Cordillera offered to do it the cheapest (10 Bolivianos, or, approximately $1.30), so I settled on them.
I went to a hardware store and bought a 30 liter jug, filled it up at the gas station, then dropped it off at the tour agency office.
Coordinating the fuel cache was probably one of the more complicated things I've done in Spanish, but eventually we worked it out and the driver assured me that he would drop the gas off at a hotel near Laguna Colorada the next evening. Relatively confident that things were set up correctly, I headed over to the car wash and had the rest of the Salar rinsed off of my bike.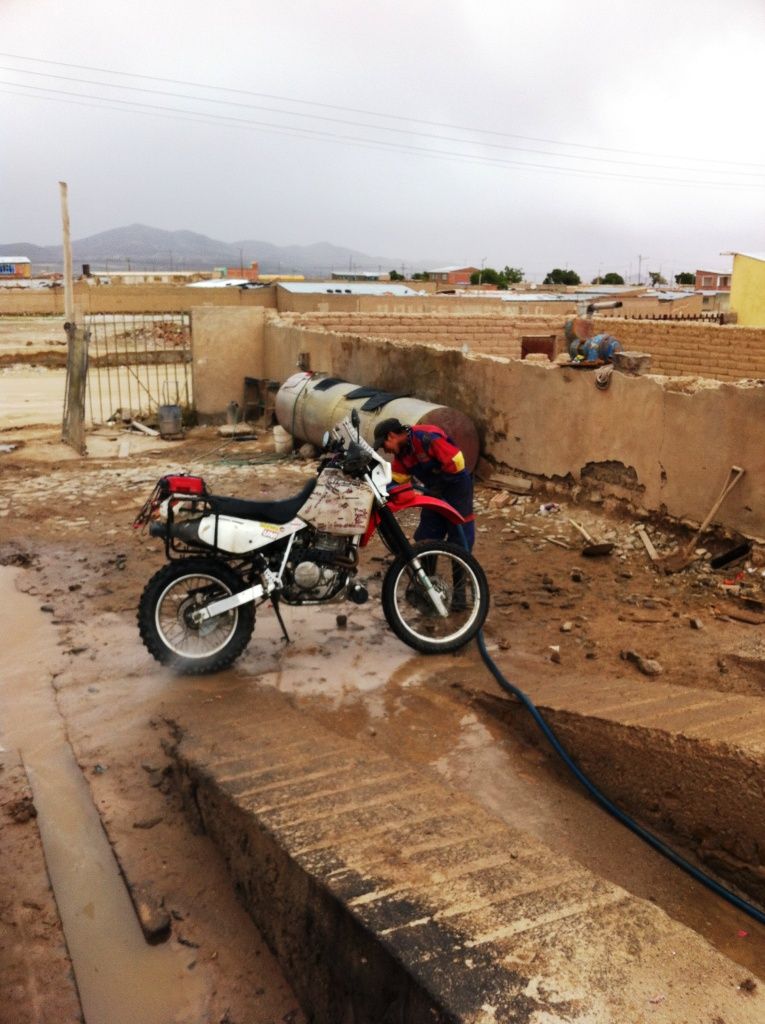 I returned to the Hotel and found that Mike had downloaded a whole new set of maps for our GPS's and found a bunch of waypoints on an overlander website. Due to the crappy internet at the hotel, he had spent all day trying to download a few megabites of information.
We finished off the day by going to the mercado and buying supplies: two boxes of spaghetti, a few cans of tomato sauce, vegetables, instant oatmeal, tuna, bread, mayo, toilet paper, and eight snickers bars. I would soon come to regret only buying eight snickers bars....