Day 108 (January 30, 2013)
Unuyi, Bolivia to Unnamed Lagoon, Bolivia
Day's Ride: 140 Miles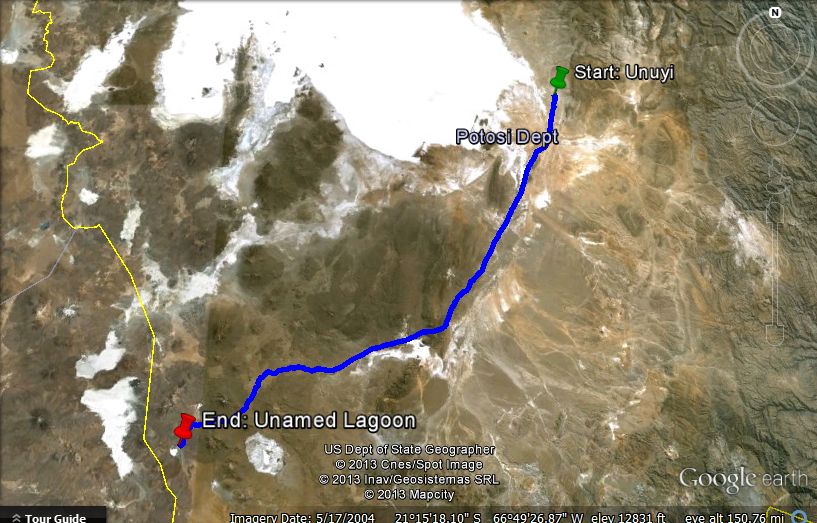 Leaving Unuyi, we made a quick stop at the Train Graveyard. I'm not sure on the story behind this place; however, just outside of Unuyi is the "Cemetario de Trenes" where they've left tons of old engines and cars to rust.
We hung around for a few minutes taking pictures, but I started getting worried about picking up a flat from all of the rusty metal lying around and we soon jetted out of the graveyard and cut across the desert scrub to the main road. The main road south out of Unuyi to San Cristobal (the last gas and last town of any size in our route) was beautfiul graded gravel.
The road was relatively smooth; however, the new knobies combined with the occasional rut caused my rear to sway a bit as we blasted along at 60mph.
We stopped in San Cristobal had our tanks topped off by an wizened old man with a massive wad of coca leaves in his mouth. I tightened a spoke on my rear wheel and then we were off again. Mike was super stoked to be heading off into the Bolivian wilderness on a beautiful dirt road:
The road passed through several small collections of huts and buildings before begining to climb towards some distant volcanos. Soon we were passing through massive rock gardens that were very reminicent of Joshua Tree National Park.
I decided to ride up into the rocks and hide from Mike. See if you can spot me: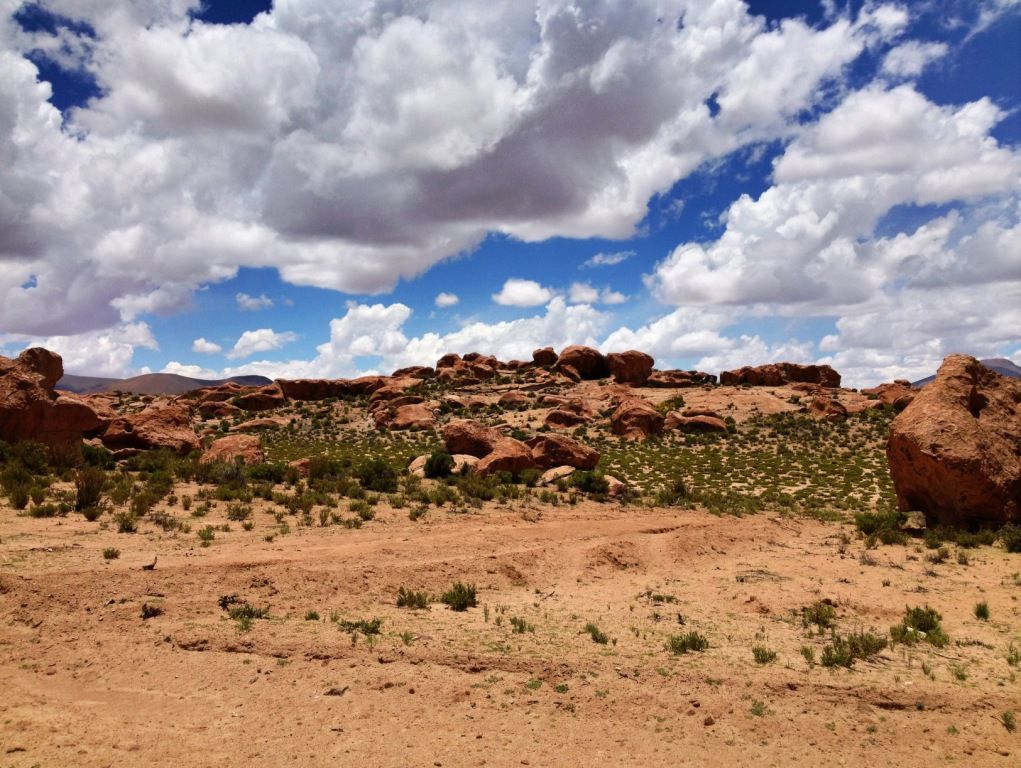 We left the rocks and and continued down the road.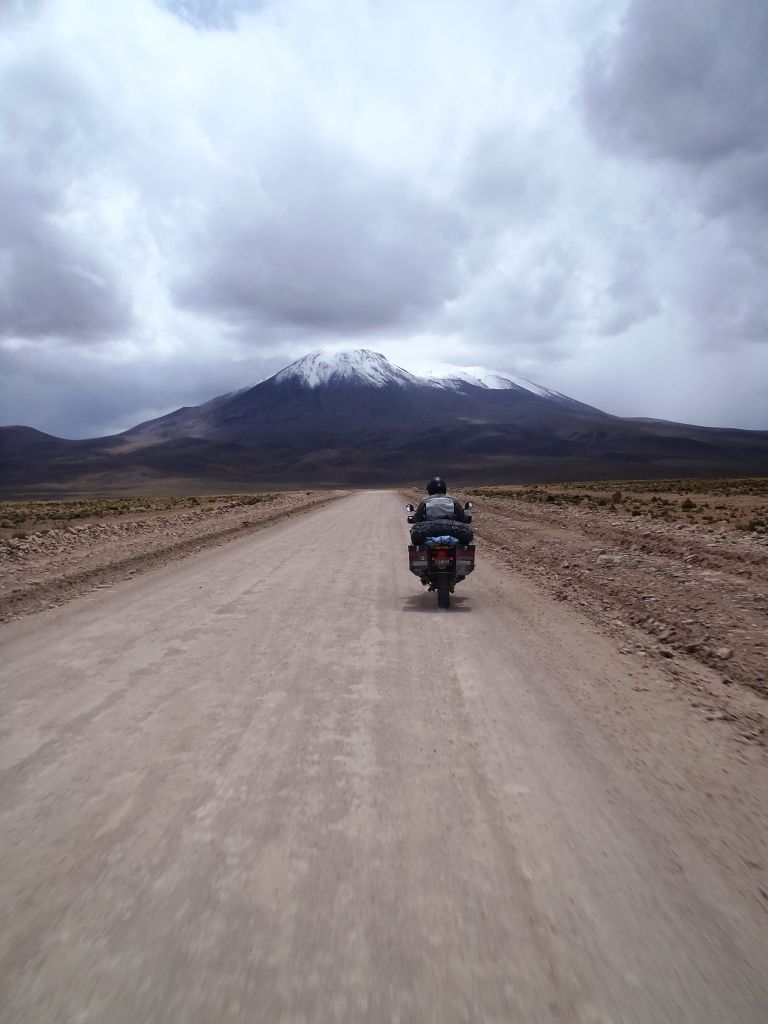 Soon came to our turn off. We left the main road and jumped out onto a small side track. As we continued to climb up higher into the alitplano, the weather began to look ominous. As we were already above 14,000 feet, I decided it would be a good idea to put on some rain gear and make some adjustments to the mixture screw on my carberuator.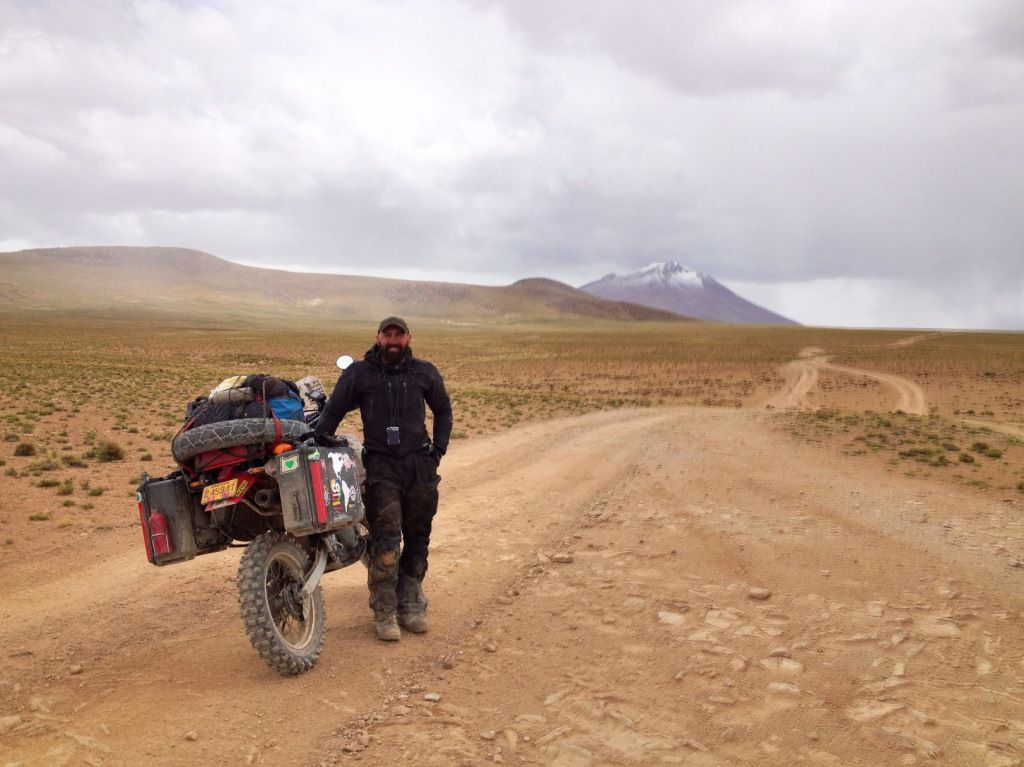 The road soon devolved into a muddy track strewn with baseball sized rocks, deep ruts, and sand.
Mike's massive BMW soon became a little tought to handle.
Eventually we came to a stream crossing. Out of the graciousness of my heart, I decided to let Mike go first while I recorded the result for posterity. He was doing great until he hit that hole that was hidden under the water....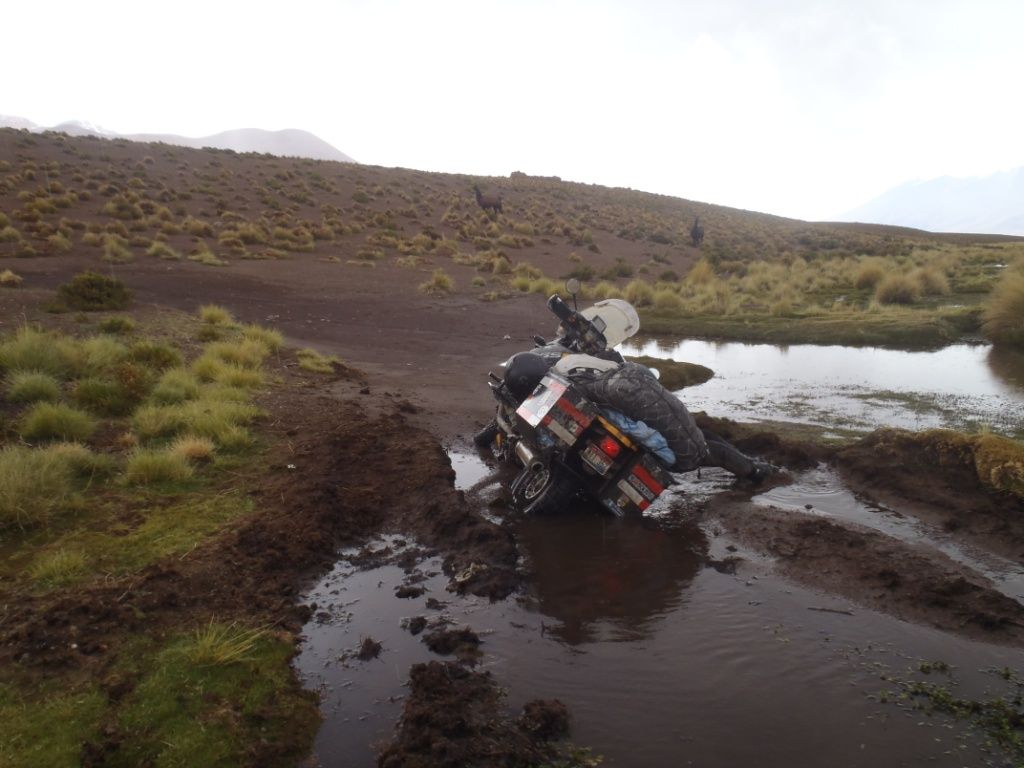 After helping him right his bike, I walked the ground a little until I was confident that I had a good line on relatively dry and stable ground. I went back to my bike and made my attempt.....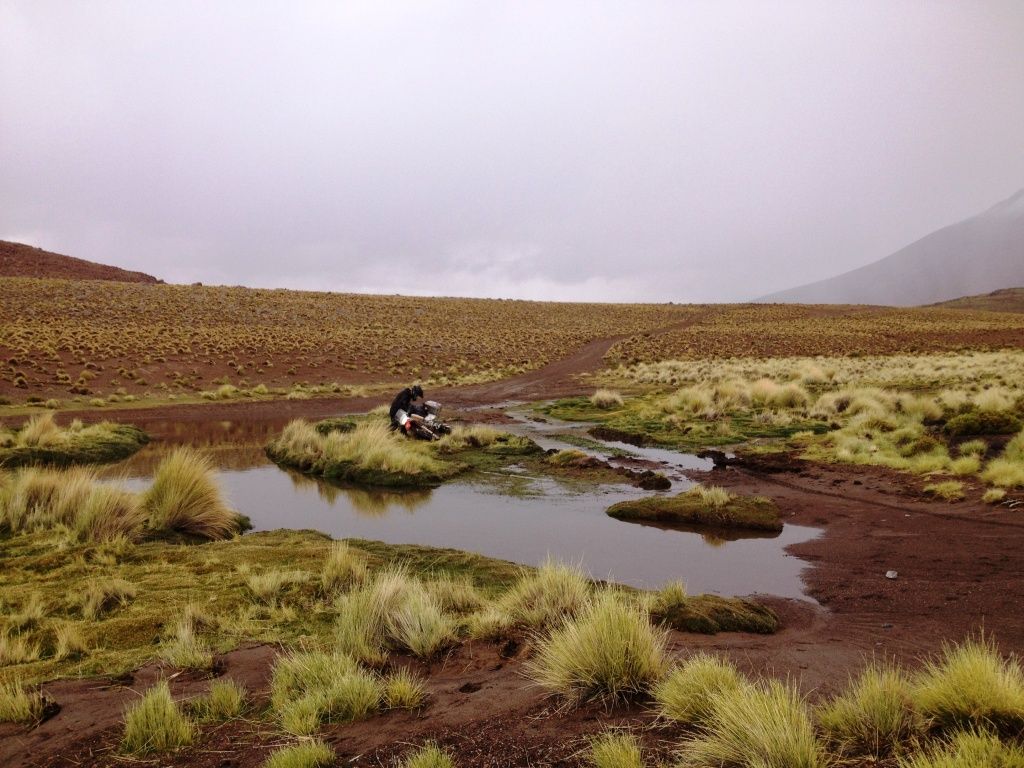 After scrapping off some of the mud and collecting my wounded pride, Mike helped me stand my bike up and I rode out of the quagmire.
As we continued on, the scenery just kept getting better. Just down the road we came across a group of llamas and Mike stopped to take a picture. I took a picture of Mike taking a picture:
The road continued up through a pass between two sets of volcanos; by this time, the road was mostly a first and second gear crawl. At some points we simply skipped the road altogether and rode through the scrub.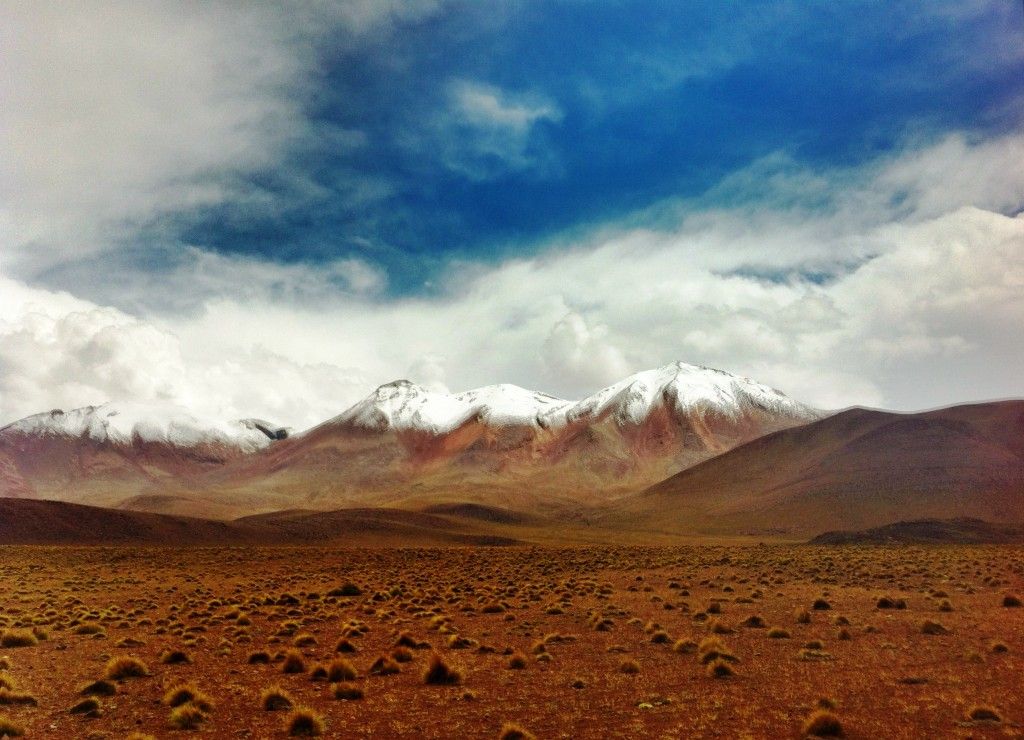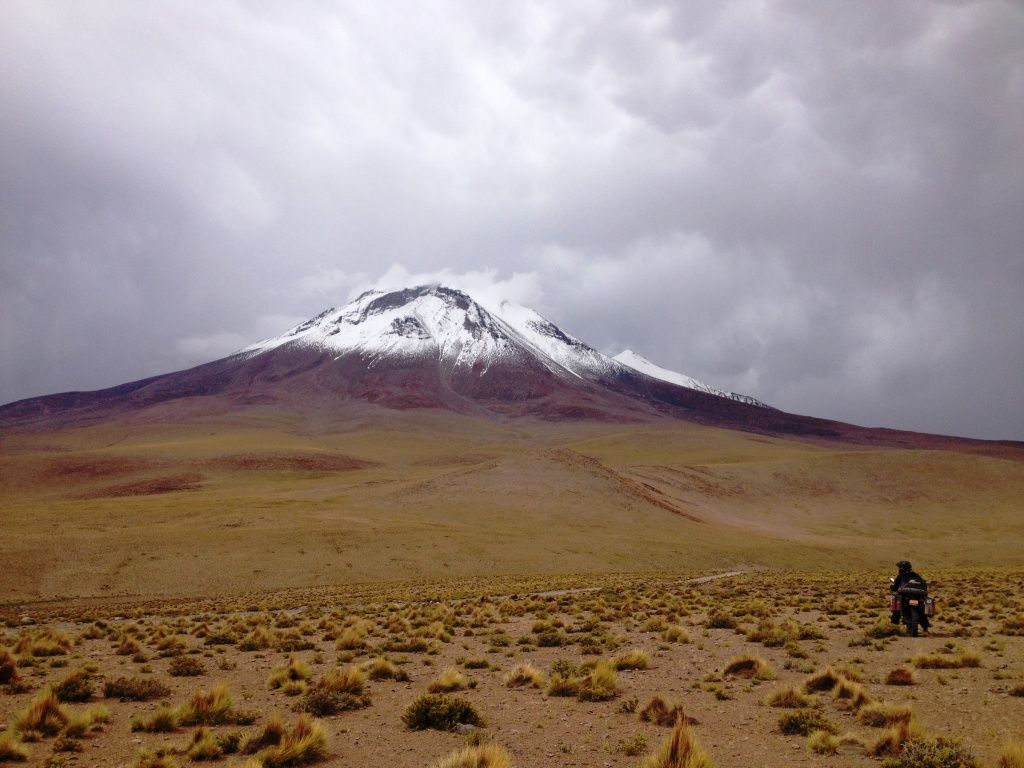 Finally the road dropped down out of the pass and we came across our first lagoon, complete with bright blue water and pink flamingos:
Turning south, we began to skirt a series of lagunas and dry salt flats.
Eventually we came by a laguna named after my bike and I was forced to stop and get a picture.
Just in case you can't read it, it says "Laguna Honda".
By now it was starting to get late and we began hunting for a campsite. Eventually we came across a small, isolated laguna a few kilometers away from the main track, complete with snow capped mountains, mirror like water, and grazing flamingos.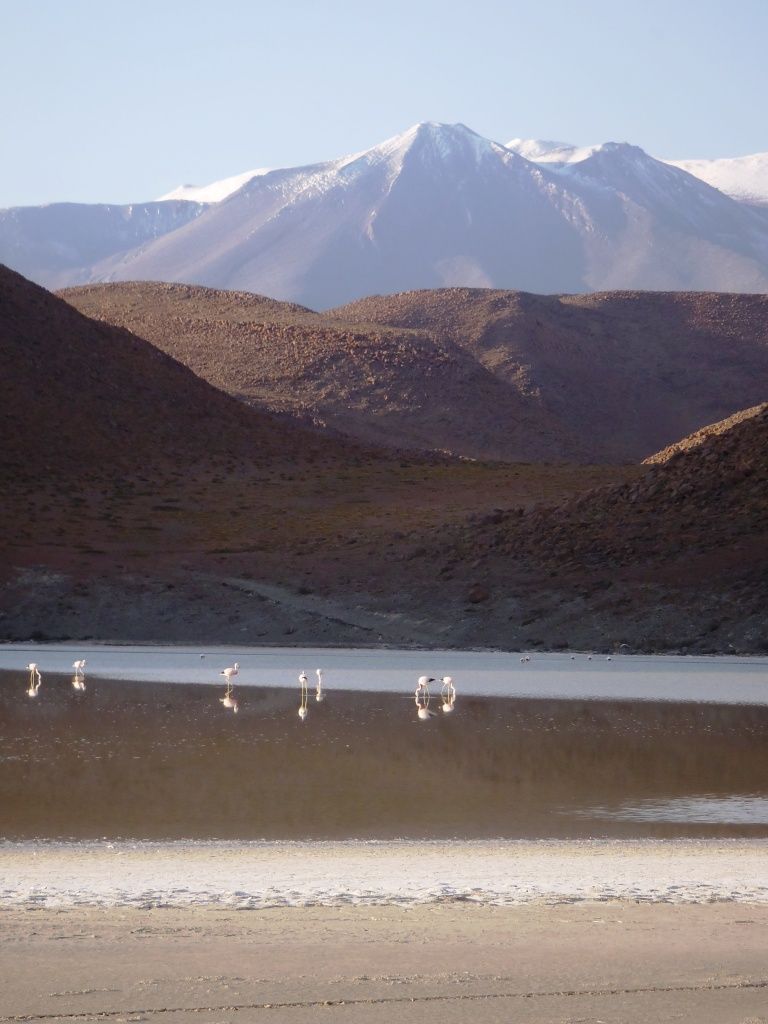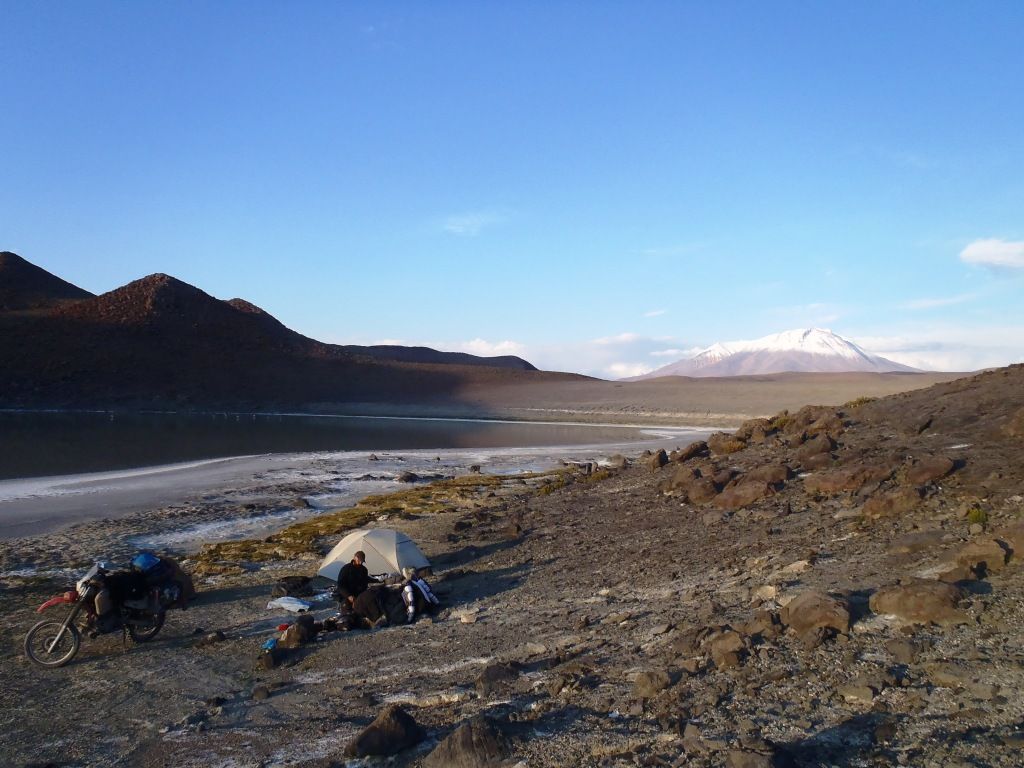 Mike set up his tent while I started working on dinner. The beauty of having a multi fuel stove is that you can fill it up off of just about anything....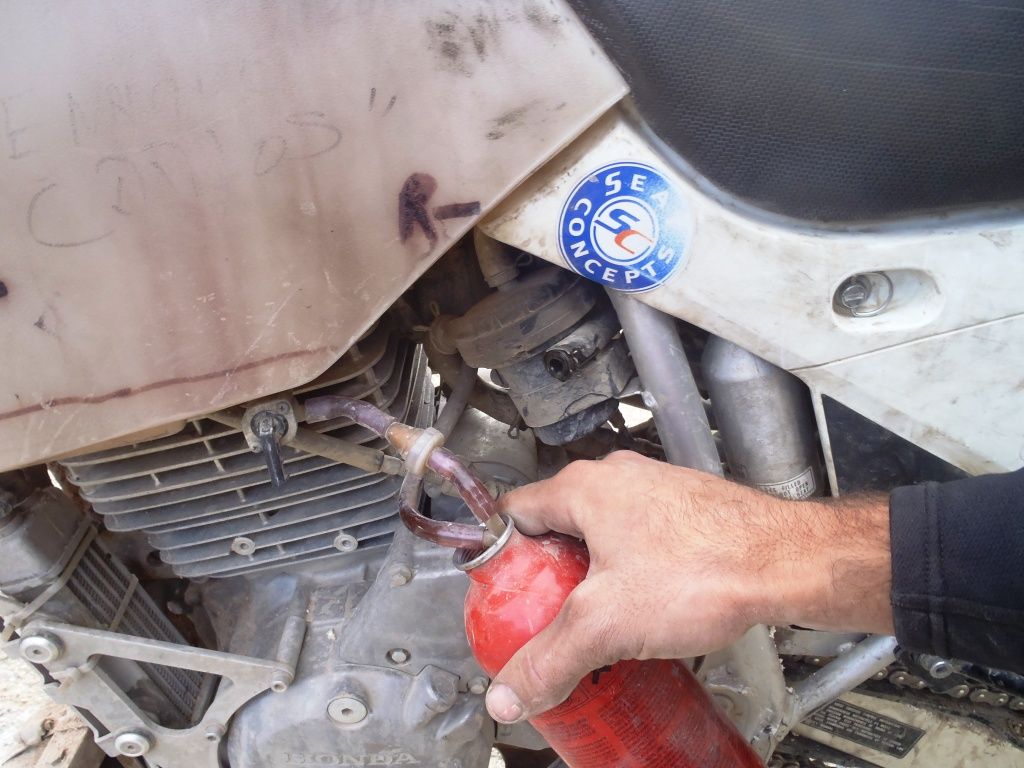 After priming the stove, I started to work on the veggies. Luckily our campsite came complete with a cutting board...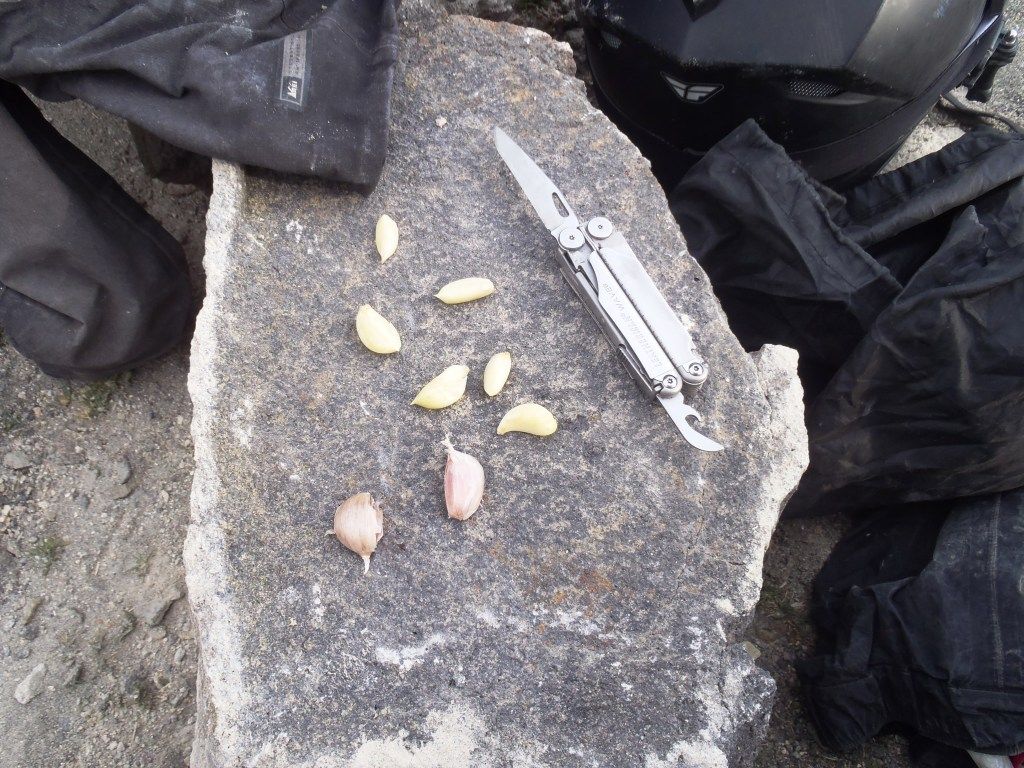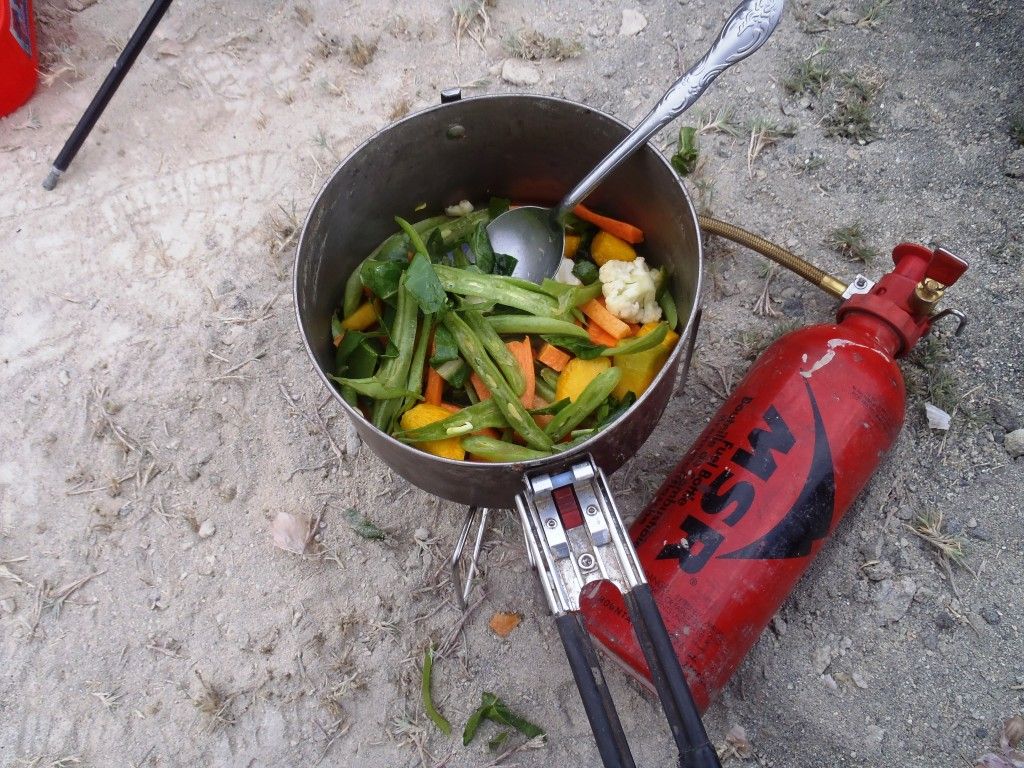 After dinner we kicked back and watched the sun go down beside our private lagoon as the flamingos skwaqued and kaad in the background.
All in all it was a hell of a way to start this leg of the trip. 140 miles of straight dirt riding on every type of terrain imaginable. We even got snowed on a little bit. Despite dropping my bike a few times, I had zero mechanical difficulties and no injuries. Mike also dropped his bike a few times and other than a slightly sprained ankle from the stream crossing, he was doing okay. We were stoked from the awesome riding, but still very tired. The last 40 miles had been rather rough and we were more than ready to drop off to sleep after the sun went down.