Day 104 (January 27, 2013)
La Paz, Bolivia to Potosi, Bolivia
Day's Ride: 336 Miles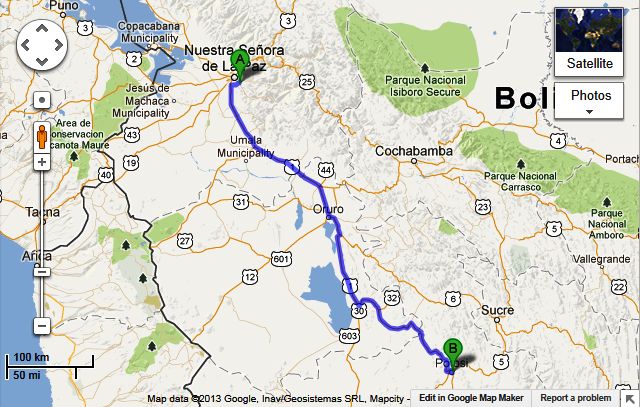 Our Hotel last night was the Hilton of Bolivian Hotels. It was called Hotel Oberlander and was run by some swiss guy. They have a camping spot in the back that you can get for 50 Bolivianos; however, since it was raining, we elected to split a room ($33 apiece, yikes!). It was well worth it though. Immaculate room with heating, hot water, solid wifi. And breakfast this morning (which is included) was incredible! Great place to stay. They even have a working jaccuzzi, pool, and sauna.
In any event, we were late leaving. The road out of the area where we had to stayed the night to the Panamerican Highway went through some interesting dirt spires.
However, it soon turned into a giant straightaway across the altiplano.
All of the riding today was done at elevations above 12,000 feet. Most of it was above 13,000 feet. Consequently, my bike struggled and wheezed all day. I really should just get down and adjust the mixture screw on the carb; unfortunately, you never know when you are suddenly going to drop down below 5,000 feet so it almost seems like a waste of time.
I'm jealous of people with fuel injection. Yesterday when we did the Road of Death, we started at 11,000 feet, climbed to over 15,000 feet, then dropped all the way down to 3,000 feet! And that was all in the space of 60 miles. The drastic altitude changes down here really play havoc with carb settings.
Halfway through the day, we decided to push all the way to Potosi in one day. It's easy for Mike on his massive BMW. He can cruise down these roads at 85 MPH while I putter along at 65 MPH. Consequently, he plays the hare and usually rides ahead of me and stops to take lots of pictures while I play the tortoise and keep my slow, steady pace. Of course, the tables turn whenever we get into a city, or in the dirt, or have to move our bikes in a parking situation. Then I'm the one getting the last laugh.
There are lots of domesticated Llama and Alpaca herds grazing out on the Altiplano. There aren't really any fences so it's more of an open range situation. Today as I was cruising along, a couple of Llamas (or maybe they were Alpacas) got spooked and decided to cross the road in front of me. Unfortunately, they weren't very smart and decided to freeze up right in front of me! I locked up my brakes and skidded right for them. At the last minute, they decided to get out of my way and I narrowly avoided running them down and getting pitched off my bike. I almost got taken out by a Llama today, how odd is that?
Obviously, I had to stop and take a picture of these dumb beasts:
Eventually the road turned off the plain and started heading up into the hills. I saw a lot of stone fences on the hillside and wondered why they didn't keep the damn llamas in there.
Soon the road began cutting through some more picturesque country: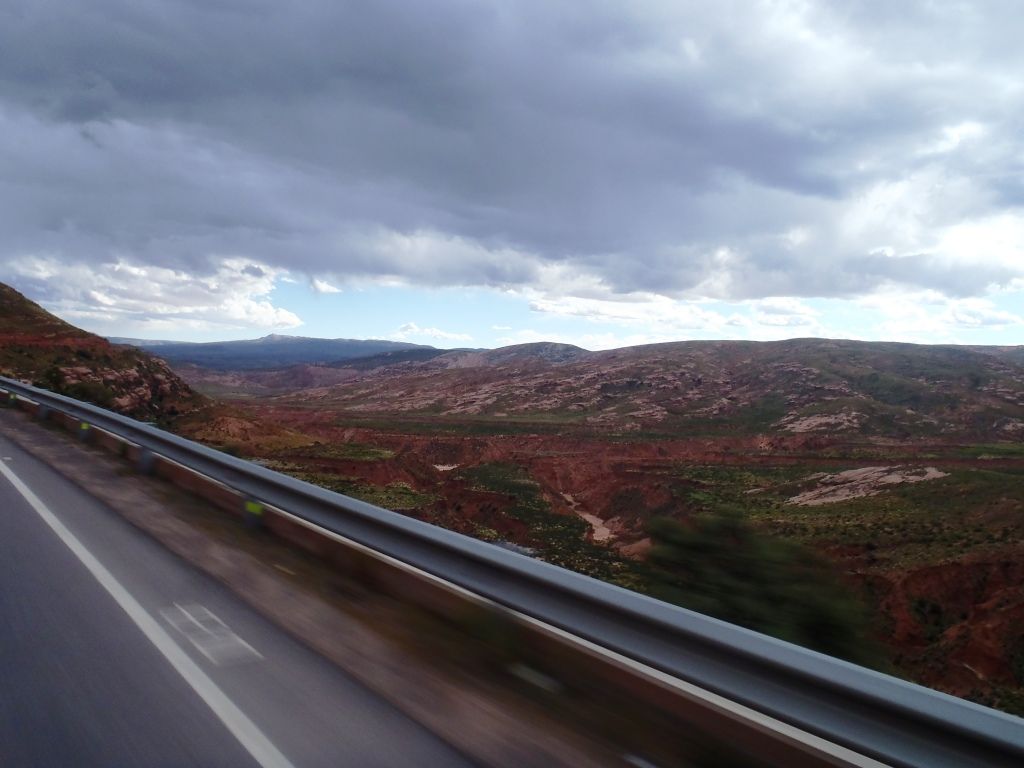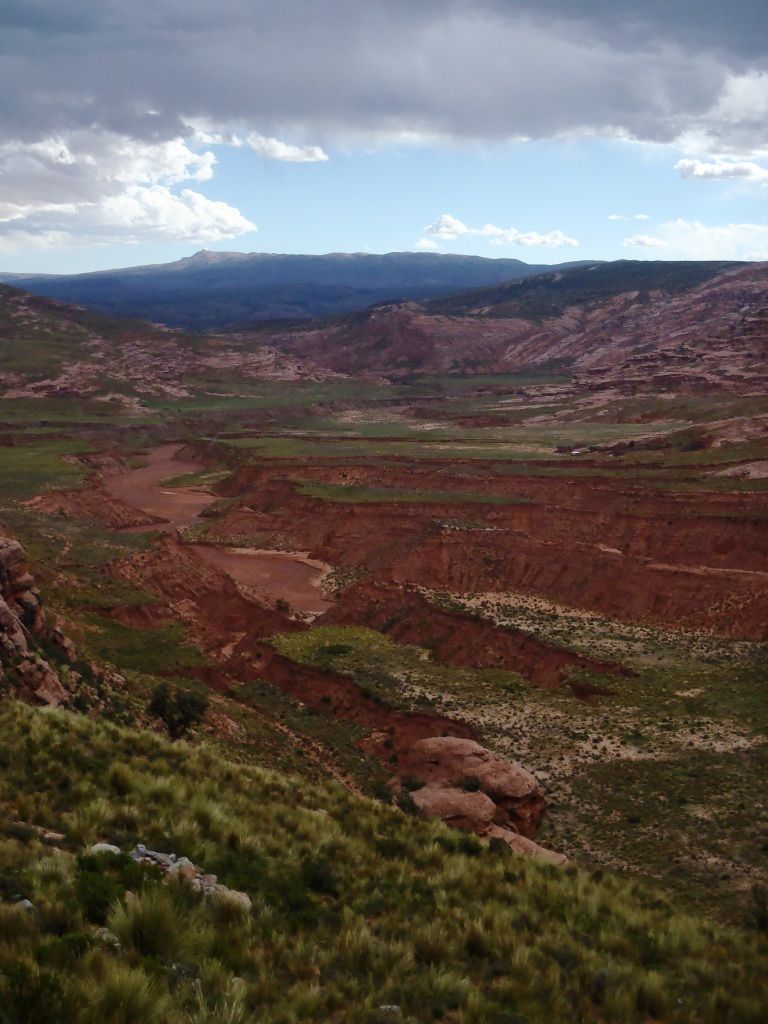 Some of it even reminded me of the Painted Hills in Oregon.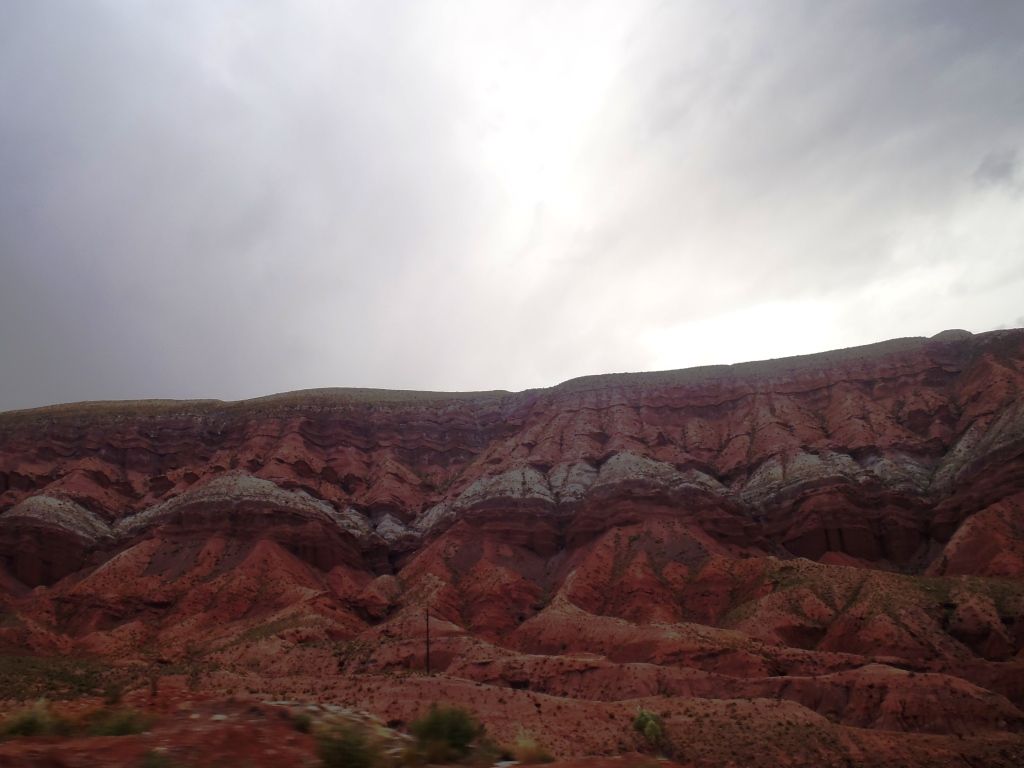 After a long day of riding, we finally reached Potosi. The small mountain behind the city was the chief source of funding for the Spanish Empire back in the day.
It's called "Cerro Rico" and was the location of the famous silver mine of Potosi. Silver was discovered here in 1545 and the town eventually reached a population of over 200,000 people, making it one of the largest cities in the world at the time. Thousands of people died working in the mines which were in operation for hundreds of years. In fact, they are still being mined by locals.
We found a Hostel in the colonial section of town that let us put our bikes in their courtyard.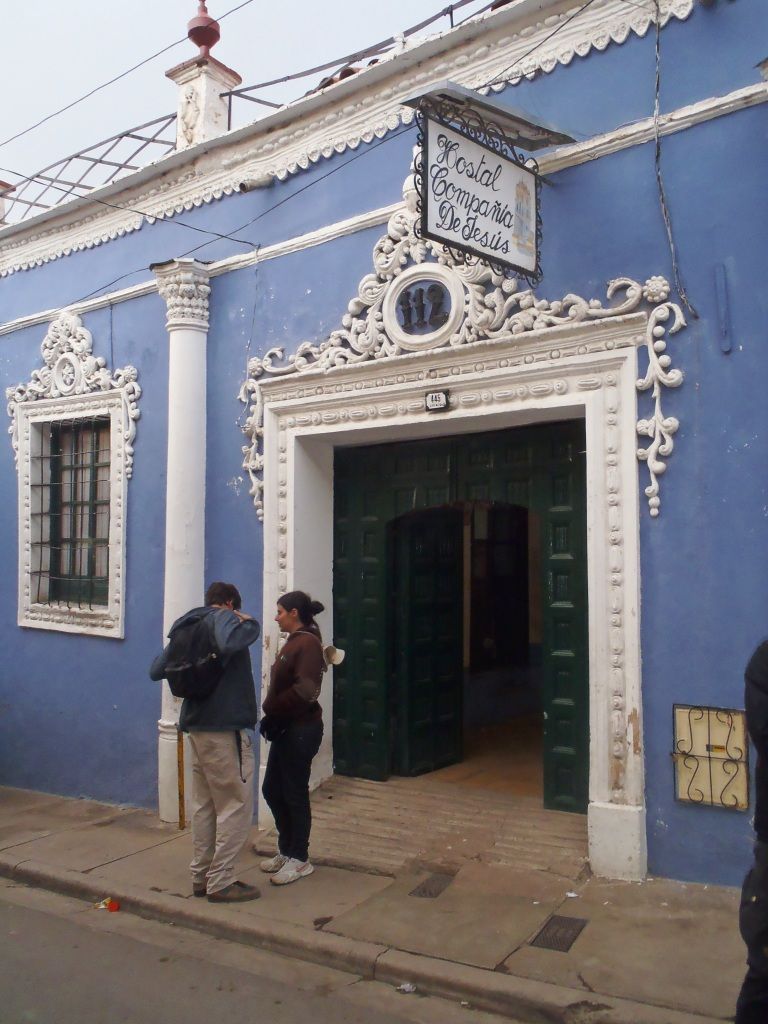 Hostal Compania de Jesus; they have solid wifi and charge 90 Bolivianos for a "doble" (room with double beds) which works out to 45 Boliviano or about $6 apiece for Mike and I.
In other news, I just started noticing an odd scratching sound coming from what I think is my transmission when I down shift into second gear. It only happens when there is a moderate amount of compression on the engine and I'm not giving it any gas. It has me a little worried, but I'm hoping it doesn't present too big of a problem as I only have about 3,000 miles left. Hopefully it holds out until I finish or at least make it to Santiago where I can get it checked out. Hopefully it's just my chain making strange sounds.
Tomorrow I'm going to change my oil and maybe go check out the mines. I'm not sure if I want to go into the mines as I'm not a fan of being exposed to mercury, arsenic, asbestos, and silica dust, but I do want to at least see them.