Day 144 (March 9, 2013)
Puerto Natales, Chile to El Calafate, Argentina
Day's Ride: 174 Miles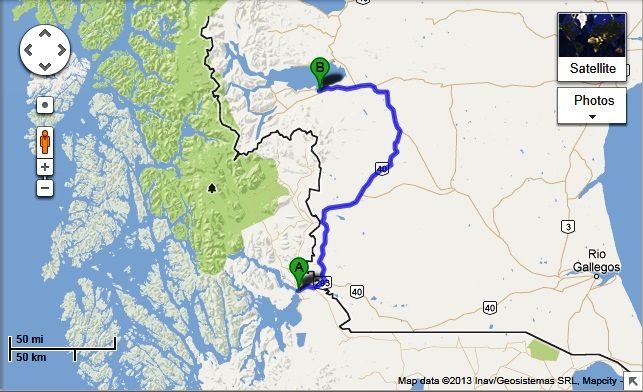 Ripio is supposed to mean gravel. It's pronounced ree-pee-o. Ripio. I like gravel. I hate ripio.
I woke up this morning to the patter of rain drops on the roof. A quick step outside confirmed that the weather was absolutely horrible: 47 degrees and raining. I decided that discretion was the better part of valor and that I should probably just hang out at the Hostel until the weather improved a bit.
Meanwhile, Dylan had worked out a deal with a new friend and was going to give her a ride back south to Punta Arenas. She was under a bit of a time crunch though, so they had to leave while the weather was still crappy. She had on a borrowed half-helmet, some kind of hiking rain gear, and a pair of hiking boots. I'm not sure if they made it all the way down there without freezing to death..
I sat around reading books until about noon. The weather started to finally clear up a little bit and I hit the road. A few minutes after leaving Puerto Natales, I was back in Argentina.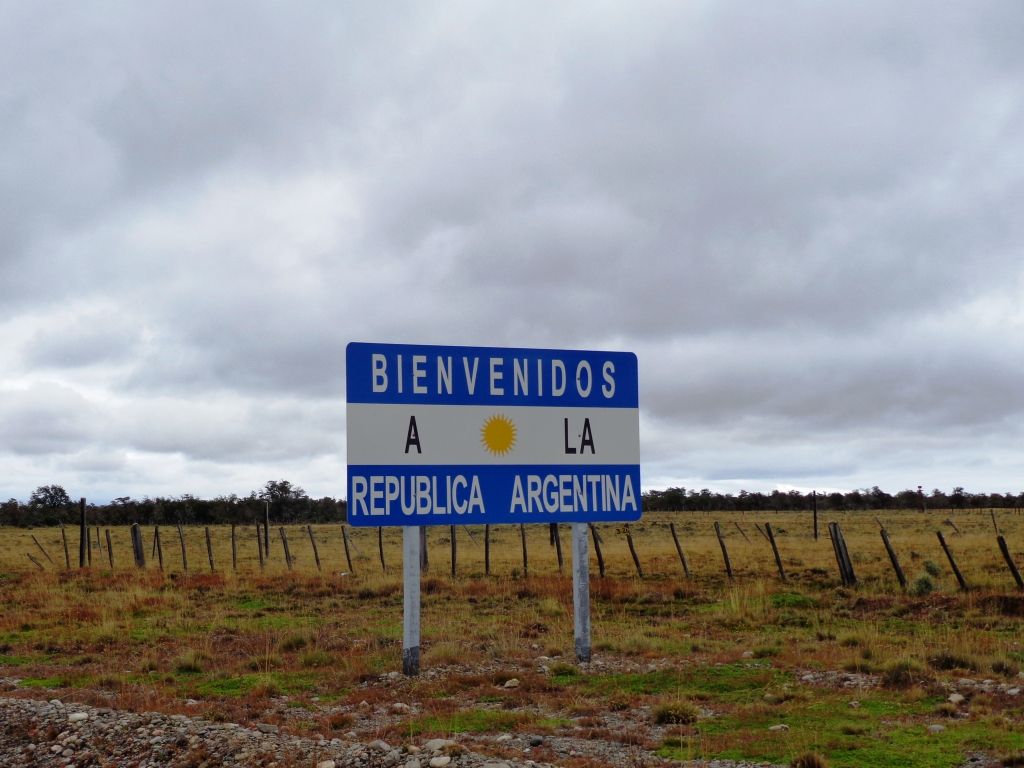 I was soon back on Ruta 40. The majority of it has been paved over; however, there are still some gnarly stretches of the infamous ripio to be found. I figured that they were all a little further north; little did I suspect that I was in for a bit of a surprise.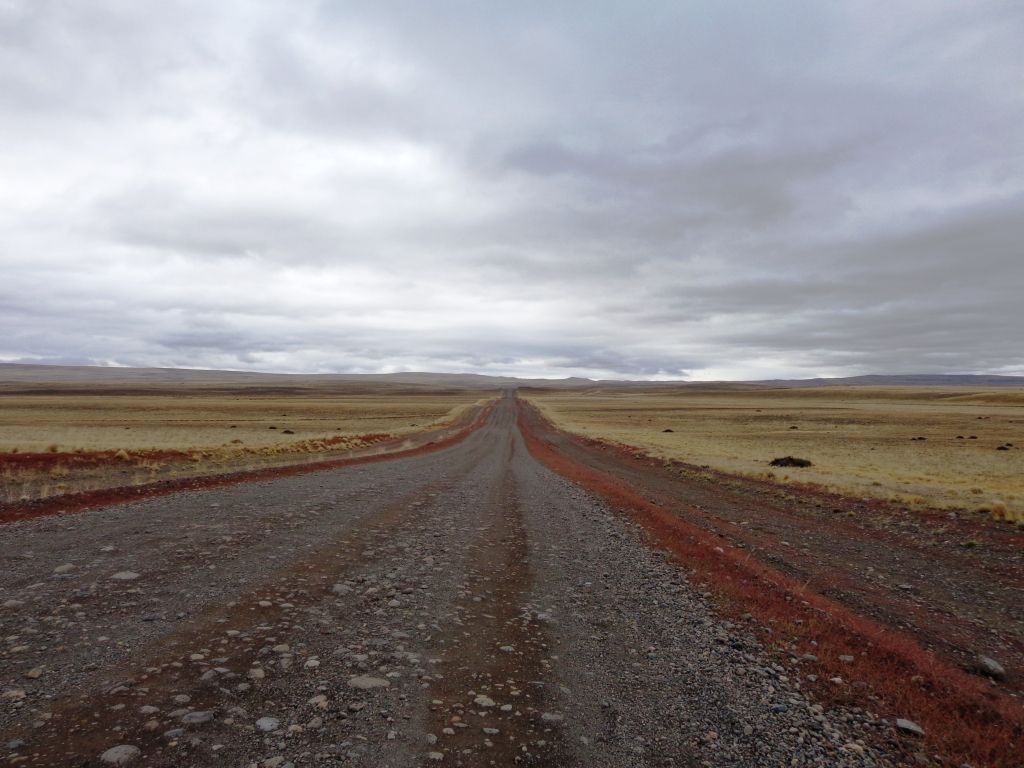 Typically I like a bit of gravel. However, when there is a high concentration of baseball sized stones mixed in with the smaller stuff, my enjoyment level goes down quite a bit. And when those baseball sized stones start getting wet and combining with gravel ruts, I start getting annoyed.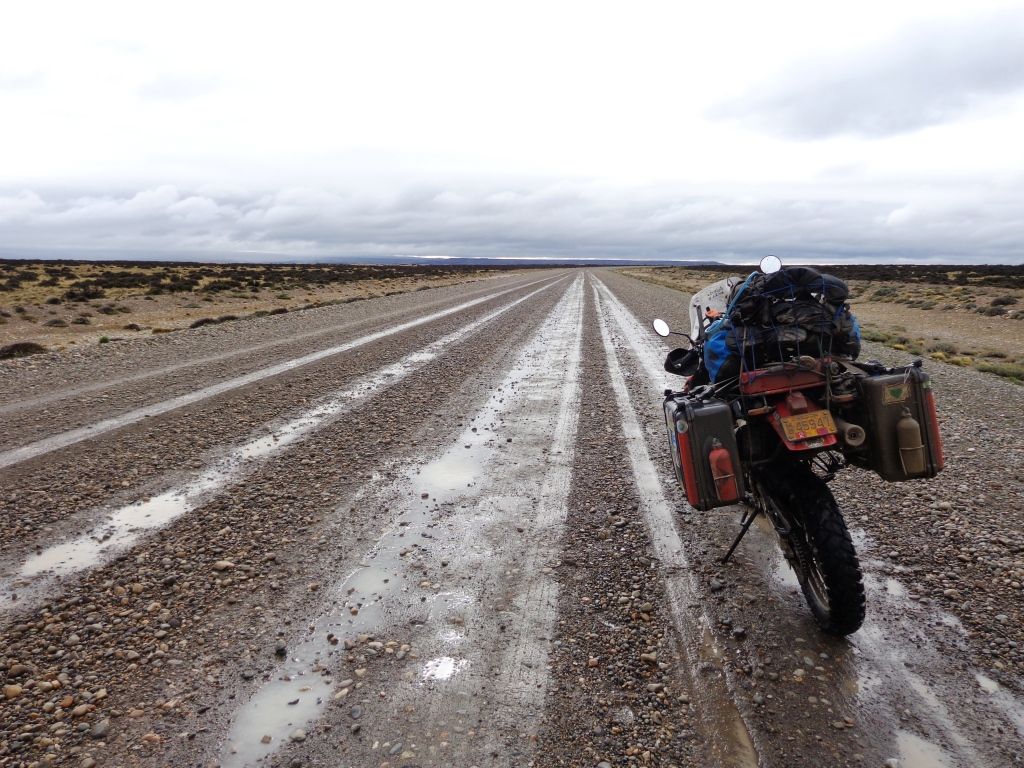 And when you add a 40 MPH crosswind, a light rain, and some thick clay mud to all of that nastiness, it just gets straight up depressing....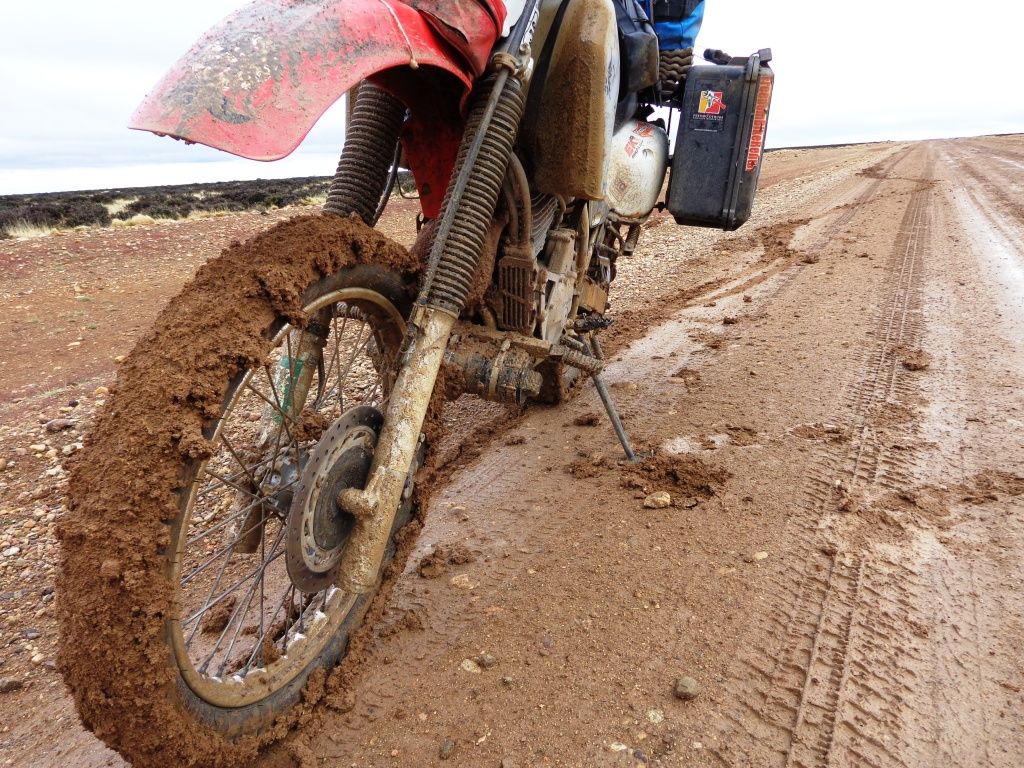 I'm really lucky that I didn't take a dirt nap today. The treads on my tires were filled up with mud nearly the entire time and I had zero control and almost no traction. At several points the mud was so thick on my bike that it got sucked up underneath my chain and transported some rocks through the counter sprocket. I had to stop a couple of times and clean things out.
Luckily, this was just a short stretch of ripio. Right when I was about to have a frustrated melt down, I linked back up with the "pavemiento" and was riding in the sun with the Patagonian Andes and Fitz Roy on the horizon.
It's amazing to think that Ruta 40 used to be almost all ripio. Now, it's nearly all paved. In a few more years, you won't get to experience the suicide gravel known as ripio.
I made it into El Calafate around 7:00 PM and got a camp site at a nice place right next to two bikers from Quebec who had been on the road since July.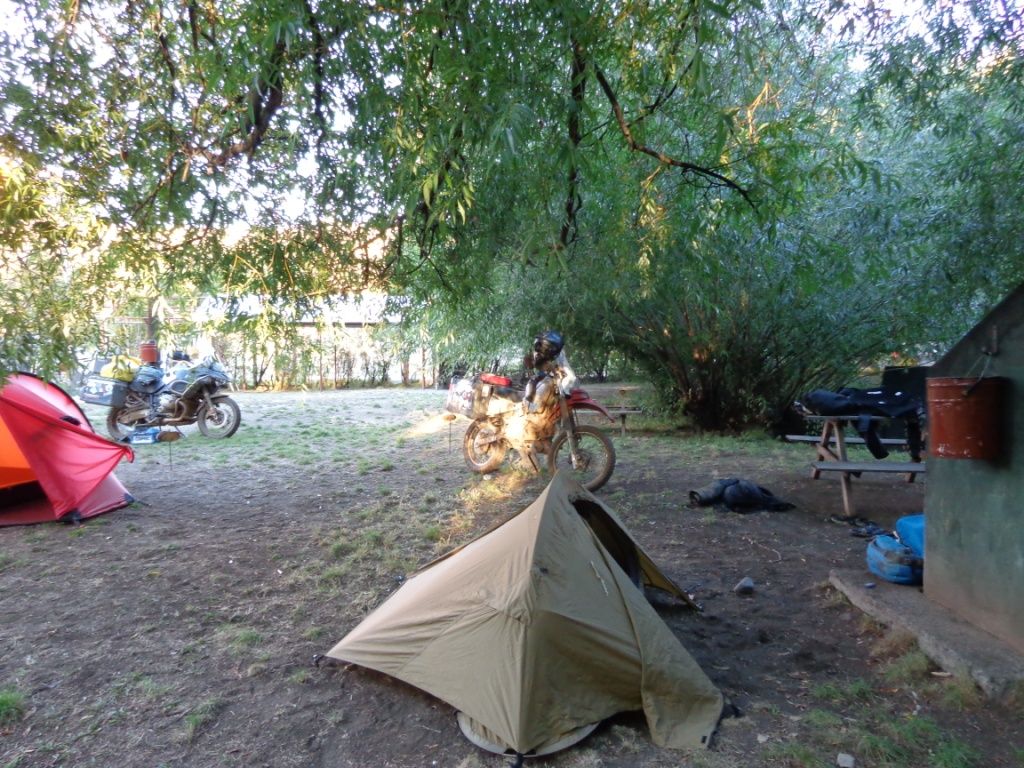 Tomorrow I'm going to wake up and go see the Perrito Moreno glacier then bounce up to El Chalten in preparation for some hiking around Fitz Roy.