Day 132 (February 25, 2013)
Punta Arenas, Chile
Day's Ride: 0 MIles
Waking up this morning I had three things to take care of: finding a new chain, fixing my fuel tank mounts, and figuring out how to fix my chain slider. I just realized yesterday that my newly reconfigured chain slider was already shot after only about 500 miles. I guess that the crappy chain I bought in Rio Gallegos has payed me back. I headed over to the shop of a mechanic recommended by Manolito. I was amazed to find one of the most modern and well organized shops I've ever seen.
Alejandro Lago is the owner and he has tons of tires and the equipment to balance them, a rarity in most of the places I've been. He's also got an Oregon license plate on his wall; that's a big plus in my book.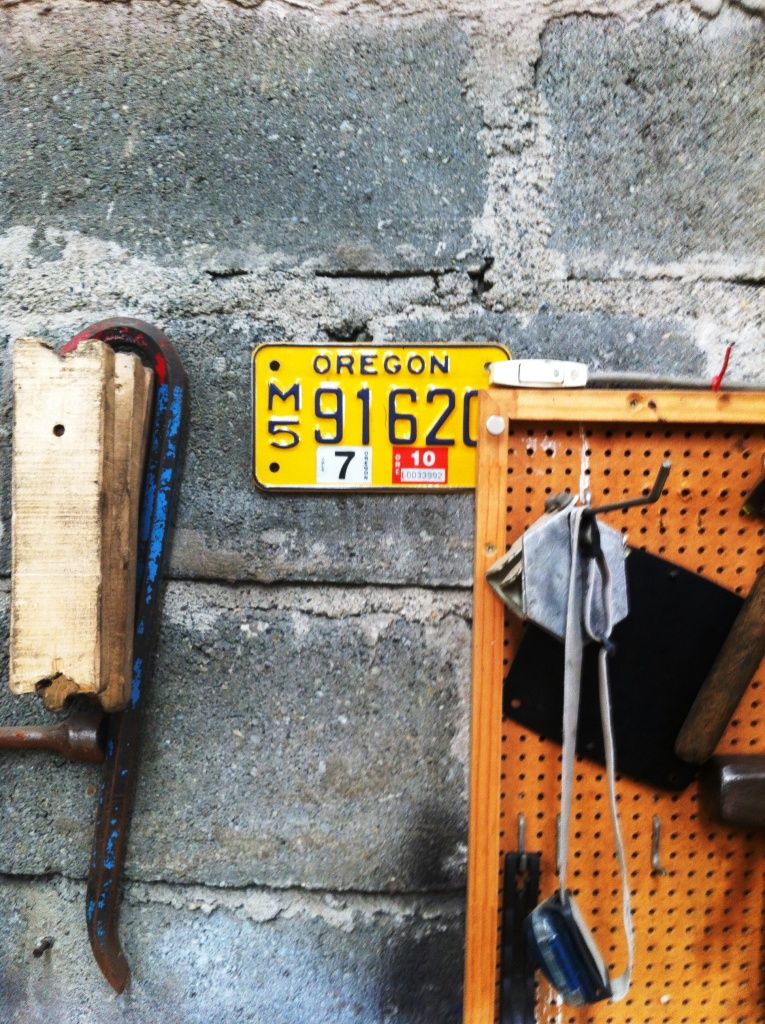 I told Alejandro about my problems and he told me that he had a chain that he could sell me and a welder that he could send me too. Unfortunately, he didn't know of anyone with an XR chain slider for sale.
I let him ride my bike and he told me that the dragging sensation that I'm feeling was probably the horrible chain that I had on. He sold me this chain: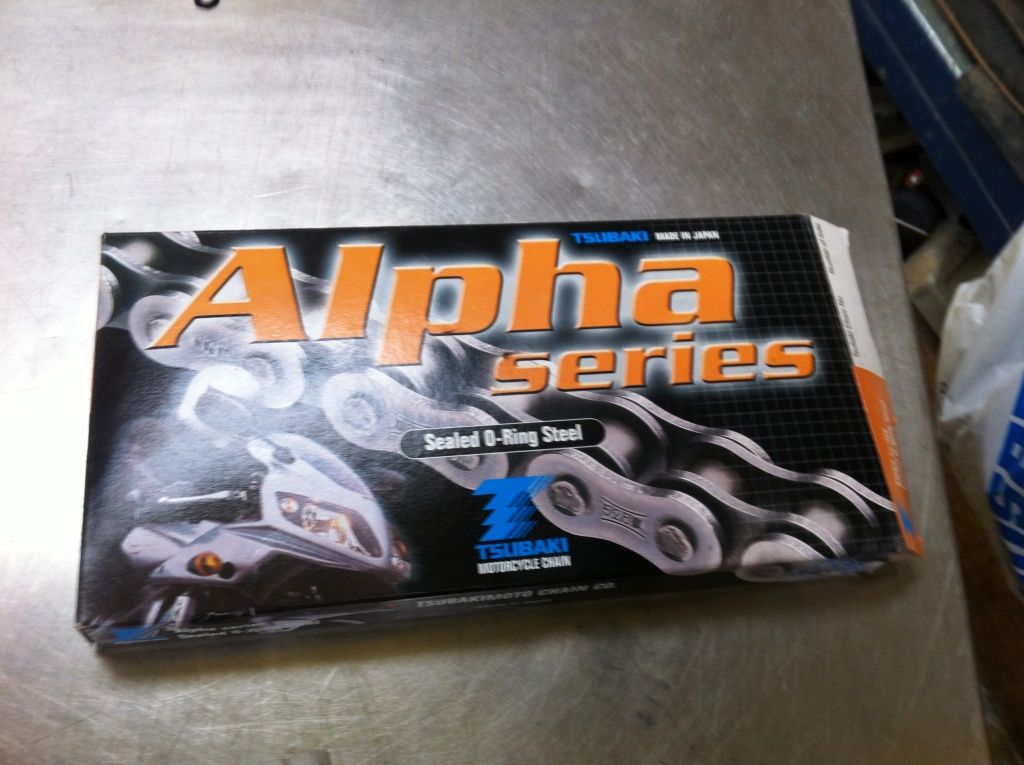 He also washed my bike for me and reglued my grips for me.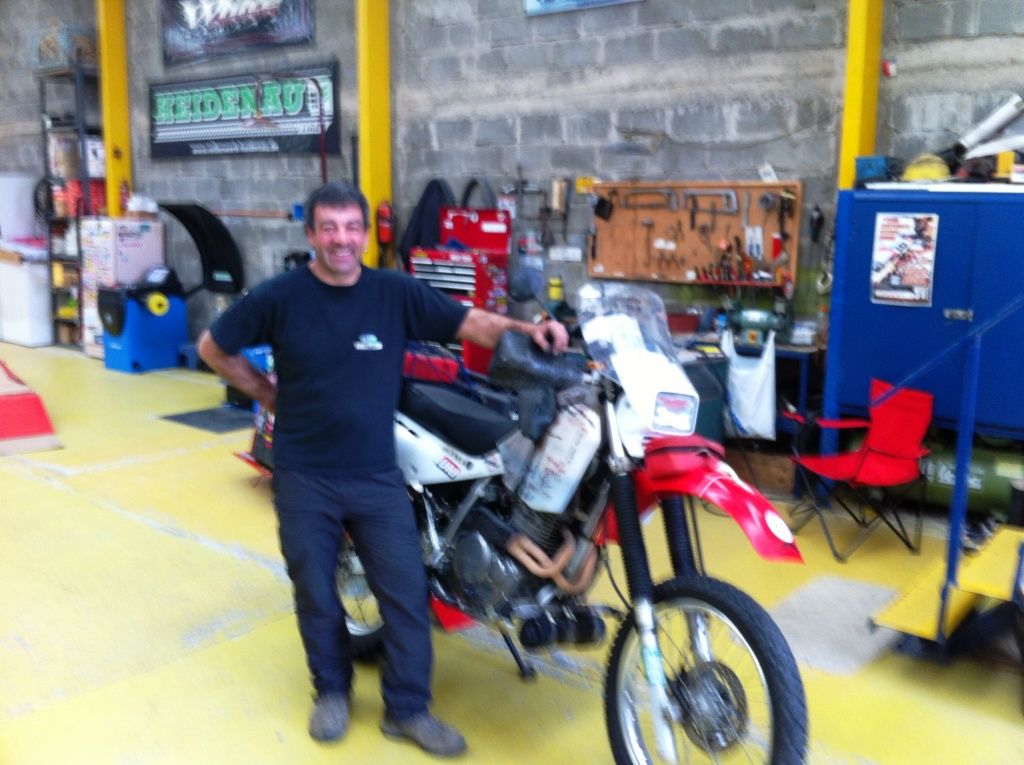 After leaving Alejandro's I headed over to a muffler shop that he had recommended to me. On the way over I stopped to check my brake disks to see if they might be causing the dragging feeling. They felt warm but not overly hot; I suppose that's not the problem.
I arrived at the muffler shop and started disassembling my bike so that we could fix the fuel tank mount. As soon as I took off the seat, I realized that another part of the fuel tank mounting system was broken.
When it rains, it pours. This explains why my fuel tank was so loose. Luckily, that was a much easier fix than the part on that was attached to the frame.
I disconnected the grounds and used some scrap metal to mask off the oil lines. The mechanic busted out his MIG welder and fixed everything up in about five minutes. I reattached everything, crossed my fingers, and started the bike back up. Everything worked fine.
I spent the rest of the day hitting up every bike shop in town in search of a chain slider. Any chain slider. At this point I'll take anything that I can just modify and slap on the bike. The Honda shop was closed and everyone I talked to said that they would be closed for another couple of weeks as the owner was on vacation. Nice. I love the latin sense of time. I checked at all of the other shops in town as well. Unfortunately, no one had anything. I was able to find one for a CRF-250, but I think it was too narrow to fit.
At the last shop I was looking at some of the bikes when I saw this:
It looks like it's just a piece of Teflon pop riveted onto the swing arm. Genius. The owner told me that he knew where I could buy some. He also told me that he would call someone that he knew that worked at the Honda Shop in the morning and see if he could get into the shop and find something before I started bolting Teflon onto the swing arm.