Ushuaia
Day 131 (February 23, 2013)
Ushuaia, Argentina
Day's Ride: 0 Miles
For today's map, I have a little something that's been getting passed around amongst some of the riders down here: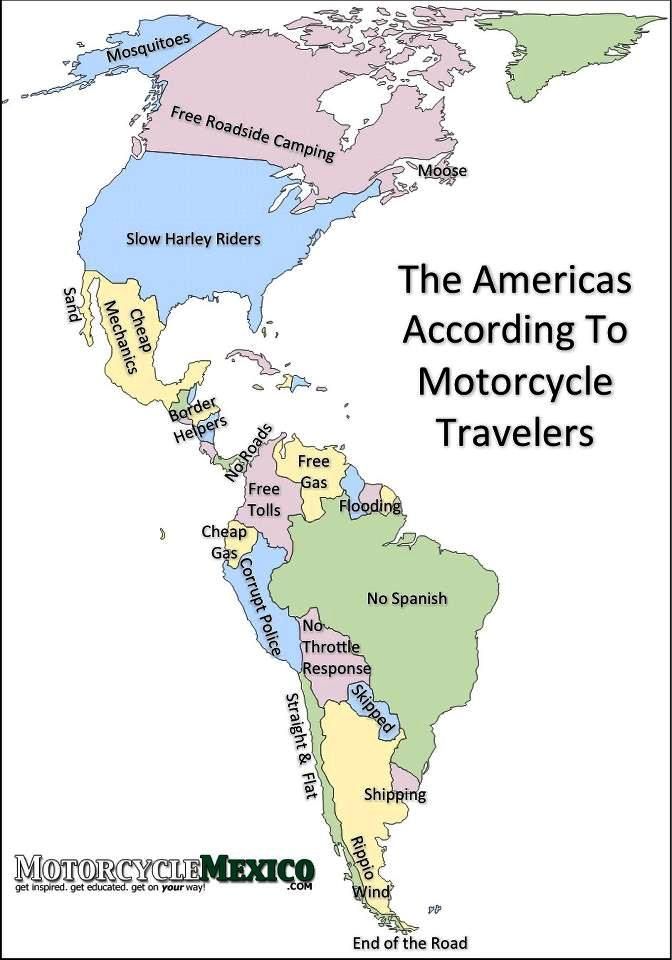 Other than the "slow" Harley riders part, I'd say that this is one of the most accurate maps I've ever seen. I ride my Harley quite fast, thank you. Just not in corners.
After a late night celebrating last night, I slept in till 11:00 AM this morning.
I didn't do much for the rest of the day. Sat in my tent and read a book, wrote some emails, and hunted for a little oil. I also visited a local mechanic and asked him if he thought my wheel bearings were going bad. He had me lift the bike up and tugged on each of the wheels a bit and said that he thought they were fine. So, looks like the tugging feeling is coming from my chain rubbing on the improvised chain slider. I think. Who knows? I'll just have to keep riding and see if it gets worse.
I was finally able to find some 10W-40 oil. Unfortunately, it cost $21 dollars a liter! Looks like I'm the one buying unicorn blood now! From here on out I'm going to use Rimula R4.
On my way back to the campground I saw this sign in the harbor:
I think if I were British, I would think twice about coming to Argentina, especially by boat. You might get hung as a Pirate. I want to talk to some more Argentinians about their views on the Malvinas (Falkland Islands); I've really only talked to Manolito about it and I'm curious to see what other people think about the whole situation. I find it kind of fascinating. Everywhere I go I see road signs proclaiming "Las Malvinas son Argentinas!" (The Falklands are Argentinian). I've even seen a lot of maps that list the Falklands as Argentinian territory and have the capital city of Stanley renamed as "Puerto Argentino". If you are Argentinian and are reading this, please feel free to chime in.
Tomorrow I'm going to ride to the Chilean side of Tierra del Fuego and try and catch the ferry to Punta Arenas. If the ferry is operating, it's a two hour ride. I'm all out of dramamine. This could get interesting.