Day 136 (March1, 2013)
Paine Grande to Refugio Grey
Day's Hike: 12 Miles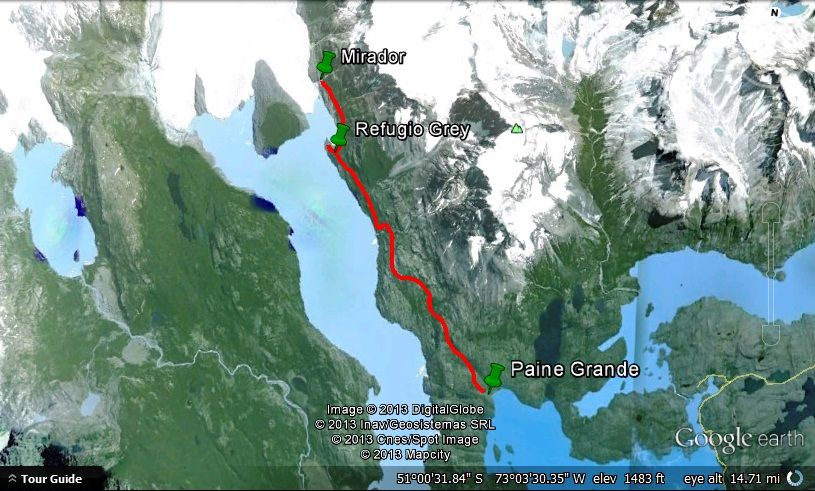 With our bikes stashed at Hostels in Puerto Notales, Dylan and I hopped on a two hour bus that would take us to the entrance to the park. It was a refreshing change to finally sit in a chair and take a nap while traveling down the road. I've been riding for so long that it's easy to forget what it's like traveling in a normal vehicle. We made a brief bathroom stop about an hour in and I was able to watch some Chilean Cowboys in action while we waited for the rest of the passengers to finish.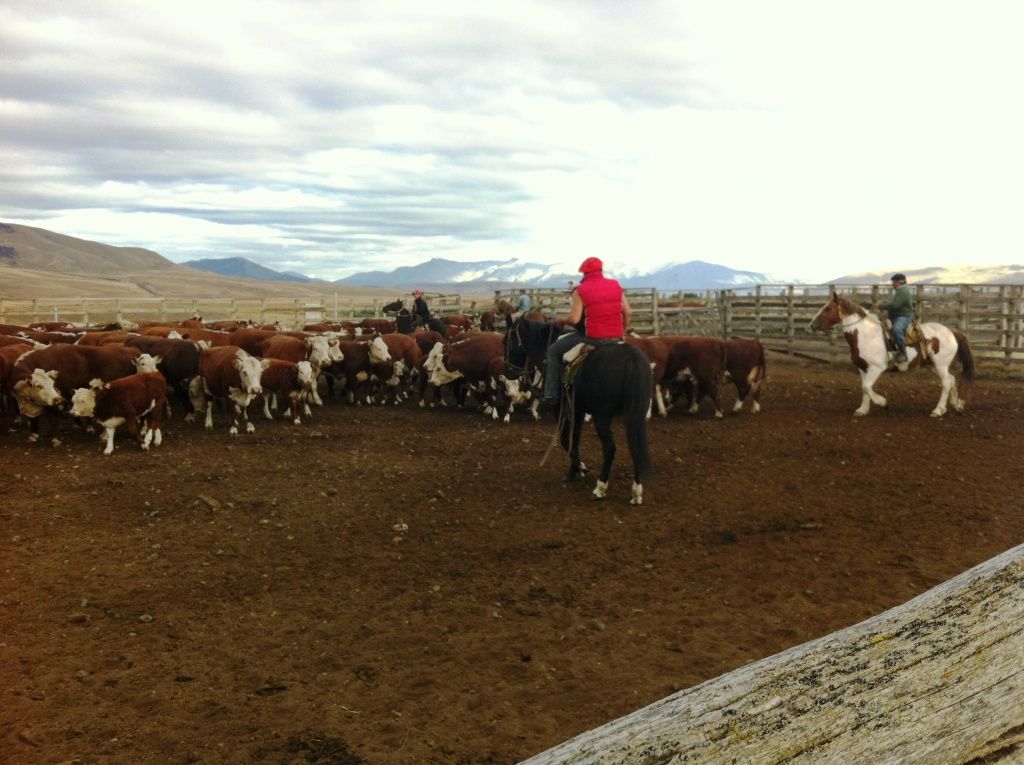 It seems that they favor the beret instead of the stetson down here. After another hour of travel, the bus dropped us off at a dock near a water fall called "Salto Grande" where we boarded a catamaran that would take us across a glacial lake and deposit us at a Campground/Hotel called Paine Grande where we would begin our hike.
The ferry was a bit pricey (approx $20), but it would allow us to start off our hike around 11:00 AM and still have enough time to make it to Glacier Grey before dark. Even though we had already seen some amazing views of the park on the bus ride in, the views from the catamaran were incredible.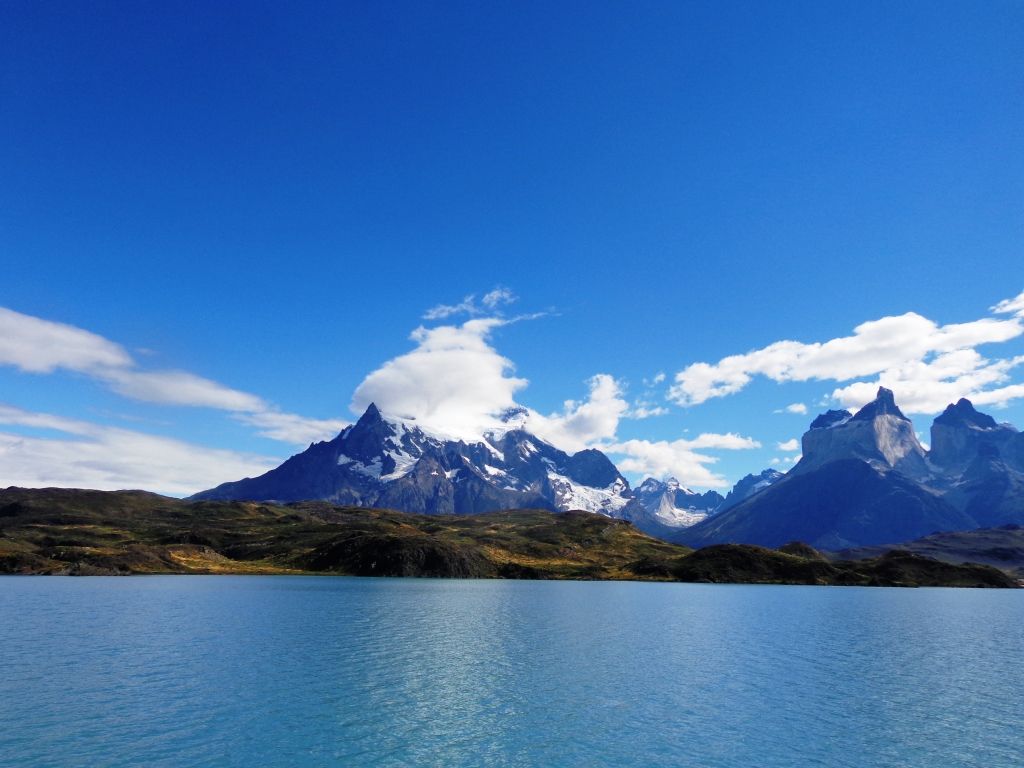 We soon reached the opposite shore and disembarked at Refugiuo Paine Grande.
A small aside: "Refugios" are essentially little ski lodge type structures with a hotel, a restaurant, a store, a camping area, and a cooking area. If you really wanted to, you could spend the entire time in Torres del Paine sleeping in beds and eating restaurant meals and walking between refugios without a thing on your back. At first it irritated me a little that the Chileans would build these things inside their national park; however, I then considered the lodges at places like Yellowstone and decided that these weren't any worse. Still, the Refugios allow people who either can't or don't want to carry all of their own gear and sleep in a tent to enter the park and see the sights. This creates a bit of a crowding issue. If you are looking for wilderness solitude, going to Torres del Paine during the Patagonian summer is not a good way to find it. I'm of the mindset that if you want to enjoy the park that you should have to work for it; however, I suppose that everyone has a right to see these things, regardless of ability.
In any event, we hit the ground running (or at least walking very fast) at Paine Grande and started heading north towards Glacier Grey. The trail passed through some burnt out areas that had been destroyed by a careless backpacker using his stove in an unauthorized area.
I had been a little nervous about stepping into a hike like this after having done almost zero physical activity for the last four months other than riding a motorcycle. Fortunately, I felt pretty fresh and was able to hike fairly fast despite a relatively heavy pack and other than optimal gear. Unfortunately, I hadn't done much hiking in my combat boots recently, and the "blistering pace" that we were setting soon lead to some issues. I'm sure Brown Falcon will recognize this little scene:
Luckily I caught the blisters before they had progressed beyond hotspots. There isn't too much that you can't fix with a little bit of ducktape and some baby powder, feet included.
After a couple of miles of hiking, we soon topped out on a ridge and got our first views of Glacier Grey:
We hiked a few more miles of beautiful trail and crossed a bridge that looked a little worse for the wear. Being the gracious person that I am, I decided to let Dylan cross first.
I'm still not quite sure what was holding that thing up in the middle. We quickly reached Refugio Grey where we set up our tents and stashed our packs before hiking down the trail a Mirador (overlook) for Glacier Grey.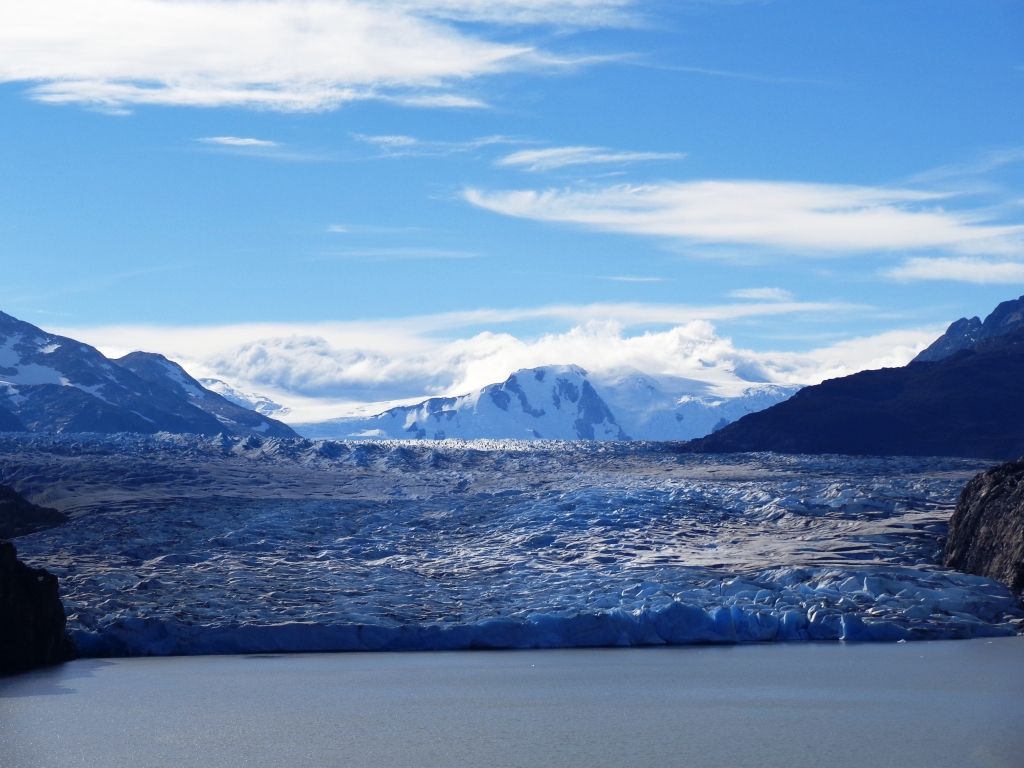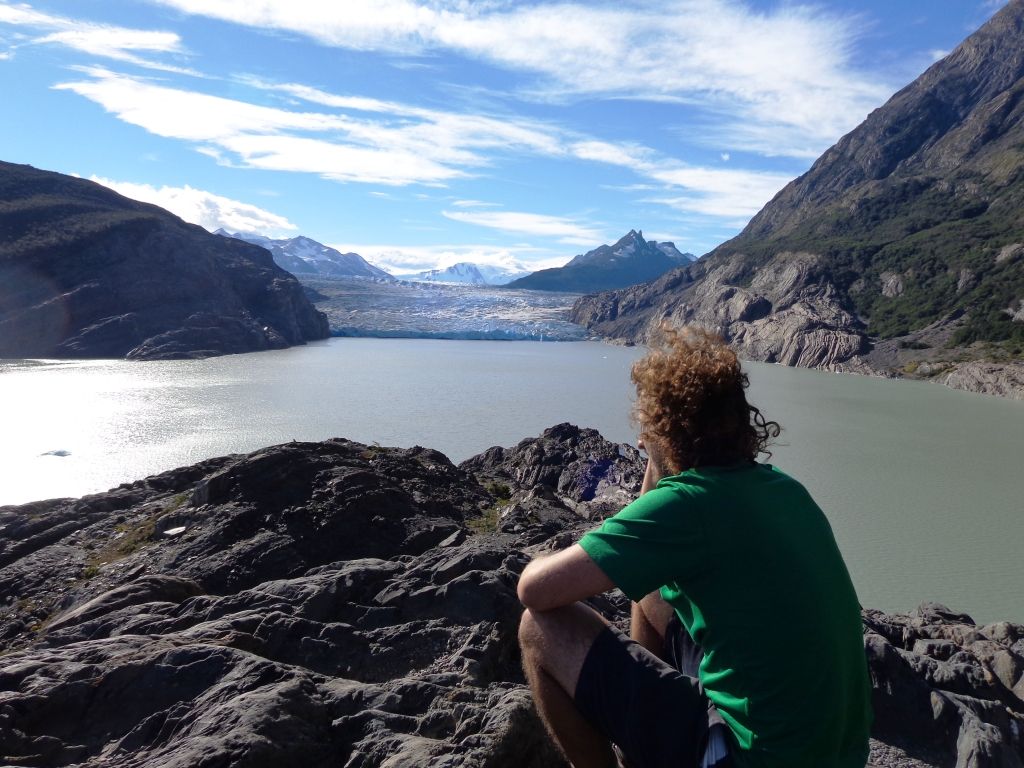 Not quite satisfied with the frontal view and wanting to get a little bit closer, we jumped back on the trail and hiked another four kilometers up to a second Mirador. Along the way we got to cross a pretty nifty rope bridge.
We reached the second Mirador as the sun was starting to go down and the light made it a little hard to see; still, it was extremely impressive. Glacier Grey is actually a part of the vast Southern Ice Field that covers large portions of Southern Chile and Argentina. Glacier Grey and many other glaciers in the area stretch like fingers out from the main ice field and down into sections of both countries.
After sitting and watching the glacier for a while, Dylan and I returned to the Refugio and crashed. A 12 mile hike used to be nothing to me; however, after not exercising for the past few months, I was pretty bushed. And despite my griping about the Refugio system, I was quite pleased to find that they sold Chilean wine in liter boxes.