Cleanwatt (Dylan) and I decided to hike a classic route in Torres del Paine known as the "W". It's called the "W" for the simple reason that, when viewed on a map, the route forms a sort of "W" shape. The trek typically takes 4-5 days. There is another classic hike in the park known as the "Circuit" which combines the "W" with a giant circumnavigation of the Paine massif but also adds another couple of days. Originally I had been considering just hiking the "W" route and then heading back to Puerto Notales (
) while Dylan carried on and hiked the rest of the Circuit route. However, by Day 5, our roles were reversed and I decided to stay in the park for an extra day to do a slightly longer hike while Dylan decided to leave in order to recuperate from a knee injury that he had sustained on the third day. Below is a day by day schedule of where we went and a rough map of the route that I took.
Day 1: Paine Grande to Refugio Grey and Mirador
Day 2: Refugio Grey to Campamento Italiano
Day 3: Campamento Italiano to Mirador to Refugio Los Cuernos
Day 4: Refugiou Los Cuernos to Campamento Torres
Day 5: Campamento Torres to Mirador de Torres to Valle de Silencio to Campamento Torres
Day 6: Campamento Torres to Hotel Las Torres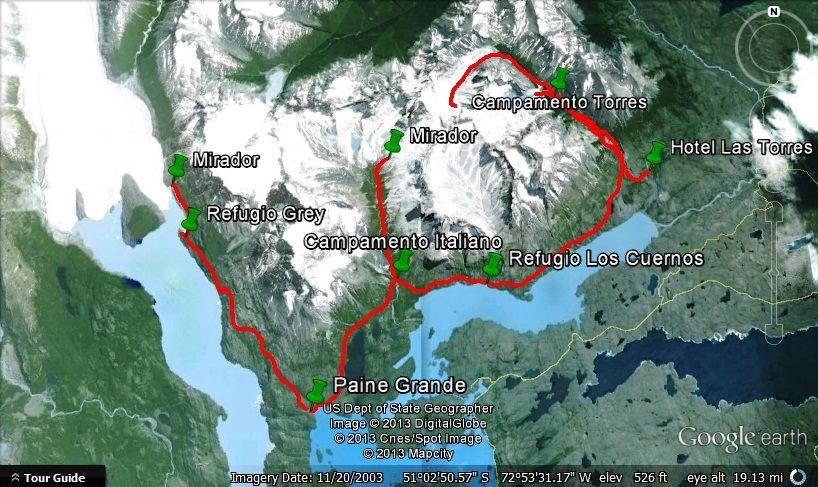 And now on to the rest of the story....