Day 140 (March 5, 2013)
Campamento Italiano, Mirador de Las Torres, and Valle de Silencio
Day's Hike: 13.75 Miles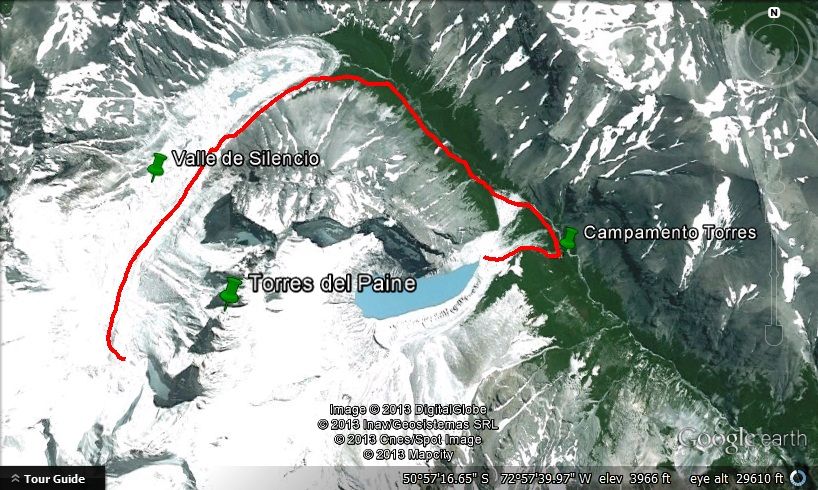 On what was supposed to be our last day, we woke up at 5:30 AM, packed a few things in our bags, and started hiking for the base of the Torres in order to catch the sunset. We made it to the Mirador about an hour before sunrise and unpacked our stove to cook breakfast while we waited for the sun to top the ridge.
When the sun finally broke, the view was fantastic.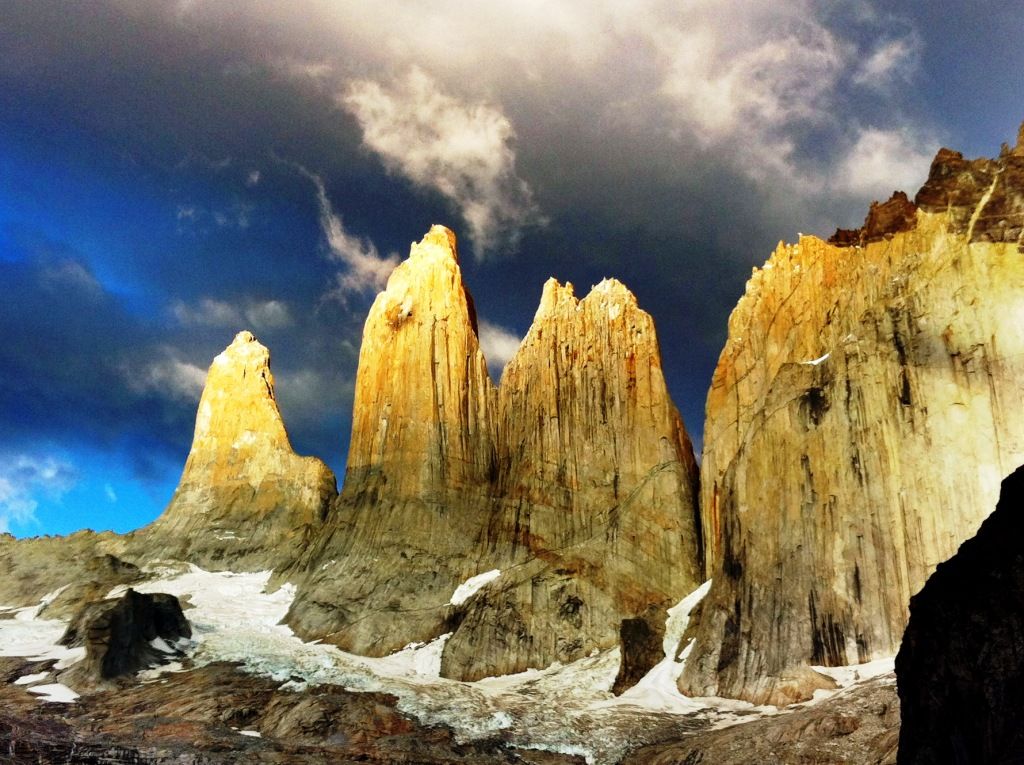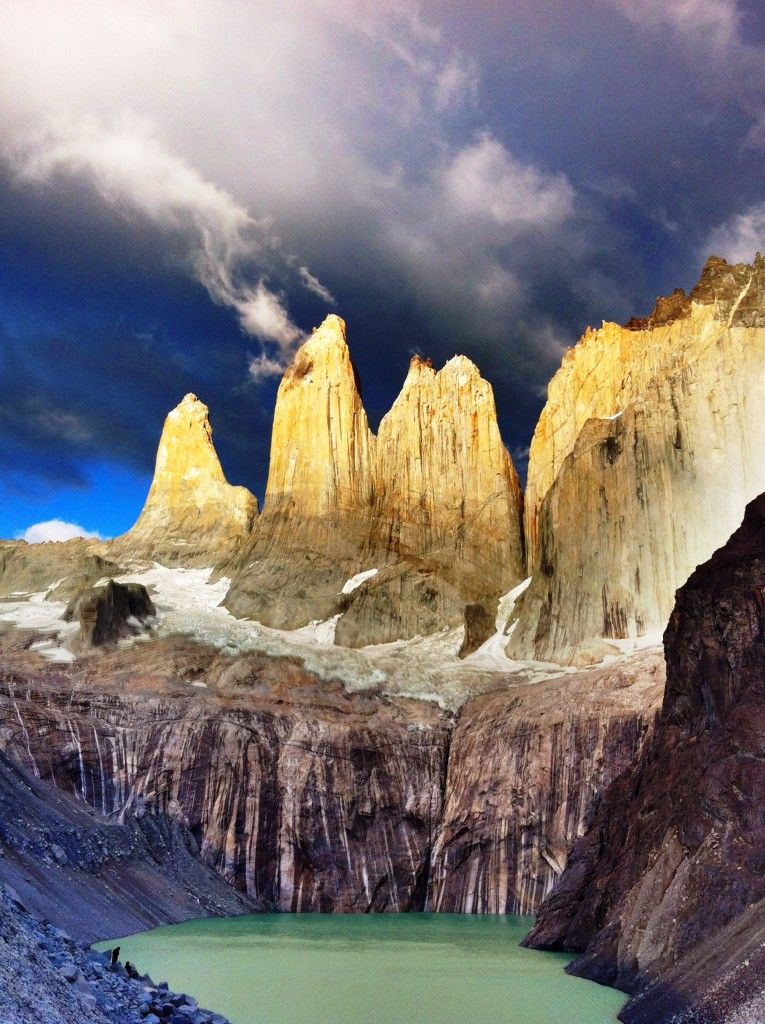 We spent an hour just watching the sun paint the towers. Eventually we turned around and hiked back down to the campground. At this point we had a decision to make: stay an extra day and hike up to the valley of silence or pack up and head back to Puerto Notales.
Dylan's knee had been hurting him since day three and after we had descended from the Mirador, he decided to pack it up and head back. I decided to stick around for another hour or so and see how the weather turned out before committing to an extra day.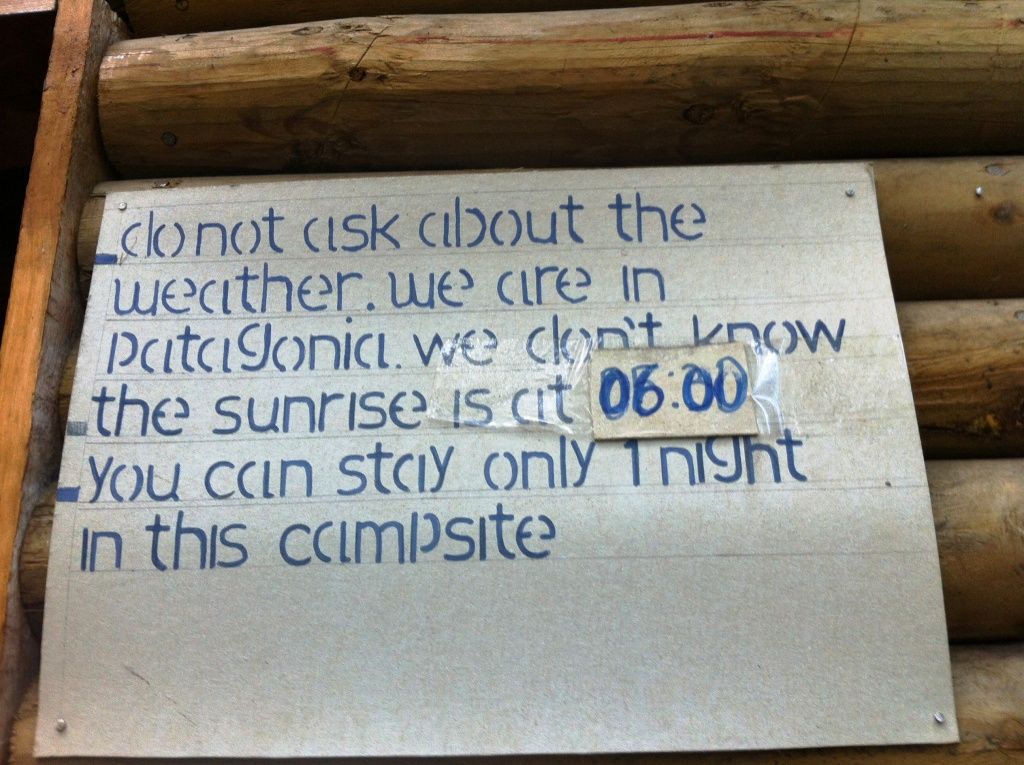 I sat around and cooked some of my newly donated food and waited for the weather to make up it's mind. Eventually things started looking good and my new Ranger friend Leo and the two girls I had met, Crystal and Christen, decided they were ready to go. We started hiking north up a valley that was closed to hiking without a climbing permit or a ranger escort towards a campsite known as Japonesa.
Since this area was closed to hiking, we had it all to ourselves. This was what I had been wanting ever since I got into the park: a beautiful alpine valley with no tourists.
Leo the Ranger took us up to a little cave that climbers used as a base camp when climbing the torres and we got inside and cooked a little lunch.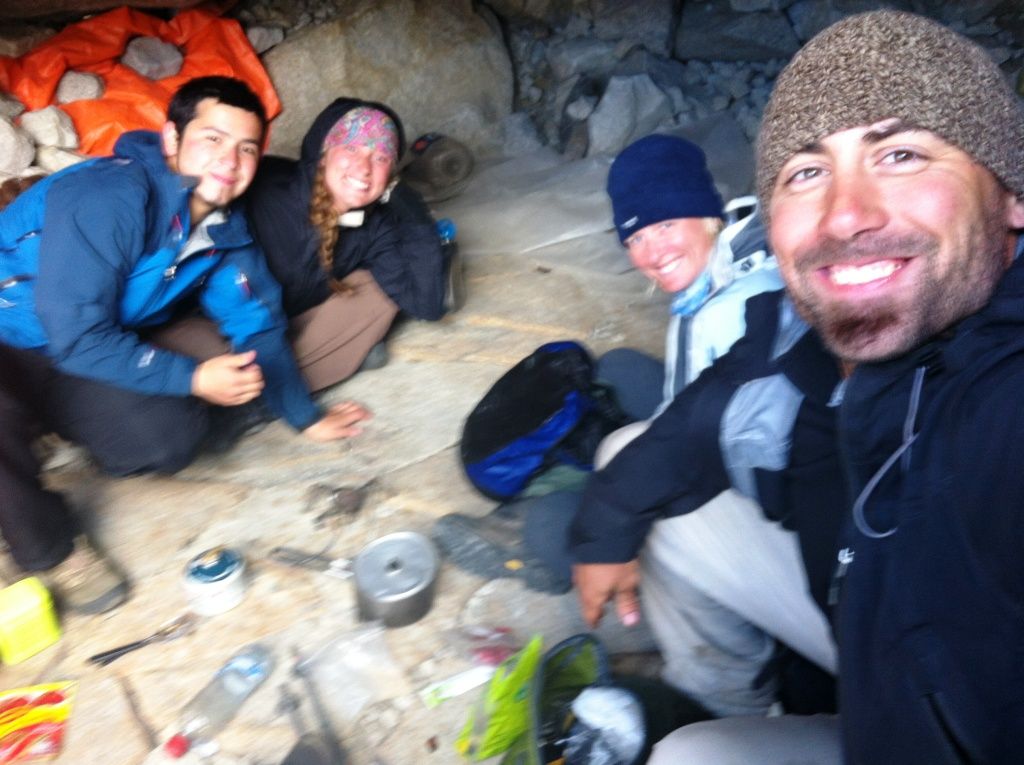 We continued up a high glacial carved valley above the tree line, following the path that climbers take to reach the base of the Torres.
We drank water straight from the hanging glaciers that lined the path.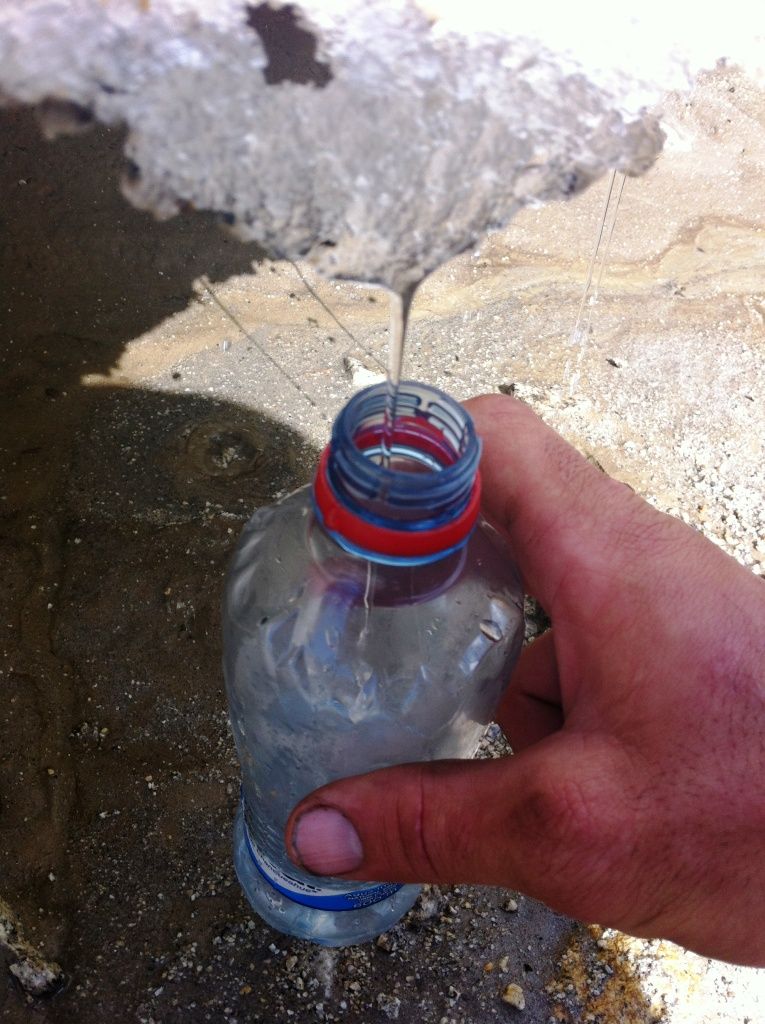 We eventually reached the head of the valley and began scrambling up the talus towards the base of the towers.
Eventually the talus gave way to steeply inclined granite slabs. With some slight misgivings, I began climbing. Unfortunately, the wind started picking up and blowing rocks down on us. This combined with the fact that a small slip would send you sliding down the slabs for a couple hundred feet convinced us that we had gone far enough.
On the way down we found some snow fields and I went for a little standing glisade.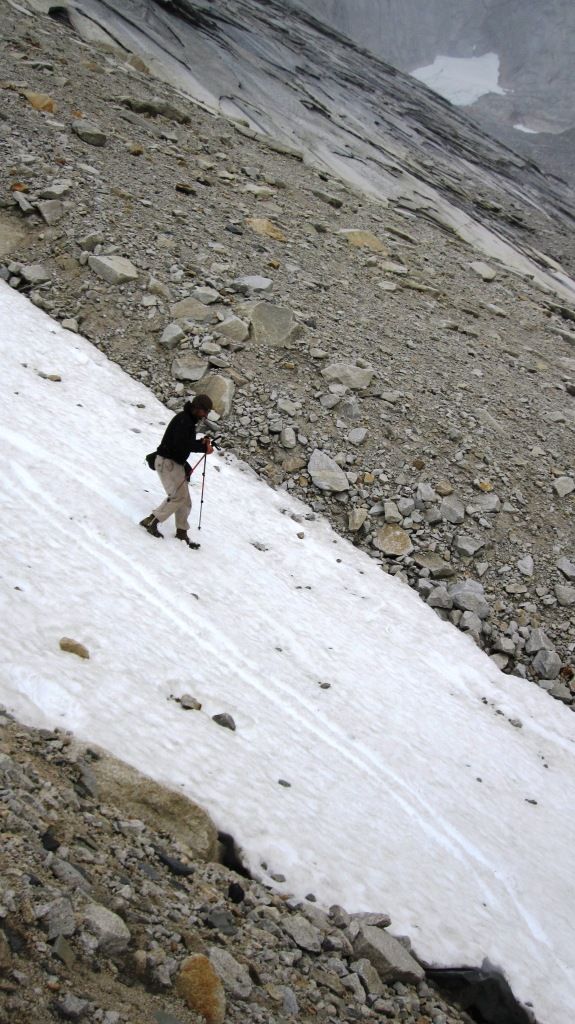 First turns of the season for me; man, I can't wait to get a little skiing in when I get back. Check out these sick lines
....
Coming down the valley we passed by glaciers that were buried underneath dirt and talus:
As we were hiking back down, some small squalls moved in and we started getting snowed on.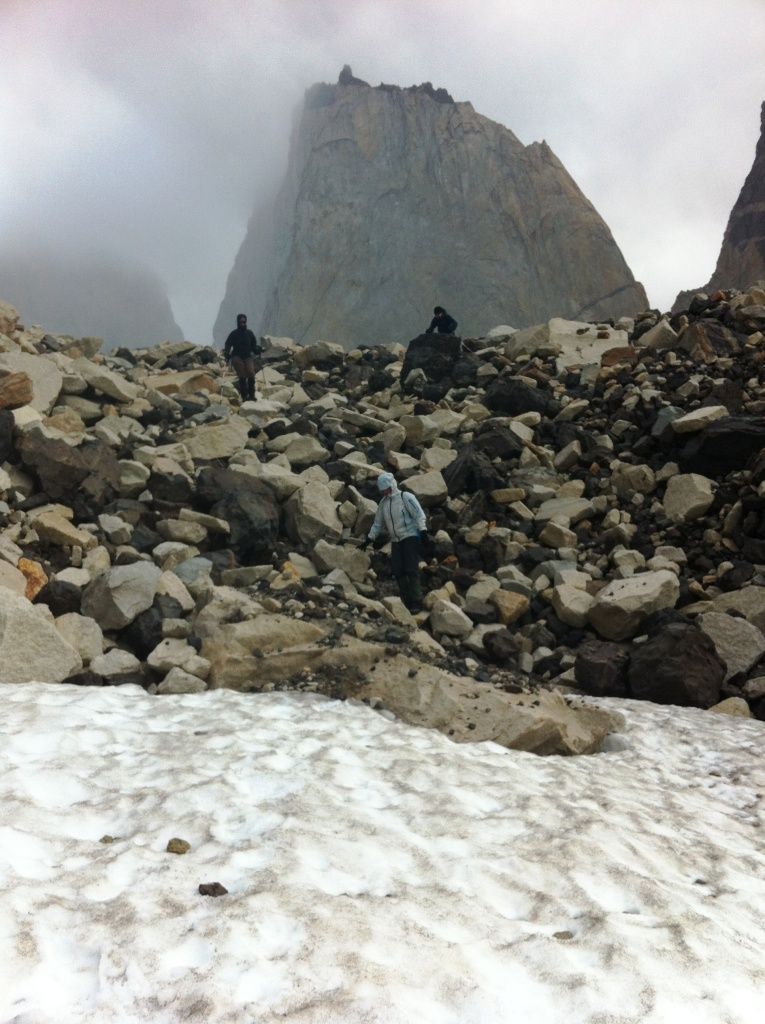 At around 7:00 PM we made it back to camp and cooked up a huge communal feast with our remaining food. We had found a few cloves of garlic lying on the trail on our way back down, and we cut it up and added it to our soups, pastas, toasted bread, and mashed potatoes. It was epic. There's something about hiking that makes me dream about food and savor every calorie.